Notre Dame Football: Biggest 2014 Recruiting Needs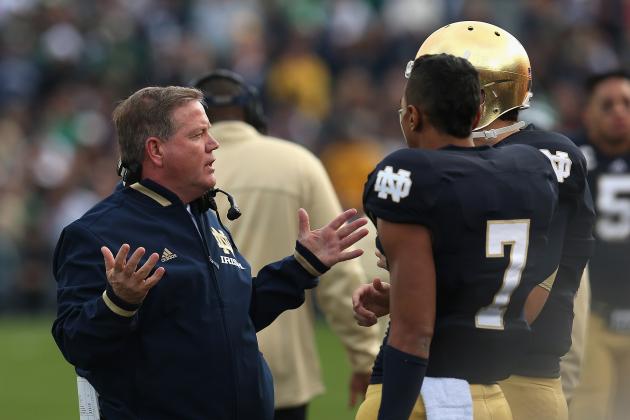 Jonathan Daniel/Getty Images

You've heard almost everything there is to know about Notre Dame's showdown with Alabama for the national title on Jan. 7. You've also probably heard everything there is to know about the Fighting Irish's monster recruiting class that they are poised to sign exactly 30 days following the BCS Championship Game.
However, maintaining a successful college football program for the long term requires constant planning and always trying to remain one step ahead of the competition. As well has Notre Dame has recruited over the past 12 months, one down class than quickly change the fortunes of any program.
With Brian Kelly and his staff close to putting a bow on the 2013 class, let's look at the biggest needs for the Irish in the class of 2014. This will of course just touch on the high-level issues for the Irish. We'll have far more in-depth discussion on this come February and March.
Begin Slideshow

»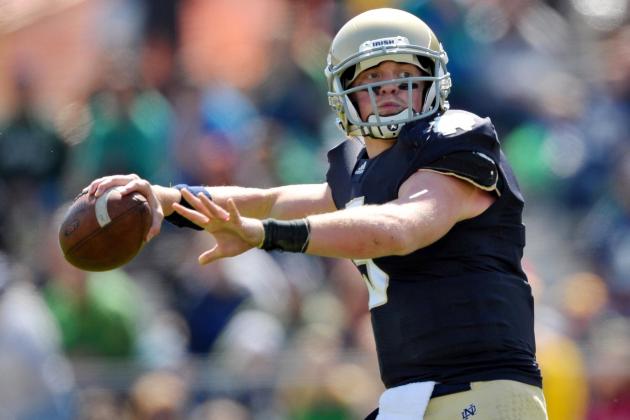 Matt Cashore-USA TODAY Sports

Notre Dame seems to be in good shape at the most important position on the field, but not taking a quarterback in any class is a major risk.
Transfers and injuries will occur, and the Irish learned this year how valuable a competent backup quarterback is.
With only 85 scholarships, depth at every position isn't always feasible, but not having it at quarterback is a risk that Brian Kelly can't afford to take.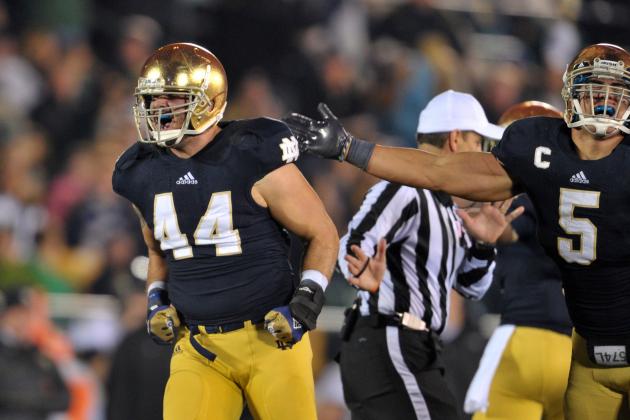 Matt Cashore-USA TODAY Sports

Notre Dame's 2013 linebacker class might be its best ever, but it's not the time to kick back and relish the amount of talent that is about to invade South Bend. Notre Dame's defense requires versatile linebackers, and the interior positions remain a bit of a question mark.
Alex Anzalone is the eventual successor to Manti Te'o, and classmate Michael Deeb is looking like a bit of a steal after a strong senior season. However, the Irish need more. Early 2014 commit Greer Martini is a developmental project, lacking the natural ability of Anzalone.
Expect at least two, but likely three spots reserved in next year's class for inside linebackers.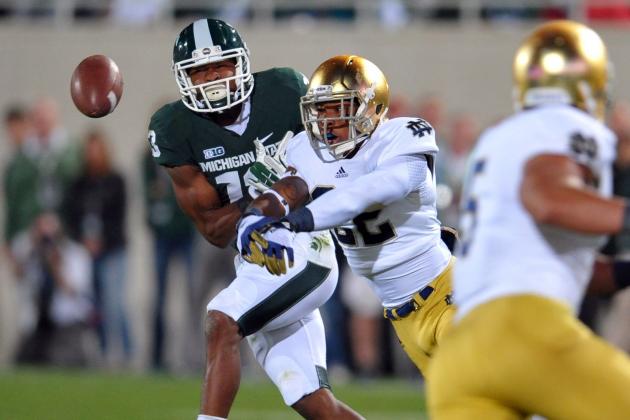 Matt Cashore-USA TODAY Sports

Notre Dame was left in a major bind at cornerback when Lo Wood was lost for the season with a foot injury in August, but true freshman KeiVarae Russell saved the day with his remarkably steady play at a position which he wasn't even projected to play.
The Irish will sign three cornerbacks in the 2013 class, but only one, Cole Luke, is truly elite. Two corners in 2014 are enough, but one probably needs to be a consensus 4-star recruit. Should the Irish not land Max Redfield at safety in February, that position will then become as important as cornerback.
Bob Diaco's defense was dominant enough up front that the secondary was able to receive quite a bit of help this season. That may not be the case in future years. The back end of the defense must continue its steady improvement.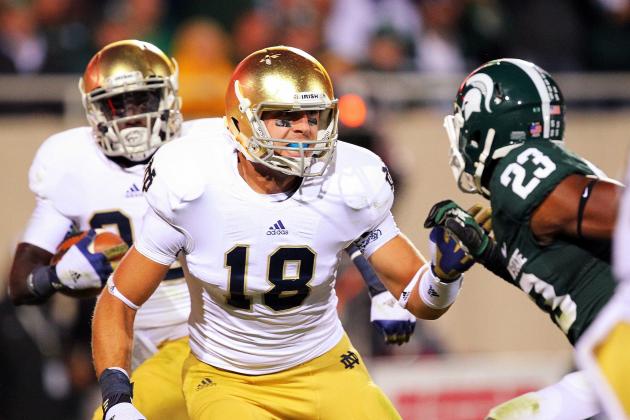 Mike Carter-USA TODAY Sports

Notre Dame has become Tight End U. in recent years with Anthony Fasano, John Carlson and Kyle Rudolph all having some success in the NFL. Senior Tyler Eifert is the next great one, but depth behind the Mackey Award winner is lacking.
Mike Heuerman will join the fold next year along with Troy Niklas, Ben Koyack and a healthy Alex Welch, who is taking a medical redshirt this season. Koyack has been fairly underwhelming in his short Irish career, and Welch's ability to stay healthy will be something to watch going forward.
The Irish passed on a tight end in 2012, but they cannot miss at this position in two out of three years.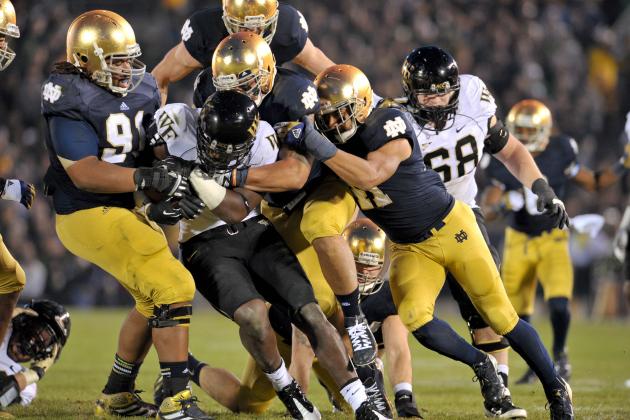 Matt Cashore-USA TODAY Sports

After seeing how the 2012 season played out, this is a no-brainer. Strong defensive lines win big games, and Notre Dame wouldn't be anywhere near its perch atop the polls without the play of Louis Nix and Stephon Tuitt.
Unfortunately for Irish fans, 2013 will likely be the final season for both Nix and Tuitt in South Bend. Young players Sheldon Day and Tony Springmann have shown promise, and Jarron Jones has spent this season building his body before taking flight next season. Isaac Rochell arrives next season, a player who has been likened to Kapron Lewis-Moore.
Jay Hayes became the team's first defensive line commit in the 2014 class, but the Irish need more. This class must contain four to five defensive linemen. If you want to know why, simply watch any of the 12 games the Irish played this season.