Why Haven't These 5 NFL Head Coaches Been Fired Already?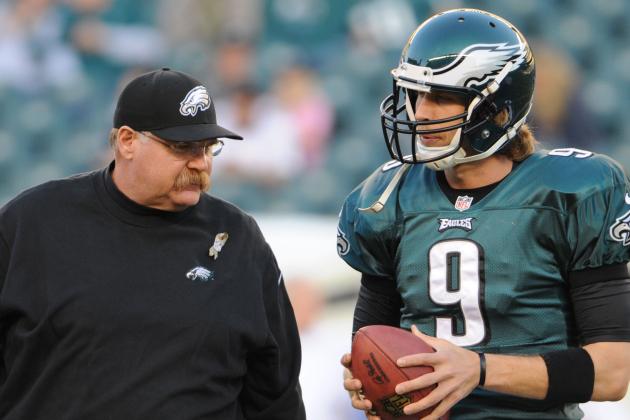 Courtesy of the Philadelphia Eagles
Usually we have seen one or two coaches get their walking papers at this point in the season. Maybe NFL front offices are in more of a giving mood than you or I would be if we were in charge.
After all, some teams have just flat out quit playing football and are looking forward to a vacation in Hawaii. When this happens, the powers that be within an organization usually tend to make the decision to cut ties with a head coach.
We saw this with Wade Phillips and the Dallas Cowboys back in 2010. While owner Jerry Jones has made a point of sticking with his head coaches until the end of the season, it became readily apparent that Phillips had lost his team following a 45-7 loss to the Green Bay Packers in Week 9 that dropped Dallas to 1-7.
That being said, we haven't seen that type of action from franchises this season, and I have absolutely no idea why.
The following is a list of five different head coaches that should have already been shown the door. Of course, one or two of these lost souls could get coal in their Christmas Eve stockings should they be embarrassed tomorrow.
Begin Slideshow

»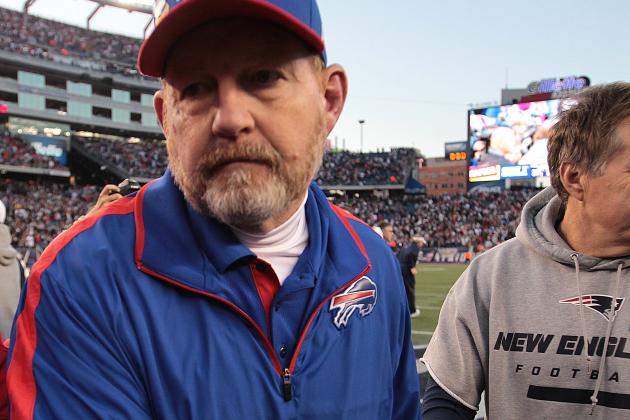 Jim Rogash/Getty Images

Winning Percentage with the Buffalo Bills: .326
2012 Record: 5-9
Chan Gailey took over a 6-10 Bills team back in 2010, but hasn't been able to improve their overall record in three seasons as their head coach. Barring wins against the Miami Dolphins and New York Jets, Gailey will finish with six wins or less.
That is just not acceptable considering the money that Buffalo's front office put out in contract extensions and free-agent signings in the offseason.
In order for Gailey to have kept his job, he needed to finish at or above .500 this season. That is mathematically impossible with two games remaining.
Once Buffalo was eliminated from postseason contention, it was just prolonging the inevitable here. That's unfair to both Gailey and the players. If you plan to move on, and have your mind set, why wait to cut ties?
You simply cannot win 32 percent of your games over nearly three years and expect to keep your job. It's similar to a used-car salesman having a complete stock of discounted Mustangs and not being able to unload a single one.
Buffalo has the talent to compete in the AFC but continues to perform like a bottom feeder.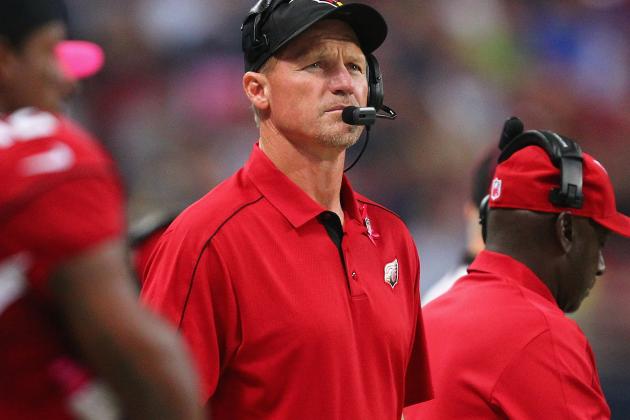 Dilip Vishwanat/Getty Images

Winning Percentage with the Arizona Cardinals: .479
2012 Record: 5-9
If you look at it realistically, Ken Whisenhunt has only had two successful seasons as head coach of the Arizona Cardinals since taking over for Dennis Green in 2007.
Arizona made the playoffs as NFC West Champions with a 9-7 record in his second season as its head coach. Riding the right arm of Kurt Warner, the Cardinals nearly defeated the Pittsburgh Steelers in the Super Bowl that season.
While Arizona won 10 games the following season, it was destroyed by the New Orleans Saints 45-14 in the second round. The Cardinals have not been back to the postseason since.
Could it be stated that Whisenhunt was riding the coattails of a future Hall of Fame quarterback? My answer to this question is an emphatic yes.
Arizona is 18-28 since the start of the 2010 season. Prior to defeating the Detroit Lions in Week 15, the Cardinals were mired in a ridiculous nine-game losing streak after winning the first four games of the 2012 season.
It could easily be stated that no NFL head coach could win with the likes of Kevin Kolb, Ryan Lindley and John Skelton starting at quarterback, but that really isn't the point.
Arizona, who was atop the NFC West just a few short seasons ago, is now a bottom feeder in a division that has improved across the board.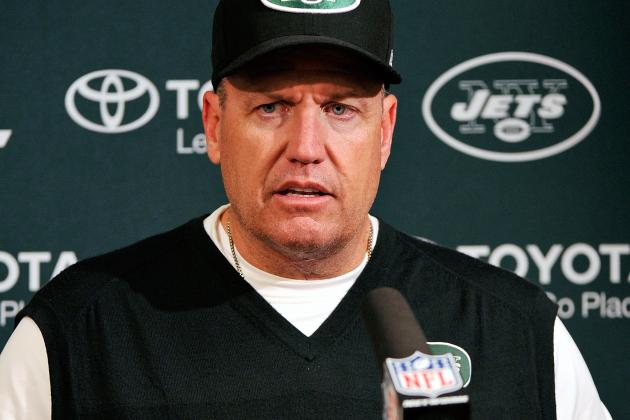 Frederick Breedon/Getty Images

Winning Percentage with the New York Jets: .548
2012 Record: 6-8
The New York Jets are a complete and utter joke right now. Many of us want to blame Mark Sanchez and his horrendous quarterback play for this, but the issues are much more widespread in nature.
New York has an aging defense that struggles against the run. It lacks team continuity and chemistry on both sides of the ball. Additionally, it just doesn't seem to have the necessary components in place to be successful at the skill positions.
Equally as important, New York's coaching staff has struggled a great deal this season with play-calling. While Sanchez hasn't found a rhythm for most of the season, the game plan seems to take him out of it once he does get it going. This was evident against the Tennessee Titans last week.
A team needs to be able to call a good game on both sides of the ball. I fully understand that Rex Ryan's primary focus is on defense, but he is responsible for all aspects of the game.
How many more times can this team embarrass itself before Ryan is shown the door? How many more quarterbacks can be used as scapegoats before the Jets realize coaching could be a major issue here?
After all, New York doesn't seem to be much better off today than it was when Ryan took over for Eric Mangini following the 2008 season. Even with wins in its final two games, New York will not finish above .500 for the second consecutive season. At least Mangini won nine games in 2008.
My Bleacher Report colleague Ryan Riddle had the following to say about the Jets' current situation.
Sure, we might be tempted to point to the numerous injuries the Jets have incurred this season as reason for their significant drop-off in production. But they happen to every team on some level. The Jets did a poor job building a team with quality depth, which was the result of making terrible personnel and salary-cap decisions.
I couldn't agree more. While Ryan will get most of the blame, general manager Mike Tannenbaum should also find himself firmly entrenched on the hot seat.
Every aspect of this franchise should be in question from an organizational standpoint. Yes, that includes Ryan himself.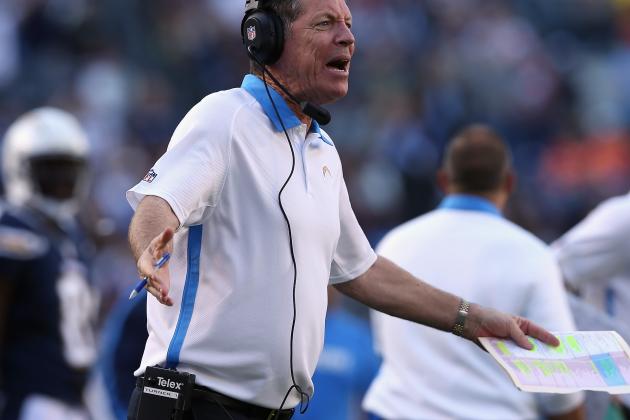 Jeff Gross/Getty Images

Winning Percentage with the San Diego Chargers: .574
2012 Record: 5-9
We already know that head coach Norv Turner and general manager A.J. Smith will be fired immediately following Week 17. Then why not just do it now? What is the point of keeping the players, coaching staff and front office in limbo?
The only way Turner was going to retain his job was by making the playoffs. Now that San Diego is officially eliminated from contention, it should just kick Turner out the back door with the rest of the issues that the Chargers have had during another disappointing season.
There is precedent for this.
The San Francisco 49ers fired Mike Singletary immediately after they were eliminated from the playoffs after Week 16 of the 2010 season. They then "promoted" a position coach for the final game against the Arizona Cardinals.
Why haven't the Chargers done this yet? After all, it isn't like Turner has earned the right to finish out the season.
Since winning 13 games in 2009, San Diego has won a total of 22 games in the last three seasons. While Smith deserves to blame for letting top talent go in free agency, the ultimate blame has to land at the foot of Turner.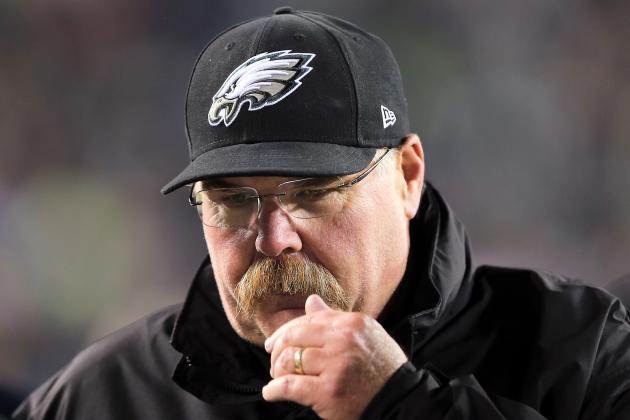 Elsa/Getty Images

Winning Percentage with the Philadelphia Eagles: .588
2012 Record: 4-10
All great things must come to an end. Barring wins in both of its final two games, Philadelphia will finish with its worst record since Andy Reid took over for Ray Rhodes in 1999 (finished 5-11 that season).
While there might be a certain respect factor here considering Reid is the longest tenured head coach in the NFL right now, it just didn't seem to make much sense to keep him on past the beginning of December when Philadelphia was mired in an eight-game losing streak.
This franchise has exhausted too much money, a lot of draft picks and now nearly two full years of disappointment on the football field. We already know that Reid will most likely be out of a job following next week. There really isn't much of a point in keeping him around.