10 Bold Predictions for NFL Week 16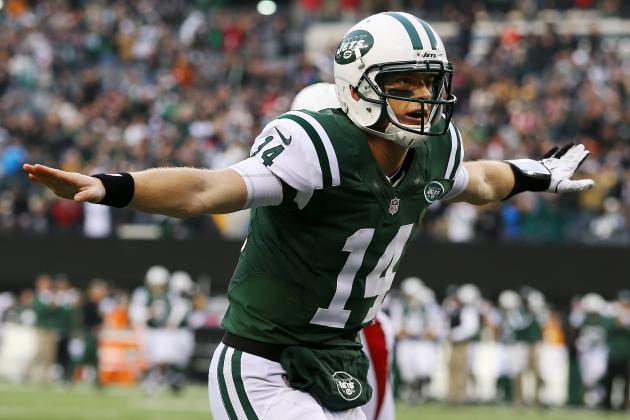 Al Bello/Getty Images

The 2012 NFL regular season is nearing its end.
With only two weeks left, teams are either prying for a playoff spot or trying to save face. Whichever last-ditch effort it may be, the top players in the league are going to give it their all.
Some are on pace to break records and set career highs, while others are simply hoping to avoid yet another disastrous performance.
Based on the most notable storylines around the NFL right now, as well as the importance of the playoff hunt, here are 10 bold predictions for Week 16.
Enjoy.
Begin Slideshow

»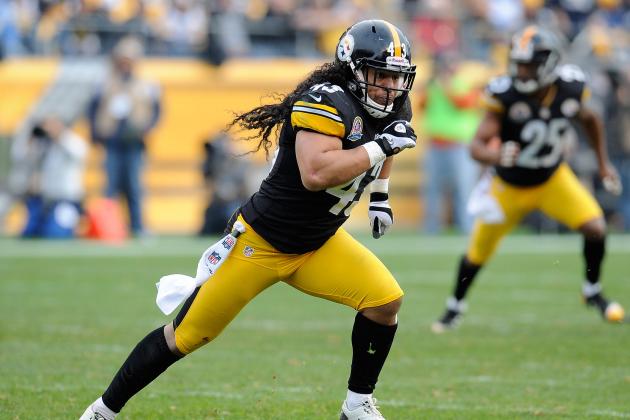 Joe Sargent/Getty Images

While the offense has seen its own struggles with inconsistent drives and a nonexistent run game, it's the defense that has really disabled the Pittsburgh Steelers over the past two weeks.
Giving up 34 points to a Philip Rivers-led offense in San Diego, then allowing Tony Romo to come back and put an end to all the December downfall rumors has really shed some light on how good this squad really is.
Statistics may tell a different story but Pittsburgh's defense is hardly a strong suit. Injuries have crippled them throughout the year and could continue to going forward.
With that said, even without Ike Taylor shutting down A.J. Green like he did in Week 7, the Steelers could finally awake from their slumber this coming week against Cincinnati.
Proper packages involving Troy Polamalu shading Green over the top should do them wonders, but they need to pay attention to BenJarvus Green-Ellis, as well.
That's something that a returning Lamarr Woodley could easily take care of.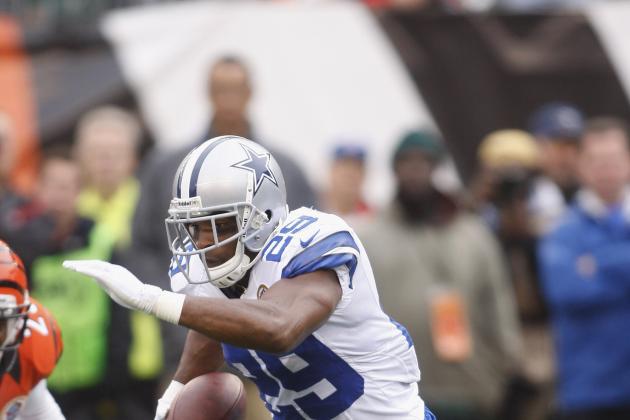 John Grieshop/Getty Images

The bottom line is that DeMarco Murray hasn't been the productive back he was supposed to be coming into the 2012 season.
Due in part to injury, and the fact that the Dallas Cowboys have played from behind most of the year, Murray has never really hit his stride.
In fact, the second-year back has only rushed for over 100 yards once this season, which came back in Week 1.
Not to worry. The Cowboys are now two games away from winning the division and should look to count on Murray to carry the load, especially this week against a 31st-ranked New Orleans Saints run defense.
So as much as Tony Romo would like to out-duel Drew Brees and hang 40 at home, Murray should be the star come Sunday on the back of 25-plus carries.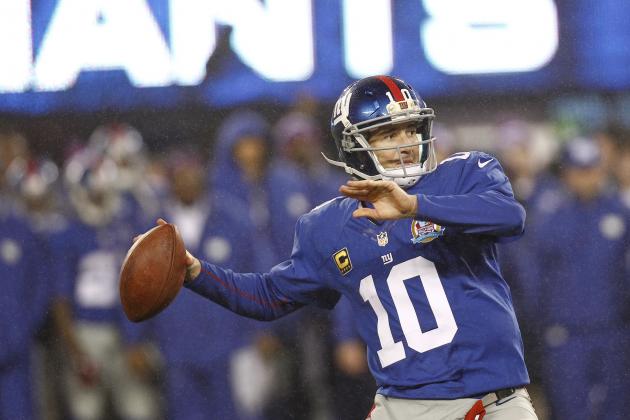 Jeff Zelevansky/Getty Images

It is hard to look at Eli Manning and the New York football Giants and believe that they're the defending Super Bowl champions.
As a true blue fan, it's beyond difficult to watch this team flop on a bi-weekly basis. At times they seem prepared and capable of beating any team in the league. Other times it seems as if head coach Tom Coughlin and company pick game plans by playing pin the tail on the donkey.
With all of that said, considering the Giants are coming off a 34-0 loss to Atlanta on the road, it can't get much worse in Week 16.
Literally, it can't get worse.
For New York, who controls their own playoff destiny with two-straight wins, letting Manning throw the ball early and often is only going to help them open up the Baltimore Ravens defense.
Look for "Easy E" to control the football, let Ahmad Bradshaw get his touches and make pinpoint throws to Victor Cruz and Hakeem Nicks on whichever side of the field Ed Reed isn't on.
Since capping off October on a four-game win streak, Manning has thrown seven interceptions to only eight touchdowns. Hardly the work of a two-time Super Bowl MVP.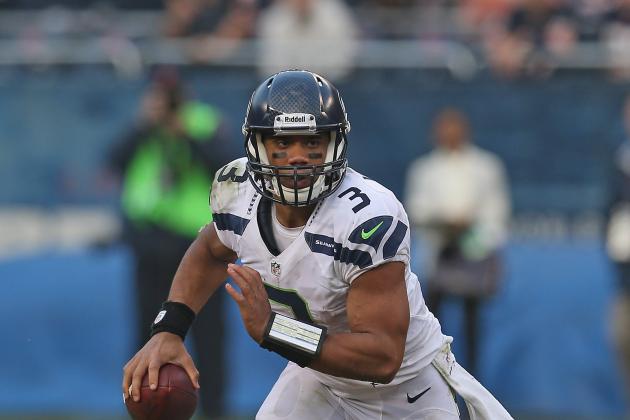 Jonathan Daniel/Getty Images

As much as Robert Griffin III and Andrew Luck have been built up for their rightful Rookie of the Year candidacies, Russell Wilson deserves consideration.
His name might not be attached to a high draft pick and his jersey sales may not top the NFL charts, but Wilson has been doing work in the Northwest since day one.
He has catapulted Seattle into the NFC playoff picture and has led the offense to two-straight 50-point performances. Not many teams do that with a 5'11" rookie quarterback at the helm.
If Wilson beats the San Francisco 49ers Sunday night at home, which is likely to happen, his rightful spot atop the ROY ballot will be solidified.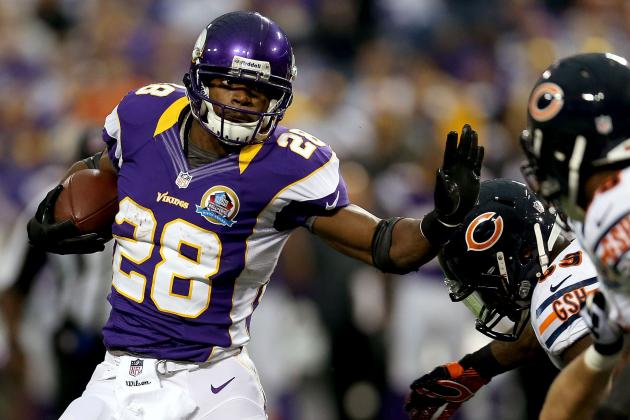 Matthew Stockman/Getty Images

First and foremost, Adrian Peterson's comeback is one for the ages. He has literally done the impossible and deserves every ounce of praise in the world.
However, it's difficult to believe that the guy can rack off yet another monstrous performance en route to breaking Erick Dickerson's elusive single-season rushing record of 2,105 yards.
Don't get me wrong, Peterson could easily do it, but it's called a bold prediction for a reason. It just seems too good to be true for him to rush for yet another 150 yards and two touchdowns, which he seems to do week in and week out.
Also, it may not be wise for the Minnesota Vikings to push Peterson too hard leading up to a possible playoff run, especially against the Houston Texan's fifth-ranked run defense.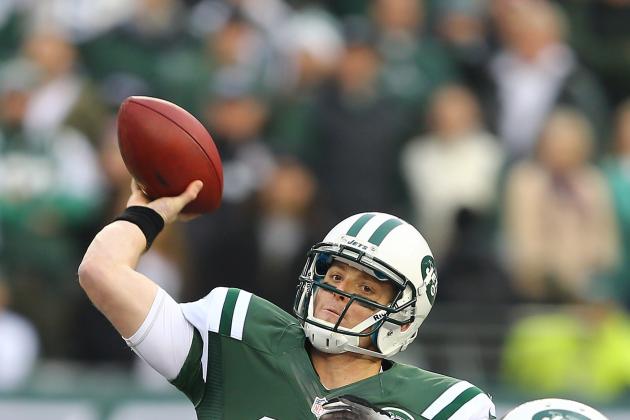 Al Bello/Getty Images

Look, it's Mark Sanchez. No, it's Tim Tebow. No, it's third-string quarterback Greg McElroy.
Seriously, it's third-string quarterback Greg McElroy.
As much as Sanchez and Tebow have been sugarcoated in the media, it's a former Alabama quarterback that takes the helm for the New York Jets in Week 16.
Needless to say, everybody involved with the Jets organization, from Rex Ryan to Fireman Ed, wants to move on and create a new era in New York. No more boneheaded fumbles or ill-advised throws on behalf of Sanchise, and no more force-fed nonsense about Tebow's goodie two-shoes approach on life and warm heart.
The Jets need a quarterback. A guy that can read defenses, pick up the slack of the run game and voice his opinions like a soldier in the locker room.
It has yet to be seen if McElroy fits that bill, but assuming he's given full reign of the offense for these last two weeks, he'll have a chance to prove it.
I'm saying he pulls one out opposite the woeful San Diego Chargers and gives the remaining sea of green at Metlife Stadium an early Christmas present.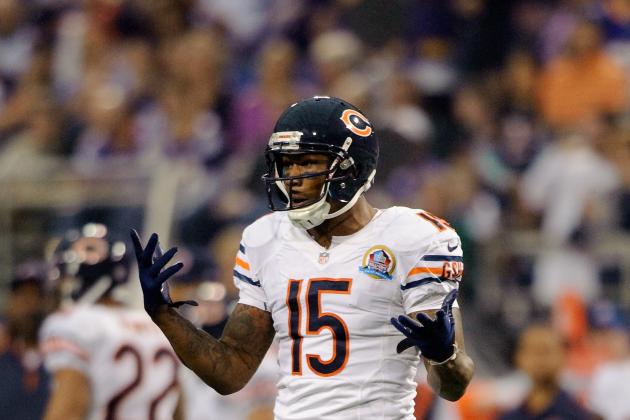 Hannah Foslien/Getty Images

Nobody really knows what has happened to the Chicago Bears.
At one point, they looked like the best team in the entire league. The defense was rolling, Matt Forte was making a difference and Jay Cutler looked like a Pro Bowl quarterback.
But now, following Brian Urlacher's injury and Cutler's ultimate demise, the Bears seem to be the laughing stock of the NFC North. Now, they've lost three games in a row to playoff-caliber teams and haven't shown a glimpse of light since November.
Picking Chicago to win this week against Arizona may in fact be more bold than picking them to lose, but in any case, it's Arizona.
Luckily for the Bears, they were so darn good to begin the year that they're somehow still in the NFC playoff race. However, that probably won't last.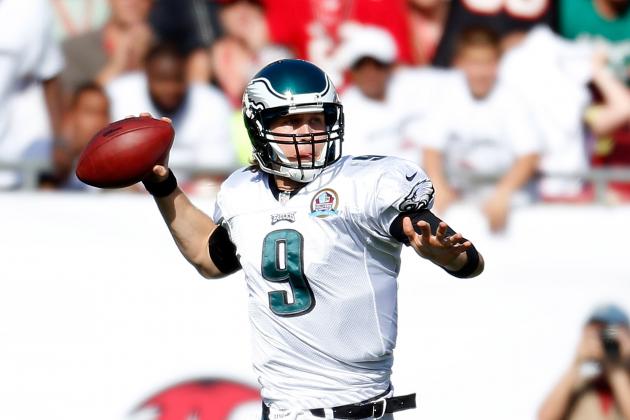 J. Meric/Getty Images

With all the hoopla surrounding the three-team traffic jam atop the NFC East, as well as the soap opera coverage of Robert Griffin III's health, people are forgetting that the Philadelphia Eagles are still a dangerous team.
Rookie quarterback Nick Foles and company proved that in Week 14 when they upset the Tampa Bay Buccaneers on the road 23-21.
So while DeSean Jackson keeps quiet on the sidelines and LeSean McCoy eases his way back into the offense, it will be Foles who will lead the charge and upset the Washington Redskins at home.
The 23-year-old didn't play all that well last time these two teams met, but that was his first career start. He'll perform much better this time around.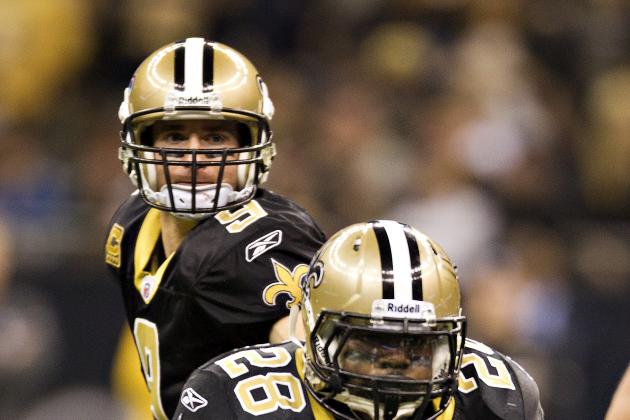 Wesley Hitt/Getty Images

Believe it or not, as talented and promising as Mark Ingram is, he's never eclipsed the 100-yard mark in a single game.
That streak stretches 24 games, nine starts and nearly 250 carries.
It's something that should end sooner rather than later. And considering the New Orleans Saints are ineligible for the playoffs and have nothing to lose here on out, testing the waters with Ingram and seeing what the kid can do with 20 carries should be in the cards.
Once it happens, Ingram could very well run away with the starting running back job for the next five years. He's that good and it's a damn shame that he's stockpiled in the backfield within a Drew Brees-led offensive attack.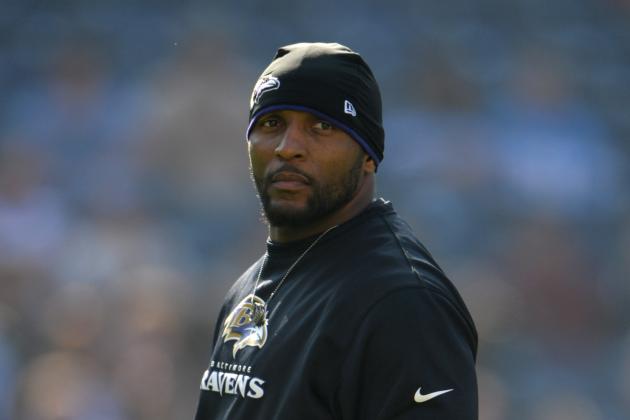 Kirby Lee-USA TODAY Sports

Week 16 will mark Ray Lewis' improbable comeback to the football field.
Just over two months removed from torn triceps surgery, an injury that knocks out players for up to an entire season, Lewis is making the impossible look easy.
For the Baltimore Ravens, a team who has clinched a playoff birth but not the division, it means getting back the field general they've been missing since October 17. It means having one of the greatest linebackers in NFL history behind the defensive line Sunday against the New York Giants.
Lewis may be limited initially, but when he's on the field, there's no doubt in anyone's mind that he'll play like his old self.
Just to be clear, as of early Friday morning, Lewis has not been officially activated from the injury reserve. This is merely a bold prediction leading up to Sunday.
For more NFL news and coverage, Follow @DHiergesell