Oregon Football: 2013 Recruits Who Will Start as Freshmen for the Ducks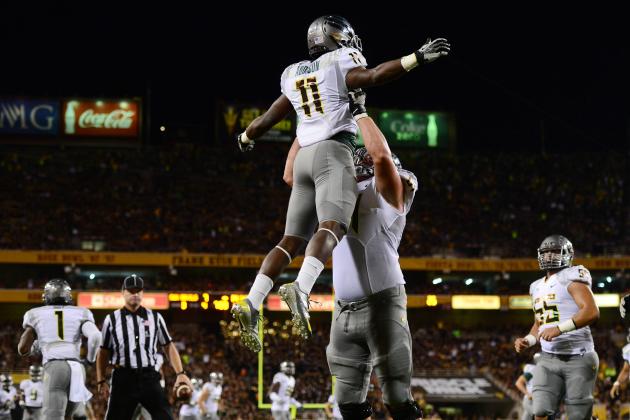 Mark J. Rebilas-USA TODAY Sports
Oregon Ducks freshman Bralon Addison gets thrust into the air after a touchdown reception.
Chip Kelly has no problem putting true freshmen on the field who he feels are ready. Players such as De'Anthony Thomas, Josh huff, John Boyett and Terrance Mitchell all started as true freshmen for the Ducks and proved that even as underclassmen, they could contribute greatly.
Although the recruiting process is far from over for the 2013 class, let's take a look at Oregon's potential freshmen who have the talent and readiness to start during the 2013-2014 season.
Begin Slideshow

»
There isn't any doubt that Oregon native and 5-star recruit Thomas Tyner will start for the Ducks sometime during the 2013-2014 season.
Tyner may start the season behind sophomore running back Byron Marshall, but it seems almost inevitable with his skill set that Tyner will at some point surpass Marshall for the starting spot.
With a 6'0'' frame that will range from 215-220 pounds, Tyner will punish Pac-12 defenders and the leave them in the dust with his track star speed.
Tyner will definitely start as a freshman for the Ducks
Many people think that Dontre Wilson will redshirt his first year because of how much athleticism Oregon already has on offense. I, on the other hand, do not think that is the case at all.
Wilson usually gets compared to De'Anthony Thomas for his size and quickness. Now, if you're Chip Kelly, would you redshirt Wilson instead of giving opposing defenses a double dosage of "Black Mamba?"
Wilson may not start, just as De'Anthony Thomas, but he will play many snaps and contribute like a starter.
Matt Wogan is considered to have one of the strongest legs in high school. He not only kicks off the ground extremely well, but is a D1-caliber punter. Here is what professional kicking coach Chris Sailer had to say about Wogan:
Matt is a phenomenal kicking prospect. He has the strongest leg in the nation and kicks effortlessly off the ground. Kickoffs are tops in the nation and ready for D1 ball right now. Punting is also at the D1 level. A great athlete with an even better attitude. The sky is the limit. A D1 scholarship pick without a doubt.Expect big things in the future from Matt. One of the best all around players that we have had in years. Huge pick up for Oregon!
With the departure of Jackson Rice at punter and Alejandro Maldonado as Wogan's only competition at place-kicker, look for the incoming freshman to take over for both kicking positions.