5 Reasons Why the Carolina Panthers Will Rebound from Losing Record in 2013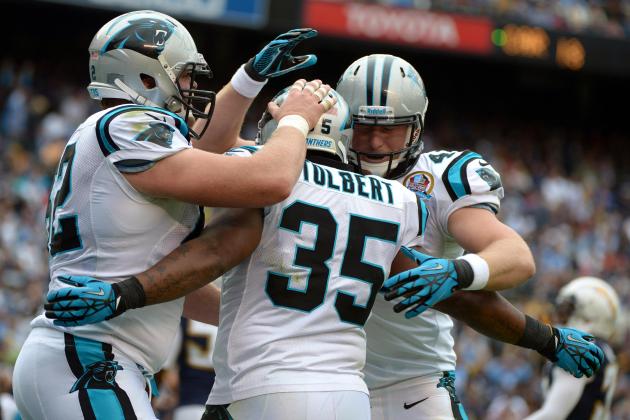 Donald Miralle/Getty Images

After getting off to a miserable start to the 2012 season, the Carolina Panthers (5-9) hope to finish strong by winning their final two games, and they will look to start 2013 on a strong note. Still, the Panthers have a lot of areas that they will need to address as far as personnel and roster moves are concerned.
Some moves have been made already, as Carolina has dismissed general manager Marty Hurney, special teams coach Brian Murphy and kicker Justin Medlock. With the possibility of a coaching change and potential trades of key players looming on the horizon, this offseason may be a busy one in Charlotte.
When the 2013 season starts next September, will the moves of the spring and summer be enough to lift the Panthers over the hurdle of mediocrity?
Perhaps. Perhaps not.
Given what we know now, all that can be done is to project and predict the Panthers' level of success next season. Most fans in Carolina will have all the optimism in the world, and they believe that their team can make a playoff run next year.
Here are five reasons why.
Begin Slideshow

»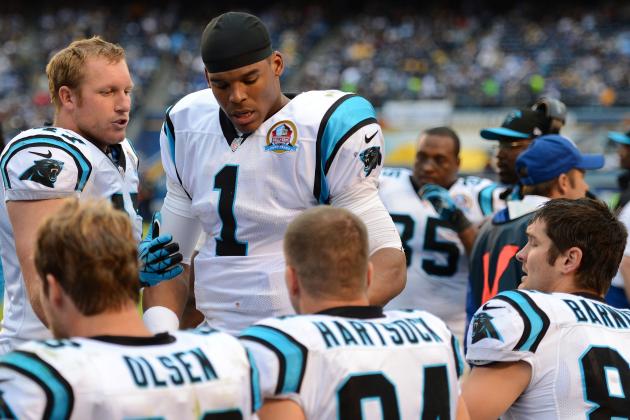 Jake Roth-USA TODAY Sports

Cam Newton's struggles early on this season were so bad that even the most ardent supporter of the young quarterback had to acknowledge the "sophomore slump" in which he found himself. Poor decision making, costly turnovers and taking sacks all played a part in Newton becoming a shell of the player he was in 2011.
However, he has looked like the quarterback that was drafted No. 1 overall throughout the past seven weeks. During this time, he has 11 touchdowns to just two interceptions. His improved play has allowed the Panthers to go 4-3 over that stretch, and has helped propel the Carolina offense into a scoring machine.
He will need to continue to grow if the Panthers are to be contenders in 2013.
Given what we have seen from him over the last few weeks, it seems as though he is more comfortable and is making better reads. He is not forcing the ball to Steve Smith and is looking at secondary and check down options.
The Panthers have their quarterback of the future and it will be up to him to continue to mature and develop into an elite player. This will be the most crucial step in the rebounding process.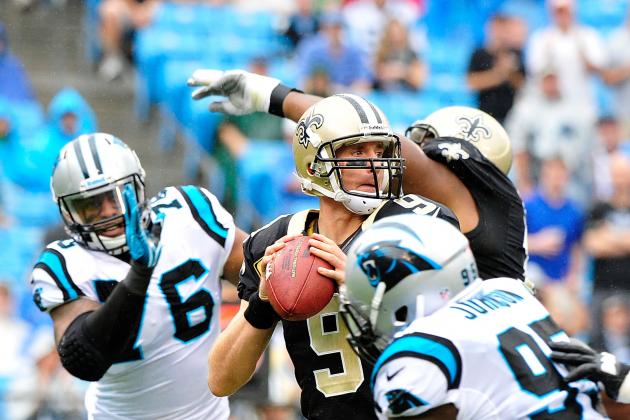 Grant Halverson/Getty Images

Say what you want about Carolina's defense, but there is no denying that this unit—with its talented youth and ability to overcome injuries—is better now than it was when the season started. In 2013, the Panthers will still have defensive playmakers in Charles Johnson, Greg Hardy, Luke Kuechly and Thomas Davis along with the returning talents of Jon Beason and Chris Gamble.
The team will most likely bolster their defensive line early in the draft. But, given their current record, they may be out of the running for talents like Star Lotulelei or Johnathan Hankins. However, they could be in position to draft Johnathan Jenkins out of Georgia. The bottom line is: the defensive line will be better in 2013.
There is a lot of speculation about what to do with Kuechly and Beason next season, along with talented outside linebackers like Davis and James Anderson. Since they are all so talented, it will be hard to move one of them into a situational role. This will be an interesting storyline to watch, but there is no doubt that Carolina will have one of the best linebacker units in the league.
Gamble will return to lead the secondary, and with Josh Norman having one year under his belt, he should be a more solid option at the second cornerback position. Assuming the Panthers don't draft a defensive tackle first, they could very well look at safeties. That is because Haruki Nakamura may not be the solution at free safety, and he will provide one of the few question marks about the defense in preseason scouting reports.
The defense has found a way to move from the bottom of the league to the middle of the pack, and it's not out of the question to believe that this unit will be one of the best in the league next season.
Stephen Dunn/Getty Images

It is hard to call any schedule that features games against the Atlanta Falcons, New Orleans Saints and New England Patriots favorable—especially when two of those teams are division rivals—but the Panthers may have an easier road to the playoffs in 2013.
Only four of their opponents next season will have had a winning record in 2012, although that number could increase to six depending on who their opponents will be from the NFC East and NFC North. Further helping their cause are that the non-division games against New England, San Francisco and Seattle will be at home.
The Panthers have shown that they can compete against their division foes and, aside from the defending division champs they will face next year, they should be able to dominate the NFC West and AFC East by going 3-1 against each division.
Assuming that happens and that they split against their division opponents, they will be looking at a record of 9-5. Depending on who they play and how the game turns out, Carolina will either be fighting for a playoff berth or a division title.
Granted, this is a lot speculation but their schedule is more favorable in 2013 than it was in 2012. Five games against playoff contenders next season as opposed to the seven that they faced this season bodes well for their future success, and given how close a lot of games were against those contenders, it will play into the Panthers' favor.
Speaking of close games...
Grant Halverson/Getty Images

Carolina has made a habit of getting out to fast start in their last four games but they have only won two of them. Several times this season, they have led at halftime or in the fourth quarter only to squander the lead and ultimately lose the game.
That will change in 2013.
There is no doubt that the Panthers offense will continue to build and improve allowing the team to get an early lead. With the offense doing their part to put points on the board, the defense will be allowed to play aggressively—a trait that has served them well lately. By scoring early and setting the tempo for the game, Carolina will not blow leads, but rather, preserve them.
Had Carolina discovered this formula earlier in the season, they could easily be a 12-2 team instead of a 5-9 one. What a difference closing out games can make.
The Panthers will be more experienced, and the youth will take what they learned this season and use it as a learning tool for the new season. There is a lot of talent on this team, and if they can execute, establish the tempo and hold onto the ball, they will be a very tough team in 2013.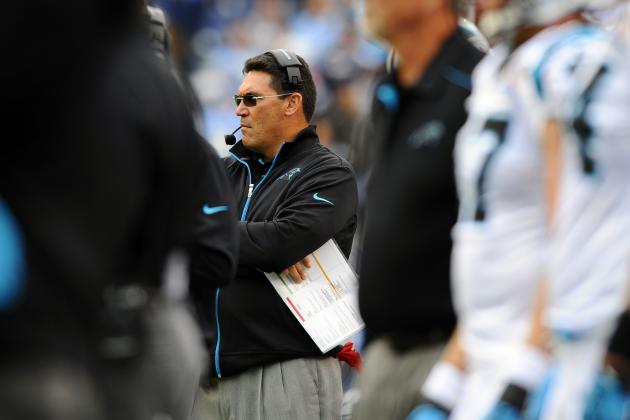 Christopher Hanewinckel-USA TODAY Sports

Depending on who you are, you either support Ron Rivera and his staff returning for a third season or you feel it is time time for a change in coaching. Assuming, Carolina retains Rivera and his staff for a third season, it can be assumed that the team will play a lot better because they have learned from their mistakes earlier in the season and understand what needs to be done in order to maintain a winning philosophy.
Offensive coordinator Rob Chudzinski tried and failed earlier in the season by attempting to implement the read option into his spread offense. Unlike last year, it did not fare too well, as plays were blown up in the backfield and the offense struggled to move the ball. However, he went back to basics and simplified the playbook for Cam Newton. As a result, Newton has improved his game tremendously. Scoring at least 30 points in three of their last four games has helped too.
The defense has come around as well, as both Charles Johnson and Greg Hardy are the first Carolina defensive ends since 2003 to record double digit sacks in the same season. Defensive coordinator Sean McDermott has been able to employ this kind of aggressiveness due to the offense's ability to score more consistently. When the defense is put in a position to play to McDermott's style and keep the quarterback unbalanced, the Panthers are a dominant team.
Rivera has the support of his players, and there is no doubt that a return for a third season will carry a stipulation of making the playoffs—anything less would be unacceptable. The coaches and the players will have to use that as motivation if they are to win. There shouldn't be any repeat of questionable calls or mistakes on Rivera's part, though, and he should play to the strengths of his team and play to win instead of playing not to lose.