Redskins Extend Winning Streak to Six as Defense Does Enough to Down Eagles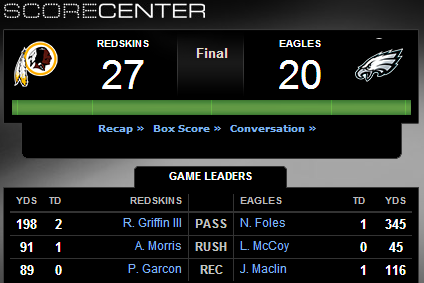 The Redskins defense came up big all game long, but no bigger than the game-deciding goal line stand that sealed the deal. On a third and goal with eight seconds remaining, Stephen Bowen pressured Nick Foles, forcing an intentional grounding penalty and a 10-second run off to end the game.
Griffin threw two touchdowns and an interception in his return to action, and Morris rumbled to 91 yards and a touchdown on 22 carries.
It was a day for defense, however, as the Redskins forced two turnovers, and held the Eagles backfield to 90 yards on 22 carries.
Though the Redskins didn't clinch the division this week, they moved their winning streak to six games and have themselves one victory away from their first division title in 13 years.
Final Score: Redskins 27, Eagles 20
Morris failed to reach the century mark for the second straight week, but rushed for 73 yards in the second half alone after a lackluster first half.
Garcon's seven catches for 89 yards led the Redskins once again, but shows a lack of production from the rest of the receiving corps that had just five catches as a group.
Niles Paul, Logan Paulsen, Chris Cooley and Morris each caught passes, but Griffin finished with just 198 passing yards on the day, his lowest total since he threw for just 177 yards against Pittsburgh earlier this season.
The last time the Redskins won six games in a row during the regular season was in 1996 in Norv Turner's fourth season as head coach. In that season, they won seven in a row after a season-opening loss, but loss six of their final eight games, missing the playoffs.
The Philadelphia Eagles made a potential blowout of a game into a last-second affair in what was likely Andy Reid's final home game as head coach. Nick Foles came up big despite a fumble and an interception, but too little too late.
Foles finished 32 of 48 for a touchdown and an interception, but was sacked five times in a rare application of pressure from Jim Haslett's defense.
#Redskins HC Mike Shanahan says Eagles did a great job coming back to fight, disappointed team couldn't finish them off

— Redskins (@Redskins) December 23, 2012
McCoy is making tremendous moves in the open field, shaking the sloppy tackling of the Redskins secondary that is inexplicably bad at wrapping up. The Eagles have completed passes and picked up yards, but mostly in the middle of the field, forcing them to burn all of their timeouts on this drive.
A soft defensive scheme in this quarter has the Redskins defense on their heels, and the Redskins faithful holding their breath.
Washington gets lucky as Foles underthrows a wide open Maclin in the front corner of the endzone. No safety help on that play, and the Redskins nearly paid for it.
A hard run from McCoy goes for 12 yards and stops the clock for a goal line stand with the game on the line. Great coverage in the endzone, pressure from Stephen Bowen forces Foles to throw it, but he comes up short of the line of scrimmage, and he earns an intentional ground penalty.
By rule, we get a 10-second run-off, and with one second remaining, the Redskins win their sixth in a row!!
Final Score: Redskins 27, Eagles 20
Foles has all day to throw, and keeps finding holes in the Redskins coverage. Without the pressure up front, there's no reason to think the Eagles can't march down the field and tie it up, if not take the lead.
Haslett needs to get to Foles before he nails them with a big play down the field.
If it comes down to a game-winning drive for the Redskins, there's no better quarterback than RGIII, or Kirk Cousins if need be. The Eagles are threatening, and the Redskins defense looks soft this quarter.
2:00 remaining Fourth Quarter
The Redskins opt to go for it on fourth down, but don't run a play, trying to draw the Eagles offsides for the first down. The Eagles hold, and don't fall for the hard count. Washington incurs their first delay of game penalty with RGIII under center.
As the play clock wound down, Griffin ran back under center for a quick snap that he sold well enough, but didn't draw the Eagles across the line.
Smart call not going for it on 4th down in a 1-score game. Trust your punter to put it deep--trust your defense to keep them there. #HTTR

— Redskins (@Redskins) December 23, 2012
It comes down to the defense holding the Eagles to three points or less. A touchdown ties it up, though Reid may want to go out with a flurry and go for two if they score.
3:42 remaining Fourth Quarter
Foles has had to do a lot of the work himself for the Eagles, as the Redskins have held the McCoy/Brown tandem to 53 yards on 15 carries. Washington's defense isn't putting the same kind of pressure on Foles, preferring to drop into coverage, and that leaves him open to scan the field for easy yards.
After the touchdown, Washington takes over and has to respond to sap Philadelphia's momentum.
Morris takes a toss off the left side, making a nice cut around a block, fighting for extra yards, picking up 14 yards. A quick throw to Morgan picks up another first down, and the Redskins offense appears unfazed by the interception that ended the previous drive.
Alfred Morris' 4-yd run was the 300th attempt of his season. He's the first #Redskins RB to run the ball 300 times in a season in 5 years.

— Grant Paulsen (@granthpaulsen) December 23, 2012
6:37 remaining Fourth Quarter
Can't tell if it is the Eagles line giving in, or adjustments by Jim Haslett, but the Redskins defense has put great pressure on Foles, contributing to a four-sack outing for the maligned unit.
Chris Cooley makes his first catch of the season, a long overdue catch at that. Nice to see him finally get one.
Griffin throws high, and the pass bounces off the hands of the intended receiver, and Colt Anderson hauls it in for the interception. Bad time for a turnover, even in a 14-point game. Too much time left to give the Eagles a shot at easy points.
12:28 remaining Fourth Quarter
Morris starting to move the chains, picking up 21 yards on three carries following the turnover on downs by the Eagles. Royster picks up seven yards on his second carry, but a batted ball and a drop from Hankerson put the Redskin in a third and long situation inside the Philadelphia 30 yard line.
Griffin tosses a pretty pass to the front corner of the endzone, Moss catches, plants his right foot while dragging the left. Touchdown Redskins!!
What looked like another field goal-bound drive turns into a 27-yard touchdown, Griffin's 20th of the season.
what a GREAT throw and great catch from @rgiii to Santana Moss

— trey wingo (@wingoz) December 23, 2012
Redskins 27, Eagles 13 ; 1:31 remaining Third Quarter
Eagles offense takes over near midfield with a draw to McCoy that Jarvis Jenkins blows up for a loss of three yards. Excellent play recognition by the young defensive end!
An incomplete pass and a completion to Avant brings up another fourth down for Philadelphia, but Foles goes down as Kerrigan blows his man up, which trips Foles for the sack. Lorenzo Alexander fell on Foles for the sack, but Kerrigan made it happen.
3:11 remaining Third Quarter
A nearly disastrous play sees Griffin with a ton of pressure in his face before he can get his head around, he forces a throw to Moss on the right side, but it falls short of the mark and is a lateral.
Live ball recovered by Moss, but the damage is done and the Redskins face a longer field following the fumble.
The Redskins challenge the ruling on the field, but from all angles it is clear it was a throw behind the line of scrimmage. Hochuli offers a perfect explanation, and the ruling on the field stands.
On second and 27, the Redskins are just working to get out of the shadow of their own endzone and play the field position game. Morris picks up five yards, and Moss picks up another four, but Sav Rocca must come on for his first punt of the game.
He nails a 53-yarder and Damaris Johnson returns for 10 yards to midfield.
6:02 remaining Third Quarter
The Redskins offense looks crisp to open the second half, with Griffin hitting Garcon for a big 29-yard gain, and Morris finding a couple of holes to more than double his rushing total for the game.
Morris finishes the drive with an untouched, 10-yard run to the endzone to extend the Redskins lead.
Philadelphia wastes not time with their response, even with Foles getting his hand x-rayed at halftime. A big completion to Avant down the right side goes for 42 yards, followed by a 14-yard catch and run by Riley Cooper.
Safety blitz from Williams drops Foles for a loss of seven yards to bring up third and 16. The Eagles call a screen to Celek to pick up a few yards, but settle for a Henery field goal from 30 yards out.
Redskins 20, Eagles 13 ; 8:01 remaining Third Quarter
The Redskins have bucked a number of trends this season, as well as adopted several others. They're heading for a rare winning record against division opponents, as well as their first division title since 1999.
#Redskins lead 13-10 at halftime. They own a 5-1 record this season in games where they led at halftime.

— Mike Jones (@MikeJonesWaPo) December 23, 2012
Their lone loss when leading at halftime came in Week 2 against the St. Louis Rams, but that Redskins team is a shadow of the team they've become since their bye week.
The Redskins offense has been limited by Griffin's lack of mobility, but Shanahan has adjusted by quickening the pace a bit on throws and hand offs.
Morris has just 35 total yards in the game, and if the Redskins expect to extend their lead, they will need to find some success on the ground. With Griffin not running, the read option isn't working, and the stretch run doesn't work against the wide nine scheme the Eagles run.
Alfred Morris nine rushes for 18 yards, exactly the same as at halftime last week. Second half he came out and helped crush Cleveland.

— The Insider (@Insider) December 23, 2012
Aside from Garcon, the Redskins haven't had much help from their receivers, with Moss, Morgan and Leonard Hankerson having just one catch each.
The Redskins defense held up long enough for the offense to get going. Kyle Shanahan has adjusted nicely to Griffin's hindered mobility, calling quick throws and more direct runs.
Morris has just 18 yards on nine carries, but the offense can't abandon the run because of a lack of production.
Washington's defense takes a hit, as Josh Wilson breaks up a pass, but heads to the sideline with a shoulder strain. With an already thin secondary, the Redskins are even more open to being riddled Foles and the Eagles passing game.
1:22 remaining Second Quarter
Without the threat of Griffin taking off out of the read option, the Eagles defense has done a nice job of holding Morris to just six yards on six carries. Griffin's hindered mobility is on full display on playaction and when the Eagles apply pressure.
He's still fast enough to wiggle out of a sack, but he's not blowing by defenders and forcing the respect on offense.
Kerrigan picks up his second sack of the day, topping his rookie total of 7.5 sacks last season, getting the outside pressure the Redskins have desperately needed this season.
Foles steps up in the pocket, but his throws is deflected and London Fletcher is there for the interception!!
#Redskins LB @lfletcher59 INTERCEPTS Foles! This is his 5th this season, 23rd career INT (second among active LB's--Ray Lewis). #HTTR

— Redskins (@Redskins) December 23, 2012
4:19 remaining Second Quarter
The Redskins failed to capitalize on the turnover, settling for a field goal from 45 yards out. The drive featured a rare completion to Morris out of the backfield, an Evan Royster appearance and an nearly-disastrous called run to Josh Morgan.
After the seven-yard run from Royster, the Redskins failed to pick up another yard against an aggressive Eagles defense.
The defense comes up big on the ensuing drive, forcing a three-and-out for the first time today.
#Redskins follow up their takeaway with a three-and-out. Nice response after a slow start to the game.

— Grant Paulsen (@granthpaulsen) December 23, 2012
9:39 remaining Second Quarter
McCoy and Brown have been the workhorses for the Eagles offense, but Foles has looked sharp to tary the day. He's taking everything the Redskins are giving, and picking them apart in the process.
Foles isn't a super-athlete, but he's making throws on the run and moving the chains with every completion.
With the running backs and Foles finding a rhythm, the Redskins defense has to worry too much about the running threat as well as the deep throw they've fallen victim to all season.
A timely sack from Perry Riley on second down drops Foles for an eight-yard loss. On third and 15, Ryan Kerrigan gets to Foles, forcing him out of the pocket, and ultimately forcing a fumble on the sack.
Richard Crawford recovers and the Redskins take over at their own 41 yard line! Huge turnover with the Eagles threatening again.
For @ryankerrigan91, it is his 7.5 sack this season, which ties his rookie total, 15th career. His 6th career forced fumble. #HTTR

— Redskins (@Redskins) December 23, 2012
14:35 remaining Second Quarter
Griffin starts the day 3-for-3 for 35 yards before he takes his first carry of the game. He scampered to the right, and looked nothing like the explosive sprinter in weeks past before he wisely takes it out of bounds for a five-yard gain.
A solid drive grinds to a screeching halt as Griffin overthrows his receiver on third down, and the the Redskins decide to go for it on third and two in Eagles territory.
Griffin fakes the handoff, rolls to the right and finds pressure right in his face. He rushes his throw to Santana Moss who fails to reel it in, and the Redskins turn it over on downs. Even if Moss had caught it, he was short of the first down with a defender all over him.
That would've been a 53-yard field goal on a cold, windy day in Philadelphia. Going for it (because it was 4th-and-2) makes some sense.

— Grant Paulsen (@granthpaulsen) December 23, 2012
4:38 remaining First Quarter
The Eagles took the opening drive 76 yards for a touchdown that showed they are neither mailing it in, nor concerned about the result of the first meeting against the Redskins.
Two key fourth down conversions kept the drive alive, and Madieu Williams missed his assignment over the top, allowing Maclin an open look in the endzone.
On the ensuing kickoff, Niles Paul takes the kick up the left side for a long return, but a holding call takes the Redskins all the way back to the eight yard line, where RGIII and the offense take over for the first time today.
Eagles had scored on opening drive of a game only once this season until today. #Redskins

— Mike Jones (@MikeJonesWaPo) December 23, 2012
7:17 remaining First Quarter
Philadelphia receives the opening kick, and return it to the 24 yard line, where Foles and the Eagles offense will take over. McCoy involved early, getting two carries and a reception in the first four plays of the game.
Brown takes it over the left side for a nice gain, but is short of a first down. On third and short, the Redskins stop Brown short of the first, forcing a fourth down.
The Eagles go for it, and Foles finds an open Brent Celek for the first down, moving the Eagles in the Redskins territory.
Solid opening drive from the Eagles thus far, Foles finding open receivers and stepping away from what little pressure the Redskins defense has applied.
11:24 remaining First Quarter
With McCoy back in the lineup, Bryce Brown will see a reduced role for the Eagles. Brown, having gouged Dallas and Carolina for 169 and 178 yards respectively, has earned his touches, and should force Reid to run a backfield rotation. If Brown and McCoy get going early, it could a long day for the Redskins defense.
Washington's defense has been stout against the run, and has allowed just three 100-yard rushers this season. They held the NFL's leading rusher, and potential record-setter, Adrian Peterson to 79 yards, his second-lowest rushing total for the season.
If the Eagles can't open things up on the ground, the Redskins suspect secondary will be able to sit on the passing game, and take advantage of Foles.
In his first start of the season, Foles threw two interceptions in a 31-6 mauling at the hands of the Redskins.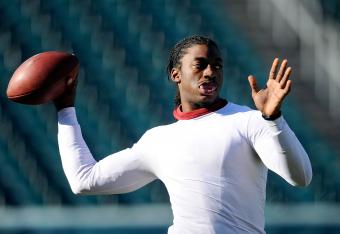 All eyes will be on RGIII, as he returns from a knee sprain that held him out of last week's game against Cleveland. He'll likely be restricted by the bulky brace, which could impact the offensive strategy for the Redskins.
It remains to be seen if Griffin will be doing any running, or if the coaches have advised him to only take off when he absolutely has to.
Regardless of Griffin's status, the Eagles defense will have to stop Alfred Morris to have much of a chance at stopping the Redskins offense. Morris rushed for just 70 yards against the Eagles in their first meeting, but he has averaged 113 yards over the four games since.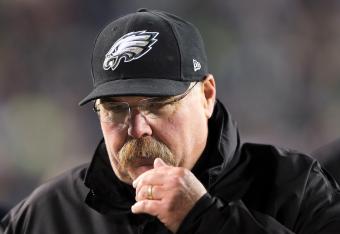 Washington's five-game winning streak is on the line, as is their playoff destiny. The Redskins can clinch a playoff spot today with a victory and losses from the New York Giants, Chicago Bears and Minnesota Vikings.
The Redskins, however, are not looking past the Eagles, who would love to halt Washington's momentum and boost morale in the sagging locker room.
With Andy Reid's tenure as head coach coming to a close, a victory in his final home game would be a great send-off in front of the mercurial Philly fans.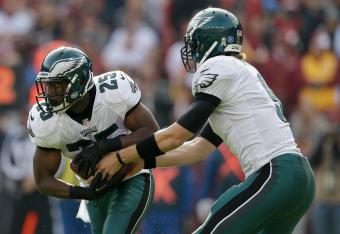 LeSean McCoy gets the start today, having been cleared to play for the first time since he suffered a concussion against the Redskins in Week 11. Michael Vick is a healthy scratch today, which could be for safety reasons or to allow for further evaluation of Nick Foles as a viable starter.
#Eagles Inactives: Vick, Salas, Polk, Havili, Tapp, Watkins and Kopa. Igwenagu starts at FB and Colt Anderson starts at safety.#WasvsPhi

— Philadelphia Eagles (@Eagles) December 23, 2012
Though Robert Griffin III may be the highlight of the game's active list, the Redskins will be without right tackle Tyler Polumbus, who suffered a concussion last week against the Cleveland Browns. His absence could prove significant if Washington's ground game suffers with Maurice Hurt filling in on the right side of the line.
#Redskins inactives: QB R. Grossman, PR B. Banks, WR D. Briscoe, LB R. Muckelroy, LB V. So'oto, OG A. Gettis, OT T. Polumbus. #HTTR

— Redskins (@Redskins) December 23, 2012
This article is
What is the duplicate article?
Why is this article offensive?
Where is this article plagiarized from?
Why is this article poorly edited?