Arsenal vs. Bayern Munich: Reaction to Champions League Last-16 Draw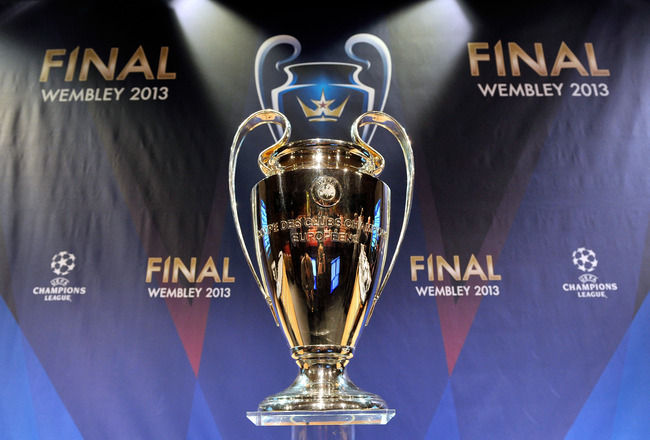 Harold Cunningham/Getty Images
Arsenal may have avoided Barcelona, but they have been given one of the toughest draws possible after Bayern Munich were pulled out as their opponents for the Round of 16 of the UEFA Champions League.
The Gunners will meet last year's beaten finalists at the Emirates Stadium on February 19, before the second leg at the Allianz Arena on March 13.
Before the draw there were only two teams that Arsene Wenger and his team would really have wanted to avoid—Barcelona and Bayern Munich.
There are no two ways around it: Arsenal are going to have to do things the hard way if they are to get to Wembley and triumph next May.
Following the draw, the Gunners' odds have been cut by bookmakers from 25-1 to 40-1 to win "the trophy with big ears."
Along with the Arsenal-Bayern tie, the draw has also thrown up a few more potential classics with the latest football darlings on the block, Borussia Dortmund, facing Shaktar Donetsk. AC Milan and Barcelona will play out the latest chapter in their amazing rivalry, while Real Madrid will face Manchester United in the heavyweight clash of the last 16.
Here we look at the coming fixtures between two of Europe's footballing crown jewels.
Full draw
Galatasaray vs. FC Schalke
Arsenal vs. Bayern Munich
Shakhtar Donetsk vs. Borussia Dortmund
AC Milan vs. Barcelona
Real Madrid vs. Manchester United
Valencia vs. Paris Saint-Germain
FC Porto vs. Malaga
Arsenal: How They Got There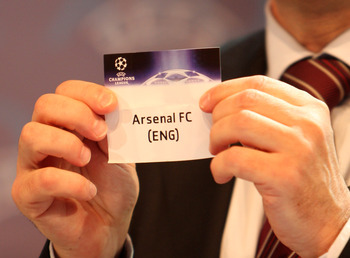 Phil Cole/Getty Images
The story so far...
Arsenal are not playing well this season.
Despite their poor current form they are still odds on to finish above Tottenham Hotspur and Everton. However given the fact that the Gunners spend £124.4 million a season on wages compared to their chief rivals, who respectively have spent of £91.1 million and £58 million, this is no surprise.
They currently sit in fifth place in the Premier League on 27 points after 17 rounds of matches and are a whopping 15 points behind the current leaders, Manchester United.
As far as the Champions League is concerned, the Gunners were in cruise control and in charge of the group until they came up against Schalke 04 in Matchdays 3 and 4. The Bundesliga side caused all manner of problems for Arsene Wenger's team, which only managed to take one point from the two fixtures.
An important win against Montpellier in Matchday 5 put Arsenal back in charge of their own destiny, only for the Gunners to fluff their lines in the last group game where they lost to Olympiacos. This defeat sent Arsenal into the draw for the last 16 as a runner-up instead of group winner.
Arsenal Reaction to Draw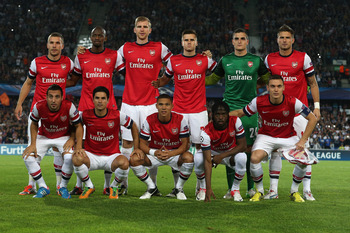 Julian Finney/Getty Images
Speaking to Arsenal.com, German international Per Mertesacker was joined by club captain Thomas Vermaelen in giving their views on the draw.
A candid Vermaelen admitted that the tie would be very tough but that anything can happen in a cup competition. "It's a tough one but we knew before [that] it doesn't matter who we drew, it will always be a tough one, especially in the Champions League," he told Arsenal Player.

"You play against the best teams in Europe. I think it will be a nice game. Bayern Munich are doing well in the German league. They are in first spot so it won't be easy but I'm looking forward to the game.
Bayern have been superb this season and have scored a spectacular 44 goals in 17 matches and have lost just once on their way to the summit of the Bundesliga.

"There's less than two months to go [until] the first game so a lot of things can happen with the team, positively and negatively," he said before adding, "we'll see at that time how it goes. I'm confident we can get the result if we have a good day.

"Most of the time in the Premier League, the one that's the most consistent wins the league. The Champions League is a tournament. Anything can happen.
Mertesacker also drew note to the German winter break and how it could possibly work in the Gunners' hands.
"We will face a good team in Germany," said the German international. "They are top of their League and went through to the knockout stage in a phenomenal way.
"They only conceded seven goals in the first half of the season. [But] they have a little break now and can rest a bit.
In most major European leagues teams enjoy a winter break and a couple of weeks off around Christmas from frantic competition. The Premier League is almost unique in that the fixtures often double over this period with most teams playing anything from five to seven games in a short two- to three-week span.
While this can be physically sapping for players over the course of a long season it also gives English clubs a potential advantage come the Round of 16 as good teams will have built up a steady momentum by this stage.
"Maybe it's a good opportunity for us to face them in February because we will be in our rhythm," he said. "We will hopefully go through the Christmas period in a strong way. We can do that.
"We have a lot of potential and Bayern know they will face an Arsenal squad that will be strong in February.
"We have to be consistent until then. We have to show that it's not only our potential which makes us a good side. We have to get good results until the next Champions League game. It's a long period for us and the German teams have a little break and a little rest. We will see what happens in February.
"But we hope we can get into a good rhythm to face them."
With Arsenal's two main defenders focusing on the momentum they hope to have built up by February, it would seem that perhaps they are clutching at straws.
Bayern Munich are far too professional a team to let a mere winter break interfere with their quest for football domination so the Gunners will have to do more than just hope for rhythm.
In this respect the January transfer window could prove vital for Arsene Wenger as he now has a fixed target in Bayern to get over and he will immediately know where his team needs strengthening.
Bayern Munich: How They Got There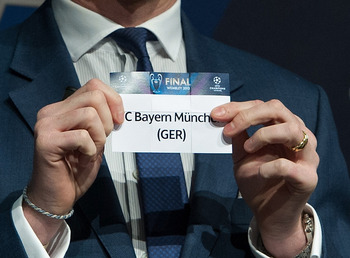 Harold Cunningham/Getty Images
The story so far...
Bayern Munich have been electric this season and are easily one of the best teams in the world at the moment.
The beaten finalists in 2012, 2010 and 1999 and winners in 2001 are perennial challengers for the UEFA Champions League and will again vie for the title in 2013.
Currently sitting atop the Bundesliga with an impressive 42 points after 17 rounds of matches, the German giants have only lost one domestic game this season. However, the real story behind their impressive rise to the top of the German league has been their defence—they have only conceded seven goals in 17 matches compared to Arsenal's 18 in 17 domestic matches and eight across six Champions League games.
To cut a long story short, the Gunners have conceded more goals in just six Champions League matches than Bayern have in 17 domestic matches.
To draw further comparison between the two competing teams, Schalke 04 are currently 17 points behind Bayern in seventh place in the Bundesliga on 25 points. Schalke completely outplayed the Gunners for long periods during their two group games, but were easily beaten by Bayern when the two teams met in September.
Bayern controlled their group from start to finish and from the very moment they beat Valencia on Matchday 2, there was always only going to be one winner.
Despite a shock 3-1 defeat to BATE Borisov on Matchday 3, Bayern never relinquished their strangle hold on the group. They crushed Lyon and BATE 6-1 and 4-1 respectively to win the group after drawing with Valencia in between on their way to the Round of 16.
Bayern Munich Reaction to Draw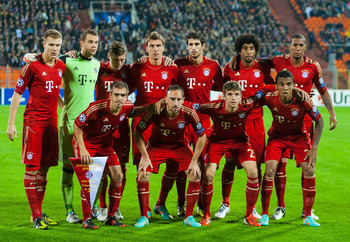 EuroFootball/Getty Images
Bayern Munich's players and club officials were obviously delighted with the draw and spoke confidently to FCBayern.de about the prospect of facing Arsenal in the knockout stages.
Club and football legend Karl-Heinz Rummenigge said, "We know Arsenal well. We can be satisfied with the draw, but we mustn't underestimate them. It's important we try to come away from London with a good result, score a goal there and lay down a marker. We can win it, and we start as favourites."

While fellow legend Matthias Sammer went straight to the point by stating: "These opponents, their stadium: it's a highly attractive last sixteen tie."

The current players were as confident as Sammer and Rummenigge. But they were keen to stress that attitude and character would play major parts in determining the fixture. In recent years the one aspect that almost every football pundit has criticised Arsenal for is their lack of character when the chips are down.
Against a team like Bayern, the Gunners will be tested like never before across every single aspect of their play, and character will be as vitally important to winning this fixture as skill and technique.
Philipp Lahm, Bayern's captain, spoke enthusiastically about the prospect of facing Arsenal at the Emirates, and about meeting up with old friends: "It's a great draw. I'm looking forward to meeting up again with Poldi and Per; it's always a bit special when you face fellow internationals. And they're another team I've never played against before, and I'd also yet to play at their stadium. All of us and the fans can look forward to a great atmosphere at both matches. We have a good chance of getting through. If we show our true quality, we'll make it."
Manuel Neuer and Thomas Müller also commented on the upcoming fixture, with the goalkeeper realistic and refreshingly human about the tie.

"It's an attractive draw against a big club with very good players," he said. "It definitely won't be easy, but I think we're capable of making the next round.
"Obviously, playing against Poldi and Per is a bit special and I'm looking forward to seeing them both. We'll meet up shortly beforehand with the national team, I'm sure we'll have a bit of a laugh about it then."
For Neuer and Lahm the chance at facing off against two friends seems to be just as important as the fixture itself and while Müller also mentioned the pair he was more to the point than his teammates.

He said, "It's a really good draw against an interesting but manageable team," before adding, "I'm looking forward to playing in London for the first time, and especially to the reunion with the two Germans, Poldi and Per."
The key phrase in Müller's short quote is that he sees the Gunners as a "manageable team" and that for him Bayern Munich should ease into the next round without fear.
Arsenal vs. Bayern Munich: Talking Tactics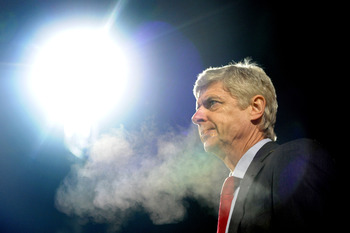 Laurence Griffiths/Getty Images
For the vast majority of this season, both Arsenal and Bayern Munich have utilised 4-2-3-1 formations.
However, there are key differences in how Arsene Wenger and Jupp Heynckes employ their tactics.
Both managers are vastly experienced and recognise that the game begins and ends with their full-backs.
The modern game has developed around their use of the ball and most attacks are initiated by the full-backs, who also dictate the line of the defence and angle of cover while defending.
At Bayern, Heynckes probably possesses the best full-back combination in world football in club and German international captain Philipp Lahm and 20-year-old Austrian Footballer of the Year David Alaba.
The two players are everything a modern full-back should be. They are energetic, comfortable on the ball and above all else they are supreme defenders while also being capable attackers. However, the real secret behind their success is their partnerships with the players in front of them—Franck Ribery, Thomas Müller and Arjen Robben.
It is here that the beauty of Heynckes' wide 4-2-3-1 can be seen in its full light. Bayern congest the midfield through Toni Kroos, Bastian Schweinsteiger and the superb Luiz Gustavo and then release their wide players to do what they do best—expose their opponents.
Arsene Wenger will obviously be mindful of Bayern's style of play and while trying to counteract Heynckes' tactics, he will try to expose his opponent where his team is strongest too.
There can be little doubt that Arsenal's strengths lie in overloading midfield through the triumvirate of Mikel Arteta, Jack Wilshere and the sublime Santi Cazorla. Through these three players the Gunners are capable of dictating the tempo against any side.
They do play much narrower than Bayern and this contrast can be seen best where the Bundesliga side attack through the flanks, while Arsenal tend to attack to the flank before coming inside.
This small change makes the Gunners narrow when defending and solely relying upon their full-backs, Bacary Sagna and possibly Kieran Gibbs, to provide the width. In this way Arsenal keep a constant pressure across midfield, a la Barcelona, and essentially end up with a fluid 2-4-3-1 formation.
The problem with this, their primary tactic, against Bayern is that Heynckes' side are amongst the very best at counterattacking in the world. In this regard Arteta is going to become Arsenal's most important player over the two legs.
The contest will be fascinating and the football is guaranteed to be good, but when push comes to shove Bayern should shade the fixture as they are better overall.
Player for player Bayern have more quality throughout and a quick look at the potential starting teams reveals a slight shade in quality toward last season's beaten finalists.
Possible Starting Teams
Arsenal-Bayern Munich
(GK) Szczesny - (GK) Neuer
(RB) Sagna - (RB) Lahm
(LB) Gibbs - (LB) Alaba
(CB) Mertesacker - (CB) Martinez
(CB) Vermaelen - (CB) Dante
(CM) Arteta - (CM) Gustavo
(CM) Wilshere - (CM) Schweinsteiger
(CM) Cazorla - (CM) Kroos
(RM) Gervinho - (RM) Müller
(LM) Podolski - (LM) Ribery
(CF) Giroud - (CF) Gomez
On their day Arsenal does have the potential to cause the best sides problems. But they also have the same potential to implode—such is their fragile character. Bayern have been in this position far too often to allow it to colour their style, tactics or disposition. When all is said and done the team with the best players usually win—especially when they have a mental attitude like Die Bayern.
Final Prediction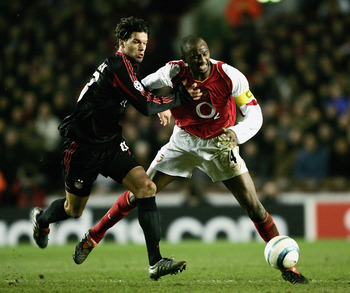 Shaun Botterill/Getty Images
These two greats of European football have only met four times in their history. So far, Bayern Munich have the edge.
The first Champions League meeting was in December 2000 when Bayern drew 2-2 with Arsenal at Highbury. The two clubs met again the following March when Munich triumphed 1-0 through a goal from Giovane Elber.
The next and last time these two giants met was in 2005 at the exact same stage, with Bayern advancing after winning 3-1 in Munich in the first leg before losing 1-0 at Highbury in the return leg.
Over the years Bayern have faced 12 English teams in European competition and only one of those have won on German soil. That was Norwich City in 1993 when the Canaries won 2-1 thanks to a wonder goal from Jeremy Goss.
That simply won't happen this time and if it does the shock of Arsenal winning is likely to equal the shock waves that went around European football when Norwich won in '93.
Bayern are a team in full flow at the moment are at the very peak of their powers while adding top-notch youngsters like Alaba and Kroos to the team—while Arsenal are very much a side in transition and are still some way away from being a Premier League power, never mind a European one.
The home leg will be vital for Arsenal and they will have to vigorously attack Bayern's main weakness—their centre-back pairing. However, whether the Gunners have the quality to do, this remains to be seen.
Wenger's side will need to score at least two goals at home while conceding none to be best placed to progress. However, given Bayern's superb defensive and goal-scoring record this season, that looks distinctly unlikely at this stage.
Prediction: More misery for Wenger and Co. as Bayern Munich eases through to the quarterfinals.
Keep Reading

Arsenal: Like this team?