Early Predictions for the NBA All-Star Game Starters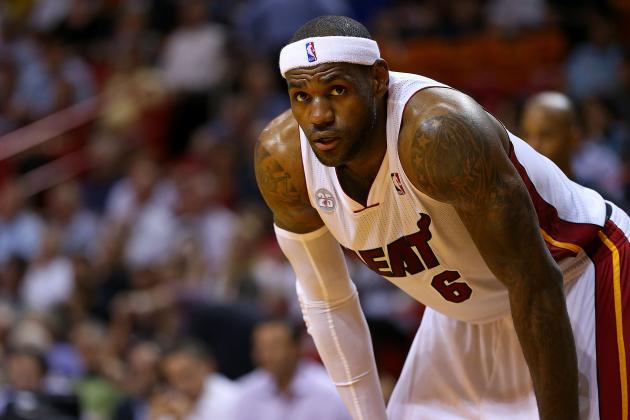 Mike Ehrmann/Getty Images

Being selected by the fans as an NBA All-Star Game starter is certainly a nice honor, even if the voting process doesn't always result in the right selections.
So, how will the fans do during the 2012-13 season? Who will be the 10 starters? Will there be any new names announced in Houston as first-time All-Stars?
I'll give you a hint: You're not going to agree with everything here if you're basing the selections solely on merit.
That's an important concept to be aware of going in. These are not based on who actually deserves the 10 spots, but rather who the fans will vote into them.
Let's read on and find out who we're choosing.
Note: All stats, unless otherwise indicated, are current through Thursday, Dec. 20.
Begin Slideshow

»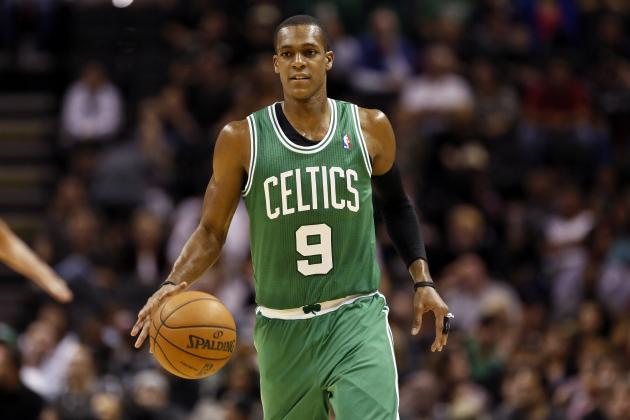 USA TODAY Sports

Team: Boston Celtics
Position: PG
Previous All-Star Appearances: Three
2012-13 Per-Game Stats: 13.8 points, 5.0 rebounds, 12.3 assists, 0.3 blocks, 2.0 steals, 20.04 PER
When the early returns of the fan vote were revealed to the general public by NBA.com on Dec. 13, Rajon Rondo was holding down the fort in the No. 2 slot for Eastern Conference guards. That's not going to change when the final results are revealed.
The Boston Celtics floor general was just over 170,000 votes ahead of Deron Williams and nearly 230,000 ballots past Kyrie Irving, who came in at No. 3 and 4, respectively. While Irving might climb up and narrow the gap, D-Will isn't playing well enough to justify staying that high up in the results.
Rondo's lead will prove to be safe as he continues to rack up the assists and threaten triple-doubles at least once a week for the rest of the regular season.
Boston may be struggling to live up to the expectations, but the fault does not lie with Rondo. He's still playing tremendous defense and sparking the offense with his superb playmaking skills.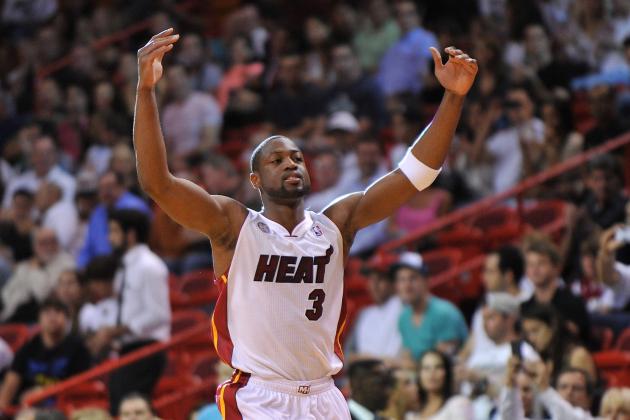 USA TODAY Sports

Team: Miami Heat
Position: SG
Previous All-Star Appearances: Eight
2012-13 Per-Game Stats: 19.7 points, 3.8 rebounds, 4.5 assists, 0.6 blocks, 1.3 steals, 22.67 PER
You might argue that Dwyane Wade's inconsistency for the Miami Heat should keep him out of the starting lineup—or maybe even the entire All-Star roster—but this isn't about how well the shooting guard has played.
And quite frankly, his play has risen to a remarkably high level recently. Even if the selection was based purely on merit, Wade's numbers are now good enough that he should be the favorite over Jrue Holiday, Kemba Walker and the host of Eastern Conference guards challenging him for this spot.
Wade, thanks to his entertaining style of play, remarkable career and presence on one of the league's most polarizing teams, is incredibly popular. He's a near shoo-in for a starting spot while the other mega-popular guard in the East (Derrick Rose) is sidelined.
The Heat's 2-guard finished second to Rose in voting during the 2011-12 season, but he's the early leader for the 2013 edition.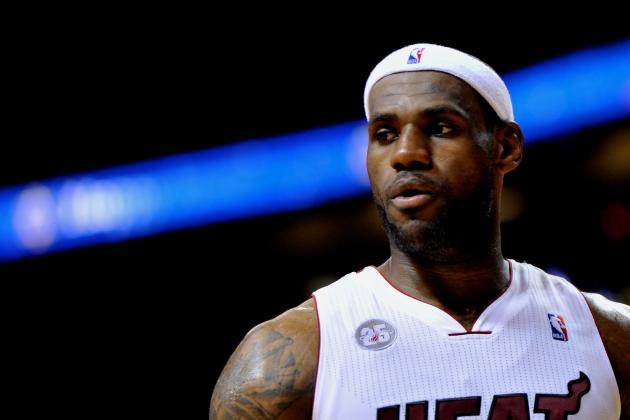 USA TODAY Sports

Team: Miami Heat
Position: SF/PF
Previous All-Star Appearances: Eight
2012-13 Per-Game Stats: 25.2 points, 8.5 rebounds, 6.8 assists, 0.9 blocks, 1.3 steals, 29.08 PER
Duh?
As many people as there are out there who seem to have some leftover vitriol for LeBron James after the now infamous "Decision," he's still one of the most popular basketball players in the world.
Only James, Kevin Durant and Kobe Bryant topped 600,000 votes during the early returns released by NBA.com, which makes each member of that trio a lock for a spot when the official results of the fan voting are announced.
Sorry for the lack of a spoiler alert, but I assume that you could have already guessed that. If you couldn't, I wish you the best of luck in your attempt to move to a nicer location while leaving that rock you've lived under behind.
James has been fantastic during the 2012-13 season for the Miami Heat, to the surprise of just about no one. He does it all on the basketball court, and he does it all well.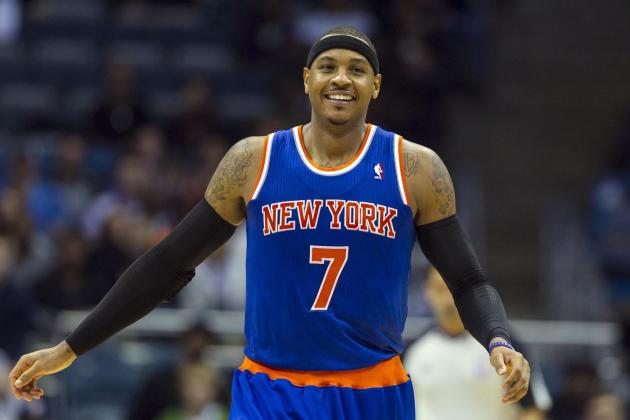 Jeff Hanisch-USA TODAY Sports

Team: New York Knicks
Position: SF/PF
Previous All-Star Appearances: Five
2012-13 Per-Game Stats: 28.0 points, 6.2 rebounds, 1.9 assists, 0.6 blocks, 1.0 steals, 26.41 PER
In addition to inserting his name into the MVP race with his stellar play during the pre-Christmas portion of the 2012-13 NBA season, Carmelo Anthony has also ensured that he's essentially a lock for the All-Star Game's starting lineup.
Anthony has a lot going for him.
He scores at a remarkably high level, which means that he does the most glamorous thing in basketball well. There are some votes.
He's the unquestioned star player on one of the Association's best teams, which means that he automatically generates a lot of media attention. There are some votes.
He plays at Madison Square Garden, which puts him right in the middle of the one of the country's largest markets. There are some votes.
Anthony is showing no signs of slowing down, bum ankle or not. The same can be said about his All-Star campaign.
Through Dec. 13, Anthony had 573,112 votes, putting him more than 360,000 votes ahead of fourth place for one of the three frontcourt openings in the East. Just as a reference point, only seven players in the entire league had even received 360,000 votes when the NBA released the early returns.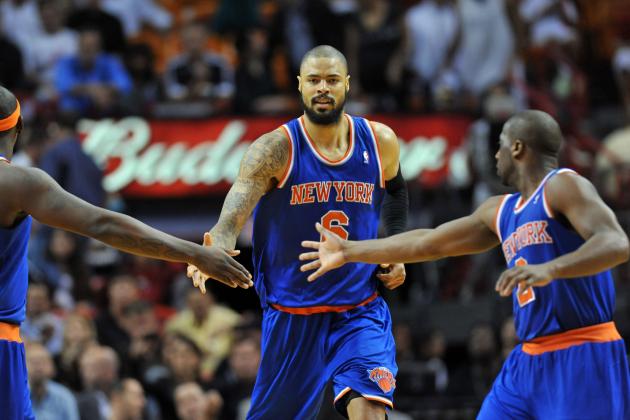 USA TODAY Sports

Team: New York Knicks
Position: C
Previous All-Star Appearances: None
2012-13 Per-Game Stats: 13.0 points, 10.0 rebounds, 0.7 assists, 0.8 blocks, 0.8 steals, 23.10 PER
Tyson Chandler trailed both Kevin Garnett and Chris Bosh in the fan voting when the first results were released on Dec. 13, but he won't be any lower than No. 3 among Eastern Conference frontcourt members when the actual selections are made. The gap between him and KG is just a meager 66,502 votes.
Both power forwards ahead of him will be significant threats, but Chandler will move up as the New York Knicks continue to win. The later we get in the season, the more the average fans will start to recognize the monumental impact his presence in the paint creates.
And of course, the New York faithful will start voting in droves once we draw closer to the actual voting deadline.
This third frontcourt spot is the toughest one to pick in the East, whether we're referring to popularity (as is the case here) or merit. I'd use my vote on Joakim Noah at this point, but I have no qualms with Chandler either.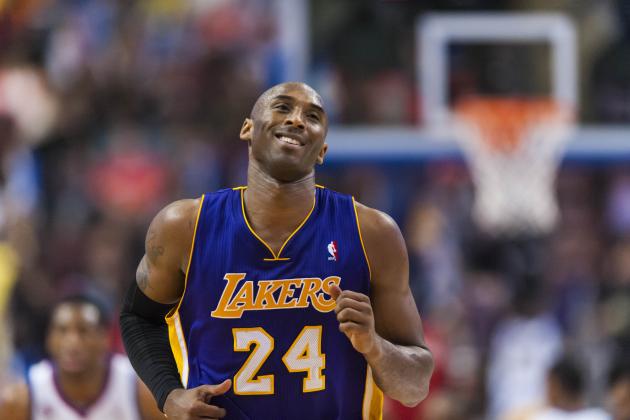 USA TODAY Sports

Team: Los Angeles Lakers
Position: SG
Previous All-Star Appearances: 14
2012-13 Per-Game Stats: 29.5 points, 5.2 rebounds, 5.0 assists, 0.2 blocks, 1.6 steals, 25.77 PER
Just like LeBron James in the Eastern Conference, Kobe Bryant is an absolute, 100 percent, the-world-would-end-before-he-didn't-get-in lock for the All-Star lineup. Since we're still here and Nibiru didn't crash into the Earth, Kobe is going to make the squad.
And it's not like he doesn't deserve it.
Although the Los Angeles Lakers have struggled during the 2012-13 campaign, Kobe is playing some of the best basketball of his career. Well, on offense at least.
The Black Mamba is leading the league in scoring, but he's also doing so in an efficient manner, shooting 47.7 percent from the field, 38.1 percent from downtown and 86.5 percent at the charity stripe.
Don't just pencil in Kobe for a spot right now. Go ahead and use pen.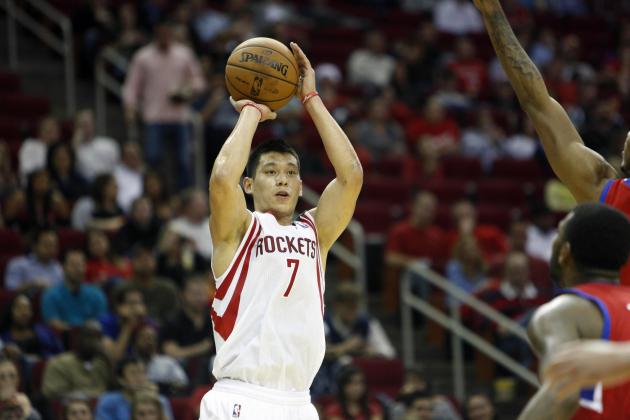 Thomas Campbell-USA TODAY Sports

Team: Houston Rockets
Position: PG
Previous All-Star Appearances: None
2012-13 Per-Game Stats: 11.6 points, 3.9 rebounds, 6.0 assists, 0.4 blocks, 1.8 steals, 14.10 PER
Jeremy Lin in no way deserves a spot on the All-Star squad. However, he's going to be starting in Houston during the festivities, just like he does during the regular season with the Houston Rockets.
Through Dec. 13, Lin was in third place in the fan vote, trailing both Kobe Bryant and Chris Paul. While the gap between the former Harvard floor general and Kobe was rather significant, CP3 was only ahead of Lin by a little over 50,000 votes.
In the grand scheme of things, that's nothing.
Once the voting heats up, so too will Lin's count of ballots. This is especially true as his level of play rises while he gets accustomed to playing alongside James Harden in the Houston backcourt.
It's the bearded member of this two-headed guard monster that should be considered, though. Not Lin.
I'd go over the list of guards that would deserve to be selected here rather than Lin, but you'd fall asleep reading it because of its inevitable length.
We've seen things like this happen before—see Yao Ming and Shaquille O'Neal, for example—but could this be the spark needed to change the way in which All-Star starters are selected?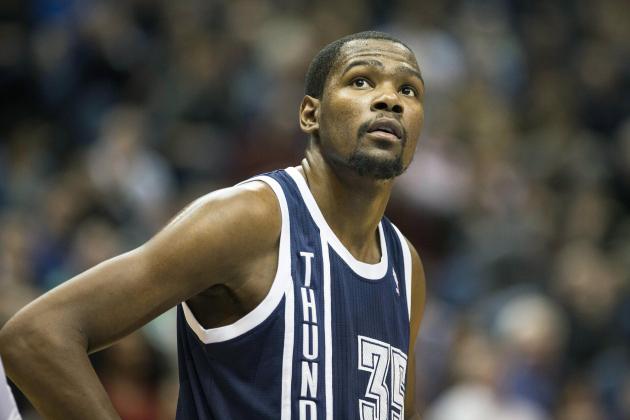 USA TODAY Sports

Team: Oklahoma City Thunder
Position: SF
Previous All-Star Appearances: Three
2012-13 Per-Game Stats: 27.9 points, 8.4 rebounds, 4.2 assists, 1.3 blocks, 1.5 steals, 28.32 PER
Kevin Durant is the final player you can just write onto the final team right now. The Oklahoma City Thunder superstar may not be joined by his teammate Russell Westbrook in the starting lineup thanks to Linsanity, but he'll certainly be present in it.
I have to admit that I didn't think I'd be saying anything like this before the 2012-13 season started: Durant is quickly closing the gap between himself and LeBron James. He might end up being the best basketball player in the Association by the end of the year.
Fortunately for all of us, the fans recognize the greatness that is K.D. He currently leads all Western Conference frontcourt players in votes by nearly 200,000. And it's not like Durant is just going to stop racking them up.
A more interesting question than whether or not this high-scorer will make the starting five is whether or not he'll earn the most votes. Durant currently sits in third, trailing LeBron by just under 36,000 votes and Kobe Bryant by slightly less than 34,000.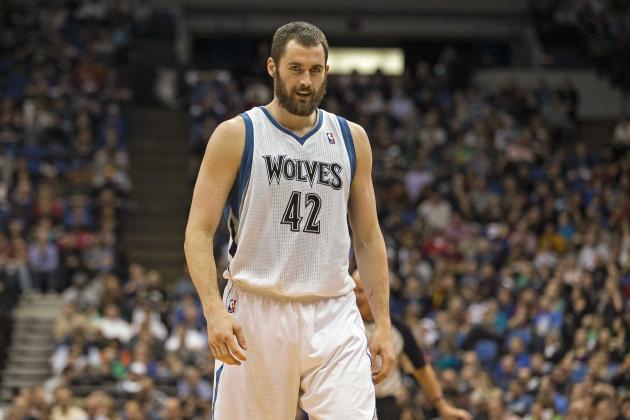 USA TODAY Sports

Team: Minnesota Timberwolves
Position: PF/C
Previous All-Star Appearances: Two
2012-13 Per-Game Stats: 19.6 points, 13.9 rebounds, 2.4 assists, 0.4 blocks, 0.9 steals, 19.79 PER
When the votes were tallied on Dec. 13, Kevin Love was well outside the range necessary to earn a spot in the starting lineup. In fact, he was sixth, falling short of Kevin Durant, Dwight Howard, Blake Griffin, Tim Duncan and Pau Gasol.
However, it's important to remember that Love hasn't been healthy during the entirety of the pre-Christmas portion of the 2012-13 season. As of the 13th, he'd only played in 10 of the Minnesota Timberwolves' 19 games.
As he plays—and dominates—more, he'll get more votes. It's as simple as that.
There are plenty of terrific candidates for the frontcourt spots in the Western Conference, but this one will belong to Love when the voting comes to a close.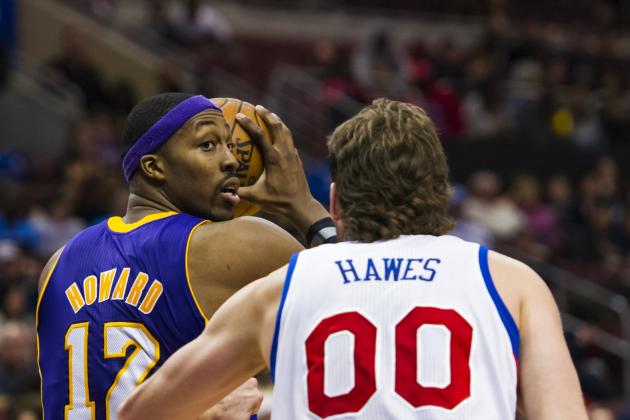 USA TODAY Sports

Team: Los Angeles Lakers
Position: C
Previous All-Star Appearances: Six
2012-13 Per-Game Stats: 18.1 points, 12.2 rebounds, 2.0 assists, 2.6 blocks, 1.1 steals, 20.82 PER
Dwight Howard's popularity might have declined during the Dwightmare, but it's still high enough to almost ensure him a spot in the Western Conference starting five. Through Dec. 13, Howard trailed Kevin Durant in the frontcourt voting, but he was still clear of the rest of the candidates by a sizable margin.
The big man has been outplayed by a number of forwards in the West during the pre-Christmas portion of the campaign, but he's still playing himself into shape. Dwight's back has clearly affected him thus far, limiting his mobility on the defensive end of the court especially.
Just like the Los Angeles Lakers in general, Dwight is only going to be getting better as the season progresses.
It's hard to envision an All-Star lineup without D12 in it.