Tennessee Football: A Final Farewell to the Volunteer Seniors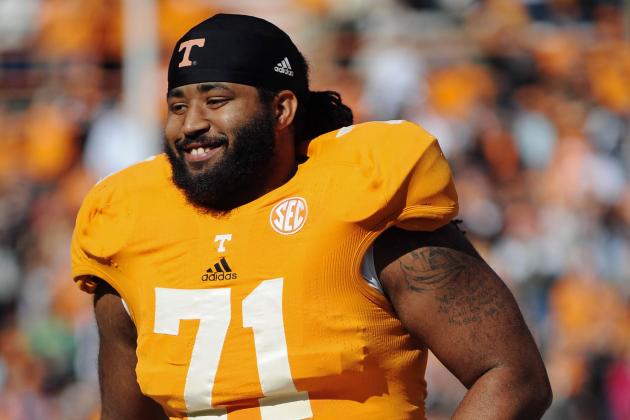 Randy Sartin-USA TODAY Sports

During the second half of the Kentucky game, there was a video tribute shown on the Tennessee Volunteers' Jumbotron honoring the 2012 senior class. These men went through hell during their Vol careers, but they represented the orange proudly through it all.
I immediately felt gratitude toward each and everyone one of the seniors. Some of them saw four different coaches in their time as Volunteers, but you never heard a word of disparagement.
They fought, cried, bled and sweat working to uphold the tradition that is Tennessee football. The Vols will regain their place atop the college football world one day, and when they do, they'll be standing on the shoulders of the 2012 seniors.
In the words of former Vol great Joey Kent, "They didn't have the same experience that I did." And that's disappointing. But they gave their all for Tennessee and are Vols For Life.
Begin Slideshow

»
Give yourself two minutes and watch the video that inspired this article.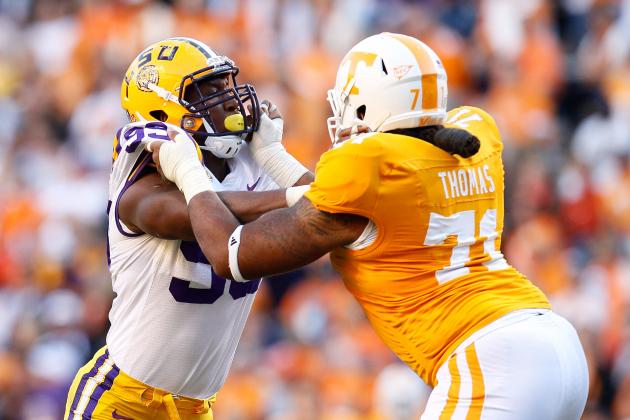 Kevin C. Cox/Getty Images

After appearing in every game as a backup his freshman year, Dallas Thomas owned the Tennessee offensive line for three years, starting in 37 consecutive games from 2010 to 2012.
He manned the all-important left tackle position as a sophomore and junior and moved over to left guard this past fall to make room (literally) for Antonio Richardson.
Thomas was the elder statesman of the line for the last two seasons and was one of the three team representatives at the 2011 SEC Media Days. The 2013 Vols will definitely miss his tremendous leadership and skill.
However, next year's unit is going to be an excellent one, and we owe a lot of that to Thomas' tenure.
Thomas has been named to numerous All-SEC teams and an All-American Team for his performance this last season.
He has a bright future in the NFL and an excellent chance to be a first-round pick. I can't wait to hear this VFL say, "Dallas Thomas, Tennessee," on Sunday Night Football.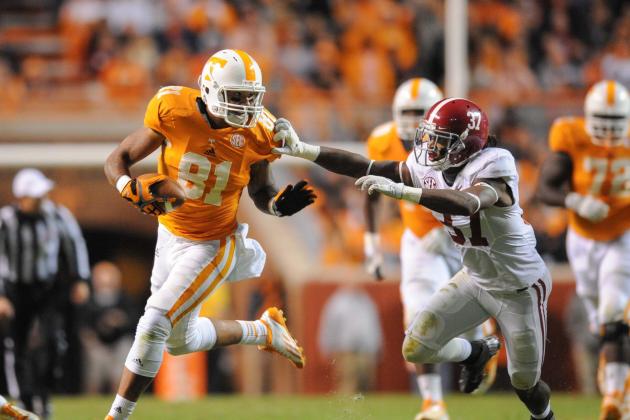 Randy Sartin-USA TODAY Sports

Joining Dallas Thomas as another senior Vol with a bright NFL future is tight end Mychal Rivera.
Rivera started all but two games since 2010, catching 76 passes for 1,018 yards and six touchdowns over that span.
Most of that production came from an excellent 2012 campaign, where Rivera reeled in 36 receptions for 562 yards and five touchdowns. Such a standout senior season earned him numerous All-SEC honors.
His 562 yards shattered Jason Witten's school record for receiving yards by a tight end, which puts Rivera in fine company. Simply, he's one of the best pass-catching tight ends in Tennessee history.
Sophomore tight end Brendan Downs has learned from the best at Tennessee and should come out ready to produce immediately in 2013. Rivera, another VFL.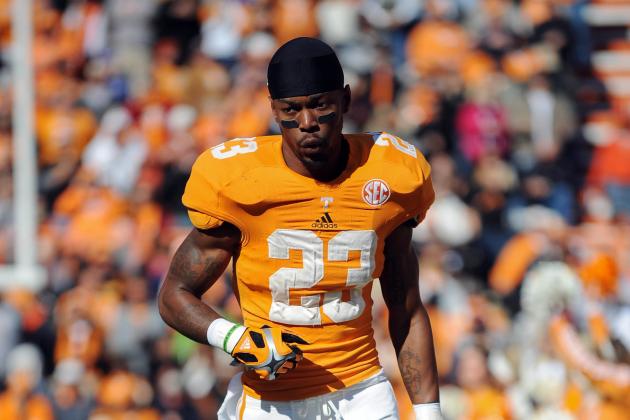 Randy Sartin-USA TODAY Sports

Prentiss Waggner was recruited and redshirted by Phillip Fulmer, spent one year under Lane Kiffin, played two years for Derek Dooley and welcomed Butch Jones earlier this month.
He's one of a handful of special seniors that went through more than most in their five-year careers as Tennessee Volunteers.
And yet, every Saturday in the fall, he strapped on his helmet and stormed through the Power T with the kind of ferocity that fans would if they got the chance.
Another iron man, Waggner played in every one of the 50 games played during his Vol career, starting in all but one since 2010.
His best season came in 2010 when he was allowed to play cornerback the entire year and had adequate help over the top from safety Janzen Jackson. He intercepted five passes, recovered three fumbles and made 57 tackles.
What could have been if he had reliable safeties during his career will be remain unknown. What's not unknown is the pride with which he played under tumultuous circumstances. Waggner is a VFL.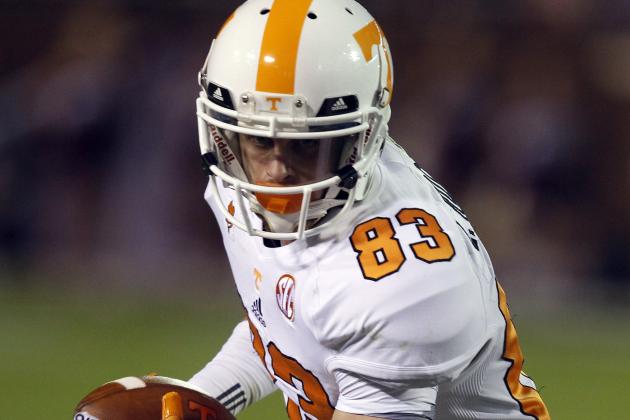 Butch Dill/Getty Images

At halftime of the epic Georgia game, I said to a friend that I'd rather have Zach Rogers than his big brother Austin. He looked at me like I had three heads.
In hindsight, those three heads must have all had IQs of 200 because Zach had an incredible senior year!
As the third option at wide receiver in 2012, Rogers caught 32 passes for 491 and seven touchdowns, trailing only Justin Hunter for most TD receptions on the team.
In his career, Zach tallied more yards and more touchdowns on less receptions than his big brother. The younger Rogers stepped up in a big way when his senior leadership was needed.
In Tennessee's two near-upsets, Rogers had his best games. Against Georgia, he caught a game-high six passes for 51 yards and a touchdown. Against South Carolina, Rogers erupted with six catches for 107 yards and three touchdowns.
Anyone can rack up numbers against the easy opponents, but it takes real heart, grit and determination to do it on the biggest stage in the SEC.
Rogers clawed his way up from the special teams unit his freshman year to an NFL prospect his senior year. He's a VFL.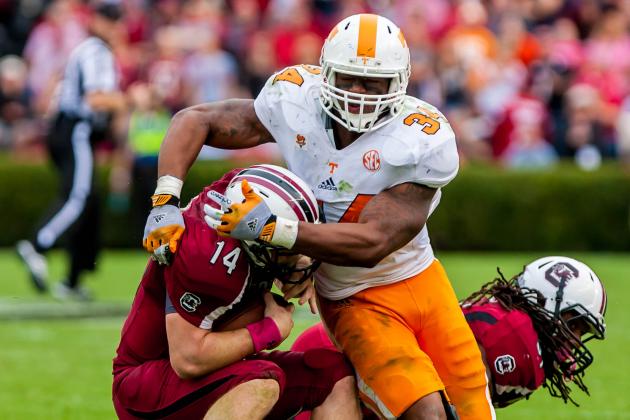 Jeff Blake-USA TODAY Sports

If there's a football player who has given more to his team than Herman Lathers, I want to shake his hand.
After defeating bone cancer at the age of 10, Lathers signed on with the Tennessee Volunteers in 2008, ready to make his mark on a proud school. But he soon learned that he had to have his spleen removed.
Once he was finally able to reach the field in 2009 and 2010, Lathers impressed with 127 tackles in 17 starts. He was a natural linebacker and a prototypical Vol football player.
Then he suffered a severe ankle fracture, forcing him to miss his all of 2011. But when he came back once again from adversity, Lathers produced a quality season including 66 tackles, two sacks and an interception.
He experienced several instances where giving up would have been understandable, but that's not Herman Lathers. That's not Tennessee. Here's another proud VFL.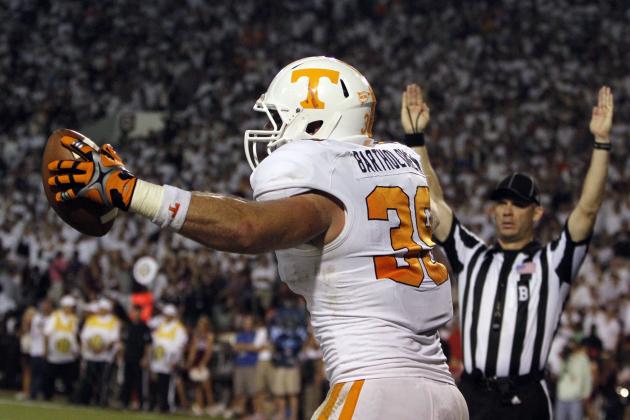 Butch Dill/Getty Images

Marsalis Teague never had the raw talents of many other defensive backs, but when called upon, he was always ready. His game-ending interception against NC State was a highlight of the 2012 season.
Ben Bartholomew was known as Will's younger brother back in 2008 when he first signed on with the Volunteers. But after playing in each game since 2011, blasting holes for his tailbacks to run through and snagging a few key catches, Ben earned his own reputation as a stout fullback.
Willie Bohannon was an exciting recruit from Mobile, Alabama five years ago. You always love it when you can steal from the Crimson Tide! Moved back and forth between defensive end and linebacker, Bohannon still made more than 65 tackes and five sacks as a Vol.
Rod Wilks was an exciting playmaker when he got on the field. He is a Smyrna, Tennesse native, proudly choosing to stay in-state for college. Wilks appeared in all but nine games during his career.
Steven Fowlkes played whenever and wherever he was needed. Whether it was on the practice squad, special teams unit or defensive line.
All of these players but Teague were recruited in 2008 and saw four different head coaches. They're examples of the kind of VFLs to which all Volunteers aspire.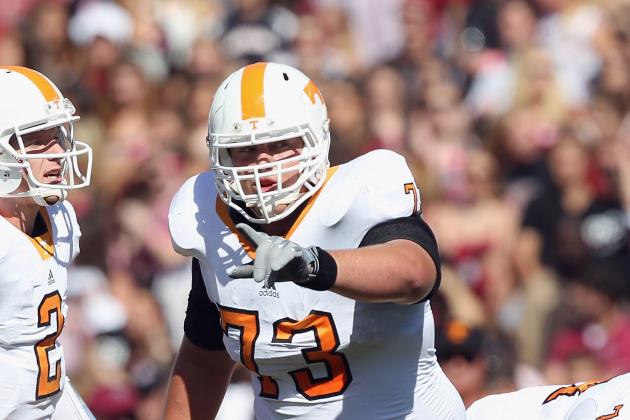 Streeter Lecka/Getty Images

The remaining seniors on this list are made of scholarshipped athletes and walk-ons, regular players and practice squad members.
But in the annals of Tennessee Volunteer lore, they're all equal, having donned the same jersey and helmets, playing for the same school and under the same Maxims.
Thank you Corey Alexander, Carson Anderson, Joseph Ayres, J.R. Carr and Darin Gooch for being VFLs.
Thank you to every one of the 2012 Tennessee Volunteer seniors. You've left an indelible mark that forever sides within the walls of Neyland Stadium.