The UFC Crystal Ball: The Bulldozer Predicts Fight Night 18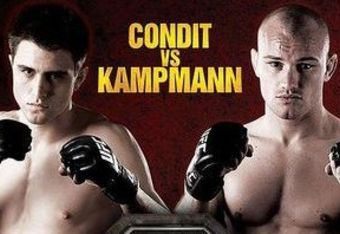 Here is the second set of predictions by the Bulldozer, after going an unscathed 5-0 at UFC 96.
The difficulty increases during Fight Nights, as the fighters are typically more obscure than they are at PPV events.
Despite this, the Bulldozer vows to crush any rival predictions.
Junie Browning vs. Cole Miller
Browning looked very impressive against Dave Kaplan. His striking was crisp and he won with a submission.
Despite this, he appeared vulnerable at some moments, where a better fighter could take advantage.
Expect the well versed Cole Miller to be the guy who takes control.
At 6'1", I expect him to out-strike Browning and keep his distance with his 72-inch reach. Even if the fight does go to the ground, expect Miller to show better Jiu Jitsu than Browning.
Cole Miller wins via Submission in the first round.
Tyson Griffin vs. Rafael dos Anjos
Griffin has only lost to Frank Edgar and Sean Sherk. Both are cardiovascular machines similar to Griffin, but Tyson is still a step down from their level. He does, however, minimize mistakes and takes control of his fights.
Rafael dos Anjos will do enough to defend himself and not get KO'd like he did against Jeremy Stephens, but he won't stand a chance unless he sneaks in a submission.
It's not going to happen.
Griffin possibly earns a fight against Gray Maynard after he wins by unanimous decision.
Ryan Bader vs. Carmello Marrero
If Marrero can last into the third round he might lose via decision.
But my crystal ball is sensing an early first round KO at the hands of Ryan Bader.
Bader can hit really f'n hard, so my crystal ball sees Bader knocking Marrero down and finishing with some ground-and-pound.
Ryan Bader wins via TKO in the first round.
Carlos Condit vs. Martin Kampmann
Carlos Condit is extremely tough and a very good fighter on his back.
Unfortunately for Condit, you usually don't win fighting on your back unless you put a triangle on your foe.
Kampmann has a good ground game and should be able to avoid that.
On the other side of the matchup, Kampmann is very good standing up and striking, and is one of the most underrated fighters in the UFC, hands down.
I believe Condit will be able to compete in the UFC, but he has been handed an extremely tough task in Kampmann.
It's going to be difficult for Kampmann to finish Condit with a KO, but I think his punches will eventually weaken Condit into submission.
This should be an exciting and perhaps memorable headlining bout.
Kampmann wins via Submission in the second round.
Don't miss Fight Night 18 next Wednesday, April 1st on Spike TV.
Then again, the Bulldozer has already provided the spoiler in case you miss it...
This article is
What is the duplicate article?
Why is this article offensive?
Where is this article plagiarized from?
Why is this article poorly edited?