There are many teams fighting for their playoff lives in NFL's Week 16 action, but there are also several in the league's elite that have already clinched playoff spots and division titles. They are on course for a potential Super Bowl run but must be on their guard with pesky underdogs this weekend.
It's hard to question whether the NFC-leading Atlanta Falcons (12-2), AFC-leading Houston Texans (12-2) or the red-hot Denver Broncos (11-3) are contenders to play in the big game in the Superdome. But can they sustain their great runs after impressive wins in Week 15?
Here is a breakdown of why these three teams in particular are on upset alert and how the games will ultimately play out.
Atlanta Falcons at Detroit Lions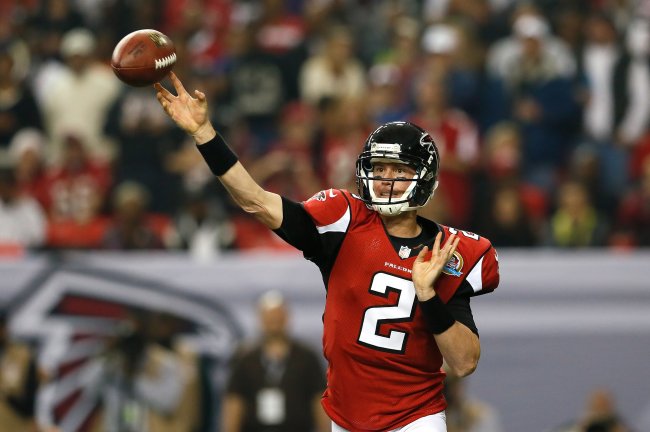 Kevin C. Cox/Getty Images
Everyone has loved to hate on the Falcons despite their current 12-2 record. Now that they have "proven themselves" with a 34-0 beatdown of the defending Super Bowl champion New York Giants, they're totally legit.
Right?
Hold the phone. This Lions team doesn't have anything to play for anymore, but they are one of the most talented teams in the league, especially on offense.
Matthew Stafford had a nightmare outing against Arizona this past Sunday, throwing three interceptions that resulted in two pick-sixes.
Here' where the problem lies for Atlanta: the team's bend but don't break approach to defense has worked for much of the season, but Detroit is among the NFL's elite when it comes to scoring in the red zone. According to TeamRankings.com, the Lions are fourth in scoring a touchdowns in the red zone, finding pay dirt just over 61 percent of the time they're inside their opponents' 20.
The Falcons will have to win this game between the 20s, which will prove to be difficult on Saturday night. As undisciplined as the Lions are, expect them to finally put together a complete game in front of the home crowd.
A fierce pass rush will get pressure on Falcons QB Matt Ryan, who isn't adequately supplemented by a viable running game that ranks 28th in the league.
Atlanta can't do much more to prove that they belong in the Super Bowl conversation, but the pressure will definitely be on for the Falcons to continue the momentum.
Final score: Lions 31, Falcons 24
Houston Texans vs. Minnesota Vikings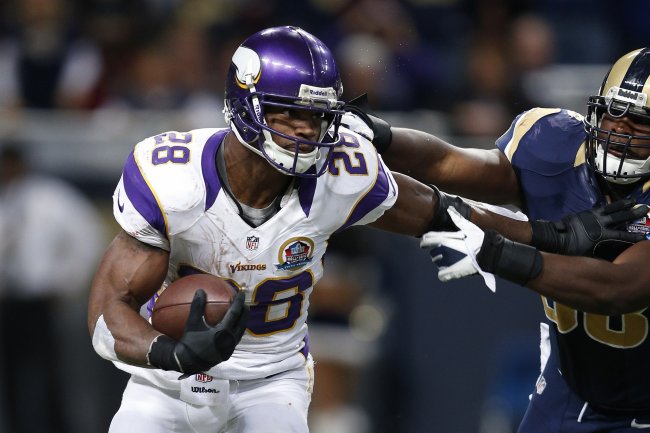 Joe Robbins/Getty Images
The friendly confines of Reliant Stadium will help the Texans continue their hold on the AFC's No. 1 seed, but the Vikings are at No. 6 in the playoff hunt in the NFC. They also have Adrian Peterson.
It hasn't mattered which defense has lined up against AP lately—no one been able to stop him. Christian Ponder's highly questionable play at quarterback hasn't stymied Peterson's production, either.
The Vikings need this game with a home matchup against NFC North rival Green Bay in Week 17 and plenty of teams in hot pursuit.
Ponder will be able to effectively evade the pass rush led by Defensive Player of the Year and possible MVP candidate J.J. Watt due to his underrated mobility, but Ponder will need to make several throws to give Minnesota a chance.
That is definitely doable, considering the Texans' secondary has continued to decline as the season has progressed. Now, the pass defense is in the lower-middle of the pack in the league (18th) and just allowed Indianapolis RB Vick Ballard to rumble for over 100 yards on their home turf in Week 15.
Imagine what Peterson can do. This will be the upset special of the games with the biggest playoff ramifications, and questions will be raised once again about Houston truly being a Super Bowl contender.
Final score: Vikings 27, Texans 20
Denver Broncos vs. Cleveland Browns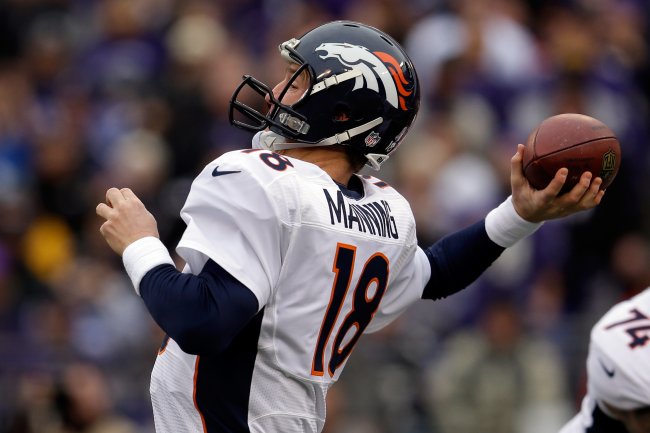 Rob Carr/Getty Images
It looked like the Browns' staff was saving jobs in the midst of a three-game winning streak and a very slim shot at the playoffs. Then an absolute egg was laid at home against the Washington Redskins, as Kirk Cousins shredded the Cleveland secondary for over 300 yards in his first NFL start.
So how could the Browns possibly knock off Peyton Manning and the Broncos on the road, especially with Denver gunning for the No. 1 seed to set up a potential deep postseason run?
Without even analyzing this matchup, the Broncos have won nine games in a row. That's quite a hot streak, considering the level of parity in the NFL. The odds of that alone are extremely long, and the Browns are in desperation mode to win their final two games.
The collapse against Cousins could be more attributable to the ineptitude of the Cleveland offense and the unique, pistol-based offense that Washington has. As good as Manning has been this year, too, he doesn't pose the same vertical threat the Browns faced last week.
Strong safety T.J. Ward and rookie LB James-Michael Johnson were placed on IR with knee injuries after last week's loss (h/t ESPN), which will make stopping Manning all the more difficult.
But the spirit the Browns have been playing with lately and their knack for generating turnovers will keep them more competitive than expected, although it won't ultimately result in a win.
The Broncos are due for a down week, as they have not faced much adversity since enduring a tough start of the schedule.
Denver's competition has been relatively weak, and the Browns are quietly improving as 2012 winds down. This will be one of those games that is simply hard to explain, but will supply the Broncos with plenty of fuel to get back on track as they grind out a tough victory.
Final score: Broncos 23, Browns 17