2013 NFL Mock Draft: Highlighting Prospects with Most on the Line in Bowl Games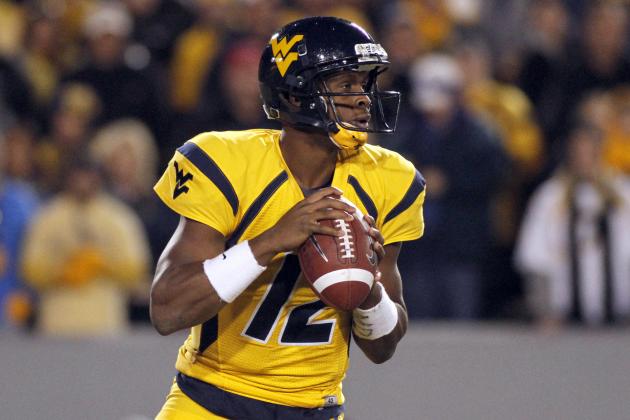 Justin K. Aller/Getty Images

Geno Smith has one more chance to make his mark at the collegiate level when West Virginia and Syracuse go head-to-head in the New Era Pinstripe Bowl, and there is a lot at stake for the potential No. 1 draft pick in 2013.
There's still a lot of time left between the end of that game and the 2013 NFL draft, but for all intents and purposes, this is the last bit of tape Smith will leave for scouts, and he's not the only first-round prospect with a lot on the line this winter.
These upcoming bowl games are when players can rise up and shine in front of a national audience, but not all will leave a good last impression. Follow along as we take a look at how the entire first round could shake out and highlight seven players that can't afford to play badly in their team's bowl game.
Begin Slideshow

»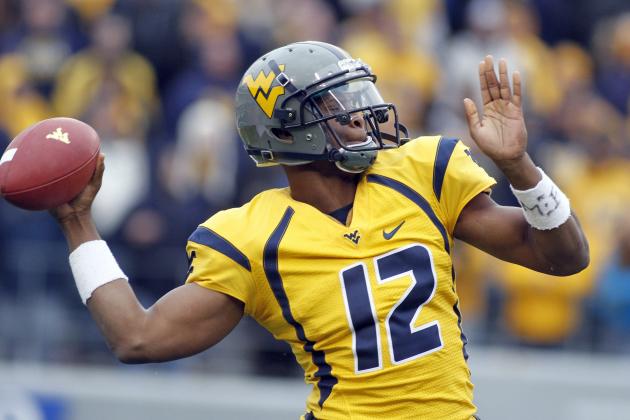 Justin K. Aller/Getty Images

Geno Smith, Quarterback, West Virginia
Smith isn't the best player available.
Heck, he isn't even in my top 10.
But the Kansas City Chiefs need a quarterback in the worst way, and Smith is the best quarterback in this year's draft class.
West Virginia will take on Syracuse on December 29 in the New Era Pinstripe Bowl, and this will be his final chance to put together some good tape for NFL scouts. If Smith bombs, he'll likely fall down the board and won't be the first overall pick.
If he manages to shine in the spotlight, he'll cement himself as the No. 1 pick of the 2013 NFL draft.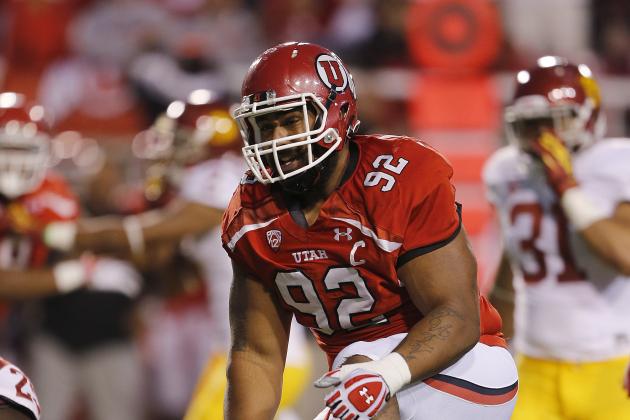 George Frey/Getty Images

Star Lotulelei, Defensive Tackle, Utah
Lotulelei is the best player available.
The Jacksonville Jaguars have problems across the board and feature the No. 31-ranked defense in the NFL in 2012. Drafting Lotulelei will go a long way towards turning that weakness into a team strength.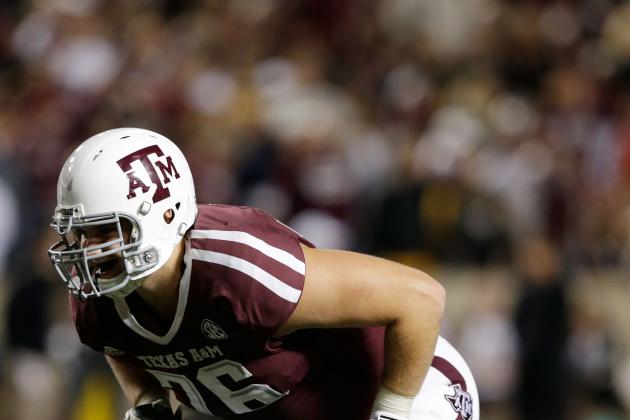 Scott Halleran/Getty Images

Luke Joeckel, Offensive Tackle, Texas A&M
Whether it's Nick Foles, Michael Vick or Alex Smith (speculation) behind center for the Philadelphia Eagles in 2013, a top-flight tackle is needed to protect the quarterback. Joeckel is the clear-cut No. 1 tackle in this year's draft class, and he's the No. 2 player on my board.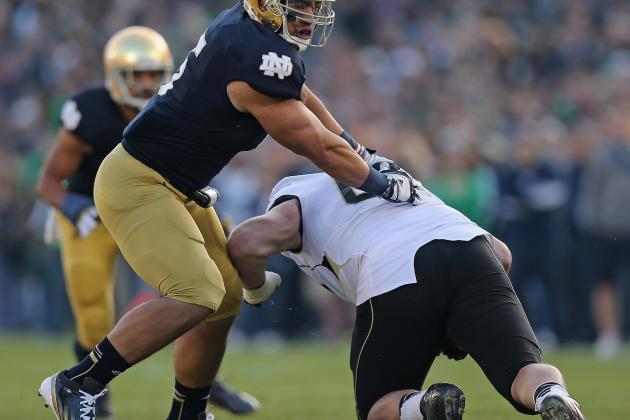 Jonathan Daniel/Getty Images

Manti Te'o, Middle Linebacker, Notre Dame
Te'o is going to be a high pick this April, no matter what, and the Oakland Raiders are in need of his services.
His athleticism, speed, size, attitude and leadership has already impressed NFL scouts, but his biggest test is yet to come.
When Notre Dame takes on Alabama for the National Championship this January, Te'o will have the chance to prove above and beyond what he's capable of doing at the next level.
'Bama is loaded with NFL-caliber, NFL-ready players, and Te'o will need to be at the top of his game to stand out in a good way against the offensive line the Alabama Crimson Tide features.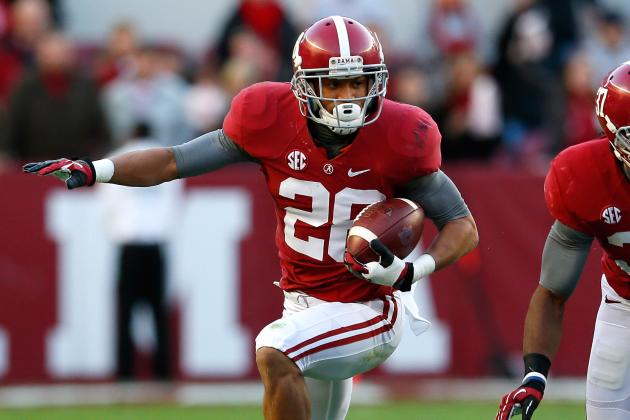 Kevin C. Cox/Getty Images

Dee Milliner, Cornerback, Alabama
The Detroit Lions should have addressed their need for secondary help in last year's draft, but they failed to do so. They won't pass up on the opportunity to take the best cornerback in 2013 when it's their turn to pick.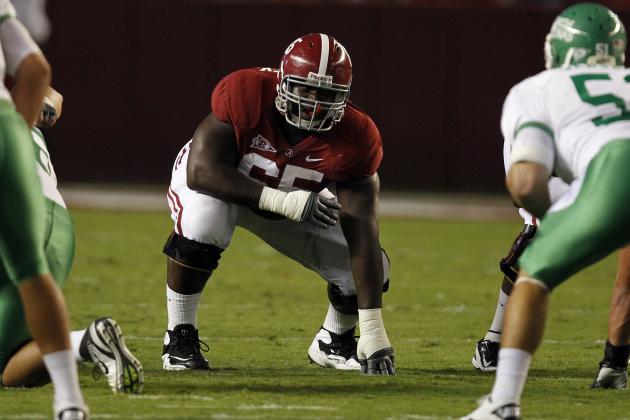 Butch Dill/Getty Images

Chance Warmack, Offensive Guard, Alabama
Guards don't usually go this high, but Warmack is a special player worthy of being taken in the top 10. The Arizona Cardinals need help in the interior of their offensive line even more so than on the outside, and he'd be a welcome addition to a team that needs his services.
Streeter Lecka/Getty Images

Bjoern Werner, Defensive End, Florida State
The Tennessee Titans could go in a number of different directions, here, but they can't go wrong picking Werner. He's an athletic defensive end with good size, speed and agility, but above all else, he is a relentless worker who prides himself in learning the intricacies of the game.
Gregory Shamus/Getty Images

Taylor Lewan, Offensive Tackle, Michigan
Lewan is a perfect fit for the Carolina Panthers, as he's played in front of Denard Robinson—one of college football's best running quarterbacks the past few years.
Cam Newton will greatly benefit from having a top-notch left tackle, and Lewan will greatly improve what's been a disappointing running game for the Panthers this season.
Lewan has a huge test in front of him when Michigan takes on South Carolina in the Outback Bowl on January 1, 2013. Jadeveon Clowney is one of the best pass-rushers in the nation, and Lewan will have his hands full guarding him.
Should Lewan dominate the young pass-rusher, he could see his stock surge heading into the 2013 NFL draft. Should he struggle, scouts will have to go back to the tape and take a closer look at what he's been doing this season.
Scott Cunningham/Getty Images

Jarvis Jones, Outside Linebacker, Georgia
The Buffalo Bills have been gravely disappointing on defense this season, and the biggest weakness is the team's linebacking corps. Adding Jones to this lineup would make a huge difference.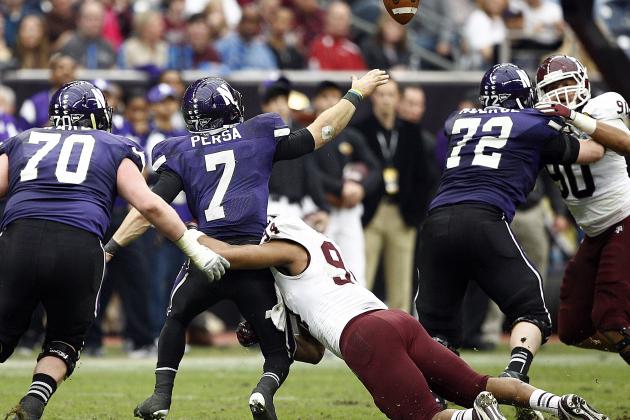 Bob Levey/Getty Images

Damontre Moore, Defensive End, Texas A&M
The Cleveland Browns have come on strong of late, and the team's defense has the potential to be great. Adding an explosive pass-rusher like Moore to the mix would boost the "scary" factor for this defense, and he'd make things easier for the Browns secondary, which has struggled at times in 2012.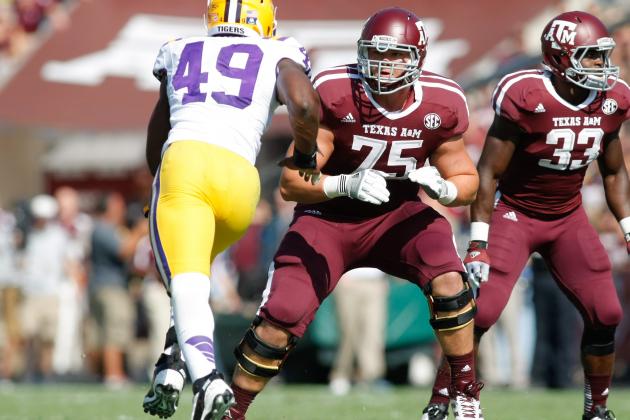 Brett Davis-USA TODAY Sports

Jake Matthews, Offensive Tackle, Texas A&M
The San Diego Chargers need offensive line help in the worst possible way, and Matthews has proven to be worthy of a high-draft pick this April. He'll challenge for a starting role either on the right or the left from the first day of training camp, and I'd expect him to start Week 1.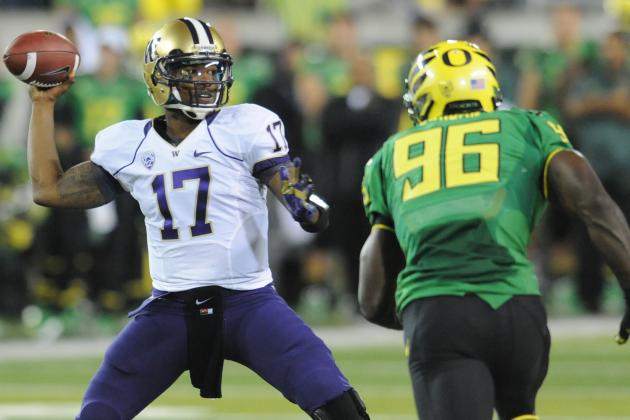 Steve Dykes/Getty Images

Dion Jordan, Defensive End, Oregon
Jordan has the potential to become the most explosive pass-rusher in this year's draft class. He's extremely quick and fast, and his ability to run in space makes him a valuable commodity on the edge.
The Tampa Bay Buccaneers have not had any luck getting after quarterbacks in 2012, tallying just 25 sacks as a team. For comparison's sake, Aldon Smith and J.J. Watt both have 19.5—by themselves.
Jordan has a tall task ahead of him when Oregon takes on Kansas State at the Tostitos Fiesta Bowl on January 3, 2013. Collin Klein is a monster of a quarterback with exceptional mobility, and there's a chance Jordan might be shut out.
If he comes through to make a few big plays in the backfield against Klein, his stock will soar.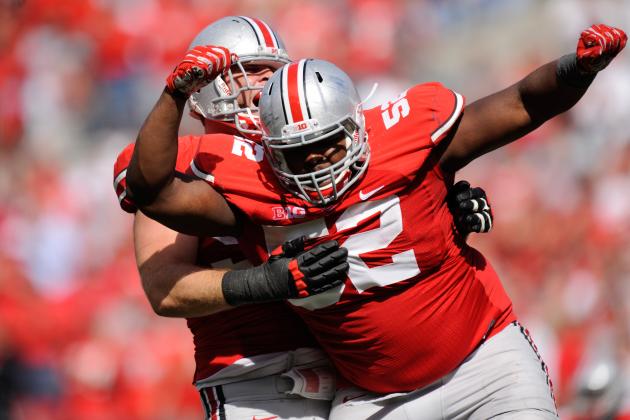 Jamie Sabau/Getty Images

Johnathan Hankins, Defensive Tackle, Ohio State
The New Orleans Saints have featured one of the NFL's worst rushing defenses in 2012, allowing five yards a carry and 150 yards per game.
Hankins is a talented run stuffer who can also make his presence known in the passing game, and he'll help the Saints improve upon what's been an embarrassing 2012 season on defense.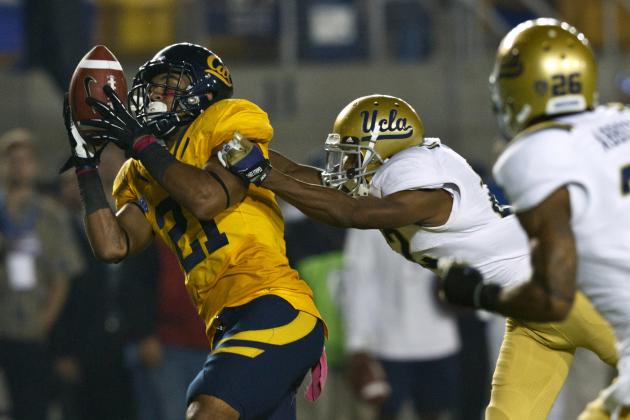 Jason O. Watson/Getty Images

Keenan Allen, Wide Receiver, California
Assuming Allen fully recovers from his PCL injury by the time the NFL scouting combine rolls around, he's going to be the first receiver taken off the board.
Blessed with above-average speed and quickness, Allen really excels as a route runner and as a pure receiver. His hands are exceptional, and he'll greatly assist Ryan Tannehill, who has the makings of a fine quarterback.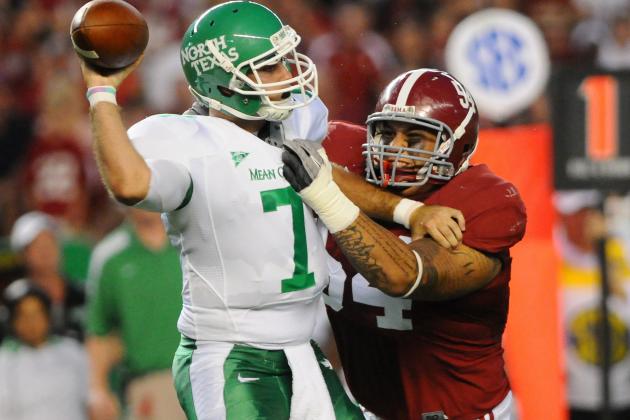 Kelly Lambert

Jesse Williams, Nose Tackle, Alabama
The New York Jets have needs across the board. They could use offensive linemen, a quarterback, a running back and pass-rushers, but without a run-stuffing defensive tackle, Rex Ryan's defense won't be able to keep teams from running the ball at will.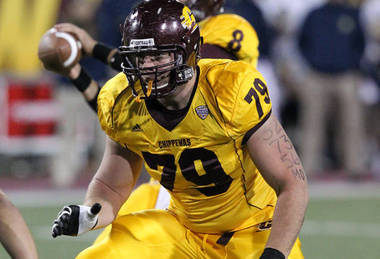 MLive.com
Eric Fisher, Offensive Tackle, Central Michigan
Elite offensive tackles don't always come from big schools, and Fisher is a clear example of this truth. Like Joe Staley before him, Fisher has the athleticism, build and skill to excel at the next level, and Sam Bradford can surely use the help up front.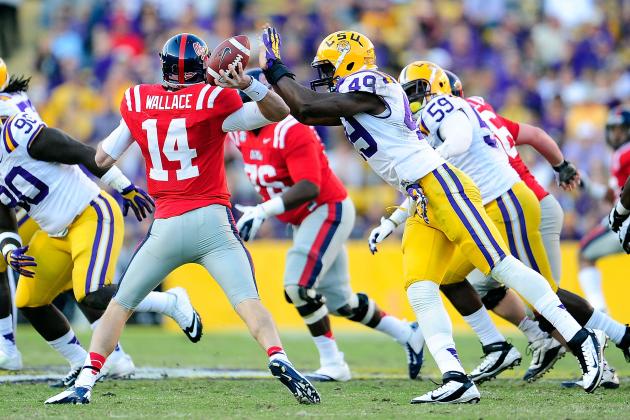 Stacy Revere/Getty Images

Barkevious Mingo, Outside Linebacker, LSU
When I think about Mingo, one word comes to mind: Speed.
He's raw, but the raw materials Mingo brings to the table make him a perfect candidate to become the next big-time pass-rushing outside linebacker for the Pittsburgh Steelers.
Mingo has one more chance to prove himself in front of a national audience when LSU takes on Clemson in the Chick-fil-A Bowl on December 31—the last day of 2012. Clemson brings an explosive offense that will test LSU's dominant defense.
Mingo and fellow NFL-hopeful Sam Montgomery will need to ratchet up the pressure against Tajh Boyd and the LSU Tigers, or DeAndre Hopkins will have a big game.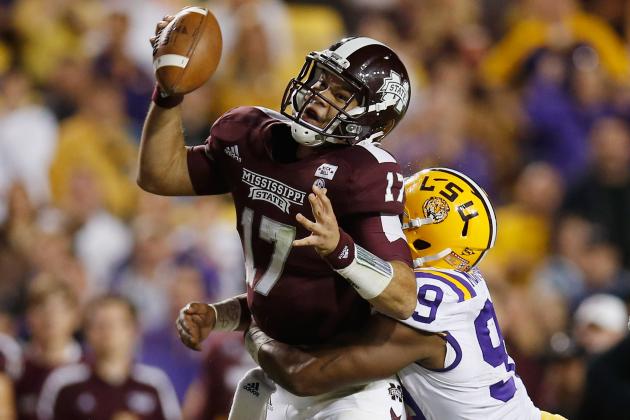 Chris Graythen/Getty Images

Sam Montgomery, Defensive End/Outside Linebacker, LSU
Anthony Spencer will be a free agent after the 2012 season, and he's been a bit of a disappointment for the Dallas Cowboys. It's time to bring in some new blood to play opposite DeMarcus Ware, and Montgomery is just the man for the job.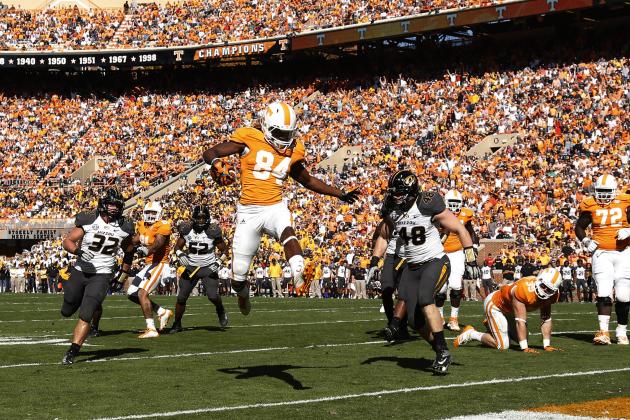 Joe Robbins/Getty Images

Cordarrelle Patterson, Wide Receiver, Tennessee
Adrian Peterson has carried the Minnesota Vikings offense in 2012, but the franchise needs to bring in more talented receivers for Christian Ponder, or Peterson will burn out too quickly.
Patterson is a vertical threat with excellent leaping abilities and speed, and he'll make life a heck-of-a-lot easier for Percy Harvin in 2013.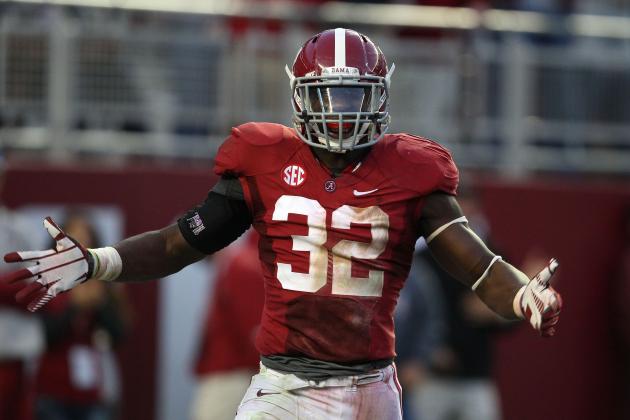 Mike Zarrilli/Getty Images

C.J. Mosley, Linebacker, Alabama
Stick him in the middle, on the weak side or the strong side—it doesn't matter. Mosley can play, and he'll bring some stability to a linebacking corps that has struggled to maintain a consistently high level of play for the past couple of season for the New York Giants.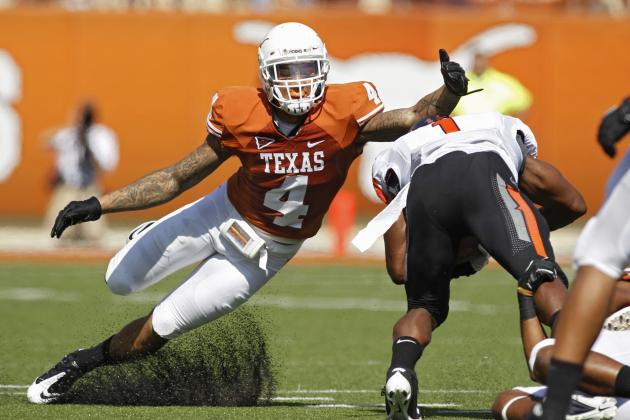 Erich Schlegel/Getty Images

Kenny Vaccaro, Strong Safety, Texas
The Cincinnati Bengals have struggled to find an answer at the strong safety position all year long, as Taylor Mays couldn't get the job done. Nate Clements has filled in, and so has Chris Crocker, but the team needs a stalwart who an play with consistency.
Enter Vaccaro, the nation's finest strong safety. He'll make a big difference in that secondary and help the Benglas feature the best defense in the AFC North.
Jeremy Brevard-USA TODAY Sports

Jonathan Cooper, Offensive Guard, North Carolina
The Chicago Bears were starting Chilo Rachal at left tackle at one point this season. If you don't know, he's bad.
The team's offense hasn't been able to find a rhythm all year long, mostly due to the fact that the offensive line is a mess. Cooper's ability to move well in space, create running lanes inside and protect the passer is just what the doctor ordered.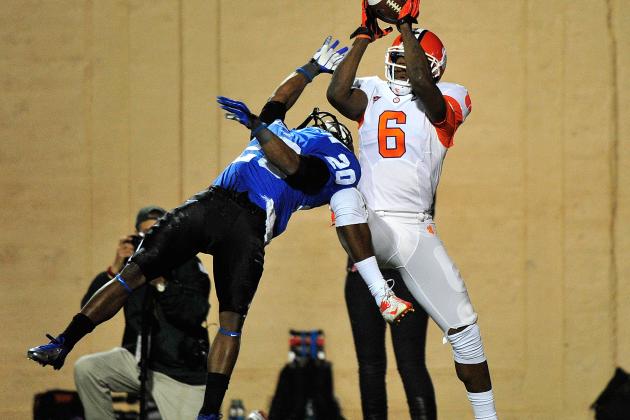 Grant Halverson/Getty Images

DeAndre Hopkins, Wide Receiver, Clemson
Sam Bradford has been making do without an elite wide receiver since he got to St. Louis. The St. Louis Rams need to finally give him a top-level weapon on the outside, and Hopkins is just the electric spark Bradford needs to finally show he was worth being taken No. 1 overall in 2010.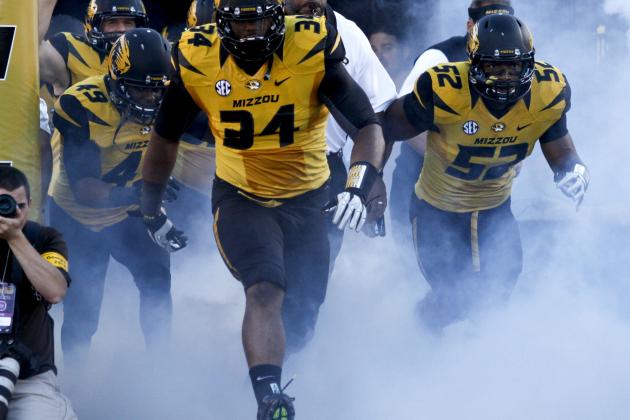 Ed Zurga/Getty Images

Sheldon Richardson, Defensive End (3-4), Missouri
Richardson is a perfect 3-4 defensive end convert from his 4-3 defensive tackle spot. He has the right size, motor and skill set to excel as a five-technique end, and he'll make a big impact for the Indianapolis Colts from Day 1.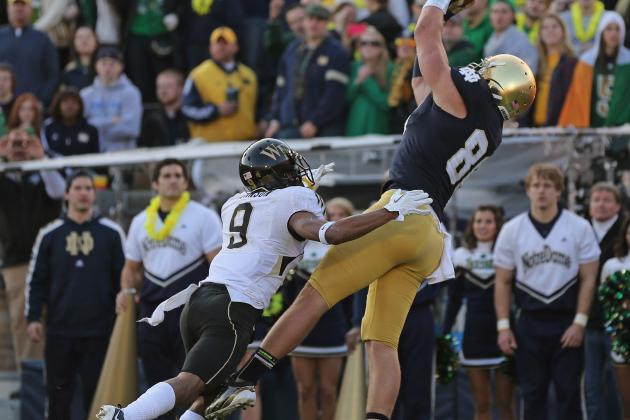 Jonathan Daniel/Getty Images

Tyler Eifert, Tight End, Notre Dame
Russell Wilson is already dangerous enough, but imagine how good he'd be with an elite pass-catching tight end roaming the middle of the field.
Eifert has a massive test coming up when the Fighting Irish take on Alabama for the National Championship. Notre Dame doesn't feature any elite wide receivers, and the team usually doesn't excel in the passing game against top-level defenses.
Alabama will be highly focused on stopping Eifert in the championship game, and it'll be interesting to see if he can overcome all odds and make a big impact for his team.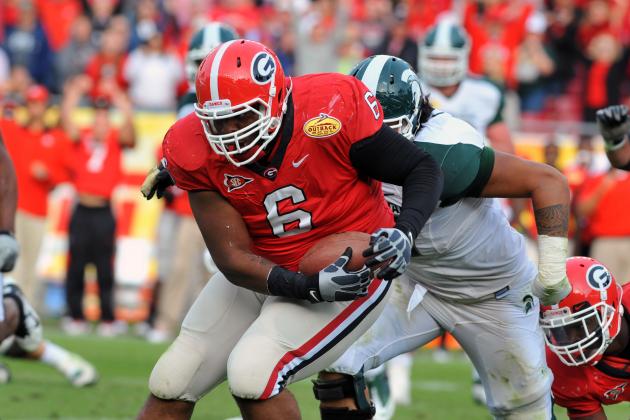 Al Messerschmidt/Getty Images

John Jenkins, Nose Tackle, Georgia
The Baltimore Ravens no longer feature one of the NFL's top defenses, and one of the biggest reasons for this is that Terrence Cody has proven to be a disappointment.
Jenkins is a monster of a man who tips the scales with over 350 pounds of run-stuffing muscle (and a bit of this and that). He'll help Baltimore shut down the run for years to come and take on double-teams in the passing game—opening up one-on-one opportunities for the team's edge-rushers.
Georgia takes on Nebraska in the Capital One Bowl on January 1, 2013.
Jenkins will have his hands full trying to stifle the 'Huskers' unstoppable running game. He'll either come away from the contest looking like an NFL-ready stud or someone scouts question, so this contest is extremely important for Jenkins.
He'll need to perform at a high level, or his stock could drop.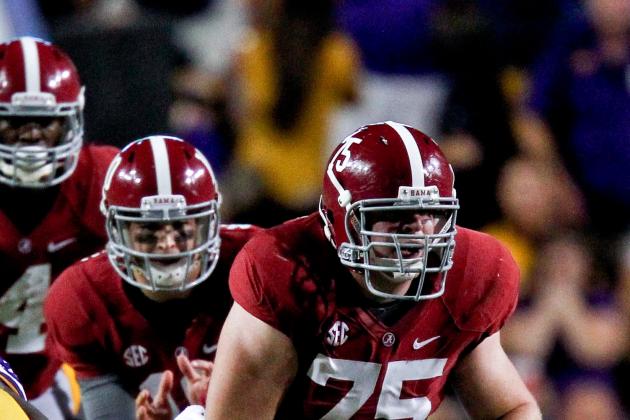 Derick E. Hingle-USA TODAY Sports

Barrett Jones, Center/Guard, Alabama
Aaron Rodgers has been sacked more than any other quarterback in the NFL.
Jones can play all five positions on the line, and he'll find a way to make an immediate impact at either the center position or at one of the guard spots.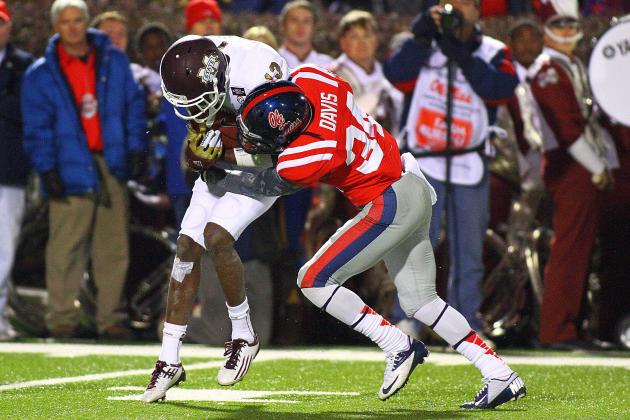 Spruce Derden-USA TODAY Sports

Johnthan Banks, Cornerback, Mississippi State
The New England Patriots have improved their secondary play from 2011, but there is still a lot left to be desired from this group. Banks is a ball-hawking cornerback who loves contact. He's a perfect fit for Bill Belichick's burgeoning young defense, and he'll make an immediate impact.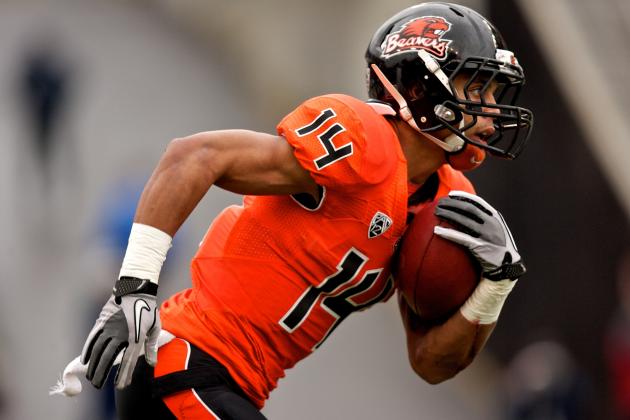 Craig Mitchelldyer/Getty Images

Jordan Poyer, Cornerback, Oregon State
Carlos Rogers seems to have lost a step in 2012. He isn't playing at the same crisp level he did in 2011, and at the age of 31, he won't be making a turnaround next season.
Poyer is one of the most underrated players in the country, but you can bet Trent Baalke and his scouts are well aware of his talents. Adding him to the team's complement of young players will only strengthen the best defense in the NFL.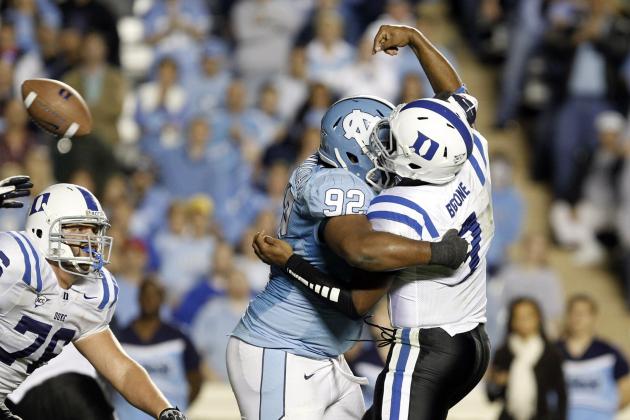 USA TODAY Sports

Sylvester Williams, Defensive Tackle, North Carolina
The only thing the Denver Broncos are missing on defense is a run-stuffing defensive tackle.
Williams provides the beef they're missing, and he'll add to the youth movement on Jon Fox's defense.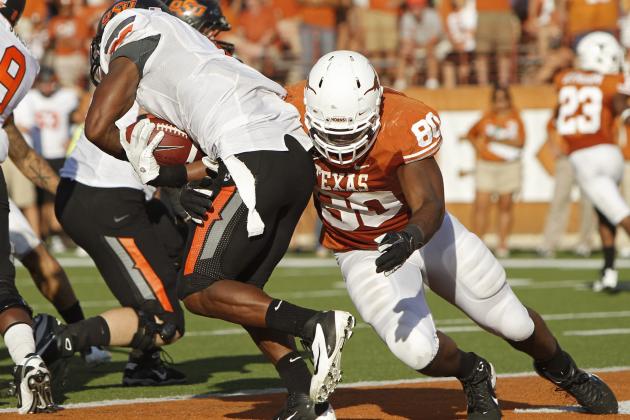 Erich Schlegel/Getty Images

Alex Okafor, Defensive End, Texas
John Abraham is on his last legs, and Okafor is a younger version of the Atlanta Falcons' stalwart end.
Blessed with amazing power and strength for his size, Okafor will be a perfect fit as Abraham's replacement, whether that be in 2013 or after.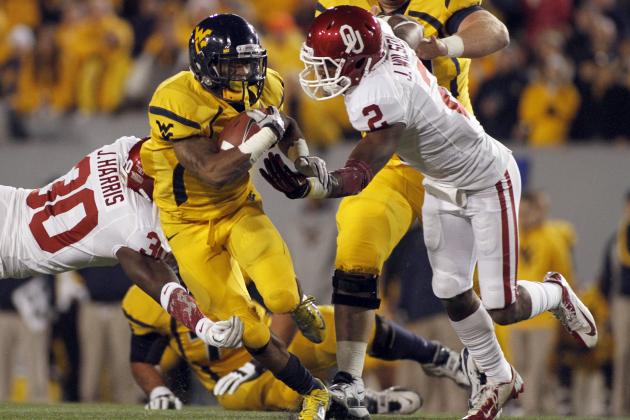 Justin K. Aller/Getty Images

Tavon Austin, Wide Receiver, West Virginia
There isn't a shiftier, quicker receiver in this year's draft class. Austin can change directions on a dime and doesn't seem to lose speed in the process. As a result, he makes talented defenders look silly on a regular basis.
Matt Schaub: "Yes, please!"
Follow me on Twitter @JesseReed78 and check out my weekly NFL picks at Pickfactor.com