Ranking the Best Point Guards in the NBA Right Now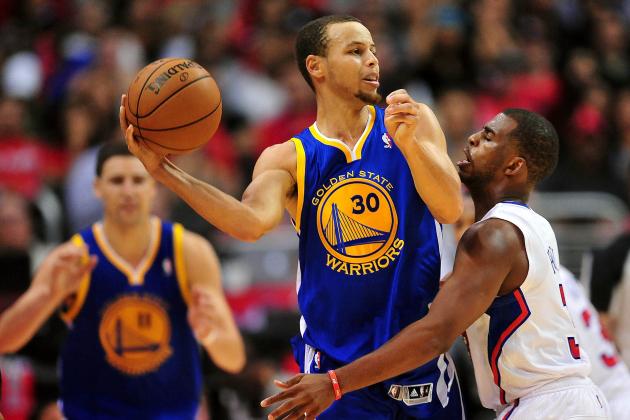 Gary A. Vasquez-USA TODAY Sports

The point guard position is ever-evolving. From the near league-wide abandonment of a primary facilitator to the adoption of a scorer's mentality, the model for lead guards is no longer as it used to be.
So how do the best point guards of today's NBA rank right now?
This is not an evaluation of legacy or career achievements. Instead, it is a model that has been created as if this were the first evaluation of every player on the following slides.
Forget about reputation; which point guards are having the best individual seasons?
Begin Slideshow

»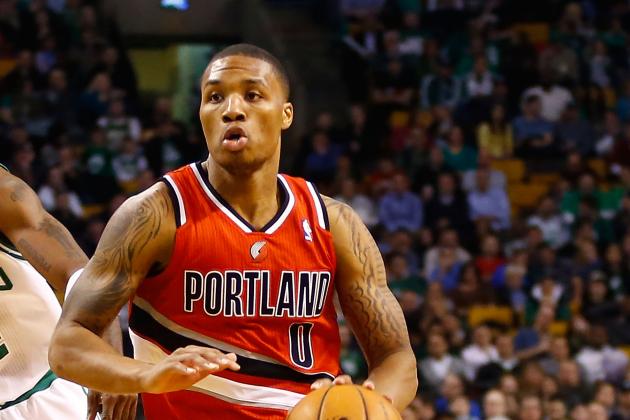 Jared Wickerham/Getty Images

Age: 21
Experience: Rookie
2012-13 Season Averages
17.57 PER, 18.8 PPG, 6.3 APG, 3.3 RPG, 1.1 SPG
Is there any question about who is at the top of the Rookie of the Year rankings for 2012-13?
Lillard is presently posting averages of 18.8 points, 6.3 assists, 3.3 rebounds and 1.1 steals per game. He has a 17.57 Player Efficiency Rating and is posting a slash line of .423/.368/.844.
Although those percentages may not be the most impressive you've ever seen, they're excellent for a rookie. Even if they pale in comparison to Kyrie Irving's 2011-12 numbers.
That's the new standard. Deal with it.
Furthermore, Lillard has already proven capable of stepping up in clutch situations. Not only did he sink a game-winner to down the New Orleans Hornets, but he's shooting the lights out in late game situations.
Lillard is converting 80.0 percent of his shots from the field during overtime periods. This mid-major standout is for real, folks.
Watch and learn.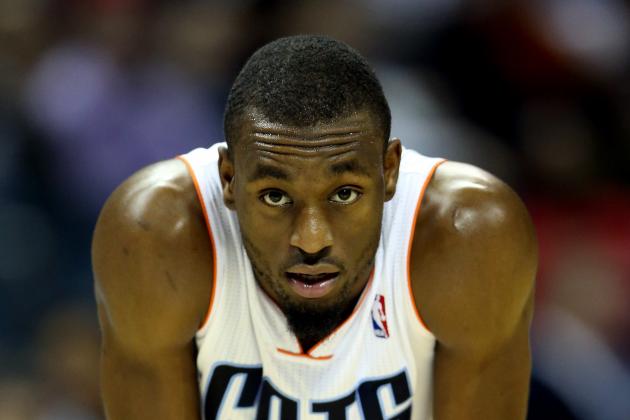 Streeter Lecka/Getty Images

Age: 22
Experience: 1 Season
2012-13 Season Averages
20.35 PER, 18.8 PPG, 6.1 APG, 3.2 RPG, 2.0 SPG
Has any player been a more pleasant surprise than Kemba Walker?
Thus far in 2012-13, Walker is out-performing Stephen Curry of the Golden State Warriors, a rational comparison due to the similarities in their approach to the game.
Per 40 minutes, Walker is averaging 21.1 points, 6.9 assists and 3.6 rebounds with a true shooting percentage of 52.8. Walker also has a Usage Rate of 24.5, an Assist Ratio of 23.4 and a Turnover Ratio of 8.4.
Curry is posting 21.1 points, 6.7 assists and 4.4 rebounds per 40 with a true shooting percentage of 55.8. His Usage Rate sits at 23.9, Assist Ratio at 23.2 and Turnover Ratio at 11.2.
Unfortunately, Curry has the wins to back up the individual statistics.
Even still, Walker has posted a Player Efficiency Rating of 20.35. He's also putting up an Assist-to-Turnover Ratio of 2.77.
Only six players are posting a better number while averaging more than 30.0 minutes per game.
Throw in a solid 3.2 rebounds and 2.0 steals per game, and it is clear that head coach Mike Dunlap has Kemba focusing on defense. As for how responsibly he's played, Walker's 0.97 steals per personal foul ranks ninth in the league.
No matter which way you cut it, Kemba Walker has played a phenomenal season.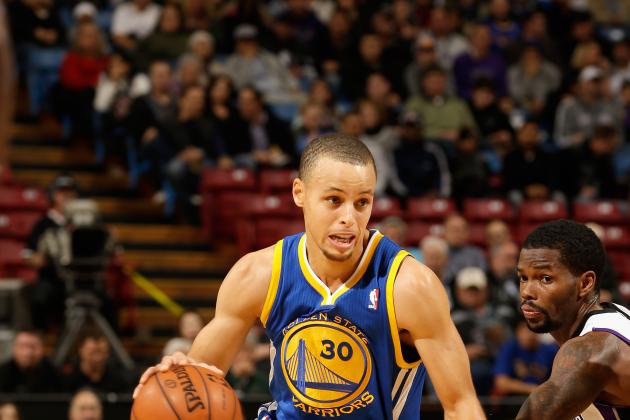 Ezra Shaw/Getty Images

Age: 24
Experience: 3 Seasons
2012-13 Season Averages
18.40 PER, 19.9 PPG, 6.3 APG, 4.2 RPG, 1.6 SPG
As we've long known, Stephen Curry is a top 10 point guard when healthy.
Curry has dazzled fans with his poise and well-rounded production through 26 games. He's presently averaging 19.9 points, 6.3 assists, 4.2 rebounds and 1.6 steals on a slash line of .424/.429/.900.
He's also averaging 37.8 minutes per game.
Numbers aside, Curry is doing the one thing that the point guards listed before him have been unable to. That, of course, is lead his team to victories.
With this being established, it is safe to say that Curry is finally coming into his own. The key to his progression will now be eliminating his tendency to do too much.
42.4 percent shooting from the floor and 3.0 turnovers per game display such a truth.
Fortunately, Curry has done nothing but help GSW secure a 17-9 record. This is the breakout year Warriors fans have been waiting for.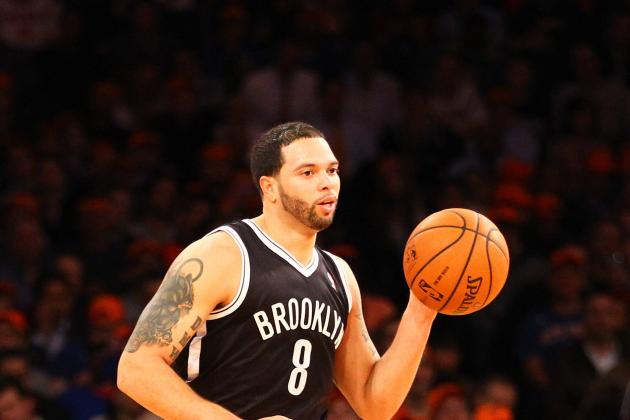 Al Bello/Getty Images

Age: 28
Experience: 7 Seasons
2012-13 Season Averages
17.36 PER, 16.8 PPG, 8.2 APG, 3.0 RPG, 1.0 SPG
Say what you will about D-Will, but to have a down year at 16.8 points and 8.2 assists per game is pretty darn impressive.
Unfortunately, Williams is also posting a slash line of .396/.294/.812 and committing 3.0 turnovers per game. Even as he improves those numbers, his struggles must be documented.
After all, this is an article on whom is playing the best. Not who has the best reputation.
This is the third consecutive season that Williams has shot worse than 41.0 percent with the New Jersey, and now Brooklyn, Nets. He'd shot at least 45.6 percent in all but one season with the Utah Jazz.
Like night and day.
With that being said, Williams is still posting All-Star caliber numbers as he struggles to find his shooting stroke. For that reason, he still manages to rank above the players previous listed.
When what you consider to be "struggling" is putting up 16.8 points and 8.2 assists, you're doing well for yourself.
Russell Westbrook and Jrue Holiday are the only other players in the NBA to average 16.0 points and 8.0 assists simultaneously.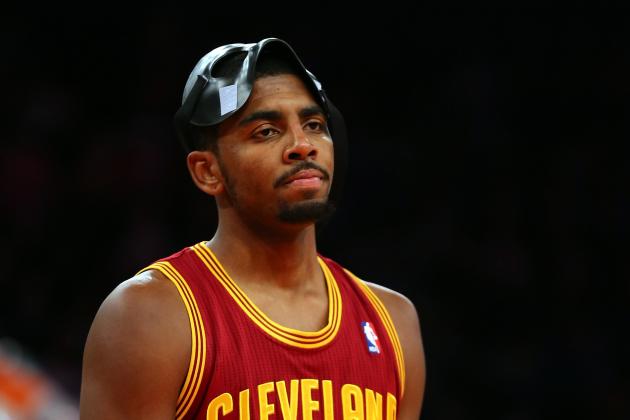 Elsa/Getty Images

Age: 20
Experience: 1 Season
2012-13 Season Averages
21.27 PER, 23.6 PPG, 5.6 APG, 3.7 RPG, 1.3 SPG
If there's one thing we know about Kyrie Irving, it's that he can score the basketball efficiently.
For the season, Irving is averaging 23.6 points on a sensational slash line of .478/.423/.798. Although he's yet to come along as a facilitator, Irving is proving to be one of the top scorers in the NBA.
Even with a black mask over his face. That's a literal statement, of course, as Irving is playing with a broken jaw (via ESPN), an injury that couldn't stop him from dropping 41 points on the vaunted New York Knicks defense.
Irving has firmly established himself as a future threat for the NBA's scoring title. Although one could only imagine that his assists would rise with the proper talent around him, his scoring numbers do not come by volume shooting.
Irving is responsible, intelligent and flat-out dominant with the ball in his hands. Should he remain healthy, All-Star honors could be on the way.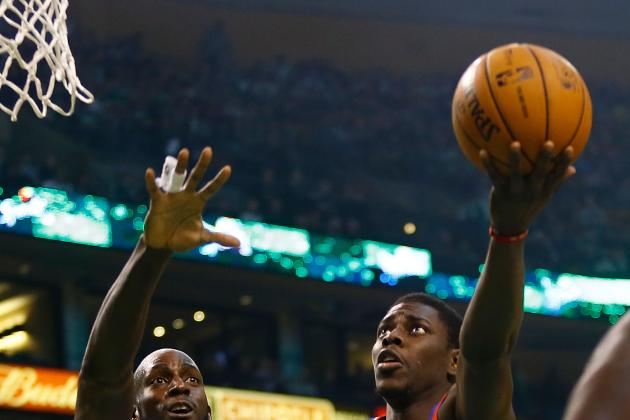 Jared Wickerham/Getty Images

Age: 22
Experience: 3 Seasons
2012-13 Season Averages
18.14 PER, 18.4 PPG, 8.9 APG, 3.9 RPG, 1.5 SPG
If Kemba Walker isn't your pleasant surprise, Jrue Holiday should be.
Holiday has rewarded Philadelphia's financial investment by posting jaw-dropping averages of 18.4 points and 8.9 assists per game. This is especially impressive considering Holiday is shooting 45.1 percent from the floor.
All of those numbers are career bests.
What may be the most significant aspect about Holiday's development is that he's doing all of this without Andrew Bynum. His No. 1 pick-and-roll option is not in the rotation, thus leaving the former UCLA Bruin to hit less-than-reliable bigs in the paint.
Fortunately, Thaddeus Young has stepped up as one of the stars of the young season.
With Holiday scoring and facilitating at an All-Star rate, the only thing left is defense. It is there where Holiday uses his 6'4" and 205-pound frame to smother opponents.
Holiday is rapidly approaching the label of elite.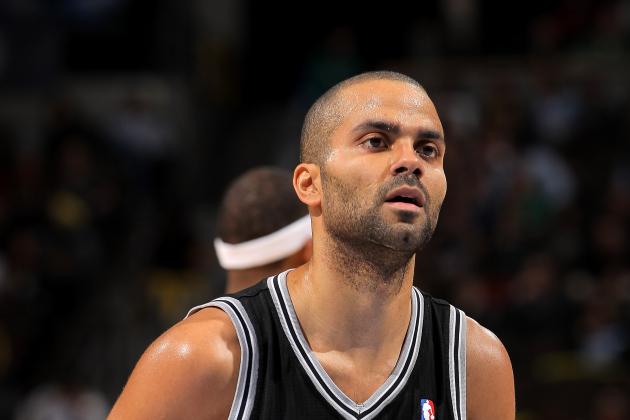 Doug Pensinger/Getty Images

Age: 30
Experience: 11 Seasons
2012-13 Season Averages
22.04 PER, 18.8 PPG, 7.3 APG, 3.3 RPG, 0.8 SPG
Some will look at Tony Parker's numbers and claim that Jrue Holiday is playing the better season. Allow the following number to end that speculation.
Parker has played less than 30 minutes in eight separate games. Six of them were wins that Parker had secured by the time the fourth quarter began.
Brilliant.
Parker has made his name known in the MVP conversation for the second consecutive season. The San Antonio Spurs are 19-8, with Parker fueling their record and Tim Duncan's resurrection.
If you'd really like numbers, try these.
The San Antonio Spurs have won 40 of their past 49 games that Parker has played in. That's a 40-9 record, in case you're uncertain of what that means.
That equates to a 67-win season.
USA TODAY Sports

Age: 24
Experience: 4 Seasons
2012-13 Season Averages
22.89 PER, 21.1 PPG, 8.8 APG, 4.6 RPG, 2.0 SPG
So much for the "Russell Westbrook doesn't pass" argument.
Much like he did in 2010 and 2011, Westbrook is presently averaging upwards of 8.0 assists per game. To be exact, he's putting up 21.1 points and 8.8 assists per contest.
He's the only player in the NBA to average at least 20.0 and 8.0 simultaneously.
Although Westbrook remains of a shoot-first nature, he is doing an excellent job of finding teammates off the drive-and-dish. You know, the play that we now refer to as a true way of facilitating.
If it works for LeBron James, it works for Westbrook too.
What has been most impressive about Westbrook is the fact that he has cut down on his turnovers for the third consecutive season. Westbrook is now posting an assist-to-turnover ratio of 2.75.
Oh, and he can do this.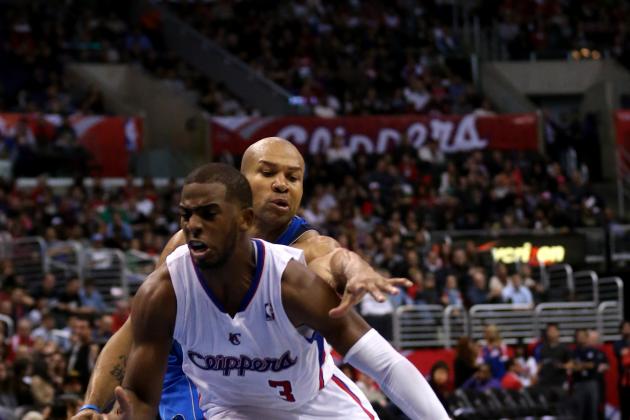 Stephen Dunn/Getty Images

Age: 27
Experience: 7 Seasons
2012-13 Season Averages
25.53 PER, 15.7 PPG, 9.3 APG, 3.6 RPG, 2.5 SPG
Allow the following slide to answer why CP3 is No. 2. Until then, appreciate what has been an outstanding season.
CP3 is presently averaging 15.7 points, 9.3 assists, 3.6 rebounds and 2.5 steals per game. He ranks second in the league in assists and once again leads the league in steals.
What else is new?
Most recently, Paul became the fifth-fastest player in NBA history to eclipse the 5,000-assist mark (via ESPN Stats and Info). He became the third-youngest player in league history to hit the mark, just behind Magic Johnson and Isiah Thomas.
His legacy as the best point guard of his generation in tact. So who could possibly be ahead of CP3 this season?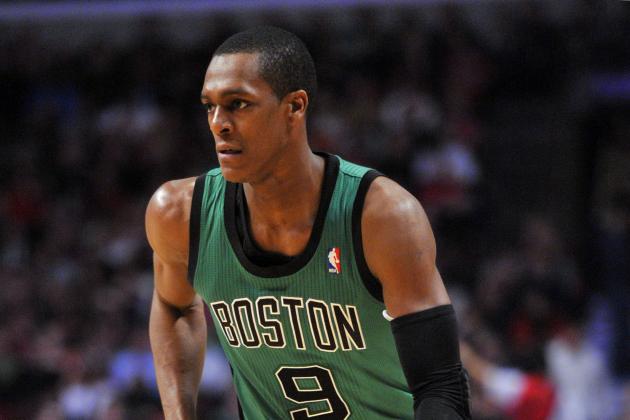 USA TODAY Sports

Age: 26
Experience: 6 Seasons
2012-13 Season Averages
20.04 PER, 13.8 PPG, 12.3 APG, 5.0 RPG, 2.0 SPG
Before you cry foul, allow the numbers to speak volumes.
Thus far, Rondo is averaging 13.8 points, 12.3 assists, 5.0 rebounds and 2.0 steals per game. Chris Paul sits at 15.7 points, 9.3 assists, 3.6 rebounds and 2.5 steals.
Paul leads by 1.9 points and .5 steals. Rondo holds an advantage by 3.0 assists and 1.4 rebounds.
Rondo is also the only player in the NBA to average at least 10.0 assists.
Entering the 2012-13 NBA regular season, the No. 1 difference between he and Paul was Rondo's lack of a jump shot. As far as the mid-range game goes, Rondo has not only added a J, but has become one of the best mid-range shooters in the league.
Clear your bias and check the numbers.
For the season, Rondo is shooting 53.6 percent on mid-range jump shots. CP3 is shooting 46.4 percent.
Remember, folks. This isn't about legacy; this is about the present day.
Right now, there is no point guard playing better than Rajon Rondo. 42.8 percent of Boston possessions are assisted by him.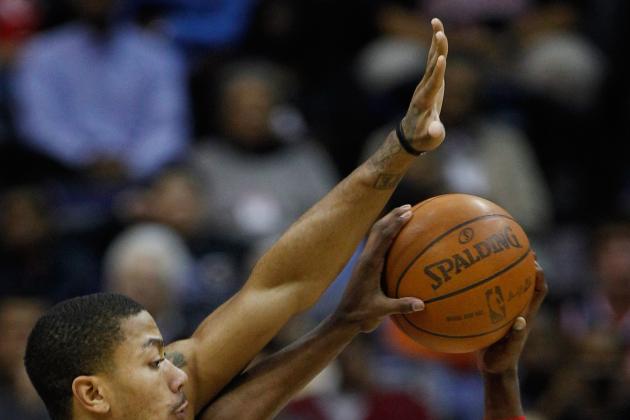 Rob Carr/Getty Images

Derrick Rose remains sidelined by an injury, thus eliminating him from contention for this list. The same can be said about John Wall of the Washington Wizards, Steve Nash of the Los Angeles Lakers and Kyle Lowry of the Toronto Raptors.
As for Ricky Rubio, there has been a cap on his minutes since returning from knee surgery. Until he receives an increase in playing time, Rubio rests on the outside looking in.
Just know that Rose, Nash, Rubio, Wall and Lowry would likely crack the top 10 if they were healthy.