5 MLB Rule Changes We Wish Were Coming in 2013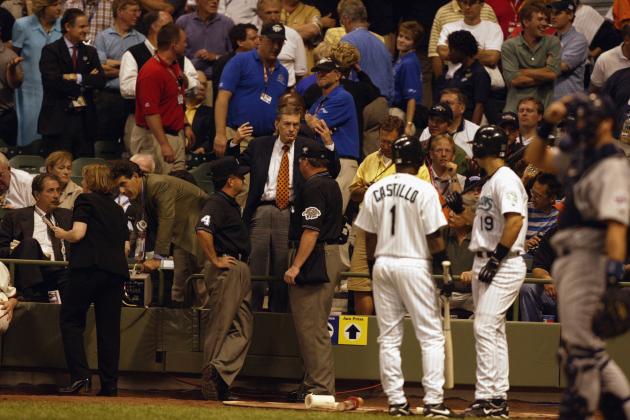 Andy Lyons/Getty Images
The 2002 MLB All-Star game ended in a tie, paving the way to the exhibition game determining which league receives home-field advantage in the World Series.
Baseball still stands as America's pastime, but Major League Baseball needs to get with the present and make some changes if it wants to remain a significant part of the country's future.
Many quirks in the sport's structure differ greatly from other professional leagues. It's time for baseball to catch up before it loses more fans who feel it is out of touch.
As every other sport (including the Little League World Series) embraces instant replay, the MLB hesitates to expand its use.
Teams can spend as much or as little as they please, creating a major discrepancy in payrolls.
It's also the only sport with different rules in its two leagues, with the rules changing to a format lacking any definite structure when September comes around. This really must be corrected now that the American League and National League will square off more often.
And of course, who else is dumb enough to let an exhibition game shape the championship series' outcome?
Fixing the following five rules would benefit baseball.
Begin Slideshow

»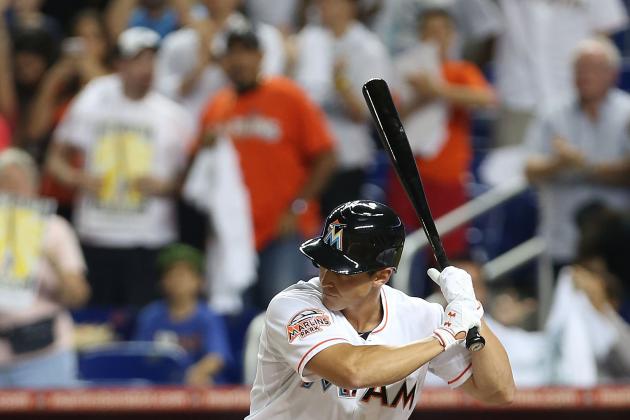 Marc Serota/Getty Images
Adam Greenberg returned to the big leagues as a September call-up.
Every September, each major league team is afforded the opportunity to expand its roster to as many as 40 players.
Since there is no specific number, one team could hold 27 players while the other fills every possible space. Having a specific number would offer some necessary uniformity.
Most teams rarely use all of the allocated spots anyway, so increasing the September roster size to 30 seems fine enough.
Some don't event want that many. Sports Illustrated's Tom Verducci suggested that they allow some September call-ups but keep the active in-game roster to 25.
Teams should play all games with the same number of players. I advocate using a 25-man roster all year long. The difference is that in September you can call up as many players as you want but you must designate a game roster each day of 25 players. A manager, for instance, might leave off his other four starting pitchers, for instance, to include four September call-ups.
Changing the rules of the game at the season's most crucial juncture is a bit fishy. Verducci presents an interesting alternative that would keep the games consistent while providing managers with wiggle room to finagle their rosters.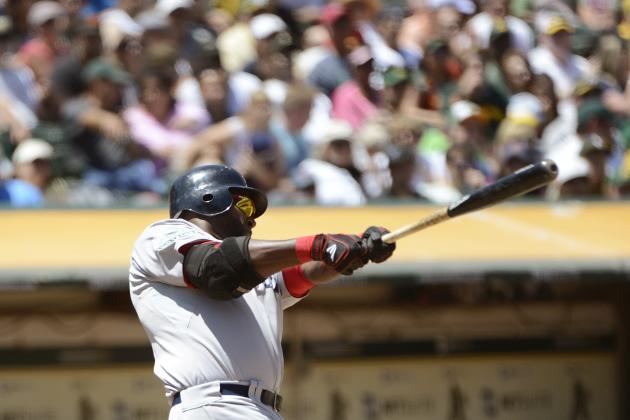 Thearon W. Henderson/Getty Images
David Ortiz has flourished as a designated hitter.
Starting this season, AL and NL teams will convene throughout the entire regular season.
With this change, the two opposing sides can no longer operate under different sets of rules. It's time to take helpless pitchers out of the batter's box and allow NL teams to employ a designated hitter.
Pitchers are paid to pitch. An overwhelming majority of them make Brendan Ryan look like Ryan Braun, so why force them to routinely humiliate themselves?
A few pitchers can hold their own with the stick, but it's not worth watching hundreds of pitchers struggle to hit over .150 because Carlos Zambrano, Yovani Gallardo and Stephen Strasburg can offer the occasional homer.
Conservative baseball fans are still holding on to past ideals, but the leagues are no longer separate. Players switch from league to league, and now the leagues will compete regularly, so it's time to establish an even playing field.
NL lineups face a distinct disadvantage by writing in a near-automatic out in the ninth spot while the Boston Red Sox can instead trot out David Ortiz.
Free agency, interleague play and an expanded media market has blurred the lines between the two leagues; they are now just two parts of Major League Baseball. If the whole sport still romanticizes the notion of pitchers hitting (clearly not since all minor-league teams implement a DH), then get rid of the designated hitter altogether.
At least pick one approach, but preferably select the more logical choice.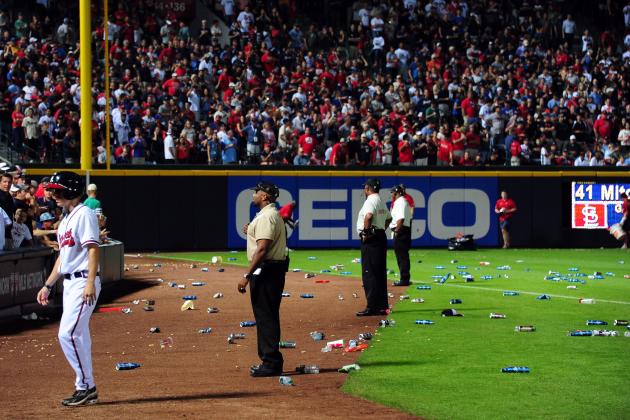 Scott Cunningham/Getty Images
Instant replay could have helped avoid this.
Way too much incredible technology exists to keep ignoring it in favor of trusting the human eye.
While umpires could verify a home run through instant replay last season, they still were on their own to rule fair or foul on balls hit inside the field of play, as well as judge every other minuscule aspect of the game.
We should get our wish on part of this one, as Bud Selig said he will look to expand instant replay to include fair/foul plays and trapped balls by the start of 2013.
That's a great start, but they can go even further by including out or safe calls on all the bases, which often are hard to determine even in slow motion. Including balls and strikes would probably be overkill, but why not make everything else fair game?
The "human element" is great and all, but we're not talking about replacing the umpires with robots. Those poor humans trying to decipher if a ball hit at laser speed landed slightly to the left or right of a thick line of chalk can use all the help they can get.
And for those arguing that enhanced instant replay would make the game too slow...really? That would make baseball drag on at times? So managers arguing over those same calls until they get ejected makes for a better use of our time?
Discourage managers from stomping around like a 7-year-old, and trekking to the video booth could actually slash some minutes.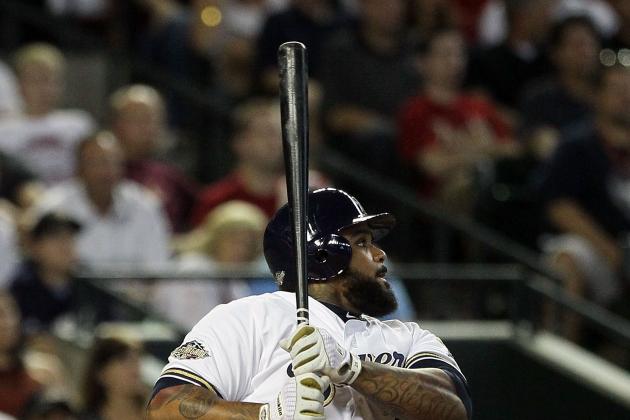 Jeff Gross/Getty Images
Prince Fielder's All-Star Game home run aided his team's rival in 2011.
Is there a more senseless rule in all of sports than allowing the All-Star Game to determine home-field advantage in the World Series?
When both squads ran out of pitchers during extra innings of the 2002 All-Star Game, Bud Selig called it a tie, drawing outrage from everyone who demanded more from their meaningless exhibition games.
So instead of actually addressing the problem at hand with a practical solution, like vastly expanding the roster size so teams wouldn't run out of pitchers in the future, Selig instead over-corrected.
The tie debacle exposed the insignificance of a game that exists to reward the game's best players and put on a fun show for fans. Instead of laughing it off and saying "Oh well, it's just an exhibition game," Selig attached hefty stakes to it.
Thanks to this baffling rule, the league's top talents often play for the right to watch their foe play an extra home game during the World Series.
If they're not going to use reason and award the team with the better record home-field advantage, at least eliminate the one representative per team rule. Kevin Correia represented the Pittsburgh Pirates in the 2011 game. Kevin Correia could have determined the World Series.
The stupidity of this rule is amplified by the utterly simple solution readily available.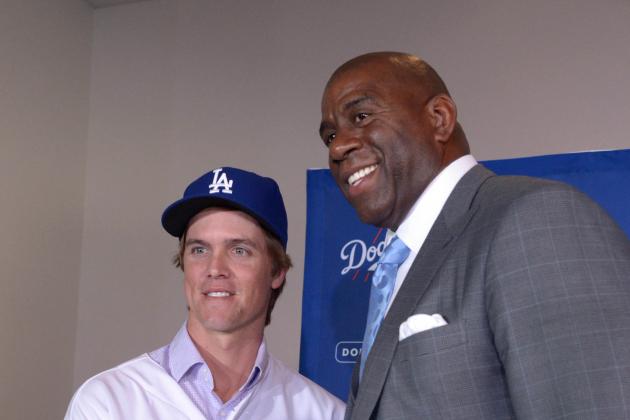 USA TODAY Sports
The Los Angeles Dodgers are just getting started.
Payroll disparities looked bad before, but if this offseason is any indication, they're only going to get worse.
With a potential $6 billion television deal from Fox Sports feeding their spending spree, the Los Angeles Dodgers gave Zack Greinke $147 million just a few months after acquiring more than $250 million in total salary from the Red Sox in an August blockbuster.
The Dodgers, with a payroll already over $200 million, will likely enter the season with the highest payroll in league history. Even more than the New York Yankees.
On the opposite side of the spectrum, the Miami Marlins cleared house one year after embarking on a spending spree to accompany their new stadium. Once they received taxpayer money to build their new park that still draws poor attendance, they parted ways with Jose Reyes, Josh Johnson and Mark Buehrle.
It's time for baseball to consider following the other major sports organizations and establishing a salary cap and floor to promote competitiveness. Setting a maximum and minimum spending level for teams, even if it involves soft-cap limits like in the NBA, would generate balance rather than the same select teams engaging in bidding wars over every star player.
A massive payroll does not guarantee a championship, but it sure increases the likelihood of winning. The Yankees have only missed the playoffs once since 1996.
Operating in a small market is not a death sentence, but the feel-good story of the little, cheaply-constructed engine roaring to the World Series does not occur with much regularity.
Consider the depressing Moneyball ending when the closing captions essentially said, "Oh yeah, Billy Beane never actually won a championship, but the Red Sox used the same practices with much more money at their disposal, so they won twice." Yay?
Before the Dodgers buy every player left on the free-agent market, and then purchase the Tampa Bay Rays with their spare change, it's time to assert some financial boundaries.