Ohio State Football: Predicting 2013's New Starters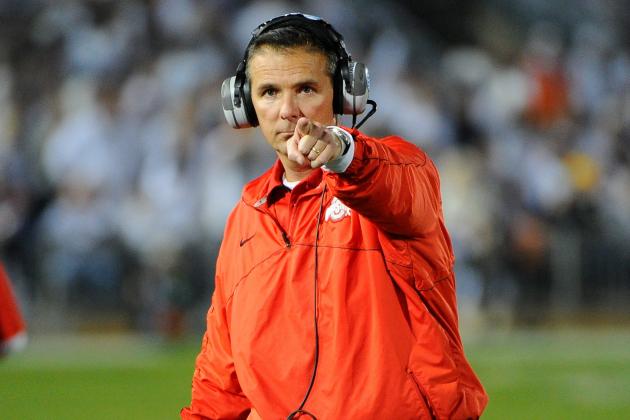 Rich Barnes-USA TODAY Sports
At programs like Ohio State the motto is "next man up." Who will be those next men in 2013?
At the biggest and best programs, teams don't rebuild; they reload.
If Ohio State and head coach Urban Meyer want to build on their undefeated 2012 season, they will need to replace 10 starters—11 if you count nickelback Orhian Johnson, which I do.
Ohio State will have nine of its starters back on offense, including QB Braxton Miller, running back Carlos Hyde and four offensive linemen.
But on defense, the Buckeyes will lose their entire starting defensive line, two linebackers and a cornerback—possibly both cornerbacks if Bradley Roby declares himself eligible for the draft.
But this list starts with special teams.
Begin Slideshow

»
Kirk Irwin/Getty Images
Ben Buchanan leaves after four years of punting at Ohio State.
Out: Ben Buchanan, In: Johnny Townsend
This one is probably the easiest to predict.
Buchanan finished his career at Ohio State in 2012, and next season, Townsend, a U.S. Army All-American, will be the only punter on scholarship.
There's a chance that Drew Basil could kick and punt. But in a year with limited scholarships, it's unlikely Urban Meyer would use a scholarship on a punter unless he was going to play.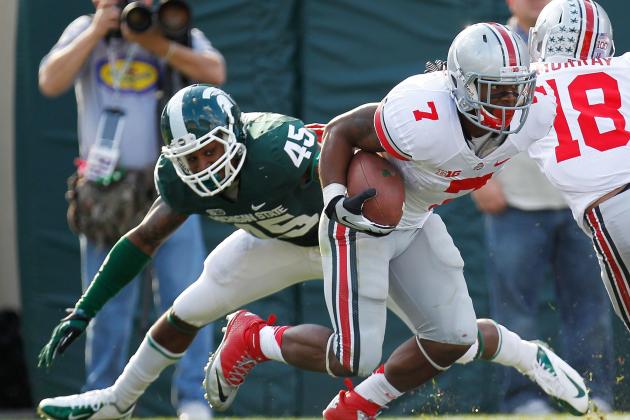 Gregory Shamus/Getty Images
Jordan Hall will return in 2013 after a season full of injuries.
Out: Jake Stoneburner, In: Jordan Hall
Stoneburner split time with Evan Spencer in 2012. Spencer will likely see plenty of time in 2013, but I think Hall will see more.
Urban Meyer has been looking for an athlete to play his hybrid, or "Percy Harvin" role. That was supposed to be Hall last season, but injuries ruined those plans.
However, Hall is returning and will help lighten the load on Braxton Miller and Carlos Hyde in the running game, as well as provide another playmaker in the passing game.
Also keep an eye on incoming freshmen Jalin Marshall and Ezekiel Elliott to get some time in the hybrid spot.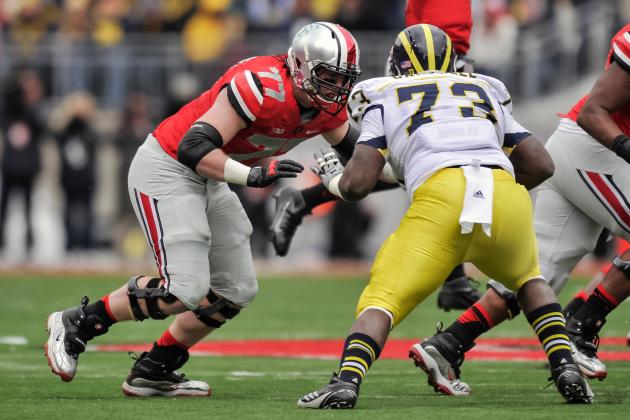 Jamie Sabau/Getty Images
Reid Fragel started all 12 games at right tackle after playing tight end his first three seasons.
Out: Reid Fragel, In: Taylor Decker
Taylor Decker battled Reid Fragel for the right tackle spot in 2012, but lost out and didn't see much playing time.
Decker will be back as a sophomore and should be able to step into the only open spot on the offensive line.
However, Decker will have to earn it. Not only will he have to battle healthy Kyle Dodson, he will also be battling the interior linemen as well.
Both starting guards—Andrew Norwell and Marcus Hall—have experience playing tackle, and if one of the interior linemen like Joey O'Connor or Chase Faris can earn a spot, the coaches might move one of the experienced guards outside.
Andrew Weber-USA TODAY Sports
Nathan Williams puts pressure on Devin Gardner in Williams' final game as a Buckeye.
Out: Nathan Williams, In: Noah Spence
Ohio State loses all four of its starters on the defensive line.
Thanks to great recruiting classes at the position, however, there is plenty of potential and depth.
Perhaps the player with the most potential is Noah Spence. The Pennsylvania native has similar skills to Williams, but with more athleticism.
Spence's abilities fit well into the weak-side defensive end role. He has the quickness to get pressure on the QB, the speed to run plays down from behind and the agility to drop into coverage.
Spence will have to battle to keep juniors Steve Miller and J.T. Moore on the sideline.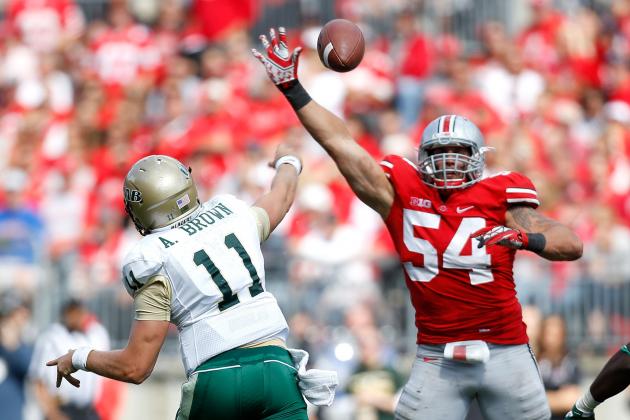 Kirk Irwin/Getty Images
John Simon capped off his Buckeye career with the Big Ten Defensive Player of the Year award.
Out: John Simon, In: Adolphus Washington
No one player will be able to step in and fill the void left by John Simon. But Washington will likely get the most time at Simon's old spot.
Washington didn't start the Michigan game in place of the injured Simon; Michael Bennett did. However, Washington saw playing time and made a solid impact on the game.
The 5-star recruit is versatile and could see time on the inside in passing situations. But his combination of strength and speed will earn him most of the playing time on the strong side.
Juniors Bennett and Steve Miller and incoming freshman Joey Bosa could also see plenty of playing time here for the deep Buckeye line.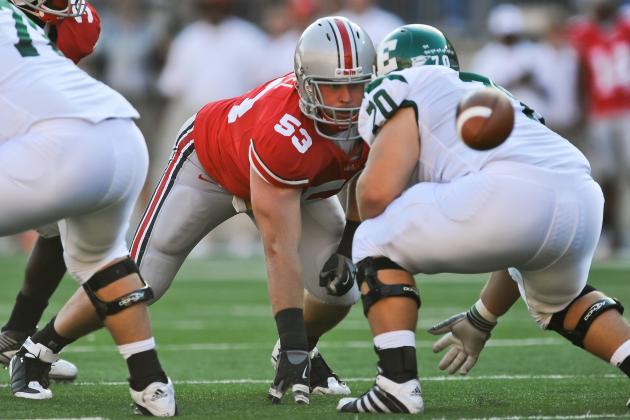 Jamie Sabau/Getty Images
Garrett Goebel was an unsung hero for the 2012 Buckeyes.
Out: Garrett Goebel, In: Joel Hale
Garrett Goebel was an unsung hero and captain on the 2012 team. He did the dirty work that freed up his fellow Buckeye defenders to make tackles.
Joel Hale seems to be the best fit at the nose guard spot to step in and fill the void left by Goebel. Hale will have to battle former offensive lineman Chris Carter for the starting role.
However, with the depth and talent on the defensive line in passing downs, it is likely that Ohio State goes without a nose guard and gets better pass-rushers on the field. When that's the case, expect to see Adolphus Washington and Michael Bennett play inside because they are more adept at rushing the passer.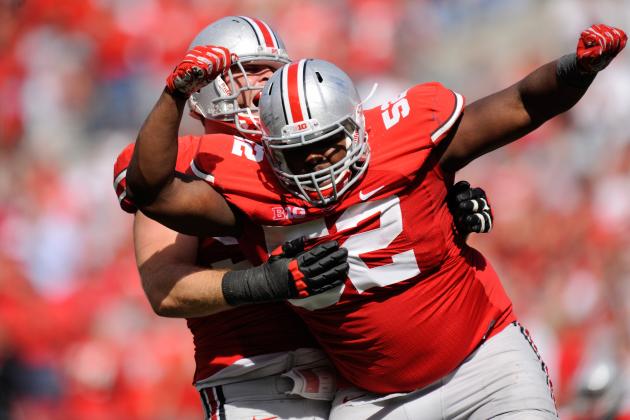 Jamie Sabau/Getty Images
The only starter on Ohio State's 2012 defensive line that could have come back was Johnathan Hankins.
Out: Johnathan Hankins, In: Tommy Schutt
As with John Simon, no one player is going to be able to fill the void left by Johnathan Hankins.
Hankins decided to leave Ohio State after three seasons, and for good reason, since he's being projected as a top-10 pick in the NFL draft.
Tommy Schutt was a highly-rated recruit in the 2012 class and got some playing time as the backup to Hankins.
In 2013, it will be his spot to lose.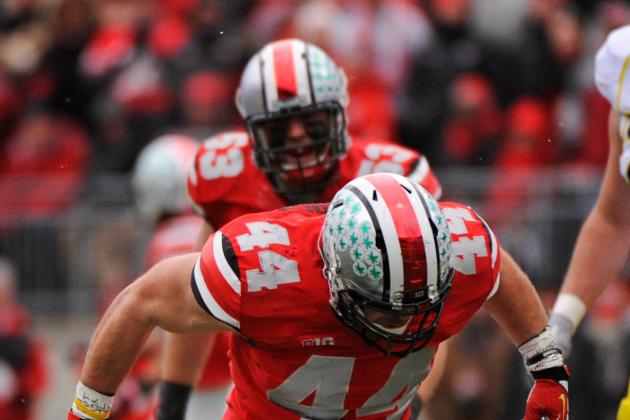 Jamie Sabau/Getty Images
The Buckeyes' defense improved once Zach Boren stepped in at linebacker.
Out: Zach Boren, In: Camren Williams
Curtis Grant started the 2012 season as the middle linebacker and will only be a junior in 2013. Part of me wants to see him win the position, have a great year and silence those questioning his high rating coming out of high school.
But Camren Williams was highly regarded coming out of high school himself and is a Meyer recruit.
It's hard to imagine a staff that moved a fullback over to take a position from Grant will go back with Grant next year. I hope I'm wrong for Grant's sake, though.
Also, if Mike Mitchell does end up a Buckeye, don't be surprised if he challenges for the starting role.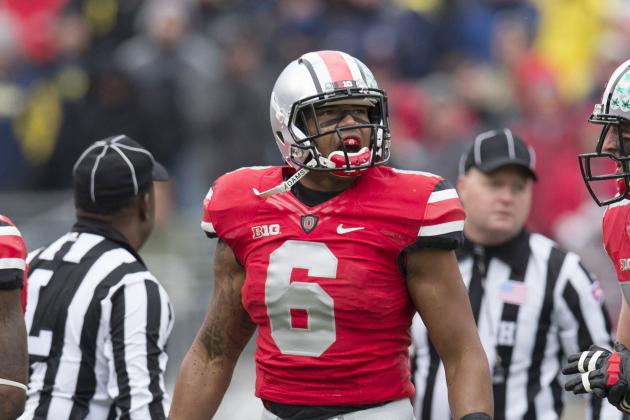 Greg Bartram-USA TODAY Sports
Etienne Sabino was a two-year starter at Ohio State.
Out: Etienne Sabino, In: Joshua Perry
Joshua Perry, a Columbus native, was the linebacker that stepped in and played the most when Etienne Sabino was out with a broken leg.
That makes it seem as though he has a leg up on classmates David Perkins and Jamal Marcus for the outside linebacker spot opposite Ryan Shazier.
Perry's biggest play of the year came when he stopped an option against Michigan. On that play, he not only forced an early pitch, but showed good athleticism by being able to turn around and help tackle the ball-carrier.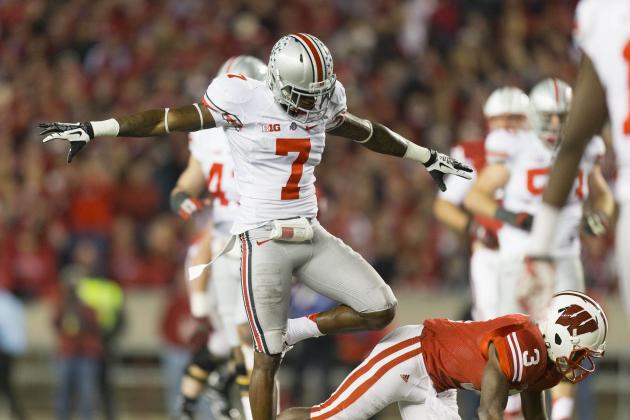 Jeff Hanisch-USA TODAY Sports
Travis Howard led the Buckeyes in interceptions in 2012.
Out: Travis Howard, In: Eli Woodard
While Travis Howard battled stingers in his shoulder during the 2012 season Doran Grant got valuable experience in the back-up role.
But just because he was the back-up in 2012 doesn't mean Grant will start in 2013. And Eli Woodard is the reason why.
Grant may prove me wrong, but I just don't see him keeping a playmaker like Woodard off the field for long.
Sophomores Armani Reeves and Najee Murray as well as freshman Cameron Burrows will also have a chance to earn the spot opposite Bradley Roby.
And possibly Roby's spot too if he declares for the 2013 NFL draft.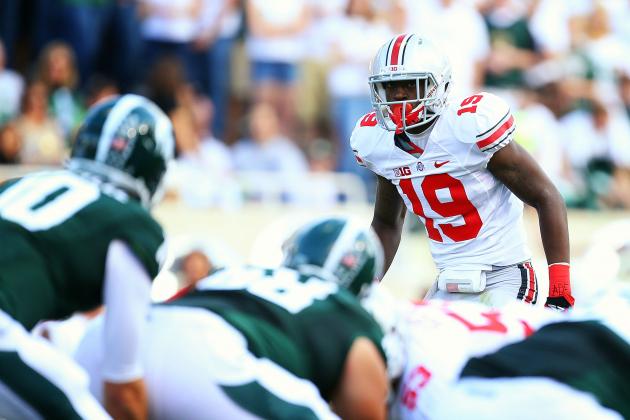 Mike Carter-USA TODAY Sports
Orhian Johnson had his best season in his final year as a Buckeye.
Out: Orhian Johnson, In: Devan Bogard
The nickelback isn't an official starting position in most defenses, but at Ohio State the star—the name given to the fifth defensive back—sees as much or more time than the third linebacker.
Orhian Johnson played the star in 2012 for most of the year. He moved back to safety for a few games due to an injury to C.J. Barnett, but spent most of the year at the star.
Corey "Pittsburgh" Brown saw most of the action as the star when Johnson was moved to safety and will be back for his fifth season in 2013. But if Devan Bogard can get healthy from his mid-season ACL injury, then I expect him to earn the job over Brown.
Cameron Burrows and Ron Tanner could be factors in this position battle as well.