Mavericks Owner Mark Cuban Delivers Kidney Stone Twitter Rant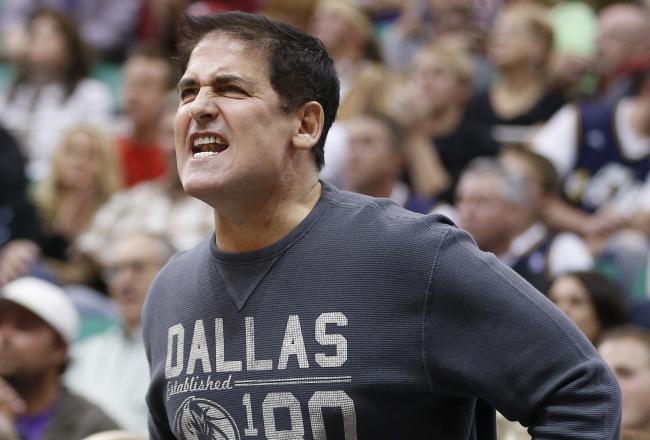 George Frey/Getty Images
Mark Cuban just passed a kidney stone of gnarly proportions.
SportsGrid spotted quite the lengthy story delivered by the Mavericks owner about his recent run in with a stubborn kidney stone.
It was nearly as epic as Lord of the Rings with the same highs and lows, leaving his captive audience breathless when it was all finished.
Actually, it was a little TMI but we carry it here for you because it was also hilarious. As SportsGrid does, we catch you up with some deets from WebMD for those who are not entirely familiar with the wonders of kidney stones.
"Kidney stones are made of salts and minerals in the urine that stick together to form small "pebbles." They can be as small as grains of sand or as large as golf balls. They may stay in your kidneys or travel out of your body through the urinary tract.
Armed with that knowledge, we trudge ahead with this tale of wonder from Cuban.
From the start, we know Cuban is in trouble.
Kidney stones are no fun.If this one pops out in one piece I'm either going to get it bronzed or sell it on eBay #pukinglikeaftermyfirstbeer

— Mark Cuban (@mcuban) December 18, 2012
The Cubes is hurting, people.
Kidney stones are no joke..its good when im doubled over because that means its moving, right.. #twitterpaindistraction

— Mark Cuban (@mcuban) December 19, 2012
The funniest name to come from the next tweet was Joey Crawford, in my opinion.
What should I name the little f*cker ? #nameCubanskidneystone.#moredistractionspleas

— Mark Cuban (@mcuban) December 19, 2012
Cuban is in so much pain, he begins making deals.
I'd gladly trade this kidney stone for an alien probe..

— Mark Cuban (@mcuban) December 19, 2012
Tell Em I'm doing this stone grandpa style.No really, .... #stuffyouthinktryingtopassakidneystone

— Mark Cuban (@mcuban) December 19, 2012
Um, I'm guessing the stone was actually a smart phone, because this is his next tweet.
Testing out windows phone right now and really like it. Natural and intuitive.

— Mark Cuban (@mcuban) December 19, 2012
Fin.
The kidney stone is dead.!!!! Thx to all for humoring me this morning during a painful time. it really helped take my mind off of things

— Mark Cuban (@mcuban) December 19, 2012
There you have a tale of woe so grand it will live forever in your search history, or until you delete it later.
I am sorry for Cuban and all of his pain, but grateful that he managed to send out some tweets in between all the wincing and crying.
Hit me up on Twitter until, you know, the end of the world.
This article is
What is the duplicate article?
Why is this article offensive?
Where is this article plagiarized from?
Why is this article poorly edited?