Frankie Edgar Could Become First 3 Division Champ Says Trainer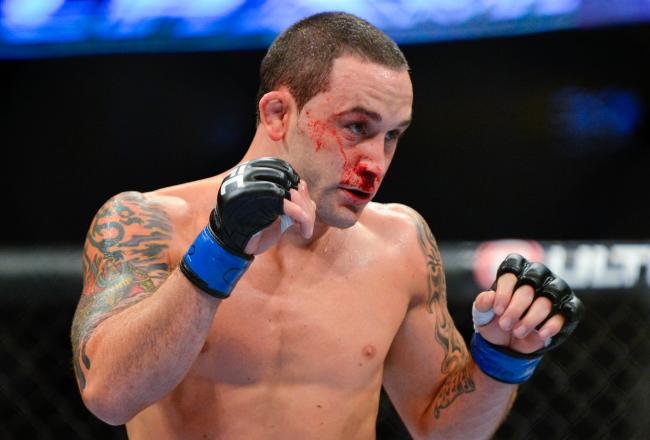 Ron Chenoy-USA TODAY Sports
Frankie Edgar's head trainer Mark Henry believes his boy, who is due to face Jose Aldo for the featherweight title at UFC 156 early next year, could become the first three-division champion in the promotion's history.
The former lightweight champ lost his 155-pound belt in a close contest to Ben Henderson earlier this year and has since been parachuted into a title fight against reigning 145-pound champ Jose Aldo.
However, Henry told MMA Weekly Radio (H/T MMA Mania), that his ambitions won't stop there.
"He is one of the best true pound-for-pound fighters that isn't afraid to go up in weight classes. He'll fight anybody anytime," said Henry. "Two weight classes up, one weight class up."
"For me, I'd love for him to take a shot, I mean, we definitely have to worry about Jose now, it's the only thing, that's our thing right now. But, I think he can be the first guy with three belts you know? I think if it's for history, I think if Frankie beats Jose, I think it's hard to deny that he is one of the best pound-for-pound fighters in the world if he won three."
Edgar's been an undersized lightweight throughout his entire career, fighting in the days when there was no 145-pound division. That didn't stop Edgar, though. He became the 155-pound champion in 2010 after defeating the legend BJ Penn.
But at 5'6" he's even smaller than Aldo who fights at a whole division below him, so the possibility of him dropping down even further to fight at 135-pounds isn't that outlandish.
There's been two two-division title holders in the UFC's history—Randy Couture held the heavyweight and light heavyweight title while Penn was a former lightweight and welterweight champion.
However, a three-division champion has been unheard of, and if he does manage to hold both the featherweight and bantamweight titles at the same time, it'd be hard to argue against him as the best pound-for-pound fighter in the world.
"Frankie's fought guys that are way heavier than him. If Frankie was to go for two belts, three belts, I don't know how you can deny him," added Henry. "It's something special. You don't see something like that, I mean, nobody's ever done it and weight wise it could be done. So, of course, it's going to be in the conversation, something to throw around and talk about."
UFC 156 takes place on Feb. 2, 2013 in Las Vegas.
This article is
What is the duplicate article?
Why is this article offensive?
Where is this article plagiarized from?
Why is this article poorly edited?