7 NFL Players Earning Monster 2013 Paydays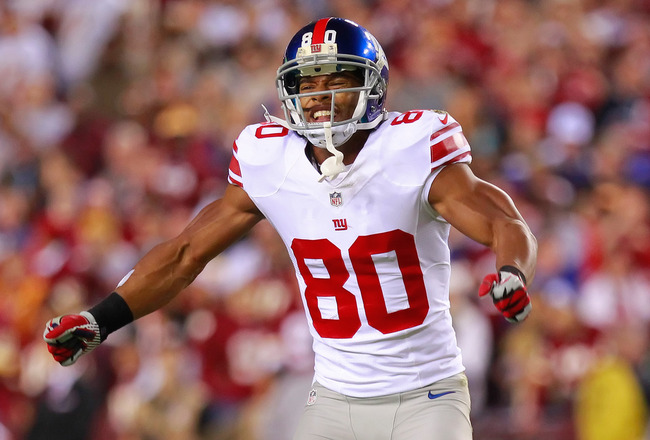 Geoff Burke-USA TODAY Sports
Not all NFL superstars make the big bucks.
Actually, there are a staggering amount of guys who are so significantly underpaid that the word "bargain" doesn't do them justice.
Let's look at the seven most valuable players who have earned what in all likelihood will be huge paydays in 2013.
Geno Atkins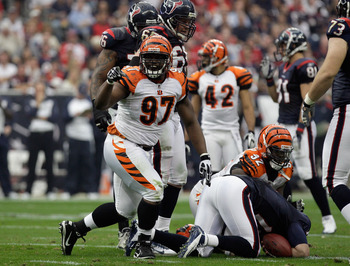 Thomas B. Shea/Getty Images
Geno Atkins is the best defensive tackle in the NFL.
He is a steady run defender and easily the preeminent pass-rushing interior defensive lineman.
The Georgia product has 10.5 sacks and, according to ProFootballFocus.com (subscription required), has accounted for 13 quarterback hits and an additional 44 quarterback hurries— almost unfathomable numbers.
Even more unfathomable is the amount of annual compensation he's currently receiving from the Cincinnati Bengals.
Atkins' base salary was $540,000 in 2012, and he's set to make $630,000 in 2013.
A mega deal is on the horizon for this extraordinarily athletic 24-year-old.
Victor Cruz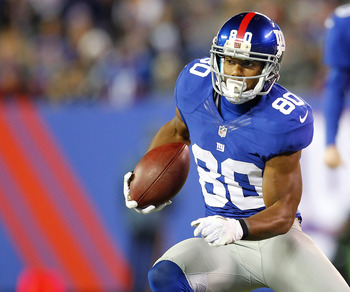 Rich Schultz/Getty Images
There isn't a more well-rounded wideout in the NFL who also excels as a pure downfield speedster than Victor Cruz.
He isn't afraid to run chain-moving routes across the middle but is always a threat to break the top off the defense and go the distance.
The former UMass standout is set to have more receptions and touchdowns in 2012 than he had in his breakout 2011.
Crazy thing is his base salary was $490,000 this year and he's a free agent at season's end.
Inking Cruz to a long-term contract is priority No. 1 for Giants general manager Jerry Reese this offseason.
Henry Melton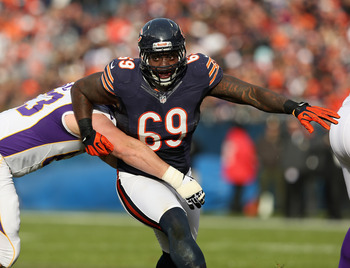 Jonathan Daniel/Getty Images
Henry Melton has entered the underrated territory Geno Atkins found himself in last season.
This Chicago Bears defensive tackle has accumulated six sacks, and according to ProFootballFocus.com, five quarterback hits and 22 hurries, giving him a grand total of 35 "pressures" on the season.
Only Atkins, Ndamukong Suh, Nick Fairley and Kyle Williams have forced either a sack, hit or hurry more often than Melton relative to the amount of times they've rushed the passer.
He made $565,000 in 2012 and is a free agent at the conclusion of Chicago's season.
At only 26 years of age, Melton is in line for a huge, well-deserved deal from the Bears.
Jairus Byrd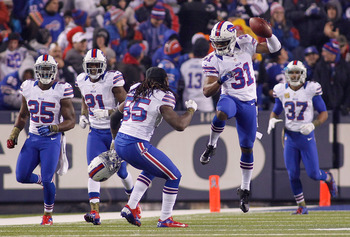 Rick Stewart/Getty Images
The Buffalo Bills defense has experienced more downs than ups this year, but Jairus Byrd has been a rock at his safety position.
Though he's slightly smaller than the prototypical NFL safety, he's a hard-nosed run stopper and has exceptional range in center field.
He has 67 tackles, five interceptions and three forced fumbles on the year.
The Oregon product made $615,000 in base salary in 2012 and is a free agent at the end of the season.
If the Bills want continuity in their secondary, Byrd must be re-signed or hit with the franchise tag.
Kam Chancellor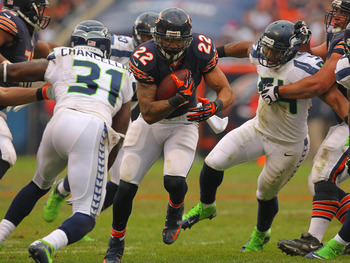 Dennis Wierzbicki-USA TODAY Sports
There aren't many players like Kam Chancellor.
He's a rare strong safety/linebacker hybrid that lays the lumber against the run and displays good ball skills in coverage.
The Seattle secondary is loaded with big, ultra-physical defensive backs, and though Chancellor isn't as appreciated as guys like Richard Sherman and Brandon Browner, he's equally, if not more valuable.
In 2012, he made a pedestrian $540,000 in base salary and will get a slight pay raise to $630,000 in 2013—but frankly, he deserves much more.
Aaron Rodgers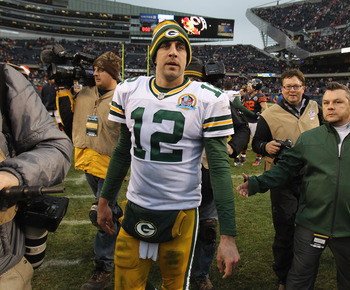 Jonathan Daniel/Getty Images
Aaron Rodgers is an elite quarterback who has thrown 77 touchdown passes and only 14 interceptions since the start of the 2011 season.
In 2012, his base salary was $8 million.
Although he's signed through 2014, expect the Green Bay Packers quarterback to receive a major contract extension at some point in the 2013 regular season.
Mike Williams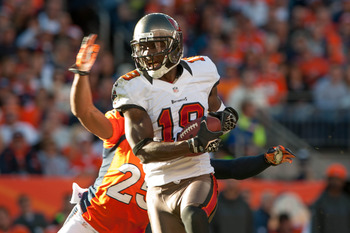 Dustin Bradford/Getty Images
The Tampa Bay Buccaneers have floundered down the stretch in 2012, and their quarterback Josh Freeman hasn't necessarily shown any improvement from a disastrous 2011.
However, young wideout Mike Williams has rebounded nicely.
Despite Freeman's relatively inconsistent play, the third-year receiver has reeled in 50 catches for 799 yards and seven touchdowns.
Although Vincent Jackson is the team's unquestioned No. 1 receiver, Williams is a more than adequate complement who makes plays in the red zone and is only 25 years old.
He made $540,000 this year and will make $575,000 in 2013.
For a player with his size, potential and productivity, the former Syracuse standout should be signing a lucrative contract extension in the near future.
Keep Reading