ACC Basketball: Championship Coaches of the New ACC Compared to 'Rocky' Villains

Streeter Lecka/Getty Images

The ACC will now boast the elite of the elite NCAA basketball coaches, much like Rocky Balboa had to face a number of menacing challengers in the Rocky movies. The other ACC challengers better start their training montage if they want to beat these championship-winning ACC coaches.
Syracuse, Louisville and Pittsburgh are all joining the ACC by the 2014-2015 basketball season, establishing a new ACC super-conference in college basketball. Rick Pitino, Jim Boeheim and Jamie Dixon are formidable additions to the ranks of Roy Williams and Mike Krzyzewski.
The ACC will include four coaches with NCAA Championship titles. What other conference can say that? Any team who faces these championship coaches is in for a fight to the finish. Let's compare these coaches to Rocky's opponents.
Begin Slideshow

»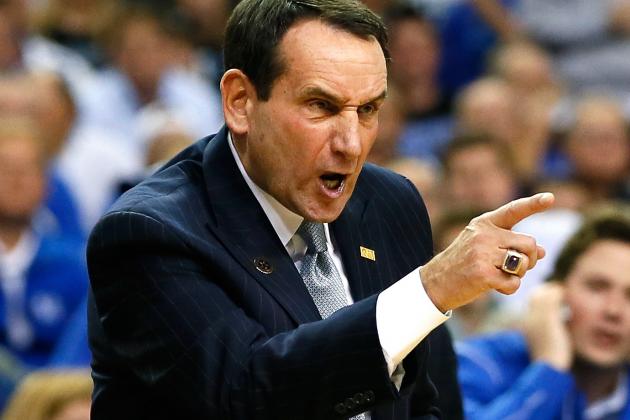 Kevin C. Cox/Getty Images

How many other coaches in the country are known simply by a nickname—Coach K. Coach K's Blue Devils are synonymous with the word "team," and that principle has led the school to four NCAA Championships (1991, 1992, 2001, 2010).
Coach K has the most wins of any Division I college coach with a record of 938-291 (.763). He has led Duke to 11 Final Fours, 12 ACC championships and 13 ACC Tournament championships.
His ex-players and coaching disciples have a huge presence in the NBA and the college ranks. Coach K was inducted into the College Basketball Hall of Fame in 2006. Krzyzewski's mark on the game truly speaks for itself, and his legend only continues to grow.
Apollo Creed might have been the smallest of Rocky's opponents, but he was definitely the most tenacious and the most decorated, just like Coach K. Many of Coach Krzyzewski's opponents have spent sleepless nights wondering if they could beat him.
Creed is known by many nicknames—my favorites being The Dancing Destroyer and The Count of Monte Fisto—but there is only one universally-known name for the man who helms Duke—Coach K.
If you want to be the best, you have to beat the champ. It took Rocky two bouts to beat Creed, and Coach K is tough to beat as well, which is illustrated by his four national championships.
Apollo earned Rocky's respect and friendship by the end of Rocky II, and although you may not like Duke, you can only stand in awe and respect what Coach K has accomplished.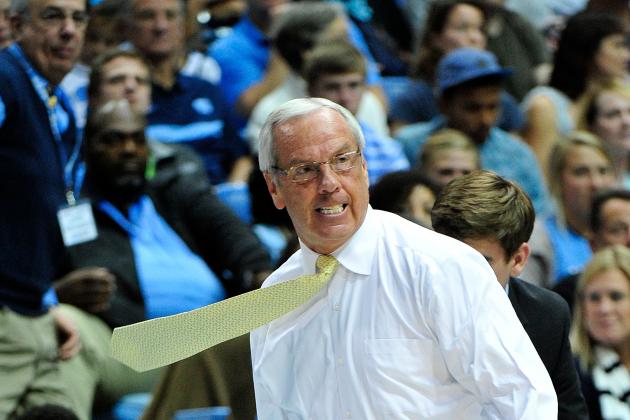 Grant Halverson/Getty Images

Coach Williams may be the least-discussed of the famed ACC coaches, but his record speaks volumes. Williams keeps very elite company; Coach K and Billy Donovan are the only other active coaches to have won the NCAA tournament more than once.
Williams has split his time between Kansas and North Carolina over his 24-year career. His record is 683-172 (.799), which also gives him the top winning percentage amongst his peers. In his career, has been to seven Final Fours, won 15 conference championships and six conference tournament championships.
UNC's NCAA championships in 2005 and 2009 have cemented Coach Williams' legacy in his home state. He was inducted into the College Basketball Hall of Fame in 2006.
Williams has continued the success of Dean Smith at UNC and is poised to continue his winning ways with the Tar Heels for the foreseeable future.
Rocky faced off against Thunderlips—a professional wrestler—in a charity event in Rocky III. Rocky doesn't take Thunderlips seriously and gets thrown around by the man otherwise known as the Hulk, much to Rocky's surprise.
In the same manner, many would be surprised to know that Roy Williams is one of three active coaches with more than one national championship.
Roy Williams might not garner the attention that his peers do, but once his North Carolina team puts on a clinic, Williams gains some respect. Much like Williams, Thunderlips gained Rocky's respect by throwing the Italian Stallion clear out of the ring.
As Thunderlips says "No one can believe the superhuman strength of Thunderlips!" UNC's Roy Williams can feel pretty good about himself, too.
Wesley Hitt/Getty Images

Coach Boeheim demands excellence from his team and has molded Syracuse into a perennial contender by way of his renowned zone defense.
Coach Boeheim has been the model of consistency, coaching the Orange over 36 years to a 900-304 (.748) record, which is good for the second-most wins among active coaches and third all-time.
He has taken the Orange to nine Big East championships, five Big East Tournament championships, three Final Fours and a 2003 national championship, which has cemented Syracuse in the college basketball elite.
Coach Boeheim shows no signs of letting up, even though he was inducted into the College Basketball Hall of Fame in 2006. The ACC better start preparing now for the physical play of the Orange, which has become a trademark of Coach Boeheim's teams.
Clubber Lang was a mean, tough, physical fighter. He might not have had the flair that the other Rocky opponents have had, but he was a force to be reckoned with. Jim Boeheim's Orange could be described in the same fashion.
The straightforward approach of Clubber Lang and his utter punishment of Rocky Balboa landed Lang the heavyweight championship—while causing Mickey to have a heart attack in the process. Coach Boeheim also netted a championship in 2003 with his team's bruising, relentless style of play.
Clubber Lang and Coach Boeheim both are foes that the opposition does not want to see in the other corner when the bell rings.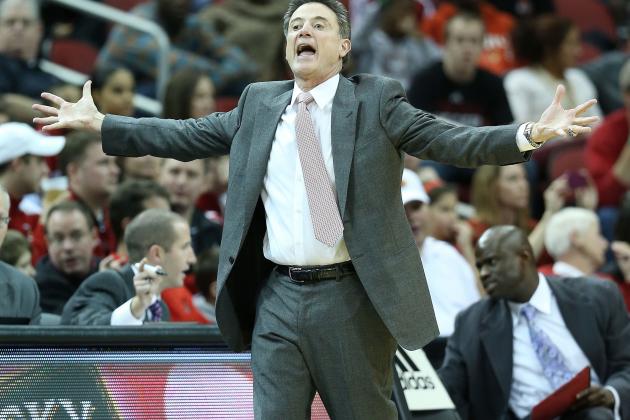 Andy Lyons/Getty Images

Pitino is the slickest and one of the most decorated coaches in college basketball—sorry John Calipari, but you still have some work to do.
Pitino has consistently proven that he can win anywhere. He spent five-and-a-half years in the NBA with the Knicks and Celtics, but really we all know that Rick wants to be the big man on campus. The college games suits him perfectly.
Coach Pitino has been coaching for over 30 years and has put together a record of 639-235 (.731) between stints at Hawaii, Boston, Providence, Kentucky and Louisville. Who else has taken three different teams to the Final Four? And no one else has done it with such style. Pitino has been a master at using the three-point shot to his advantage, making opposing teams respect his shooters and opening up the middle for his big men.
Rick has been to six Final Fours and won a national championship at Kentucky in 1996. One thing is for sure: Rick Pitino has gotten there once and has the know-how to lead a team to the promised land again.
The Siberian Express let Rocky know what a punch he packed when he defeated—and killed—Rocky's friend Apollo Creed in Rocky IV. He famously stated "I cannot be defeated…I defeat all man."
Coach Rick Pitino burst onto the scene in Providence and has not looked back, leaving a trail of winning programs in his wake and cementing his legacy in the state of Kentucky.
Much like basketball fans in the state of Kentucky, the USSR expected championships, and Drago took on that task with confidence and determination, much like Coach Pitino.
Drago's nickname was Death from Above, which Coach Pitino implements with his use of the three-point shot and perimeter play. Coach Pitino does not seem to like to stay at one school for too long, though, and might agree with Drago's sentiment as Rocky famously began to chop him down, "I fight to win!" "For me!" "For me!"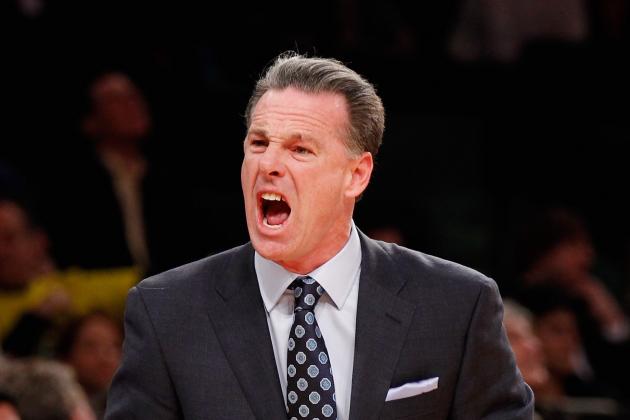 Mike Stobe/Getty Images

Jamie Dixon took over for current-UCLA head coach Ben Howland in 2003 and has not looked back. Dixon has given Pitt national presence with his tough, tenacious, team-oriented philosophy.
Coach Dixon has taken Pitt to eight NCAA tournaments in nine years. They have won two Big East titles, one Big East tournament and have been to the Sweet 16 three times during his tenure. Dixon is the head coach for the USA Basketball Under-19 squad as well.
Coach Dixon appears to be hungry to take his team to the next level. The move to the ACC could provide him the platform to make the leap. Only time will tell if he can transform his program and join the ranks of his much-decorated ACC peers.
Tommy Gunn was a young, driven fighter with a lot of potential. Rocky took him under his wing after entering retirement and helped Tommy to become a great fighter.
Coach Jamie Dixon was fortunate enough to be an assistant at Pitt under Ben Howland before taking over the reigns as head coach.
Tommy Gunn eventually turned his back on Rocky and won the heavyweight championship, defeating Union Cane. Pitt fans are certainly hoping that Coach Dixon can turn the page and take his team past a Sweet 16 and to possibly raise some hardware.
In the end Tommy crumbles quickly under his rising fame and is beaten down by his mentor Rocky in a street fight. Coach Dixon hopes that his success is much more than a flash in the pan and that he can join the elite ranks of his fellow ACC coaches.