College Football Teams That Will Improve in 2013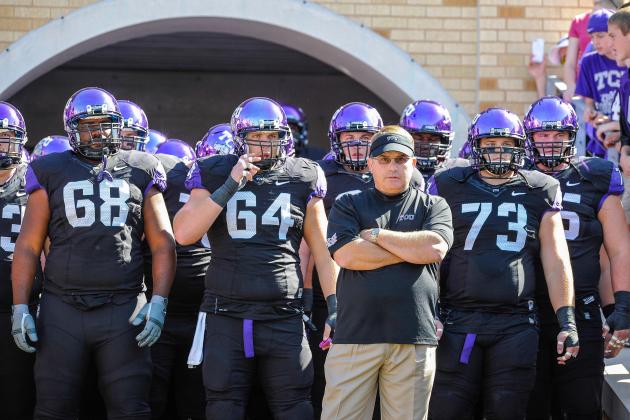 Jerome Miron-USA TODAY Sports
Can Gary Patterson turn TCU into a Big 12 title contender in 2013?
There were plenty of teams in college football that improved dramatically this season after suffering through less-than-stellar campaigns in 2011.

Notre Dame, Ohio State, Texas A&M, Florida, UCLA, Oregon State, Kent State and Fresno State ended up being some of this year's most improved teams.
So which squads should we expect to take a step up next season?

Here's a look at the college football teams that should improve in 2013.
Begin Slideshow

»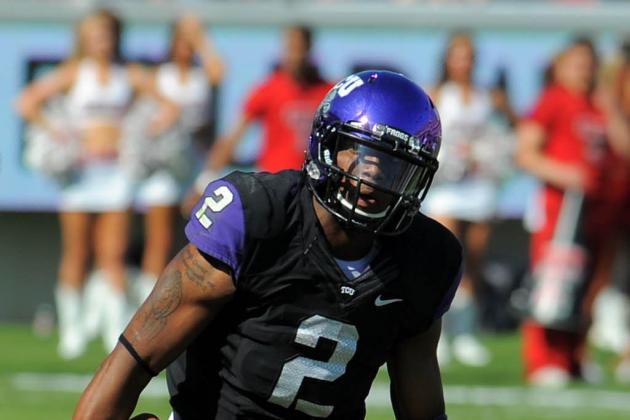 Shanna Lockwood-USA TODAY Sports
Trevone Boykin
This year, TCU went just 4-5 against Big 12 opponents. However, it was the way the team played in the final month of the season against quality conference competition that was so encouraging to see.
The Horned Frogs beat both West Virginia and Texas on the road, and they played the league's two best teams, Kansas State and Oklahoma, who are both tough in losing efforts.
Regardless of whether troubled quarterback Casey Pachall rejoins the team or not, Gary Patterson is still going to have plenty of returning talent to work with in 2013.
Freshman QB Trevone Boykin showed plenty of glimpses of potential after getting unexpectedly thrown into the starting role midway through the season. Boykin will have plenty of playmakers that he can rely on such as RB Waymon James and explosive receivers Josh Boyce and Brandon Carter.
The TCU defense, which will be headlined by budding stars, DE Devonte Fields and CB Jason Verrett, has the chance to be one of the strongest units in the nation.
Ultimately, don't be surprised if Patterson has the Horned Frogs contending for a Big 12 title next season.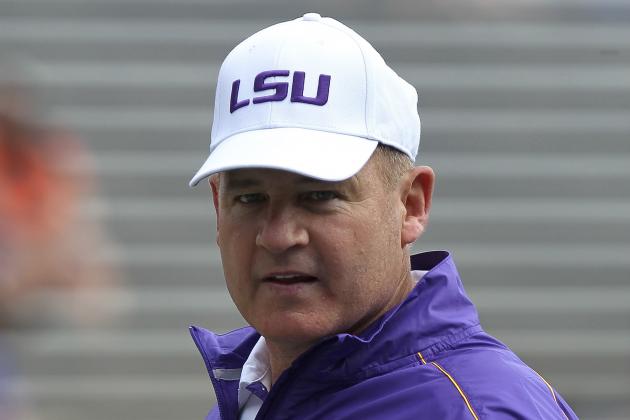 Kim Klement-USA TODAY Sports
Les Miles
It seemed as if LSU dealt with a bit of a hangover effect this year after its awful performance in the BCS championship game. The Tigers were still one of the most talented teams in college football, yet they seemed to lack the same type of passion and attitude that they had in 2012.
After losing to both Alabama and Florida and missing out on a BCS bowl game, it's likely that the team will be much more motivated in 2013.
On offense, QB Zach Mettenberger will return to lead a unit that will feature plenty of standouts: running backs Jeremy Hill, Michael Ford, Kenny Hilliard, Alfred Blue and Spencer Ware; receivers Odell Beckham Jr. and Jarvis Landry and left tackle Chris Faulk, a potential first-round NFL prospect who missed most of the 2012 season with a knee injury.
It's still hard to tell how the defense will look, seeing as how we've yet to find out whether the team's top defenders—such as defensive ends Barkevious Mingo and Sam Montgomery, DT Bennie Logan, LB Kevin Minter and safety Eric Reid—will enter the 2013 NFL draft. However, even if the Tigers do lose some key defenders, they'll still have plenty of talent on that side of the ball.
LSU will almost certainly enter the 2013 season ranked in the top 5, and in terms of overall talent, the Tigers might just be the best overall team in the nation.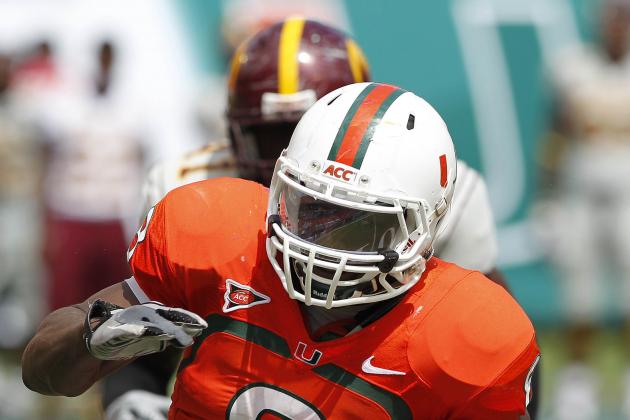 Robert Mayer-USA TODAY Sports
Duke Johnson
Al Golden is starting to look like the perfect coach to guide Miami back to glory. Although the Hurricanes went just 7-5 in Golden's second season in Coral Gables, they showed that they have the young playmakers in place to become a breakout team in the coming years.
The biggest reason for optimism surrounds do-it-all freshman running back Duke Johnson, who put together a spectacular debut campaign in 2012.
Johnson seems like he could be the type of special player who can re-energize Miami and turn the 'Canes back into a conference contender.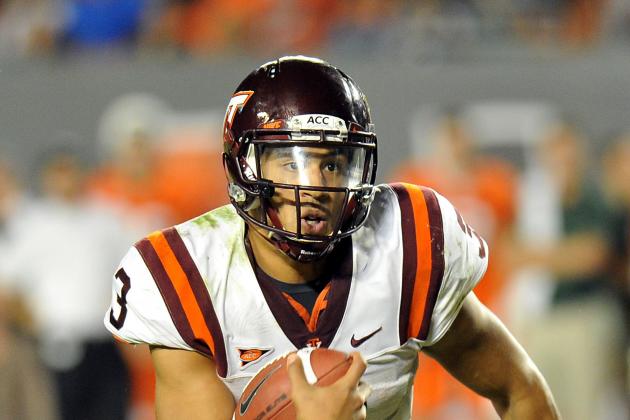 Steve Mitchell-USA TODAY Sports
Logan Thomas
Virginia Tech was one of the most disappointing teams of 2012.
After starting off as the consensus preseason favorite to win the ACC Coastal division, the Hokies had to fight just to make it to a bowl game, finishing the regular season with an unimpressive 6-6 record.
QB Logan Thomas did not come close to having the type of season that many thought he would, as he completed just 52 percent of his passes and threw 14 interceptions. That's why it would be in Thomas' best interests to return for his senior year and repair his damaged draft stock.
With the type of talent that Virginia Tech has returning on defense, the dual-threat signal-caller could definitely have the Hokies in a hunt for an ACC title next season if he decides to return.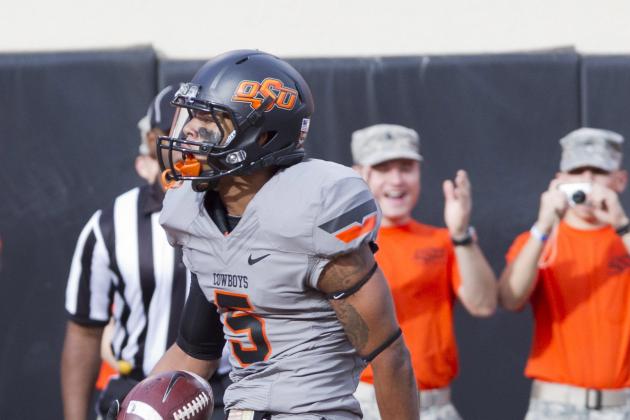 Richard Rowe-USA TODAY Sports
Josh Stewart
Oklahoma State managed to go just 7-5 in the regular season this year, even though the Cowboys had one of the most explosive offensive attacks in the country.
The team's offensive MVP was RB Joseph Randle, who developed into one of the most feared offensive playmakers in the country, totaling over 1,500 yards of offense.
If Randle decides to come back for his senior year, he'll join fellow budding stars such as WR Josh Stewart and TE Blake Jackson on an offense that will again strike fear in the hearts of every defense it faces in 2013.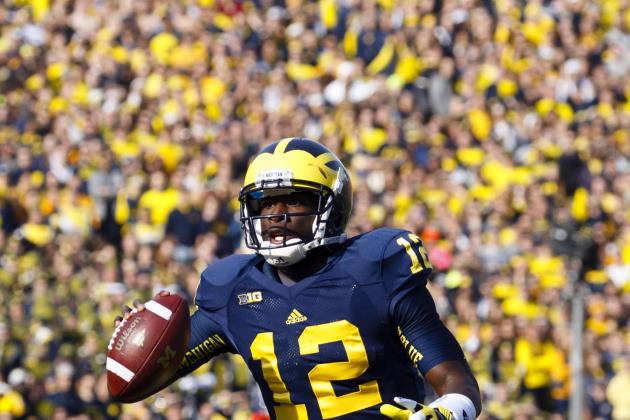 Rick Osentoski-USA TODAY Sports
Devin Gardner
Following a 2011 season in which Michigan went 11-2 and won the Sugar Bowl, a lot was certainly expected of the Wolverines this year. However, the team ended up having three losses on its resume before the calendar even said November, and it ultimately finished the regular season with a disappointing 8-4 record.
Luckily for the Wolverines, they won't have to worry about starting off the 2013 season with an embarrassing loss to Alabama in front of a national audience. With an early season schedule that certainly can't be characterized as grueling, Michigan should be able to build up plenty of momentum for the stretch run of the season.
If QB Devin Gardner can develop into the star many thought he would become when he was initially coming out of high school as a blue chip recruit, Michigan will definitely be in contention to win the Big Ten Legends division.
Scott Olmos-USA TODAY Sports
Keith Price
At times this season, Washington looked like a team that could play with anybody in the Pac-12. However, the Huskies simply weren't consistent enough week in and week out, which is why they finished the regular season just 7-5.
They should be able to be much more consistent in 2013 with the return of QB Keith Price, RB Bishop Sankey, WR Kasen Williams and TE Austin Seferian-Jenkins on offense and eight of the top 10 tacklers from this year's defense.
If Price plays up to his potential as a senior, the Huskies could be a dark-horse contender to win the Pac-12 North division.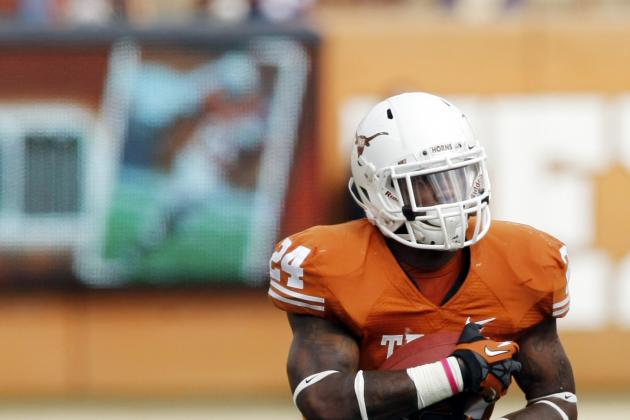 Brett Davis-USA TODAY Sports
Joe Bergeron
Texas has always had plenty of talent during Mack Brown's tenure. But in recent years, Brown has simply not been able to get the most out of all the talent he's had. That was the case once again in 2012.
The Longhorns had future NFL players all over the field. But inconsistency at the quarterback position, lack of cohesion on defense and an overall lack of motivation were the main reasons why they finished the regular season with four losses, including two blowout losses to Kansas State and Oklahoma.
Next season, Texas will once again have the talent it takes to compete for a conference championship.
The question is, can Brown properly prepare and motivate his players?
With a deep stable of dangerous running backs and a defense that will include potential stars such as DE Jackson Jeffcoat, linebackers Steve Edmond and Jordan Hicks and cornerbacks Carrington Byndom and Quandre Diggs, the Longhorns should finally become a factor in the Big 12 once again in 2013.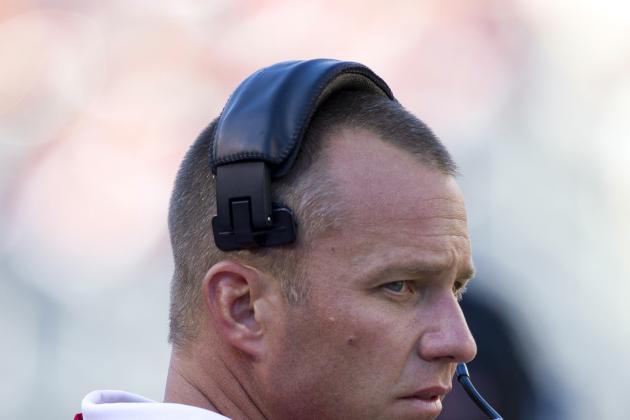 Jeff Hanisch-USA TODAY Sports
Dave Doeren
NC State picked up a great young head coach when it hired former Northern Illinois head man Dave Doeren to be its new leader for the future. Doeren went 23-4 and won two consecutive conference championships in his two years with the Huskies, and he showed that he's got the potential to be one of college football's next great head coaches.
Doeren will take over a Wolfpack team that had plenty of ups and downs in 2012. But it's also a team that has some nice building blocks for 2013.
Although starting quarterback Mike Glennon will have to be replaced, NC State brings back many of its key offensive skill-position players along with seven of its top 10 tacklers on defense.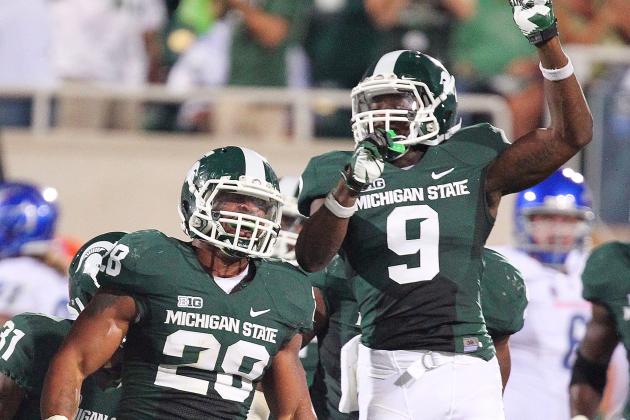 Mike Carter-USA TODAY Sports

Michigan State finished the regular season ranked in the top 10 in both scoring defense and total defense. However, the reason the Spartans went just 3-5 in Big Ten play and 6-6 overall is because they lacked explosiveness on the offensive side of the ball.
Although the team will obviously miss workhorse back Le'Veon Bell, QB Andrew Maxwell and his young and inexperienced receiver corps should be much more effective in 2013.
If all of their key defenders such as DE William Gholston, linebackers Max Bullough and Denicos Allen, CB Darqueze Dennard and safety Isaiah Lewis return to school, the Spartans will once again have one of the top defenses in the country next season.
With a little more help from the offense, Michigan State could have a big bounce back campaign in 2013.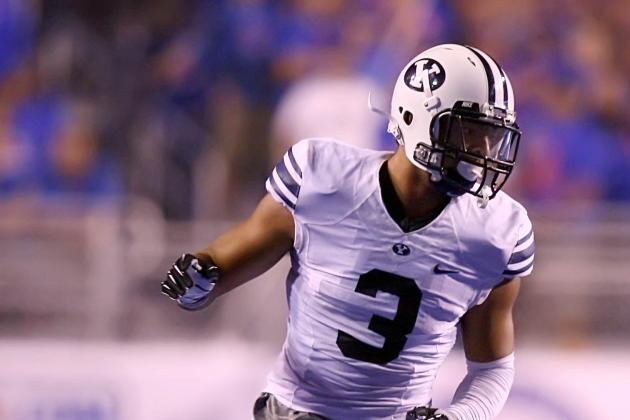 Brian Losness-USA TODAY Sports
Kyle Van Noy
BYU is a team that had the talent to win more than seven games this season. However, it's hard to blame the Cougars for losing to strong teams such as Notre Dame, Oregon State, Boise State and San Jose State.
The team's 2013 schedule certainly won't be any easier, as the Cougars have matchups with Notre Dame, Texas, Utah State, Wisconsin and Boise State. Nevertheless, BYU is still a team that will definitely be capable of making some noise next season.
QB Taysom Hill has the chance to be one of the most exciting dual-threat quarterbacks in the country if he can fully heal from his knee injury. Plus, the Cougars defense will have plenty of talent to work with, especially if LB Kyle Van Noy decides to return for his senior year.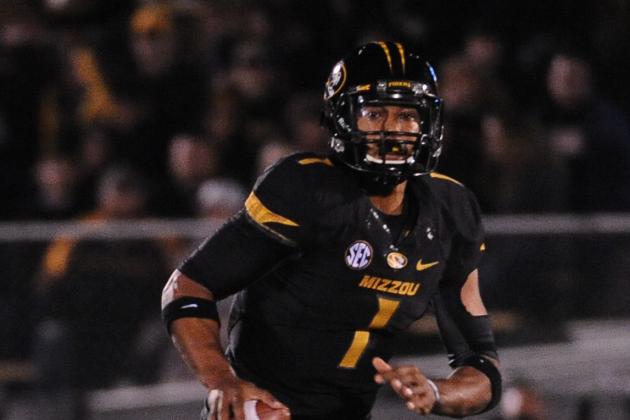 Dak Dillon-USA TODAY Sports
James Franklin
Missouri's first season in the SEC certainly didn't go as well as fellow newcomer Texas A&M's did. The Tigers went just 5-7 overall and just 2-6 against conference competition in 2012.
Obviously, that wasn't the start that fans wanted to see. But the good news is that the team should find some more success next season if quarterback James Franklin can stay healthy for a full year.
Franklin got banged up early in the year and just never seemed to be 100 percent this season.
If the highly athletic dual-threat signal-caller can return to full health, he's the type of playmaking quarterback that could cause a lot of headaches for opposing defenses in 2013.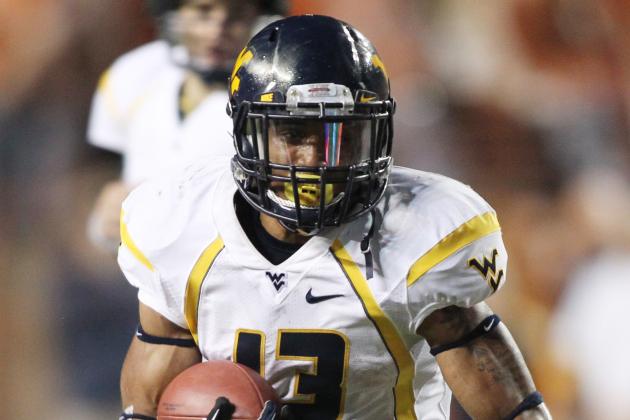 Tim Heitman-USA TODAY Sports
Andrew Buie
On the surface, it would seem that West Virginia is going to take a big step back after losing its explosive passing trio of QB Geno Smith and wide receivers Tavon Austin and Stedman Bailey. However, that may not actually be the case.
Yes, obviously, the passing game will not be as potent. But the Mountaineers do have the other pieces in place to adapt and change their identity and still remain successful.
Sophomore running backs Andrew Buie and Dustin Garrison have the chance to emerge as a dynamic rushing duo if used properly. Plus, the defense—which was exposed against powerful Big 12 offenses—should be much better in 2013 with the return of key starters such as DE Will Clarke, LB Isaiah Bruce and safety Karl Joseph.
Yes, West Virginia will miss its terrific trio of Smith, Austin and Bailey. But the Mountaineers will still be a dangerous team to watch out for next season.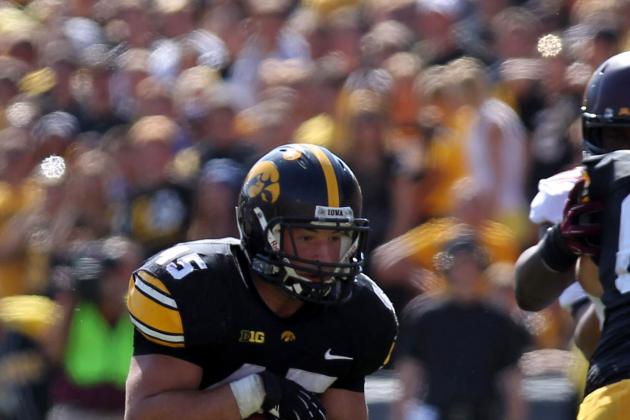 Reese Strickland-USA TODAY Sports
Mark Weisman
This year, Iowa had its worst season in over a decade. The Hawkeyes managed to win just four games, and they ended the season on an ugly six-game losing streak.
Poor play from QB James Vandenberg and a lack of an overall offensive identity were the main causes of the collapse.
Fortunately, the team should be able to improve in 2013 with a new starting quarterback guiding the ship.
The Hawkeyes have two key offensive weapons to build around in RB Mark Weisman and WR Kevonte Martin-Manley. Plus, their defense will feature one of the best linebacker units in the country, comprised of Anthony Hitchens, James Morris and Christian Kirksey.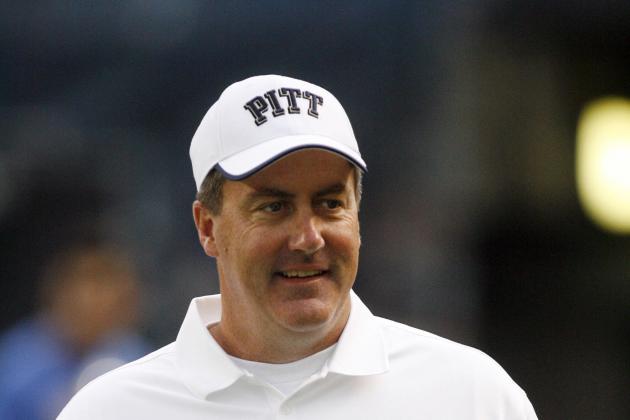 Charles LeClaire-USA TODAY Sports
Paul Chryst
Paul Chryst's first season at Pitt got off to a rocky start when his team got upset by Youngstown State in the season-opener.
Chryst was able to rally the Panthers and get them to a bowl game, though, and he very nearly led them to a huge upset over Notre Dame in South Bend before losing in triple-overtime.
The coach will have to do some rebuilding on offense this offseason after losing QB Tino Sunseri, RB Ray Graham and WR Mike Shanahan. However, he's got two potential breakout stars to get excited about in RB Rushel Shell and WR Devin Street.
The defense will be the real key to the team's success, though. The Panthers will return eight of their top 10 tacklers from a unit that gave up less than 20 points per game this season.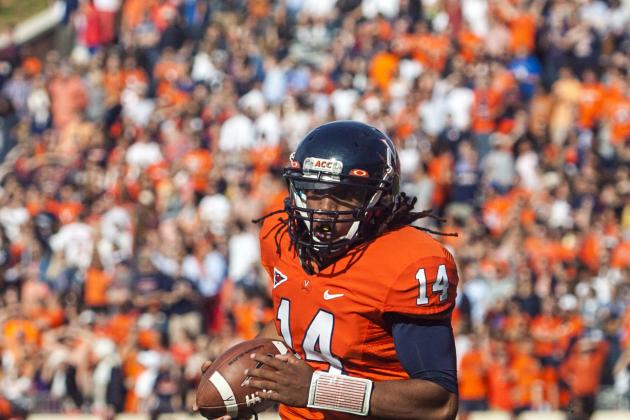 Peter Casey-USA TODAY Sports
Phillip Sims
Virginia took a big step back in Mike London's third season as head coach, going from an eight-win team in 2011 to a four-win team this season.
The main problem was that the Cavaliers just could not figure out how to get the ball in the end zone on a consistent basis.
They ranked 95th nationally in scoring offense, averaging just 22 points per game.
Fortunately, the team should be able to correct its scoring woes in 2013 if QB Phillip Sims, a highly touted high school recruit who transferred from Alabama this year, can start playing up to his potential.
Sims should have plenty of help from his supporting cast, which includes powerful RB Kevin Parks, explosive receiver Darius Jennings and one of the best young tight ends in the country, Jake McGee.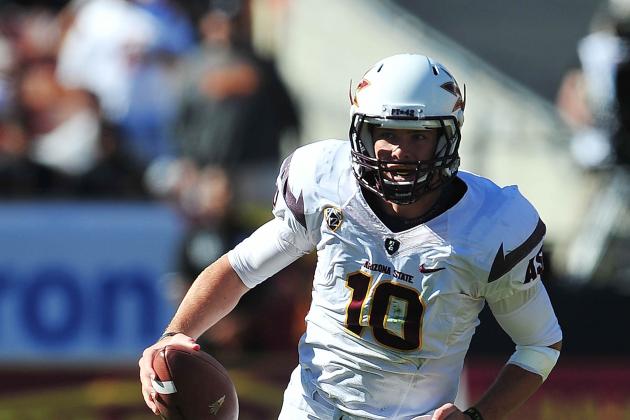 Gary A. Vasquez-USA TODAY Sports
Taylor Kelly
Todd Graham received a ton of criticism when he decided to leave Pittsburgh after one year to become the head coach at Arizona State. However, Graham didn't seem to let the backlash affect him at all in his first season in Tempe.
Graham helped mold his new starting quarterback, Taylor Kelly, into one of the best passers in the Pac-12. Kelly, who completed over 65 percent of his passes and threw for over 2,700 yards in his first year as a starter, should be even better in 2013.
If the Sun Devils can get another strong effort out of their defense again next season, it wouldn't be surprising to see Kelly guide the team into contention for a Pac-12 South division title.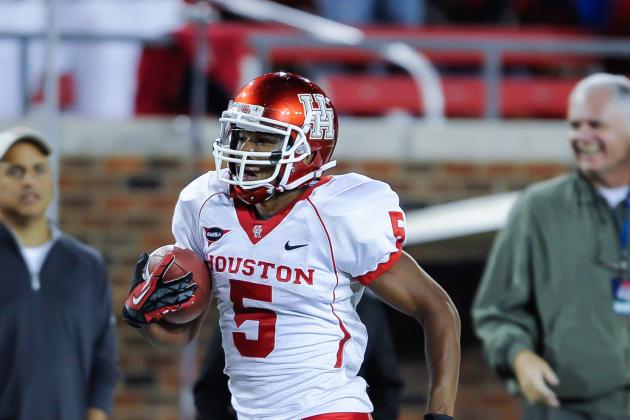 Jerome Miron-USA TODAY Sports
Charles Sims
Houston experienced one of the biggest slides in college football this season. The Cougars went from winning 13 games in 2011 to winning just five games in 2012.
A drop off was to be expected after the team lost head coach Kevin Sumlin and record-breaking quarterback Case Keenum, but nobody thought Houston would be that bad, considering it still had plenty of talent.
The Cougars will again have key difference-makers on both sides of the ball in 2013 such as RB Charles Sims, WR Deontay Greenberry, LB Derrick Matthews and safety Trevon Stewart.
If the team can get more consistent play from the quarterback position, Houston should have a big turnaround in 2013.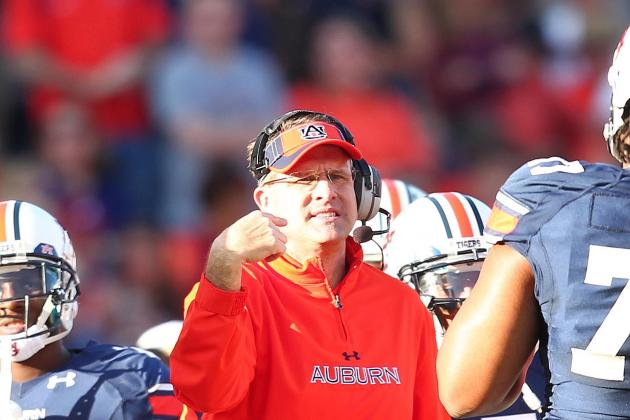 Marvin Gentry-USA TODAY Sports
Gus Malzahn
It's not tough to figure out why Auburn went just 3-9 this season. The Tigers had lackluster play at quarterback, a shoddy defense and inexperienced starters all over the field. When you have flaws like that and play one of the toughest schedules in the country, obviously, things aren't going to be very pretty.
There's no changing what happened in 2012. The focus now simply has to be on the future.
The Tigers' former offensive coordinator Gus Malzahn, who had a very successful 9-3 season at Arkansas State this year, has returned to the program in a similar fashion as the man he's replacing, Gene Chizik, did after a short head-coaching stint at Iowa State.
Malzahn clearly has a lot of work to do, especially on the offensive side of the ball. But at least Chizik recruited well and gave the new head coach some exciting young talent to develop.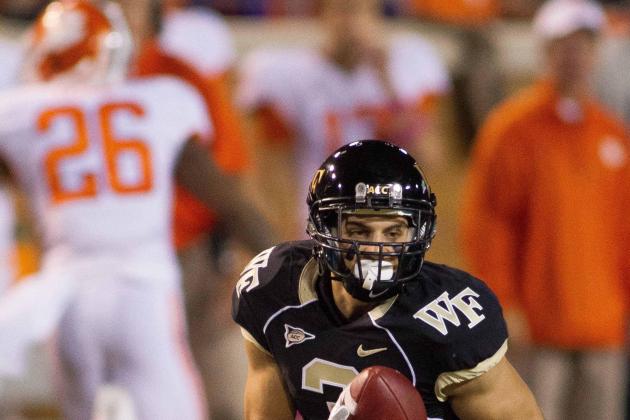 Jeremy Brevard-USA TODAY Sports
Michael Campanaro
Wake Forest hasn't finished a season with a winning record since 2008. But that should change next season.
The Demon Deacons' roster may not be filled with a ton of elite playmakers, but there are still plenty of solid and capable veteran players on both sides of the ball.
QB Tanner Price, RB Josh Harris and WR Michael Campanaro form a strong offensive trio that the team can rely on for success.
On the other side of the ball, defensive lineman Nikita Whitlock and CB Merrill Noel are two of the best players at their respective positions in the ACC.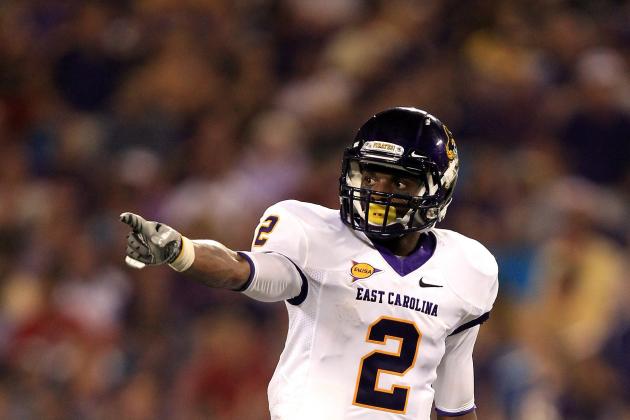 Streeter Lecka/Getty Images
Justin Hardy
East Carolina put together a solid eight-win regular season this year, and the Pirates have the chance to be even better in 2013.
The passing combination of QB Shane Carden and WR Justin Hardy has the potential to be lethal. Plus the defense should be much better, as it returns seven of the top eight tacklers from this season.
The Pirates will certainly have the type of talent it takes to compete for a Conference USA championship next season, especially if Hardy reaches his potential and becomes a true star.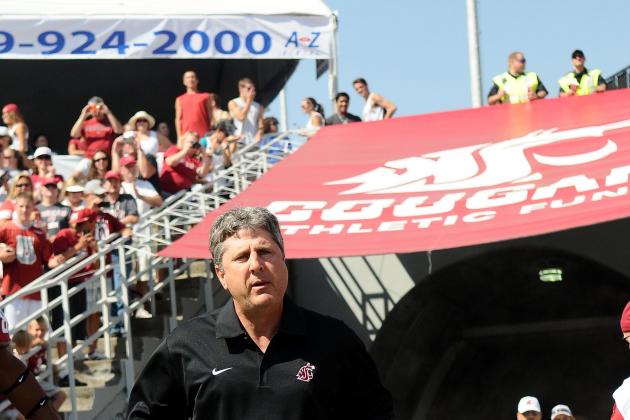 James Snook-USA TODAY Sports
Mike Leach
Mike Leach only won three games in his first season back on the sideline at Washington State, and his offense looked nothing like the high-powered passing attacks we saw during his days at Texas Tech. However, Leach did help to change the attitude of the program. He also found some quality young players to build around for the future.
The Cougars have three very talented freshman receivers—Dominique Williams, Gabe Marks and Brett Bartolone—who they can mold their offense around in 2013.
In order for Leach's squad to win more games, he'll need to develop QB Connor Halliday into a much more efficient passer. If he can do that, Washington State could actually win a few Pac-12 games in 2013.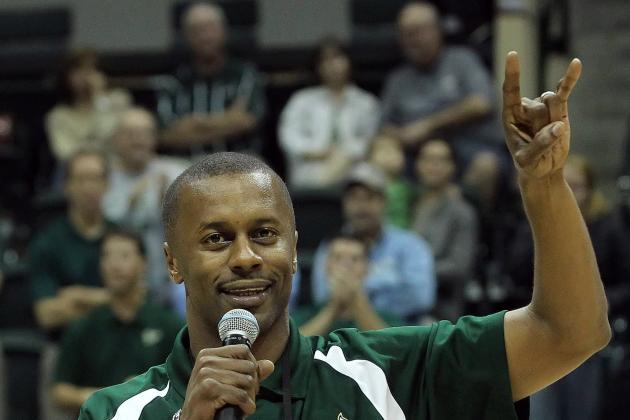 Kim Klement-USA TODAY Sports
Willie Taggart
After watching Skip Holtz go just 2-12 against Big East opponents over the last two years, South Florida fans are certainly glad to have a new head coach in charge. Former Western Kentucky coach Willie Taggart is the man who's been given the task of turning around a Bulls team that went just 3-9 this season.
Taggart has his work cut out for him, but he'll have higher caliber athletes to work with than he did during his days leading the Hilltoppers.
The Bulls offense will certainly be a work in progress, but the defense should be solid behind the play of LB DeDe Lattimore, safety JaQuez Jenkins and DE Ryne Giddins.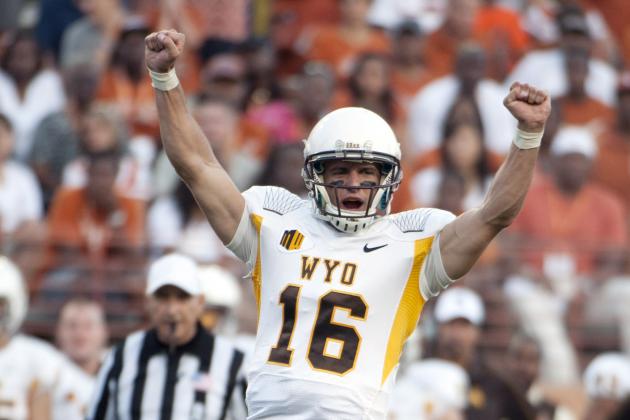 Brendan Maloney-USA TODAY Sports
Brett Smith
Wyoming has one of the most underrated quarterbacks in the country, Brett Smith. The problem this season was that the Cowboys just didn't have much of a supporting cast to help him out.
Smith followed up a fantastic freshman campaign with a solid sophomore outing, as he threw for over 2,800 yards and hit 27 touchdown strikes compared to just six interceptions.
What made the signal-caller's performance even more impressive is that he had virtually no running game to rely on.
The Cowboys ranked 103rd in the nation in rushing offense this year.
If Wyoming can figure out how to establish a more consistent and productive ground game, and if the defense—which allowed 33 points per game in 2012—can at least tighten up a bit, Smith should be able to lead this team to a bowl game next season.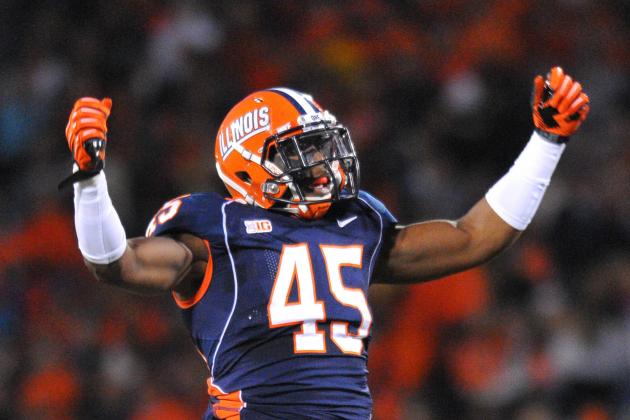 Bradley Leeb-USA TODAY Sports
Jonathan Brown
Tim Beckhman's first season at Illinois certainly didn't get the Illini fans all juiced up. Beckman's team looked listless throughout most of the year, and the group finished with just a 2-10 overall record.
Luckily for the coach, he'll have plenty of talent returning at the offensive skill-positions. However, he's simply got to figure out how to solve the team's quarterback problem.
If Beckman can develop Nathan Scheelhaase and Riley O'Toole into competent passers, the Illinois offense should be much more productive in 2013.