10 of the Most Boneheaded Plays, Calls and Quotes of NBA Season so Far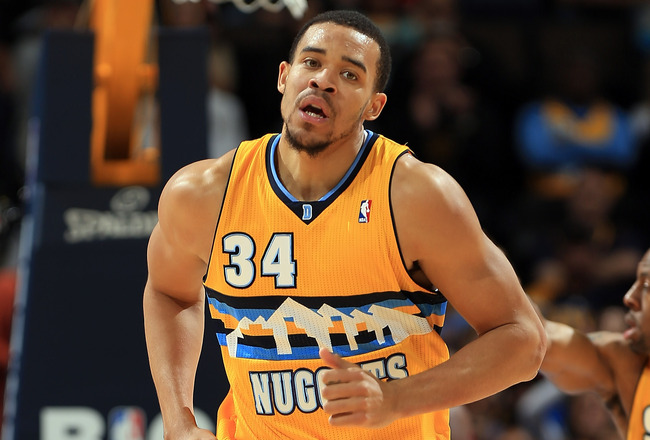 Denver Nuggets JaVale McGee
Doug Pensinger/Getty Images
There have been a collection of boneheaded plays, calls and quotes so far this season in the NBA.
I've selected 10 of the most spectacular.
Those that didn't make the cut include plays like Dwight Howard air-balling a free throw or James Harden passing out invisible high fives.
Those plays were categorized as "bad shots" or "funny moments," as opposed to anything "boneheaded" specifically.
The boneheaded plays include things like making an inbounds pass from inbounds or scoring on your own basket.
They also include wide-open layups that were never attempted and flops that were finable.
A high-stepping referee was also featured along with an NBA journeyman who earned a technical foul for no reason at all.
There have been a couple of quotes you would rather not read too as well as other moments a couple of players would rather have back.
JaVale McGee Inbounds the Basketball from Inbounds

JaVale McGee inbounds ball from inbounds.

It is critical to walk all the way out of bounds before making an inbounds pass.
This fundamental basketball truth escaped the Denver Nuggets' JaVale McGee earlier this season.
During this particular play against the Utah Jazz, McGee takes two steps after collecting the made field goal. Those two steps do not get him all the way out of bounds.
He makes his inbounds pass from completely inbounds as a result. Hilarity ensues.
Omer Asik Scores on His Own Basket

Omer Asik scores on his own basket.

Hopefully the Houston Rockets Omer Asik was at least credited with a rebound on this particular play.
As he went up for the defensive board, Asik unfortunately scored two points for the visiting Toronto Raptors instead.
To make up for it he did then go down and score on the other end of the floor. But it's still never a good look scoring on your own team.
Joey Crawford High-Steps Blocking Call

Joey Crawford High-Steps Blocking Call.

I'm not even trying to engage the block vs. charge debate on this particular play.
That's not the point.
This became a boneheaded call as soon as Joey Crawford decided to high-step from the baseline to mid-court like he's Deion Sanders.
Officials aren't supposed to call attention to themselves. Not sure Crawford ever received that memo.
Rasheed Wallace Yells Ball Don't Lie

Rasheed Wallace yells ball don't lie, gets ejected.

This is a boneheaded play in the sense that it earned Rasheed Wallace an ejection.
After disputing a series of calls that sent Goran Dragic to the free-throw line, Wallace manages to get himself thrown out of the game without swearing.
After Dragic missed, Wallace yelled out "ball don't lie" and was promptly tossed.
Stephen Jackson Fined $25K for Hostile Statement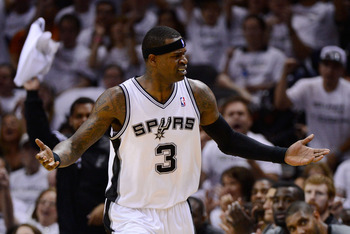 San Antonio Spurs Stephen Jackson
Ronald Martinez/Getty Images
San Antonio Spurs' Stephen Jackson was fined $25,000 by the NBA for the following "hostile statement".
It was directed at Serge Ibaka, via Twitter.
Somebody tel serg Abaka. He aint bout dis life. Next time he run up on me im goin in his mouth. That's a promise. He doin 2 much," he tweeted.
This was in response to Ibaka getting into a shoving match of sorts with Metta World Peace during a game between the Oklahoma City Thunder and Los Angeles Lakers.
John Lucas Gets Called for Technical He Didn't Deserve

John Lucas gets called for technical after getting pushed in the face.

Poor John Lucas.
As if LeBron James jumping over him wasn't enough.
On this particular play, Lucas might have fouled Kyrie Irving with the body. Maybe.
In response to that contact, Irving shoves Lucas in the face.
Right after Irving does that, the official makes one of the season's worst calls in whistling Lucas for a technical foul he didn't deserve.
Cole Aldrich Does Not Shoot Wide-Open Layup

Cole Aldrich does not shoot wide-open layup.

Cole Aldrich has totaled 28 points so far this season as of Thursday.
He should have 30 by now.
He could've, too, had Aldrich decided to shoot this wide-open layup against the Detroit Pistons earlier this season.
There are not any good explanations for why he didn't.
Dwight Howard for Understatement of the Year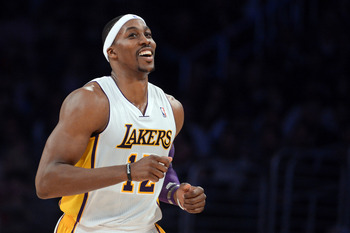 Los Angeles Lakers Dwight Howard
Harry How/Getty Images
As he reflected back on the "Dwightmare" and how he handled his Orlando Magic exit earlier this season, Dwight Howard offered the following.
"I've had a chance to sit back and think about it and there are some things I could've done better".
Agreed, Dwight. There are certainly some things you could've done better.
Reggie Evans Earns First Fine for Flopping

Reggie Evans earns fine on flop.

Reggie Evans was used as an example in the NBA's video describing the new flopping policy.
He had to think they were paying attention to him.
Regardless, Evans became the first player in the NBA to be fined under the league's new anti-flopping rules with this boneheaded gem against the Los Angeles Lakers.
He runs past Metta World Peace, flops and the rest is history.
Amir Johnson Tries to Take Ball from Ref, Gets Ejected

Amir Johnson gets himself ejected.

I suppose the referee could have let the Toronto Raptors Amir Johnson simply touch the basketball.
Maybe the rest of this scene could've been avoided.
But Johnson turns this into a boneheaded play as soon as the official doesn't let him do specifically that following the free throw.
After trying to wrestle it out of his hands, Johnson gets ejected.
Then he makes matters worse by launching his mouthpiece.
Keep Reading