3 Key Things Kendrys Morales Will Bring to the Seattle Mariners Lineup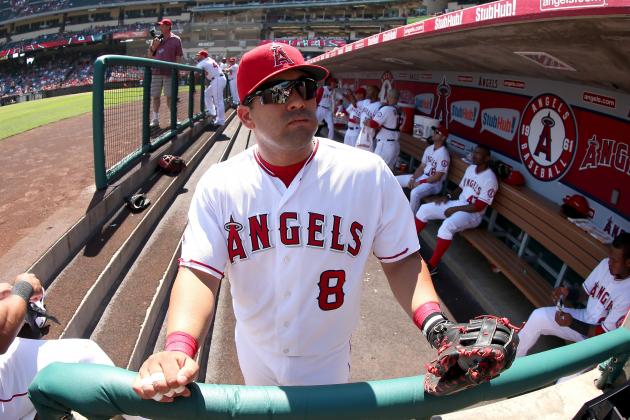 Stephen Dunn/Getty Images

Like it or not, folks, Seattle Mariners general manager Jack Zduriencik made a move on Wednesday as Kendrys Morales is coming to Seattle in exchange for Jason Vargas.
Ever since the end of the season we've been waiting for the M's to make a significant move, and with the swap of Morales and Vargas we finally got one.
In exchange for the team's No. 2 starter, the Mariners will receive a solid switch hitter who has shown flashes of brilliance when healthy over the past few seasons.
On the surface it looks like a potential win-win for both teams, but how will the addition of Morales effect the Mariners?
The answers to that question may take months to play out, but here are three key things that Morales will bring to the Mariners.
Begin Slideshow

»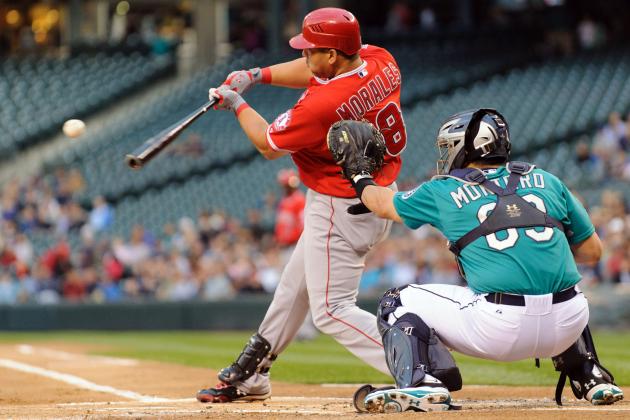 Steven Bisig-USA TODAY Sports

In a lineup that has had its struggles the past few years, Morales should be a decent contributor as Fangraphs projects him hitting .284 with 23 HR and 78 RBI in 2013.
It also helps that the switch-hitting Morales has a decent track record hitting in Seattle, as the Associated Press reports: "In 34 career games at Safeco Field, Morales is a .292 hitter with a .904 OPS, seven home runs and 23 RBIs."
That's all well and good, yet I can't help but wonder if the M's should have pushed a little harder instead for Mark Trumbo.
Granted, Trumbo is not without his flaws, but the Mariners could have put him anywhere and everywhere if necessary as he can DH, play in the outfield and sub in at third base, all in addition to covering first base. That said, you have to imagine the asking price was significantly higher for a guy that versatile who is projected to hit .266 with 31 HR and 98 RBI, according to Fangraphs.
Instead, we get Morales straight up for Vargas, and if we assume he's 100 percent healthy and ready to go, the M's for at least this season should have the middle of the order veteran they desperately need to kickstart their anemic offense.
For now that will have to do.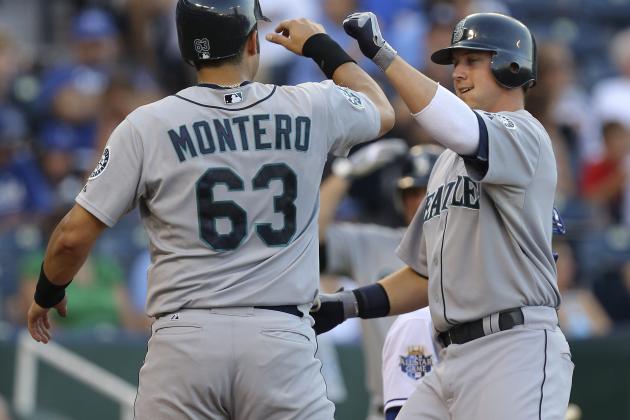 Ed Zurga/Getty Images

At the same time, did Jack Zduriencik solve one problem while creating a new one?
While it's nice that the Mariners could help the Angels clear up their logjam, it seems the team has to figure out what to do with the likes of Jesus Montero and Justin Smoak, along with a couple of other players.
Jack Z believes a healthy competition at spring training could help answer a few questions, as reported by the Seattle Times Geoff Baker:
"I think the biggest thing we've seen here recently is you just want to get your guys on the field and let them compete," Zduriencik said. "And I think that's a good thing for everybody, so as long as we create competition and as long as we have these pieces in spring training we'll see what happens. I don't have an exact answer. We certainly have talked about a lot of scenarios. I think we both feel very comfortable that, as I said earlier, there will be enough at-bats to go around for all these guys.
Shannon Drayer took it a little further over at mynorthwest.com by bringing John Jaso and Mike Zunino into the conversation:
Morales goes into the 1B/catcher/DH mix and Zduriencik said there is plenty of room for all. He also somewhat curiously said that he hoped that either Jesus Montero or John Jaso would step up and take the starting catcher job. There is little question Mike Zunino is the catcher of the future but both Zduriencik and Wedge have been clear that they do not want to rush him. I wasn't expecting him to break camp with the Mariners but this makes me wonder if they would like to get him a full year in the minors before bringing him up. He could certainly force the issue but it is clear he will not be rushed.
Finally Dave Cameron at USS Mariner solves the logjam on his own with the following thoughts:
Personally, I don't see any real problem here. Having four guys for three spots is a good idea when each of those four guys come with some legitimate questions and shouldn't just be handed everyday jobs. With a lefty, a righty, and two switch-hitters, the pieces fit together pretty nicely. And, of course, with any four players, there's a pretty good chance that injuries and/or performances solve the problem for you, as someone is likely to either play themselves out of a job or land on the DL and take the decision out of the Mariners hands. By having four guys for three spots, the Mariners simply give themselves a better chance to have three guys for those three spots on any given day, rather than repeating mistakes of the past that led to things like Miguel Cairo, Starting First Baseman.
In some ways it's comforting to think the move for Morales doesn't necessarily push Smoak and Montero out the door, but how the competition unfolds and how everyone handles the aftermath will be critical to the team's future.
In theory, Morales buys everyone a little more time and flexibility to make good on their potential, including Jack Z.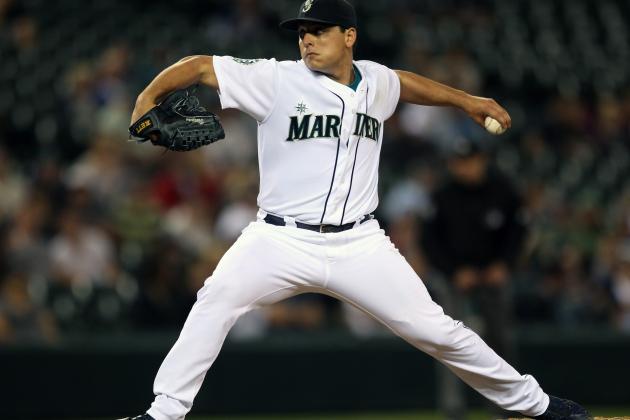 Otto Greule Jr/Getty Images

So while it's nice to add Morales, of course there is the other side of the story.
It's unfortunate to see Jason Vargas go, but it's not tragic as you need to give a little to get a little.
Months ago when the decision came down to move in the fences at Safeco, it begged the question of whether or not he could handle the situation. Trading him now wisely avoids the risk of finding out firsthand.
So with him out the picture, the big question now is how does this effect the starting rotation?
Do the M's think that Hisashi Iwakuma is ready for the No. 2 spot behind Felix Hernandez?
What about the back half of the rotation?
Does the team need to sign a left-handed starter via free agency or do they have high hopes for either Danny Hultzen or James Paxton emerging next spring?
For the time being it may seem a little confusing as those questions all remain unanswered, but Blake Beavan, Erasmo Ramirez and Hector Noesi all have reason to feel at least a little bit better about their odds of making the team next season.
Which isn't terribly comforting, but I think Jack Z still has some more work ahead of him.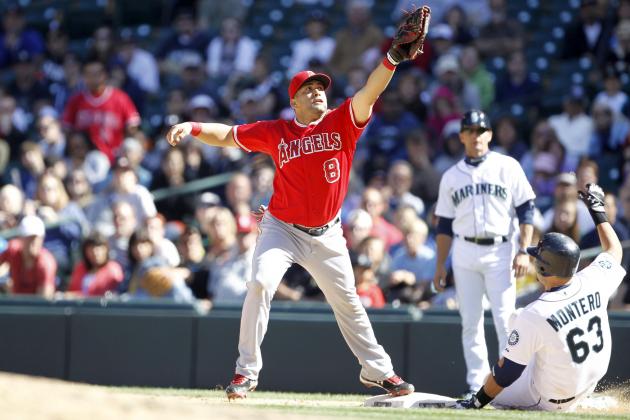 Joe Nicholson-USA TODAY Sports

If I had to take a guess, this move is one in a potential series.
Whether that followup move comes tomorrow, next week, before, during or after spring training remains to be seen, but Jack Zduriencik probably won't be turning off his phone this holiday season.
As I mentioned earlier, this move should buy Jack Z some time and flexibility while getting important answers in regards to a few key long-term pieces of the puzzle.
What's even more intriguing is the possibility the M's could flip Morales if the opportunity makes sense not too far down the road according to Dave Cameron:
There's a pretty decent chance that the Mariners could make Morales available in trade in July. Especially if Smoak and Montero are both hitting, and the logjam has become problematic. In that case, the team could theoretically flip Morales for help at another position, or for a prospect that would help for the future, or just as a salary dump if he's not hitting well and the Mariners simply want to promote Mike Zunino to take his spot on the team. There are a decent amount of scenarios where Morales isn't even on the team in August and September, and this playing time dilemma is only an issue for the first half of the year.
Could you imagine the Mariners having such "problems" this season?
For the moment there's reason to at least be cautiously optimistic in seeing the Morales trade/rental as a good thing, but it's hard to grade this move without knowing how all the pieces will fit.
If the M's ink or trade for a veteran left-handed pitcher capable of being a No. 2 or 3 starter, this deal could look that much better.
Until the next move comes, we wait, but at some point you have to figure Jack Z will need to up the ante either financially or with prospects if he intends to bring in a long-term solution rather than a short-term answer like Morales.