9 Reasons Oklahoma City Thunder Will and Won't Win an NBA Title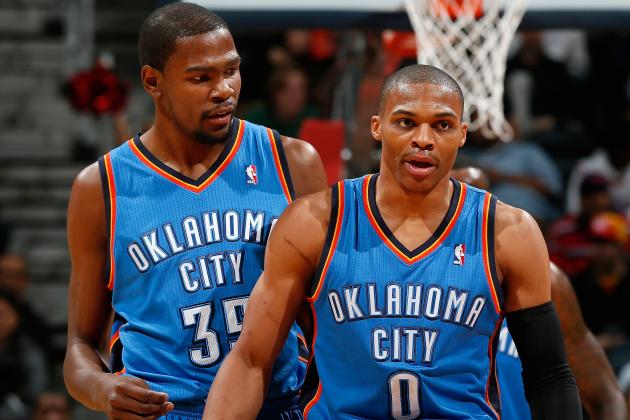 Kevin C. Cox/Getty Images

The Oklahoma City Thunder are among the leading contenders to win the NBA title in 2013. While they have their reasons for that reputation, there are also plenty of reasons why they will fail at that goal.
The Thunder have gotten off to a very hot start, paced by Kevin Durant, who is leading the MVP race early in the season. The big contributions of Russell Westbrook, Kevin Martin and Serge Ibaka are also big reasons why this team is a frontrunner for a title.
However, this team is still a young one. It also has not fixed many of the problems with its game. It is on a hot streak at this point in the season, but hot streaks do not last forever.
Durant and the Thunder have to hope that this current hot streak is closer to their true team identity, rather than to a team that will merely cool off soon enough.
(All stats in this slideshow are accurate as of December 19, 2012.)
Begin Slideshow

»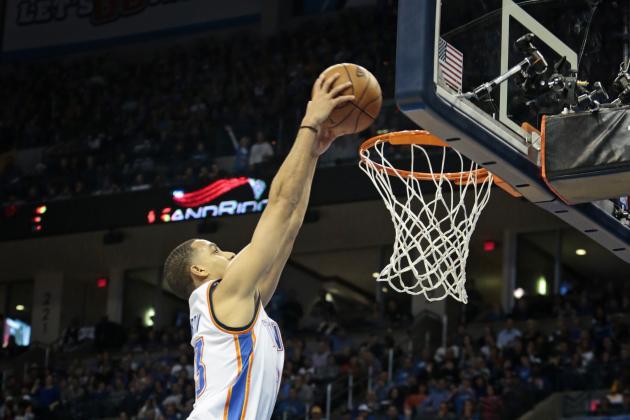 Brett Deering/Getty Images

Kevin Martin Playing Better than Ever
It has been a well-known fact for awhile around the league that Kevin Martin is a player who can score better than he can do anything else. After playing on exclusively bad teams for almost his entire career, he is getting his first real chance at winning big with the Oklahoma City Thunder.
He is taking advantage of it in a big way.
The 29-year-old shooting guard had big shoes to fill as the de facto replacement for James Harden and he is doing as good a job filling that role than anyone could have expected.
He is averaging 16.1 points off the bench while averaging 47.3 percent from the field and a career-high 47.4 percent from three-point range.
Despite the fact that Martin will likely cool off at some point this season, it probably will not affect the Thunder's ability to win. They lead the league in point differential per game (9.5) and even a dropoff in Martin's scoring probably will not be enough to make a significant difference in most games.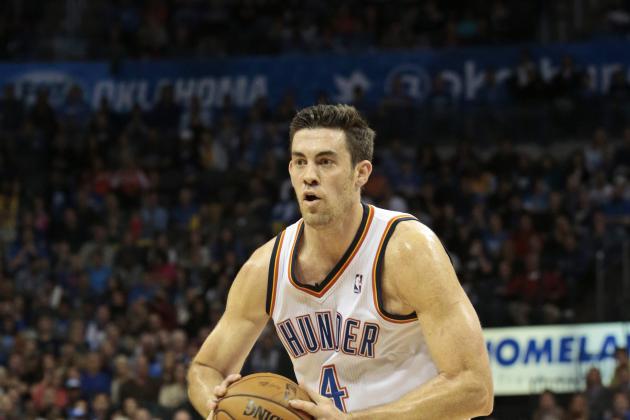 Brett Deering/Getty Images

Team is Too Young
This is an old argument that bears little weight now, but it is still a factor for this team.
The Thunder have one player out of 15 on the roster that is over the age of 30 (Nick Collison). Three of their top four scorers are under the age of 25 and only five players are over that same age.
This team does have the playoff experience of a veteran team though. Kendrick Perkins has played in three NBA Finals during his time in the league with both the Thunder and Boston Celtics. Kevin Durant and his young group have played in the playoffs three straight years, going farther each time.
That experience is extremely valuable and could even be a reason why the Thunder will win a title. However, that experience may still not be enough to overcome their collective youth.
Shane Bevel/Getty Images

Playing Solid Defense
When the Oklahoma City Thunder first made the playoffs three years ago, it was on the back of one of the NBA's stoutest defenses. They were young and raw but they played defense.
After a few seasons of so-so defense, the Thunder are back to their defensive ways. They rank in the Top 10 in points allowed per game, third in the league in opponent field goal percentage and fifth in points allowed per attempt.
Defense wins championships. It may be a cliché, but it is one for a reason. This Thunder team was unable to stop the Miami Heat in the Finals, and that is why they were sent home without the trophy. They look like they have remedied that problem so far during the 2012-13 season.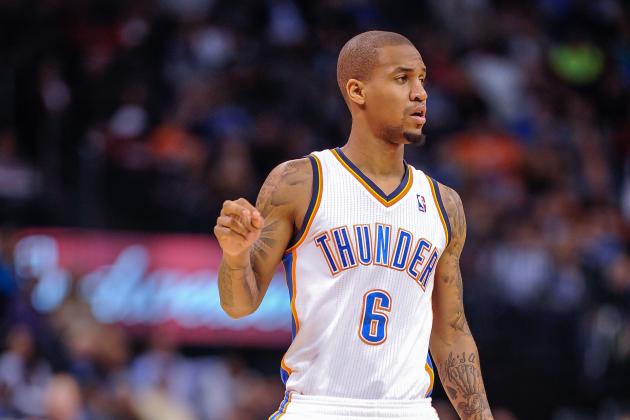 USA TODAY Sports

Eric Maynor Has Not Returned to Form
Losing Eric Maynor at the beginning of the 2011-12 season was a big blow for an Oklahoma City Thunder team that was aiming at an NBA title during that season.
Getting him back for the 2012-13 season boosted expectations for the team's second unit. The concerns many fans and speculators about the James Harden trade were eased by Maynor's imminent return.
However, he has not gone back to being the Eric Maynor we all remember and loved watching play. With career lows in points per game and field goal percentage, Maynor is struggling to make his contribution on offense.
Meanwhile, there are younger players hungrily waiting in the wings. Reggie Jackson and Jeremy Lamb are both looking for minutes at guard and both have shown great potential. If Maynor does not return to his usual form, look for those guys to possibly get more minutes.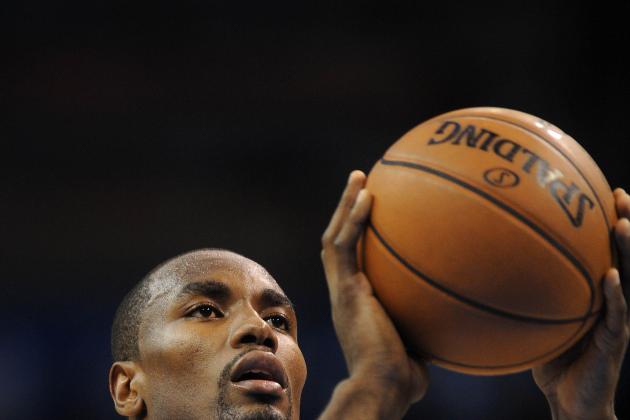 USA TODAY Sports

Serge Ibaka Doing More than Block Shots
The absence of James Harden has turned the Oklahoma City Thunder into a different team. While one would have expected that to be bad, it has been very good for Serge Ibaka.
The 23-year-old power forward is averaging career highs in points (14.6), rebounds (8.0), and minutes played (31.4) while also shooting career highs in field goal percentage (58.4) and free throw percentage (84.2).
After being an enigma and usually a disappointment offensively, Ibaka has burst onto the scene as one of the most dependable offensive threats on this Thunder squad. The Thunder did not have those added points last season.
They also did not have such an effective pick-and-roll duo as Russell Westbrook and Ibaka. The latter's ability to knock down his jumper has made the play indefensible.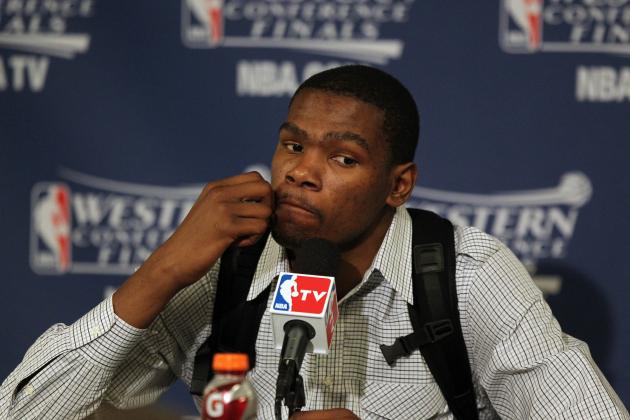 Matthew Emmons-USA TODAY Sports

It Cannot Continue Forever
The Oklahoma City Thunder are on an amazing streak right now. During their last 11 games, the young team is beating opponents by an average of 14 points per game. They are on a tear right now, firing on all cylinders.
However, one question remains: how long can this really last?
Basketball is a game of streaks, both in games and in stretches of the season. No team stays hot for an entire season and at some point this team will have to come back down to Earth.
This team is an elite one, but it is also incredibly hot. That will end. The Thunder just have to hope it does not end when they need that mojo most.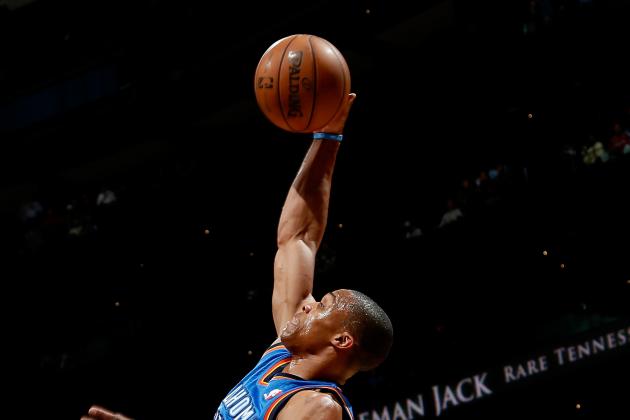 Kevin C. Cox/Getty Images

Russell Westbrook's Career Point Guard Year
For years we have heard analysts and others say over and over that Russell Westbrook cannot play point guard for a championship-caliber team. Those critics have been oddly silent over the first few months of the 2012-13 NBA season.
Westbrook is not having a perfect season, but he is having the best complete "point guard" season of his career. His average of 8.8 assists per game is a career high, but that is not the only part of his game that he has improved.
He is also shooting a career high from three-point range (36.7 percent) and is averaging a career high in steals (2.0) and a career low in turnovers (3.2). His scoring has taken a dip due to some shooting troubles, but that is something that he will correct.
Running the offense and playing defense are far more important and he is doing both of those things very well.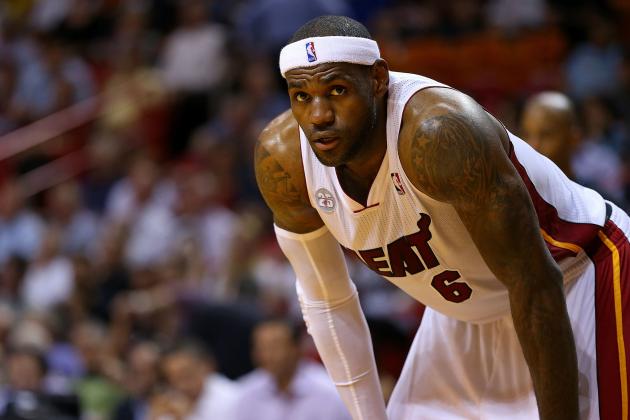 Mike Ehrmann/Getty Images

LeBron James and the Miami Heat
The biggest reason why the Oklahoma City Thunder will not win an NBA championship in 2013 is the fact that LeBron James and his Miami Heat have not gone anywhere.
The Heat were clearly the better team during the 2012 NBA Finals, which is why they won the title in five games. James was the best player on the court, leading a more poised and disciplined team. Miami has not looked as good as Oklahoma City during the 2012-13 season, but the season is young.
The Thunder will face the Heat again on Christmas Day. While that will give us some idea of where the teams stand, it has little bearing on what could happen in a potential matchup in the 2013 Finals. Miami is still the favorite to win the NBA title, with the Thunder and the rest of the NBA chasing them.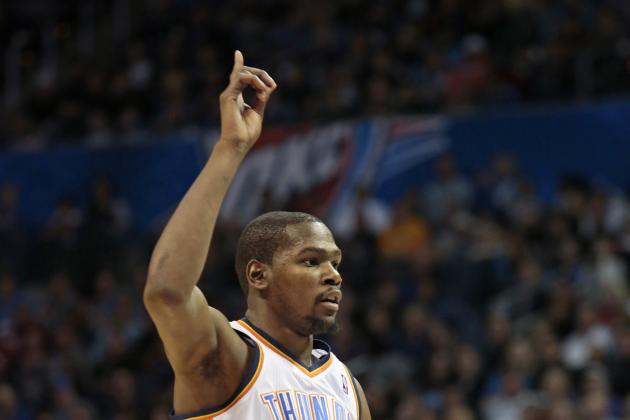 Brett Deering/Getty Images

Kevin Durant's MVP-caliber Performance
At this point during the 2012-13 NBA season, Kevin Durant is the clear frontrunner for MVP. Say what you want about Carmelo Anthony or LeBron James, but the truth is that Durant has been the best of the three and the best of the rest of the NBA.
That is the biggest reason why this Oklahoma City Thunder team could very well be on its way toward a championship in 2013.
Durant has a great shot at shooting 50 percent from the field, 40 percent from three-point range and 90 percent from the free throw line. Hitting those marks for the season would put him in an exclusive club that includes just five players (Larry Bird, Steve Nash, Mark Price, Reggie Miller and Dirk Nowitzki).
However, that is not the only reason that Durant should be the MVP of the first couple months of the season. He is also averaging career highs in rebounds, assists, blocks and steals.
He is having the best year of his career by far and is developing into one of the game's best all-around players.
Durant's play has the Thunder contending for a title now. Just think how much better they will be when he hits his prime in a few years.