5 Key Differences Between 2012-13 Miami Heat and 2010-11 Team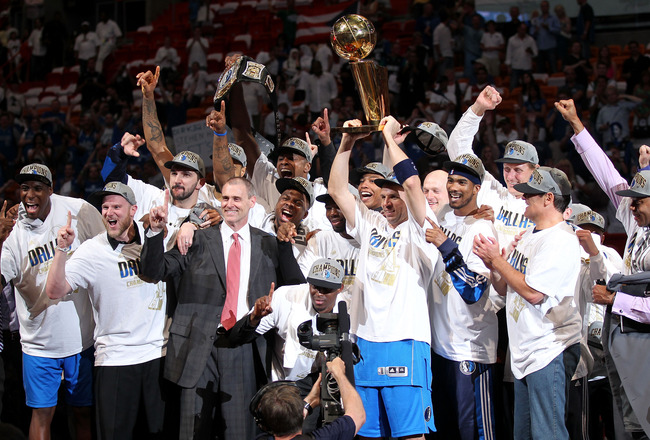 This photo will bring back bad memories for the Heat.
Mike Ehrmann/Getty Images
The images won't ever entirely fade.
When a team celebrates a championship on your floor, that team will always have special significance to your franchise, even if many of its major players have since moved on.
So it is for the Heat when it comes to the Mavericks, even if Miami did get some measure of revenge with a dominating performance in the 2011-12 season opener, and even if Mark Cuban has his own unpleasant memory: Dwyane Wade, Udonis Haslem, Pat Riley and the Heat celebrating in Dallas back in 2006.
The teams meet again in Dallas on Thursday night in what couldn't be characterized as a contest between contenders, not with the Mavericks middling at 12-13 and likely still missing their star Dirk Nowitzki, who was just cleared for full-contact practice.
Dallas is certainly different than it was then, with only Nowitzki, Shawn Marion and Rodrigue Beaubois remaining from the championship roster.
That's a consequence of Cuban ripping up the roster over the past two offseasons, letting several key players leave in the so-far-unfulfilled hope of landing another superstar or two to complement Nowitzki. Instead, O.J. Mayo has emerged as the leading scorer, with veterans Chris Kaman and Vince Carter playing reasonably well.
Miami, of course, is different too.
Simply, some of those differences are more subtle.
Quotes in this piece were collected over the course of the author's coverage of the Miami Heat for the Palm Beach Post. All statistics were current as of Wednesday afternoon.
5. Quick to the Point: Cole over Bibby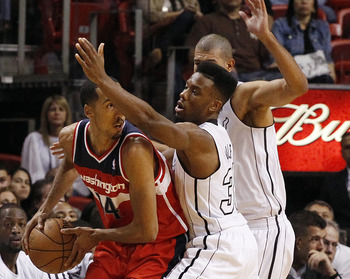 Norris Cole's hands-up defense would have come in handy in 2011.
USA TODAY Sports
Norris Cole watched the 2011 Finals from his family's home in Dayton, Ohio.
He was one of the few in that state pulling for LeBron James and the Heat.
And he, like most Finals viewers, was surprised to see the littlest man on the court make such a big impact.
The statistics (38 percent shooting, 8.8 points) didn't speak to J.J. Barea's impact. Guarded by the Heat's ill-fated, slow-footed midseason acquisition Mike Bibby, Barea repeatedly broke down Miami's defense, creating open looks for Dallas' outside shooters. Certainly, Pat Riley noticed.
On 2011 draft night, he did something unusual, actually sliding up a few spots to acquire a guard he intended to immediately insert in the rotation to address the Heat's lack of quickness at the point guard spot.
"When I got drafted, people at home used to joke and say, 'You know they got you just for J.J.,'" Cole said.
Barea is now in Minnesota, and Cole's tenacious defense made an impression when the Heat and Timberwolves played Tuesday night.
"He used his quickness to stay in front," Barea said. "I give Norris Cole all the credit. I like his game."
Miami would have loved to have had him in 2011.
4. The Bench Is Much Better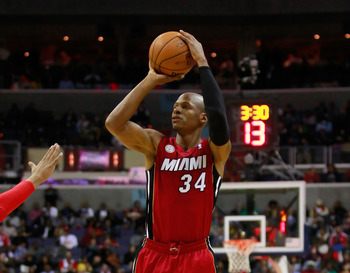 Now the Heat can turn to Ray Allen rather than Eddie House.
Geoff Burke-USA TODAY Sports
This is not a slight to Eddie House.
The undersized guard with the quick trigger carved out a nice career for himself, one bookended by stints with the Heat and highlighted by his championship with the Celtics.
Still, for long stretches of the 2010-11 season, he didn't play at all, even with wrist—and other—injuries to Mike Miller opening minutes on the perimeter. And yet, in Game 6, Erik Spoelstra gave him more than 21 minutes in a desperate search for, well, something.
That was emblematic of the season-long struggle to get any sort of production out of an erratic bench, one that wasn't all that strong even before Miller and Udonis Haslem were absent for months at a time.
These days, the Heat bench looks a bit like what the Mavericks bench did then, with enough solid veterans to overcome a few hits—such as when Dallas was without Caron Butler.
Ray Allen and Shane Battier are more accomplished, and still more productive, than any reserve the Heat had then. Miller is healthier. Rashard Lewis is available for the occasional corner jumper. And with Mario Chalmers now starting and Bibby mercifully gone, Norris Cole gives Miami the quickness that it sorely lacked at the point guard spot.
"I know who our 11 or 12 rotation players are," Spoelstra has repeatedly said.
And when he turns to one, it's not a reach.
3. Wade Has Taken the (Necessary) Step Back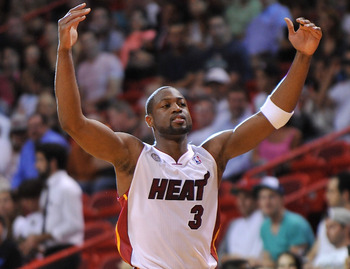 Dwyane Wade still has his moments, but he's moved off the main marquee.
USA TODAY Sports
Dwyane Wade isn't quite what he was.
That's indisputable upon close inspection. All that contact, over all those years, has taken a clear toll on his body. He's still capable of bursts of greatness, bursts that can be measured in minutes over the course of a game or weeks over the course of a month.
But he's no longer expected to carry the Heat on his shoulders.
In a sense, however, that has made the Heat better. His 20 absences over the past two seasons—during which the Heat have won 17 times—have allowed LeBron James to separate himself from the 1A-1B arrangement and make the pecking order clearer. They have ended those tired debates about who should handle the ball down the stretch. They have allowed James to step forward as a pace-setter and pulse of the team, with Wade still handling a critical role when he's been available.
To his credit, Wade has become more expert at picking his spots. He has referenced the difficulty of his decline in attempts, with 20 these days feeling like 30 once did. Yet he has found ways to make the most of them. Even in a season in which he's been working his way back from knee and then foot injuries, and even as he doesn't draw as many fouls as he once did, he has managed to shoot the highest percentage of his career.
"I'm not the all-time leading scorer around here for nothing," Wade recently quipped.
That's true.
And he will be the leading scorer for the Heat on many nights.
He just seems more comfortable letting his friend lead.
2. Spoelstra Has Become More Innovative, Flexible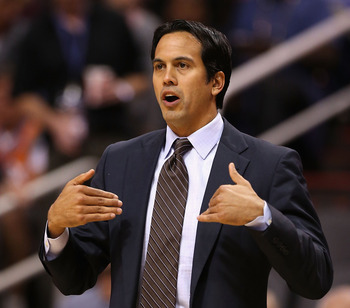 Yes, you: Erik Spoelstra has changed in some positive ways.
Christian Petersen/Getty Images
Ask coaches around the NBA, like Minnesota's Rick Adelman, and they'll still say they were amazed with what Erik Spoelstra endured during his first season coaching the so-called "Big Three."
No team in NBA history has been under more scrutiny than that one, with ESPN's obsession calling for an intervention. Every day, it seemed, there was another "gate," from Crygate to Bumpgate.
So Spoelstra could have been excused for some struggles, especially in his first NBA Finals as a head coach. And he had them, notably his call to stick with Mike Bibby too long as a starter, even as J.J. Barea was turning him into a turnstile.
Spoelstra will never look back at that Finals fondly, but something good did come from it. Spoelstra gathered his staff prior to 2011 training camp and decided that they had to start thinking differently. They had to stop putting LeBron James in the small forward "box" and plugging in conventional players at the other positions—such as the subpar centers who had taken up space—to complement them.
Instead, they needed to think in a more "positionless" manner, and they needed to create more pace and space in a way that would play to the strengths of James, Dwyane Wade and Chris Bosh.
He wasn't able to implement all of this overnight, but his evolution, with Pat Riley's blessing, has taken the Heat to where they are today. They're not quite at the defensive level that they were in 2011-12, though they're better of late. Offensively, however, they are immeasurably improved, especially after additions such as Ray Allen that fit Spoelstra's new philosophy and with Bosh accepting a move to center.
Spoelstra could do all this, in part, because he is a more confident coach, without constant questioning from the outside, specifically about his job security.
That's what happens. All the other "gates" go away when you open the one to a championship.
1. LeBron James Has Erased Doubts, of Others and Himself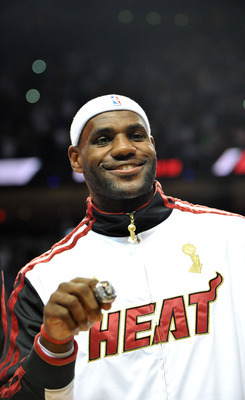 For the reigning champ, the ring jokes no longer apply.
Steve Mitchell-USA TODAY Sports
Now or never.
That was the tweet that LeBron James sent out in the wee hours of the morning, during arguably the darkest week of his career.
The Finals of 2011 should have been filled with James' finest moments, considering his dominance in eliminating Boston and Chicago. But, for reasons that may never be fully explained, he froze. In the last three games, including Game 5 after that infamous tweet, he played passively, treating the fourth quarter of these most critical games as they were preseason scrimmages and allowing Dallas to keep him out on the perimeter, where he wasn't quite able to make them pay.
You know that, and the rest, by now.
In the offseason, he shut down for a couple of weeks before vowing to change his mindset, from one of playing to spite the haters to one in which he would rekindle his love for the game. He worked with Hakeem Olajuwon on his post presence. He came to camp in tremendous mental and physical shape and, even with a few blips throughout the season in which he was questioned for not taking the final shot, he rose to levels even he hadn't reached before.
That was all before the postseason, when he performed at his best under the greatest pressure, when Miami was down in series against Indiana and Boston—and then in the NBA Finals, while often matched against the game's second-best player, Kevin Durant.
"It's about damn time!" he shouted after lifting the trophy.
So, as it turned out, it wasn't "now" or "never."
And now, as 2012 comes to a close, his game has reached another level still, easily outpacing his previous efficiency as an outside shooter. He also knows he can win the biggest prize. That knowledge, which he lacked in June of 2011, has become his most valuable asset.
Keep Reading

Miami Heat: Like this team?