Breaking Down the Most Pivotal Moments of the NBA Season so Far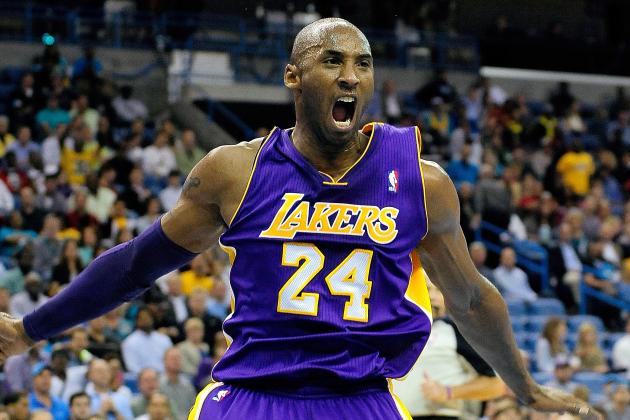 Stacy Revere/Getty Images

While every NBA season brings reason for excitement, the 2012-13 version has been nothing short of spectacular in terms of entertainment thus far.
With teams like the Oklahoma City Thunder, New York Knicks, Miami Heat and Los Angeles Clippers thriving, traditional powerhouses like the Boston Celtics and Los Angeles Lakers find themselves fighting to even stay at or reach .500.
A major trade caught everyone by surprise at the beginning of the season, a certain insanity made its way back to New York and one of the game's all-time greats reached a new milestone.
Did I mention we're not even halfway through the season yet?
These stories and more ahead as we look back at the season's most important and pivotal moments.
Begin Slideshow

»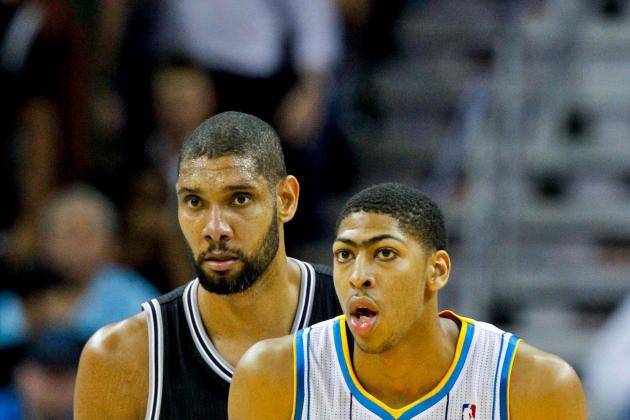 Derick E. Hingle-USA TODAY Sports

While it wasn't his first time playing with NBA players, October 31st, 2012 did mark Davis' first actual professional basketball game.
Despite playing the heavily-favored San Antonio Spurs in their season opener, Davis and the young New Orleans Hornets actually played quite well.
Davis registered 21 points, seven rebound and a blocked shot in a close 99-95 loss to San Antonio that actually saw the Hornets leading at halftime.
The 2012 AP National Player of the Year at Kentucky, Davis was the first overall pick in the 2012 draft and spent his summer playing for the U.S. Men's Olympic Basketball team.
Davis was known primarily for his defense in college, but he is averaging 14.6 points to go along with his 8.2 rebounds and 2.0 blocked shots per game. His 23.46 PER is first among all rookies and tied for 10th among all NBA players.
Already a near star in the league, Davis has a bright future ahead of him and got off to a great start against one of the league's best teams.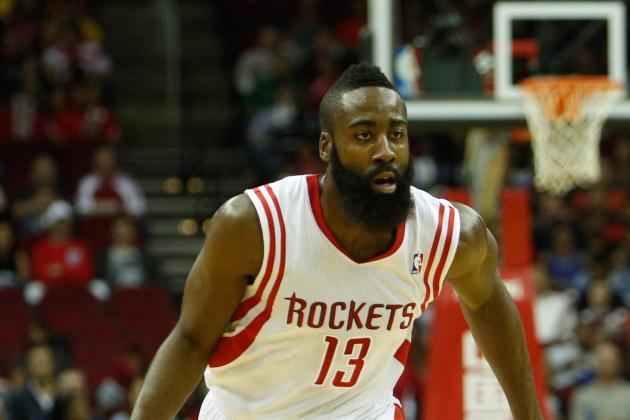 Thomas Campbell-USA TODAY Sports

In a trade that sent shock waves through the basketball world, the Thunder dealt 2011-12 Sixth Man of the Year James Harden to the Houston Rockets just days before the season tipped off.
The move made sense for the small-market Thunder, who offered Harden big money but weren't willing to offer what the Rockets had in mind.
Signing a five-year, $80 million max contract with the Rockets, Harden collected an extra year and $25 million more than what the Thunder were offering.
Harden immediately began earning his money from Houston, as he scored 82 points in the Rockets' first two games of the season.
While he's since cooled off a bit, Harden is still putting up an impressive stat line of 25.1 points, 4.7 rebounds, 5.2 assists and 1.8 steals per game.
As of publication, the Rockets were just a half game out of the Western Conference playoffs.
If Harden can lead a young Houston roster to the playoffs this season, it will be hard to argue he isn't worth the money.
Anthony Gruppuso-USA TODAY Sports

The NBA's next great rivalry is at our doorstep.
The Nets' move to Brooklyn signified a change in culture, both on and off the court.
The Knicks' already star-studded roster coupled with the additions of Raymond Felton, Jason Kidd and Rasheed Wallace were ready to welcome the challenge.
Both the Nets and Knicks got off to hot starts in 2012 and met for the first time on November 26th. The Nets won an overtime thriller 96-89 highlighted by 16 points and 14 assists by Deron Williams.
The Knicks would have their revenge on December 11th, however, as Carmelo Anthony led New York with 45 points in a 100-97 win.
December 19th marked the third of four times the two franchises will play this season, with the Knicks winning again, this time by a score of 100-86. Anthony led all scorers with 31 points.
While the Knicks (19-6) have begun to pull away from the Nets (13-12) in the standings, it's clear these two teams will be playing plenty of meaningful games against one another for years to come.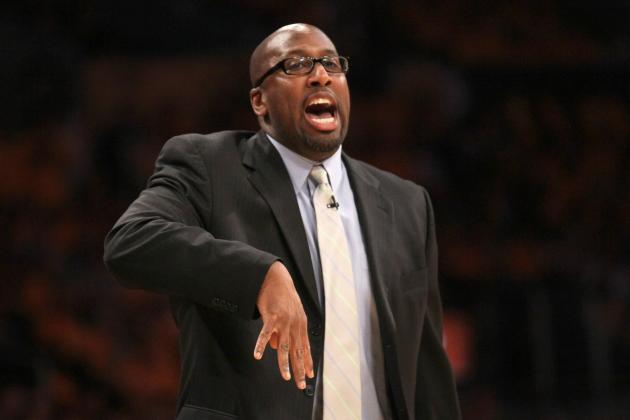 Stephen Dunn/Getty Images

The Los Angeles Lakers have resembled a scene straight out of Super 8 this season.
Now on their third coach of the season in Mike D'Antoni, the Lakers fired Mike Brown after just five games to start the season.
After interim head coach Bernie Bickerstaff led them to a respectable 4-1 turnaround from a 1-4 start, the Lakers spurned former coach Phil Jackson for the defenseless, err, offensive-minded D'Antoni.
The results? Not much better so far, as L.A. has gone just 7-9 since making their second coaching change of the season.
With injuries sidelining Steve Nash and Pau Gasol for much of the season and Dwight Howard still not fully recovered from offseason back surgery, one could have expected a shaky start from L.A.
Now that Gasol is back and D'Antoni's system is setting in, will we see a huge turnaround from the Lakers?
Likely not, unless they can improved on the 99.3 points per game they're allowing to opponents on a nightly basis, good for 21st in the NBA.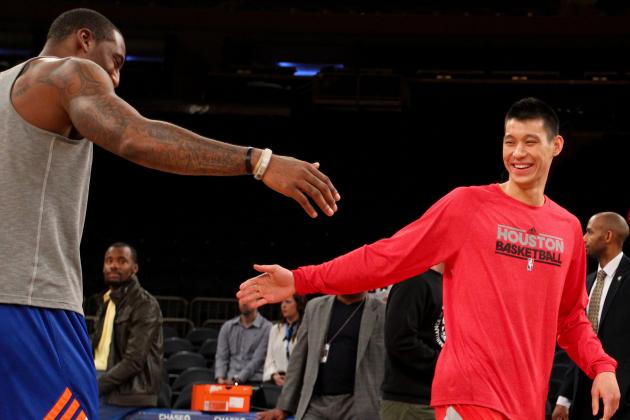 USA TODAY Sports

On December 17th, a familiar face made his way back to the Garden.
Jeremy Lin, now in Houston Rocket red, received a nice ovation from the New York crowd when he was introduced now over four months after agreeing to leave the Knicks.
While the Knicks have been rolling, it was the Rockets who really came ready to play.
Lin paced Houston with 22 points, four rebounds, eight assists and two steals as the Rockets came away with an impressive 109-96 victory, just their third road win of the season.
The game was especially important for Lin, as he'd been struggling with his shot and overall game since signing a three-year, $25 million deal with the Rockets in July.
As a starting point guard for the Knicks last season, Lin put up averages of 18.2 points and 7.7 assists per game on 44.5 percent shooting from the field.
As of December 19th, Lin was only averaging 11.3 points and 6.0 assists on 40.7 percent shooting.
While he's struggled for most of this season, Lin's game in his return to New York City brought back memories of how well he played while with the Knicks last year.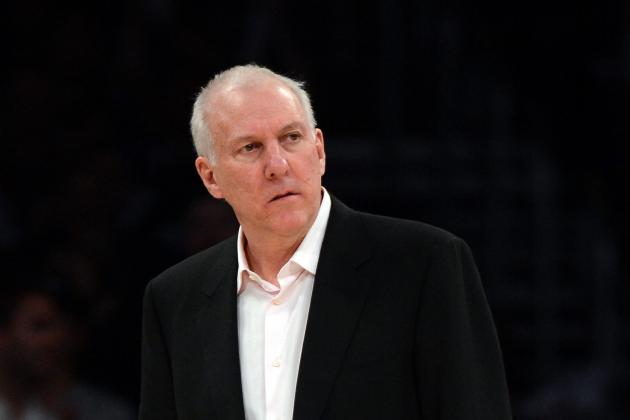 Harry How/Getty Images

Back in November, the San Antonio Spurs were nearing the end of a six-game road trip.
The final contest just happened to be a high-profile, nationally-televised game against the Heat in Miami. It was the Spurs' only scheduled trip to South Beach for the season and promised to be a great matchup of two powerhouse franchises.
While the Heat sent out their best, the Spurs decided to rest.
Coach Gregg Popovich elected to send Tim Duncan, Tony Parker, Manu Ginobili and Danny Green home early in order to rest up for the following homestand.
While it seemed like an innocent, well-intended move that would have only been a little disappointing for ones viewing the game live or on TV, NBA commissioner David Stern did not take as kindly to the decision.
Stern instead called the move "a disservice to the league and our fans," claiming that San Antonio did not give the Heat proper notice of their roster change.
You mean the Spurs didn't want to reveal their game plan to the opposing team? Shocking.
February 1st, 2014 can't come soon enough.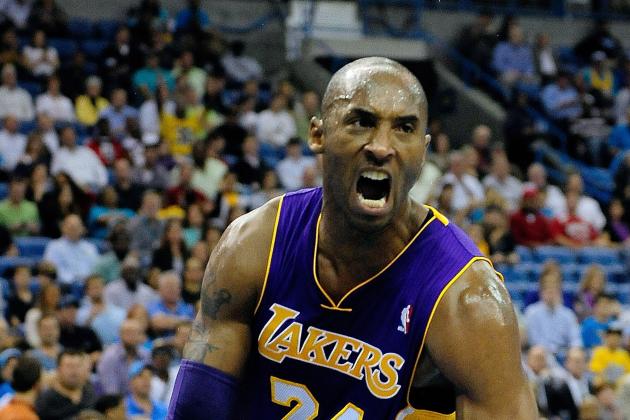 Stacy Revere/Getty Images

One of the greatest players in NBA history reached a new high on December 5th, 2012.
Kobe Bryant became the youngest NBA player to reach 30,000 career points at just 34 years and 104 days of age.
The record, held previously by Wilt Chamberlain, is a testimony to Bryant's hard work to not only refine his game but keep his body healthy and on the court as much as possible.
Only five players in NBA history have ever hit the 30K plateau, with former Laker Kareem Abdul-Jabbar topping the list with 38,387.
Bryant would likely need another four or five seasons to reach this mark, something certainly not out of the question for the 17-year veteran.
Already No. 5 on the all-time scoring list, it's really up to Bryant how long he wants to keep playing and if he considers the scoring mark a real possibility since he's discussed retirement after next season.
While the Lakers struggle and sputter, Bryant continues to terrorize opposing defenses on a nightly basis, something he's been doing for a very long time.