North Carolina vs. Texas: Live Score, Updates and Analysis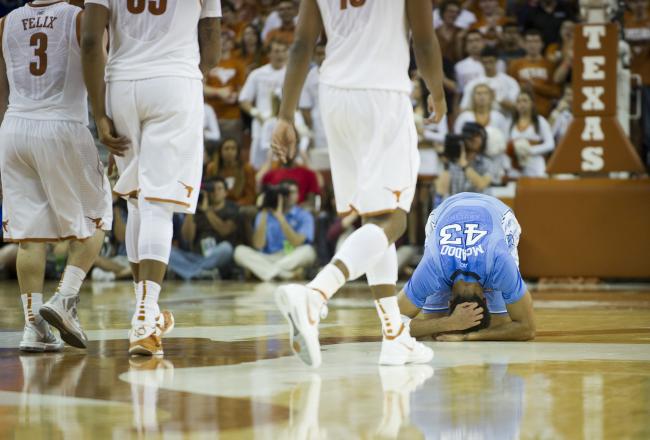 Cooper Neill/Getty Images
The unranked Texas Longhorns simply owned No. 23 North Carolina in the first half. That turned out to be too much for the Tar Heels to overcome, as Texas weathered the second-half storm to complete the 85-67 upset.
The dismantling of the Tar Heels gave the Longhorns their first win over a Top-25 opponent this season.
Four Longhorns finished with double-digits. Jonathan Holmes was easily the most efficient of the four, scoring 16 points on 6-of-9 shooting. He was also 2-of-3 from downtown, which comes as a huge surprise.
Sheldon McClellan didn't shoot very well, but he was all over the floor and spent a healthy amount of time at the line. He shot more free throws than anyone on the floor tonight, finishing with 18 points.
Reggie Bullock tied McClellan as the top scorers overall with his 18. James Michael McAdoo added 14, but he was the only other Tar Heel in double-digits.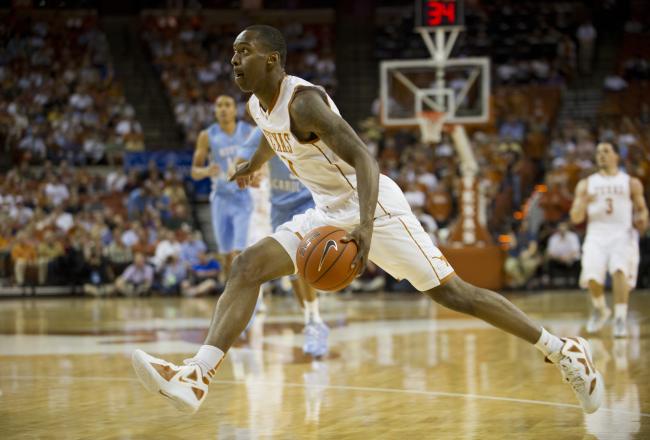 Game Analysis:
The Longhorns never really allowed the Tar Heels to get in this game. They jumped out to an 8-0 lead in the first three minutes and never looked back.
Their defense absolutely suffocated the Carolina offense through most of the game, holding the Tar Heels to 31.3-percent shooting from the floor. Texas actually improved on their already-stellar three-point defense, holding UNC to just 3-of-19 shooting behind the arc.
Texas also forced Carolina into 18 turnovers, tying a season high for UNC. Twelve of those turnovers were steals.
Javan Felix was only 3-of-12 from the floor, but he did an outstanding job of facilitating the offense through penetration. He finished the night with eight points, eight assists and three steals.
It's tough to narrow down who made the biggest impact for the Longhorns, as they played their best ball as a team this season. There was always another guy making a big play on defense or scoring at the other end of the floor.
Texas was even able to knock down their threes, going 6-of-17 behind the arc. While that may not be as impressive against the Tar Heels' poor perimeter defense, I've seen the Longhorns miss plenty of wide-open threes this season.
Even Jonathan Holmes went 2-of-3 from that range. He was 3-of-16 entering the game. Holmes finished with 15 points.
James Michael McAdoo and Reggie Bullock seemed to be the lone shining stars for North Carolina, scoring 14 and 18 points respectively. Bullock also added 13 rebounds, and McAdoo had six steals on the night.
Those are some great numbers from those two, but nobody else was able to get a rhythm going.
P.J. Hairston could have made the difference if his game was on, but the sophomore guard shot 2-of-12 from the floor. He was also just 1-of-7 from three-point range, and even that one took an impossible bounce to get in.
Texas simply ate Carolina alive on the defensive end. This could be the game that turns the tide for the Longhorns.
Texas 78, UNC 65 (1:00 2nd Half)
I think we can call that a game after Jonathan Holmes' authoritative jam.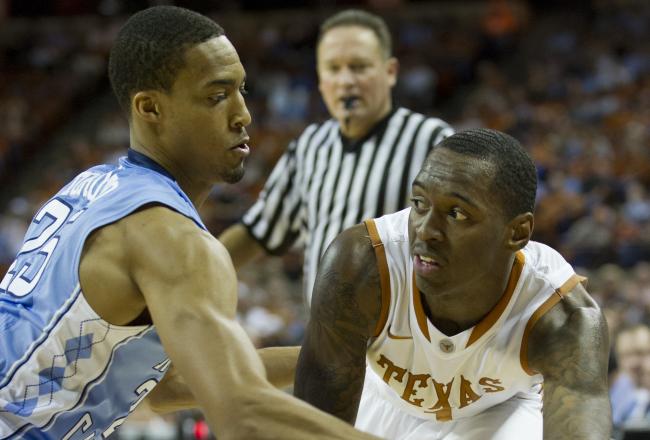 Texas 70, UNC 62 (2:21 2nd Half)
North Carolina is bringing the full-court press now. They caused a lot of havoc against ETSU with that, so it will be interesting to see how Felix and the Longhorns handle it down the stretch.

Texas 68, UNC 58 (3:48 2nd Half)
The Longhorns are beginning to pull away again, and have three players in double-digits: Julien Lewis (14), Sheldon McClellan (13) and Jonathan Holmes (12).
Texas 60, UNC 56 (7:29 2nd Half)
I don't know what shifted his mentality, but this is the first time I've seen McAdoo this intense. He is extremely active and not shying away from contact. It could be scary for Texas if he continues this trend through the remainder of the game.

Texas 60, UNC 50 (9:45 2nd Half)
Texas is turning the tide with a 4-0 run.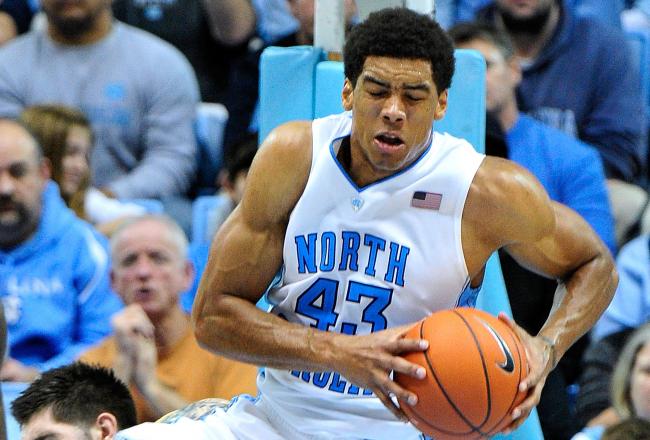 Texas 54, UNC 48 (12:29 2nd Half)
Carolina looks like a completely different team in the second half. They are all over the floor on defense, and finding open looks on the offensive end. McAdoo already has three steals this half.

Texas 52, UNC 46 (13:59 2nd Half)
McAdoo just brought the Tar Heels within six points off a steal and a coast-to-coast jam.

Texas 50, UNC 42 (15:50 2nd Half)
Julien Lewis knocks down the Longhorns first field goal of the half with a pull-up jumper. Carolina has outscored Texas 9-4 in the second.
Texas 48, UNC 39 (17:50 2nd Half)
Roy Williams has gone with a smaller lineup to start the second half with Paige, Strickland, Bullock, Tokoto and McAdoo, and it's paying off so far. This is the first time the lead has been cut to single digits since the 7:51 mark in the first half.

Texas 46, UNC 33, Halftime
The Longhorns and the Tar Heels have switched roles tonight.
Texas came in averaging 17.8 turnovers per game, but only have four at the half. Carolina came in averaging 14.2 turnovers per game, and have almost met that number by the half with 12.
It doesn't end there, though. It's usually North Carolina burying threes, but they are only 1-of-8 against the stingy Texas defense. Meanwhile, Texas is 5-of-13 from three.
One concern for Texas is that Carolina usually has one good half per game, and that was definitely not in the first portion. The defense will have to continue to physically outmatch the Tar Heels to keep upset hopes alive.
Reggie Bullock leads all scorers with 11 points. Jonathan Holmes leads the way for the Longhorns with 10 points, and is 4-of-5 from the field. That includes 2-of-3 shooting behind the arc.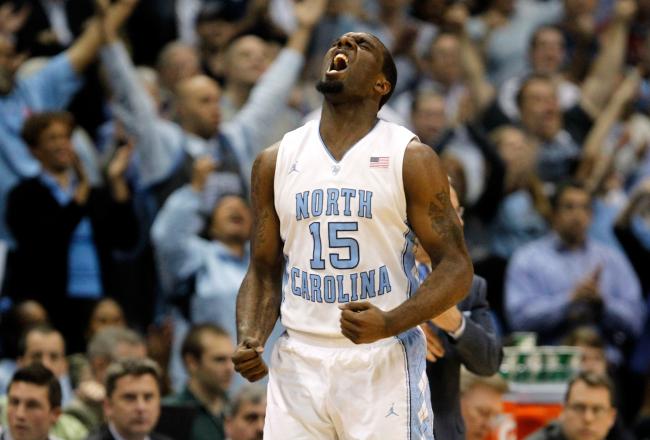 Texas 46, UNC 33 (0.5 seconds left in 1st Half)
Following a McAdoo miss, P.J. Hairston snatched the offensive board and got fouled on his shot. Hairston dropped both freebies to pull within 13.
Texas 44, UNC 31 (0:50 1st Half)
Carolina isn't going down without a fight. The Tar Heels just capped off a 6-0 run with a dunk from James Michael McAdoo on the break.

Texas 39, UNC 23 (3:31 1st Half)
Marcus Paige finally ends UNC's 0-for-5 streak from downtown with a three.

Texas 31, UNC 18 (5:44 1st Half)
Even Jonathan Holmes is getting in on the three-point party, going 2-of-3 from there. His season three-point percentage is 18.8.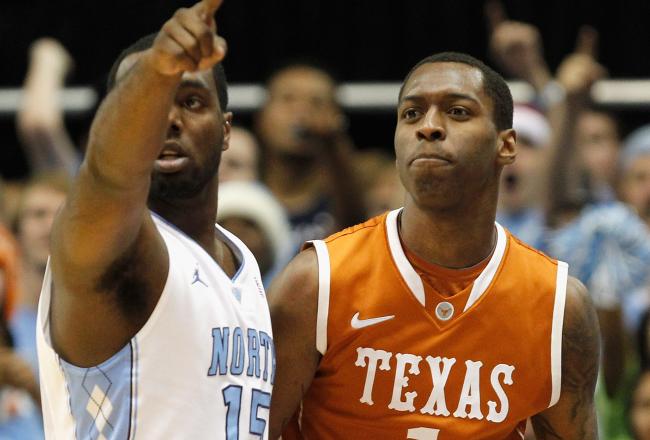 Texas 25, UNC 16 (7:51 1st Half)
Sheldon McClellan leads all scorers with six points, despite 0-for-2 shooting behind the arc. So far, he is 1-of-10 in his last three games.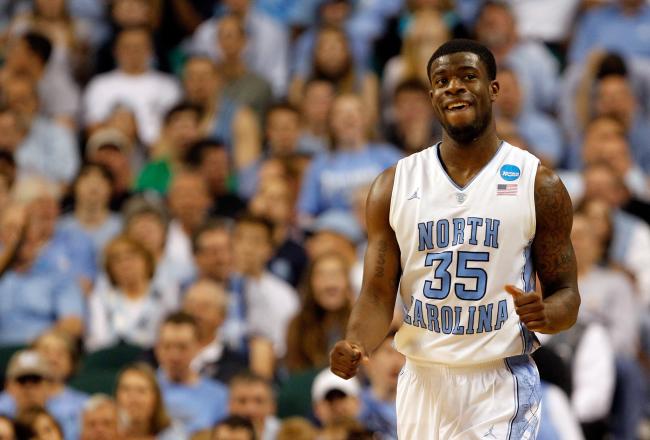 Texas 21, UNC 14 (9:51 1st Half)
One positive for North Carolina is that Reggie Bullock is actually getting to the rim tonight. That's something Roy Williams and Carolina fans have been begging for all season.

Texas 19, UNC 10 (11:04 1st Half)
Texas has already forced seven turnovers tonight. Carolina is averaging 14.2 per contest, and is pacing for 28 tonight.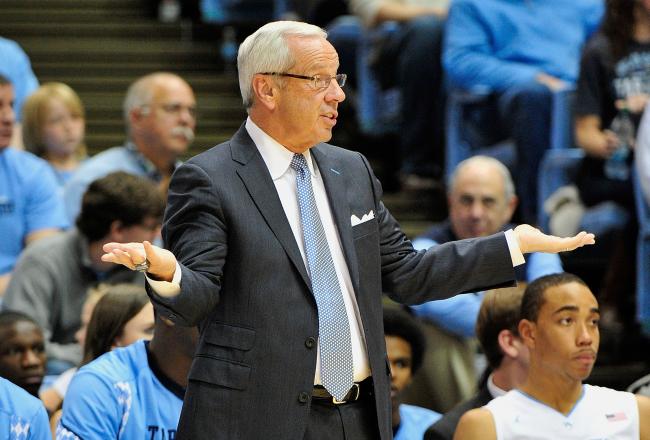 Carolina allows 25 three-point attempts per game, and Texas is on pace to keep that average intact.
Texas 17, UNC 8 (13:07 1st Half)
Make that 3-of-5 from downtown for Texas. Carolina's defense is bunching up and leaving wide-open threes.

Texas 14, UNC 6 (15:18 1st half)
Texas is making the Tar Heel defense pay for being out of position, going 2-of-2 from downtown to start the game. It's going to be a long night for UNC if Texas continues to shake them up on defense and light up the arc.
Texas 8, UNC 0 (16:54 1st Half)
The Longhorns defense is all over the Tar Heels, during their 8-0 opening run. Carolina isn't getting any good looks right now.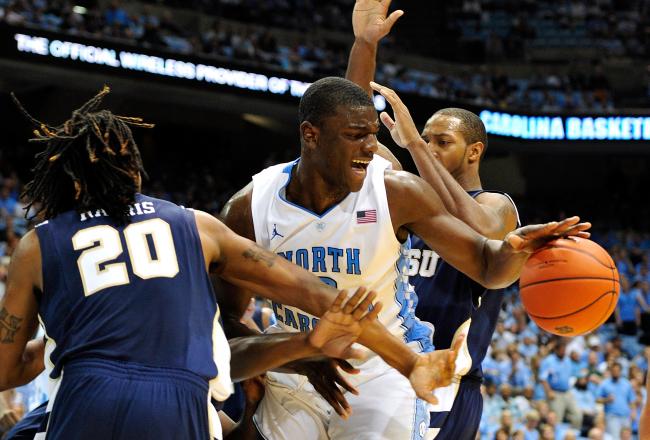 Keys to the Game for North Carolina:
Steals, steals and more steals.
The Tar Heels come into this game averaging 9.7 steals per game, which is perfect match to the Longhorns' 17.8 turnovers per game. Dexter Strickland and Marcus Paige will be two of the biggest keys to the game, defensively, as their primary duty will be to shake up Texas point guard Javan Felix.
Who starts at center for Carolina could be another major key to this game. Given Cameron Ridley's size and youth, I think the obvious choice is 260-pound Joel James. Neither player is polished on the offensive end, but throwing in a lightweight could make Ridley look like he's primed for the NBA. I say let these two mammoths go at it, and see who comes out on top.
UNC shouldn't continue sleeping on the defensive perimeter, either. They will have to ignore the three-point-shooting percentage of these Longhorns and lock them down before they get hot.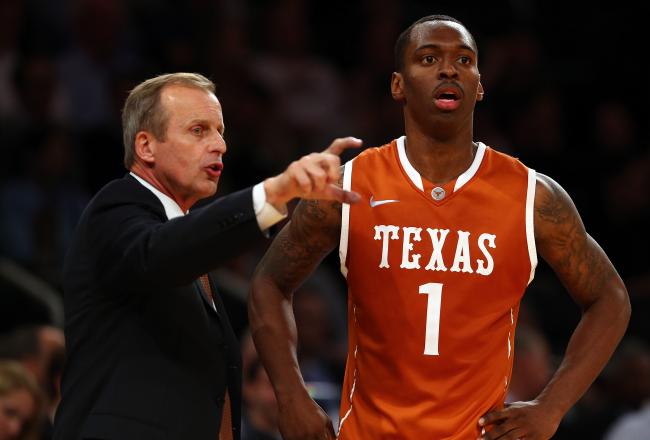 Keys to the Game for Texas:
Averaging 17.8 turnovers per game, it's going to be hard to keep the steal-happy Tar Heels out of the transition game if Texas continues that trend. The Longhorns will have to eat up the clock in the half court, playing smart ball to prevent turnovers.
That will weigh heavily on Myck Kabongo's replacement, Javan Felix, who will likely be matched up with Carolina's steal leader, Dexter Strickland.
With the Tar Heels allowing 25 three-point attempts per contest, the arc is open if the Longhorns can knock them down. That is something they have yet to do, as their three-point percentage is only 29.6. But if Sheldon McClellan, Julien Lewis and Ioannis Papapetrou can find their strokes tonight, they could make it tough sledding for the Tar Heels.
Whether their outside shots are going down or not, the Longhorns will have to keep the revolving door of UNC posts uncomfortable with the play of Cameron Ridley, Jonathan Holmes and Connor Lammert. Keeping the inside locked up will make it harder for Carolina to work inside out, leaving them fewer opportunities to bury treys.
This article is
What is the duplicate article?
Why is this article offensive?
Where is this article plagiarized from?
Why is this article poorly edited?

UNC Basketball: Like this team?