What Kendrys Morales for Jason Vargas Trade Means for Seattle Mariners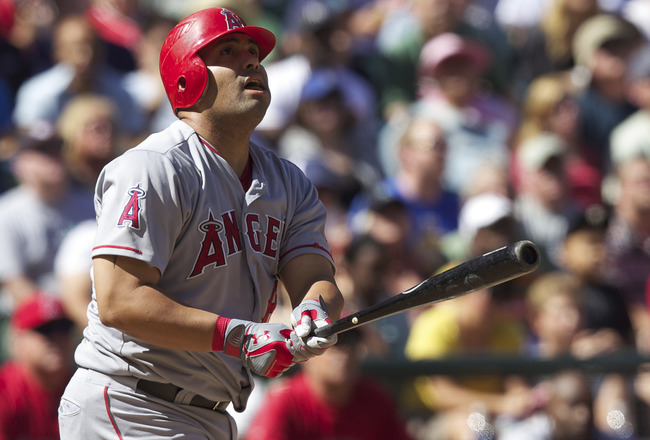 Stephen Brashear/Getty Images
Hello Hot Stove!
After writing an article just on Tuesday on the rumors surrounding the Mariners, Seattle finally made its move this offseason, none of which I talked about.
Either way, the Mariners finally upgraded their offense by trading LHP Jason Vargas to the division rival Los Angeles Angels for DH Kendrys Morales as reported by Ben Nicholson-Smith at MLBTraderumors.com.
This trade was further backed up on Twitter by Jon Morosi of Fox Sports and by Greg Johns of MLB.com:
Official: Kendrys Morales to Mariners for Jason Vargas. Morales likely to be Seattle DH.

— Jon Morosi (@jonmorosi) December 19, 2012
Can confirm #Mariners have traded Jason Vargas to Angels for Kendrys Morales. That's the middle-order bat M's need.
— Greg Johns (@GregJohnsMLB) December 19, 2012
So what exactly does this mean going forward for Seattle?
Seattle Was Worried About Vargas and the New Fence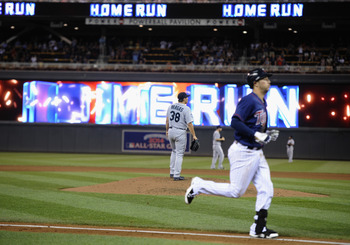 Hannah Foslien/Getty Images
The image above is something that was a concern for the Mariners before: Jason Vargas on the road.
With Safeco Field getting a face-lift this offseason, Seattle may have been nervous about the effects it would have had on its No. 2 starter.
Vargas is a fly-ball pitcher, and in the cavernous past of Safeco Field, that was absolutely acceptable. However, his home and away splits had to have been a concern for the Mariners.
I mean, look at these numbers from last season:
2012 Home Stats: 98.2 IP, W-L: 5-5, 2.74 ERA, .216 AVG Against, 9 HR Allowed
2012 Away Stats: 118.2 IP, W-L: 9-6, 4.78 ERA, .266 AVG Against, 26 HR Allowed
That's 17 more home runs allowed in an extra 20 innings, a 50-point jump in batting average and more than a two-run jump in ERA.
If management really believes the new fences in Seattle will have that much of an impact on the offense, then getting rid of Jason Vargas was something that had to be done.
Seattle Got the Most It Could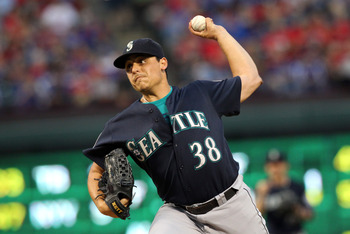 Layne Murdoch/Getty Images
So a report surfaced early Wednesday that the Angels were looking for an innings eater, but who knew it would come from inside the same division?
Look, everyone knows that Jason Vargas has been dangled at the trade deadline over the last few years, and I'm sure that the M's could have gotten a decent group of prospects for him to rebuild around.
But the Mariners have a decent group of prospects already. What Seattle got for Jason Vargas was a proven middle-of-the-order bat in Kendrys Morales, who, in 2009, finished fifth in the MVP voting with 34 homers and 108 RBI.
Most Mariners fans will remember Morales for breaking his leg after hitting a walk-off grand slam against the Seattle back in 2010, but what they should remember are the numbers he was putting up before that.
Morales was hitting just as well as he was in 2009, with a .290/.346/.487 stat line with 11 homers and 39 RBI in 51 games before the injury.
Morales had a good comeback season this year with 22 homers and 73 RBI, and is only scheduled to make $4.8 million this year, which is actually cheaper than the $7.4 million Vargas was being projected to get through arbitration.
Needless to say, this is the best haul Seattle could have gotten.
Michael Bourn Is Still in Play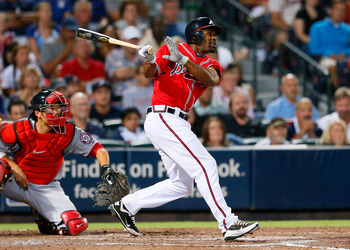 Kevin C. Cox/Getty Images
Remember how aggressive all Seattle fans have been this offseason to get a bat?
Remember how everyone wanted to see the Mariners somehow get Josh Hamilton, Nick Swisher or Michael Bourn?
Well, with the acquisition of Kendrys Morales, the Mariners did more than just get a bat. They got a bat, and left themselves open to go get another one.
Sure, Swisher seems like the choice because of his power. But signing Bourn is the smarter move here on so many levels.
First of all, placing Bourn at the top of the order allows Dustin Ackley to hit elsewhere in the lineup, making the lineup deeper as a whole.
Second of all, signing Bourn not only makes the offense better, but does so without jeopardizing Seattle's defensive strengths. Swisher isn't a horrible fielder, as he finished with a UZR of 3.4.
But that is nothing in comparison to Michael Bourn's UZR of 22.5 last season.
Seattle may be able to improve its offense vastly with the addition of Bourn, especially now that he has a big bat like Morales behind him.
Justin Smoak and Jesus Montero Are on Watch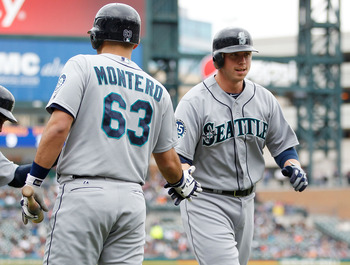 Gregory Shamus/Getty Images
So how does Justin Smoak get rewarded for his strong September in which he posted a .338/.414/.584 stat line with five homers and 10 RBI?
Well, like any other player who batted .190 before the month of September came around would have been.
Kendrys Morales was brought in not only to improve the offense, but to give the Mariners security in case Justin Smoak decided to be, well, Justin Smoak.
Morales can play first if Smoak comes out of the gate slow again next season. Hopefully, this is enough motivation for Smoak to finally live up to the billing of being the top prospect the Mariners traded for in the first place.
But Smoak shouldn't be the only one worried.
Jesus Montero's primary position other than catching is DH. If Smoak is hitting well, Morales will slide into the DH role, giving the Mariners two solid bats in the middle of the order. Unfortunately for Montero, if he can't improve on handling catching at the major league level, he may find himself on the bench if he is struggling at the plate.
In my opinion, this trade seems like a precursor to more moves for the Mariners.
Which leads me to my final point...
The Mariners Aren't Finished Yet...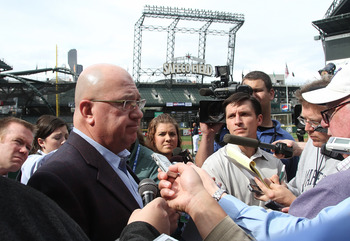 Otto Greule Jr/Getty Images
Expect the microphones to be turned up extra loud now that general manager Jack Zduriencik has finally struck a deal.
GM Z has been able to improve the lineup and possibly give free agents a reason to come to Seattle. Ownership has finally shown that it is willing to make sacrifices to win.
Sure, trading your No. 2 starter is going to hurt. But with the talented young pitching on the horizon, I don't think Vargas would have had a spot on this team come July. Seattle made the right move by trading him now to get what may be better value that what it would've gotten at any other point.
Even better, the Mariners didn't spend on a dime on this deal, as Kendrys Morales is only projected to make $4.8 million after arbitration this season. Sure, he's a free agent next season and he could leave, but that isn't something winning won't fix.
With Morales in the fold, one has to think that Seattle now looks more attractive to the remaining free agents out there, especially Nick Swisher and Michael Bourn.
I would expect Seattle to turn its attention more to Bourn at this point, as he seems to be a better fit for team needs now that Seattle got its big bat. Morales may not be Albert Pujols, Prince Fielder or Josh Hamilton, but he's still pretty good. And much cheaper.
Finally, this may open up Seattle to look into more deals, especially with the logjam between first base, catcher and designated hitter. If Jesus Montero isn't catching, all three of these players can't be in the lineup unless you put one in right field. Doing so would hurt the defense, and may actually do more harm than good.
This leads me to believe Montero or Smoak may be part of a deal down the line to help fill out the rest of the lineup.
Something makes me believe that Montero could be the most likely to go. With Mike Zunino waiting in the wings as the catcher of the future, and Morales now anchored as the designated hitter Montero is suddenly running out of places to play.
His value is still strong; however, much stronger than Smoak's, which makes me think a package of Montero and a young pitcher could help net the Mariners one more piece of the puzzle.
Of course, this is all speculation as of now. But for now, let's all rejoice that the Mariners are finally showing the dedication to winning that the fanbase has been waiting for.
Cheers, Seattle.
Keep Reading

Seattle Mariners: Like this team?