10 Reasons 2013 College Football Season Will Be Far Better Than 2012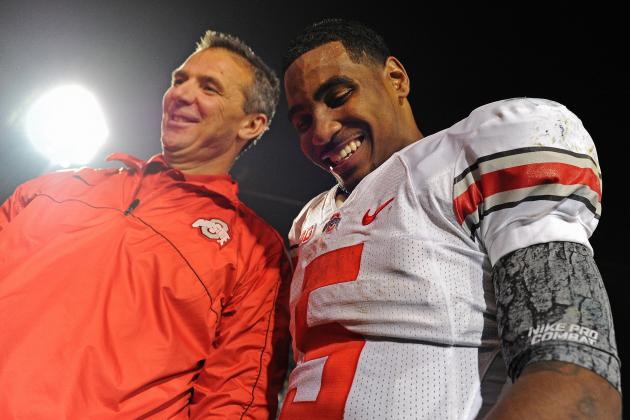 Patrick Smith/Getty Images

The 2012 college football season isn't even completely finished, and I can guarantee that next year will be better.
Don't talk to me about the surprising teams that found a way to step their game up, the last-second finishes and the national championship matchup that was a dream scenario. I have my fingers jammed inside my ears and can't hear a single word you are saying.
Many would consider this season an improvement from what we witnessed back in 2011, and you can expect the cycle to continue in 2013. In fact, it should end up being one of the better college football seasons we have seen in quite a while.
Expect the BCS to go out with a bang.
Here is why 2013 will be a better college football season than the 2012 season ever dreamed of being.
Begin Slideshow

»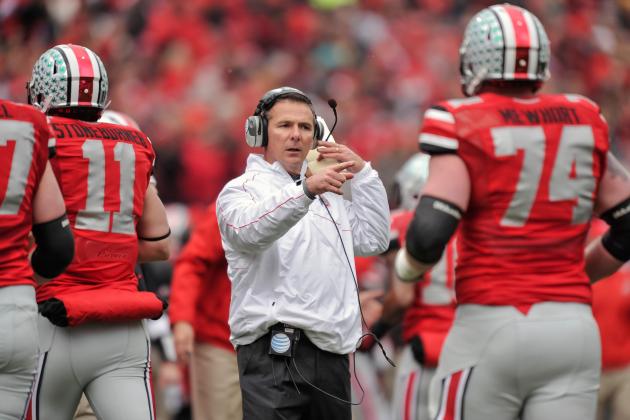 Jamie Sabau/Getty Images

This college football season could have been super-duper, but many teams were prevented from participating in the bowl season due to NCAA sanctions.
Could you have imagined what things would have been like if Ohio State was allowed in the national championship conversation? The historic matchup between Alabama and Notre Dame wouldn't have fallen into place so easily. Then we would have been able to enjoy that BCS controversy that makes college football so fun.
We would have also had a better ACC championship game matchup if Miami or North Carolina was allowed to play Florida State.
Penn State will continue to suffer, but many of the programs that weren't eligible for postseason play this year will be able to hop on board next season.
We have seen how upsetting it is having to wonder what could have been because a team decided to get itself in trouble. As long as everybody keeps their noses clean during the offseason, we will have more teams eligible for a wonderful year in 2013.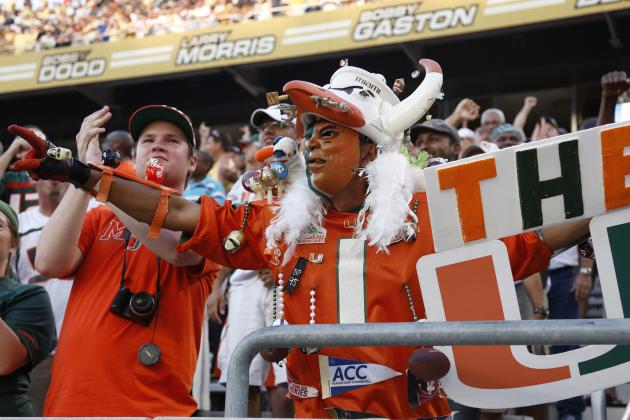 Joe Robbins/Getty Images

While we are on the topic of NCAA sanctions, we still have no idea what the NCAA has up its sleeve as far as punishing the Miami Hurricanes. However, with the program declining a bowl invite for the second straight season, as well as a trip to the ACC championship game, you would think a bowl ban is no longer in the cards moving forward.
This is a team that has taken the high road twice when it could have easily enjoyed the success and dared the NCAA to throw the book at it. The NCAA usually has compassion for things like this and should take it easy when the sanctions are released.
This isn't to say that a reduction in scholarships and probation aren't going to happen, but the postseason should be available next year.
Miami should be an improved team next season. After all, it was able to win seven games this year despite losing many key players on both sides of the ball. Much like Notre Dame, the Hurricanes are one of those teams that make the sport better when they are on top.
Head coach Al Golden still has his work cut out for him, but Miami earning just a little bit of spotlight is good for everybody.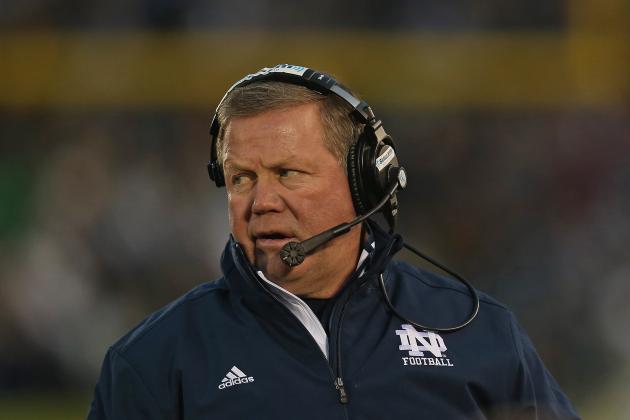 Jonathan Daniel/Getty Images

It has happened almost every season for the last decade or so. Notre Dame enters the preseason polls as a highly-ranked team and struggles to even stay in the rankings throughout the year. Everybody continues to label the Irish overrated, and the battle between fans continues.
This won't happen next season.
Notre Dame is in the national championship game right now after going from unranked to No. 1 in just 12 games. Although there are going to be a few top players leaving for the NFL draft, it appears that Brian Kelly is finally pushing the right buttons, and he has discovered the magic to turn this program into a winner.
There isn't anybody that should continue to downplay the success of this program. There also isn't anybody that can argue when the Irish are in the Top 10 of the AP poll heading into next year.
Notre Dame is relevant again!
Next year just got a whole lot more interesting.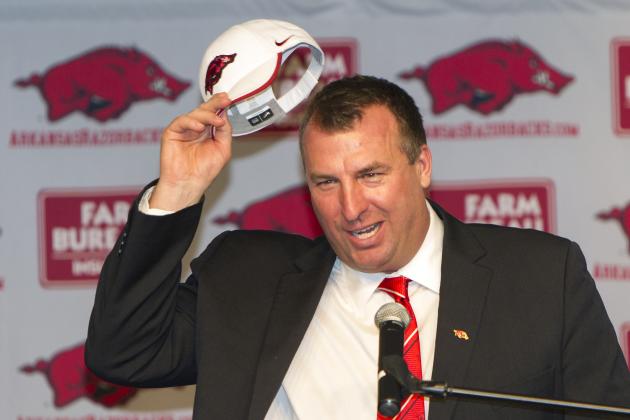 Wesley Hitt/Getty Images

There have already been a lot of head coaching changes to be excited about for the 2013 season.
A total of four SEC teams have changed head coaches, including Gus Malzahn getting back in the mix at Auburn and Bret Bielema leaving Wisconsin for Arkansas. Mark Stoops got his first head coaching job with Kentucky, and Tennessee hired Butch Jones away from Cincinnati. In addition, former Texas A&M offensive coordinator Kliff Kingsbury left the Aggies for his alma mater, Texas Tech.
Did I forget to mention that Bobby Petrino is back on the sidelines?
The coaching changes may take a while to adjust to, but this has been one of the more active seasons when it comes to the guys in charge leaving for other schools.
This is certainly something to get excited about, as we have seen this year just what a good coach can do for a program.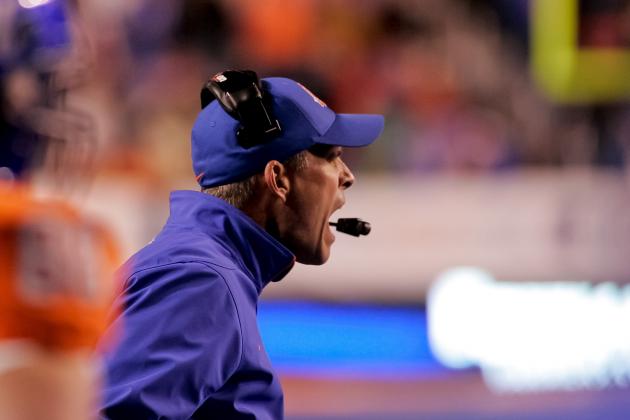 Otto Kitsinger III/Getty Images

Whether you agree with it or not, the effect that conference realignment has had on college football is mighty interesting.
Just this season, we have seen our fair share of success stories with teams leaving for the SEC and Big 12.
Next year, Pittsburgh and Syracuse will become members of the ACC. Conference USA will add teams such as FIU and North Texas. However, probably the biggest move of all will come when Boise State joins the Big East, along with teams such as San Diego State, Houston, Memphis and others.
Which programs will benefit from these changes, and which team will be begging its old conference to take it back?
The cool thing is that we have all offseason to discuss these moves. Then we can see how wrong everybody was once the season begins.
Sounds fun, right?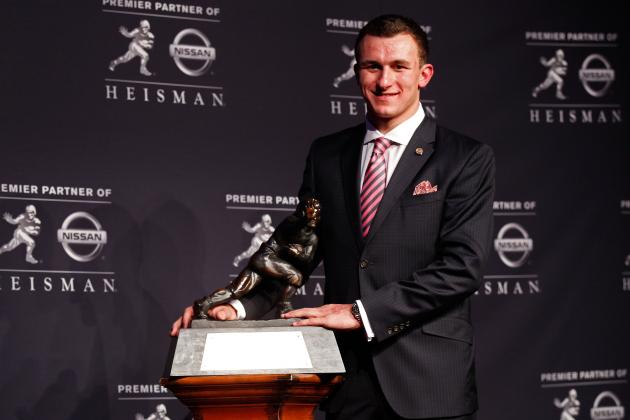 Mike Stobe/Getty Images

For as long as I can remember, we have been able to pinpoint who the Heisman front-runner was going to be for the upcoming season. Whether he ended up winning the award was a completely different story.
With many of college football's top players leaving for the draft, who do you have as the Heisman favorite for the 2013 season?
It isn't easy as it was in years past to name the guy most likely to win the award.
Johnny Manziel would likely be the most popular choice, but we all know how unlikely it is for a player to win the award twice in a career. After the Texas A&M superstar, we have a bunch of players that can be put in the same boat, from Oregon quarterback Marcus Mariota to Ohio State signal-caller Braxton Miller.
Even defensive player Jadeveon Clowney believes he has a shot at the hardware.
The race for the most prestigious award in college football is completely wide open.
Let the debating begin.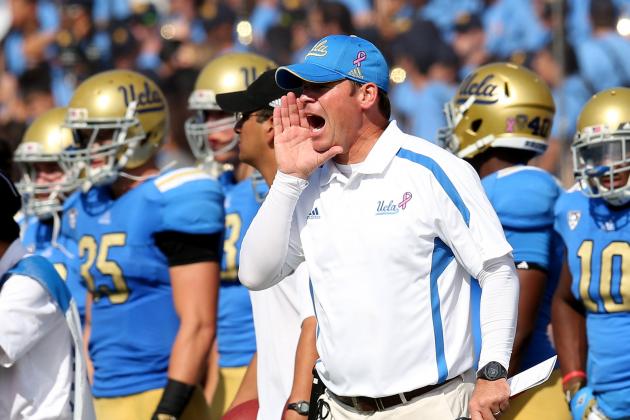 Stephen Dunn/Getty Images

Remember when it was the SEC and then everybody else?
It appears that things are slowly changing throughout the college football landscape. Oh, the SEC is still the top dog, but other conferences are making a name for themselves and were surprisingly competitive this year.
The Pac-12 wasn't just Oregon and USC like it was in years past, as UCLA, Oregon State, Stanford and others were able to hold their ground. Although the Big 12 doesn't play much defense, West Virginia, Kansas State, TCU and even Baylor showed promise at times.
Pick and choose a few from the ACC and Big East, and you have yourself a surprising season from teams nobody expected.
The good thing is that UCLA had a new head coach, Stanford is returning the majority of its team and some of the better Big 12 squads were in their first season in the conference. Having another year under the belt to get adjusted could mean that this is only the beginning of improved football throughout the country.
More competition will only make things better next season.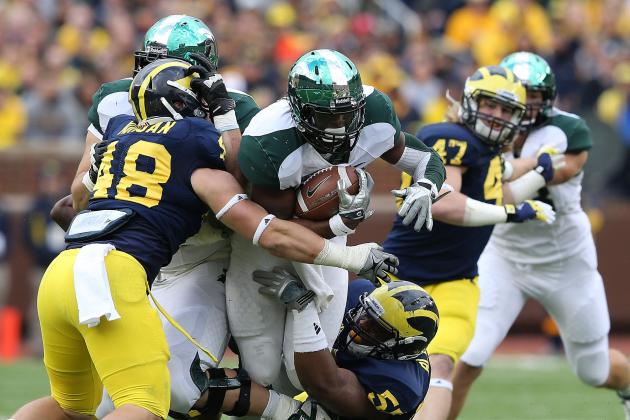 Leon Halip/Getty Images

As I mentioned earlier, the Big Ten will already be an improved conference once Ohio State is eligible to compete for a national title.
But even excluding the Buckeyes, this is a conference that can't continue to struggle the way it did this season. Besides Ohio State, there wasn't one team in the Big Ten this year that you could feel confident about heading into any ballgame. Every team was inconsistent throughout the year and painful to watch.
Programs such as Wisconsin, Nebraska, Michigan and Michigan State are all too talented and well coached to have another disappointing season. In 2011, this was a conference that had three teams win double-digit games. With the way some of these programs recruit, there is no excuse for not being a Top 25 team throughout the season.
The only way to go is up from here, which means that the Big Ten should have a better product on the field next season.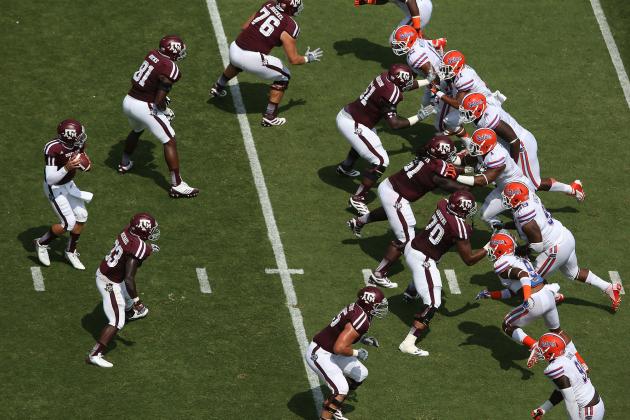 Ronald Martinez/Getty Images

The SEC has been without question the best conference in college football for the last decade. However, even then there have been your elite teams and the teams that nobody really considers a true contender.
Before this season began, everybody and their grandfather were on the LSU and Alabama bandwagons. Most were sure that the SEC title would come down to one of those two teams. While the Crimson Tide did win the conference, other teams made a strong case that they will be back next year.
Will Muschamp and his Florida Gators seem to be on track to compete for national championships. Georgia should be a strong team once again. Steve Spurrier is doing things we have never seen before from South Carolina. James Franklin has Vanderbilt on the right road, Hugh Freeze helped Ole Miss and then of course Texas A&M surprised the nation with its success.
With what we saw this year and the coaching changes from the bottom-feeder clubs, we could really be in for a treat next year in the SEC.
Just when you think things can't get any better in this conference, they do.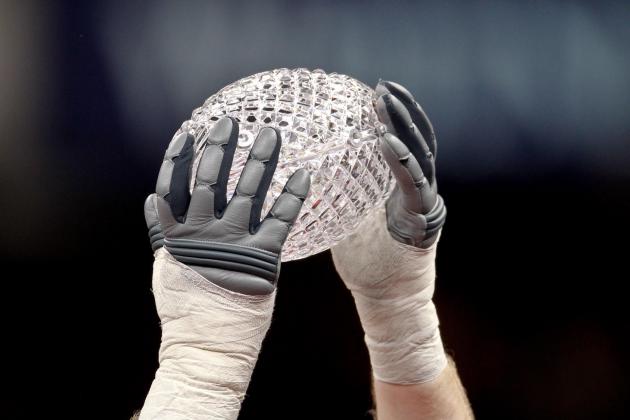 Derick E. Hingle-USA TODAY Sports

The main reason to really be excited about next year is the fact that it is the last season of the BCS format. Once the 2013 season comes to an end, we will then begin a college football playoff beginning in 2014.
This may not have much to do with next season, but if you are like me, you will be throwing parties each and every week that passes by. Each day that turns the page on the calendar means we are that much closer to a playoff system. This makes everything better in the world.
All of the hoopla of which team should be ranked where, the voters simply aren't playing fair, this guy doesn't know anything about football, how can these two teams be playing for a national championship, this team is overrated, this team is underrated—it all will soon come to an end.
Of course, until that fifth team is left out in the cold and fans want to know why.
Ah, you have to love college football, and you are going to thoroughly enjoy the next college football season.