Biggest Remaining Marquee Matchups Every NBA Fan Must See in 2012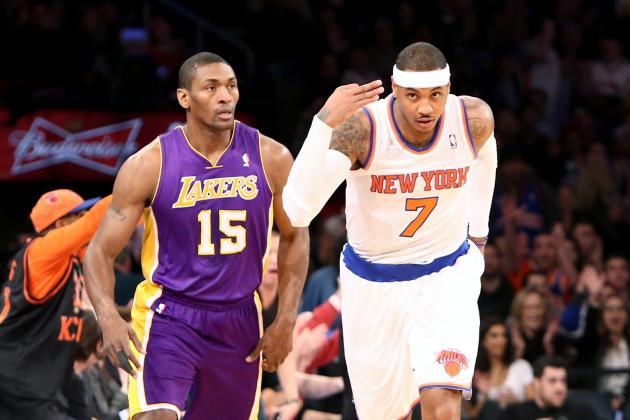 USA TODAY Sports

The year 2012 is nearly over, and it has been a great year for basketball. LeBron James earned his first championship ring, Kobe Bryant scored his 30,000th point and the 2012-13 season thus far is proving to be just the beginning of another great NBA year.
In terms of the remainder of the calendar year, some phenomenal games have yet to be played. Christmas Day gives the fans a double-whammy of a gift in a rivalry game and an epic rematch, and I have no shame in saying that I'm incredibly excited for both.
The rest of the month also has some under-the-radar games for us to enjoy, from a sprouting player rivalry to a game between scrappy squads out to make a statement.
As your friendly neighborhood NBA writer, I can only tell you one thing. These remaining games in 2012 are required viewing, and not to be missed.
Begin Slideshow

»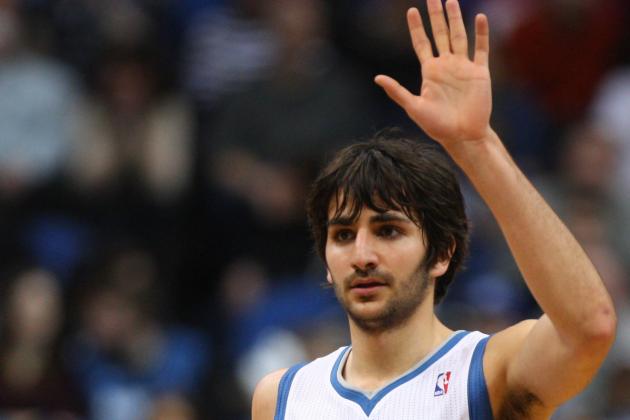 Brace Hemmelgarn-USA TODAY Sports

Houston and Minnesota will face off for the first time this season the day after Christmas, and this game should be fun for one reason. It will feature a budding player rivalry between point guards Jeremy Lin and Ricky Rubio (pictured).
Lin is still looking to find some of the lightning from last year's Linsanity as he tries to help the Rockets get back on track, and Rubio is just recently returned from a torn ACL suffered last season. Storylines aside, watching their different styles of play should be incredibly fun to watch.
Lin is more of a scoring point guard working diligently to become more of a passer in coach Kevin McHale's run-and-gun offense, while Rubio has always been a distributor first and also plays tremendous defense. It will thus be interesting to see this clash of styles, particularly since it is an interconference game and both the Rockets and Timberwolves could easily meet in the playoffs.
The game is not going to be broadcast nationally, so viewing it could be hard for those without an NBA package of some sorts. Either way, if you can find a way to take it in, you will not be disappointed.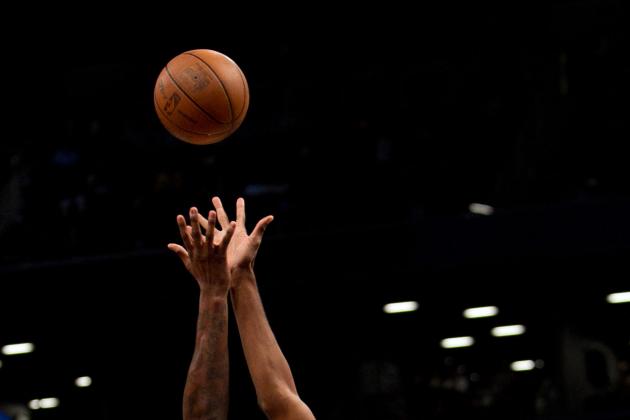 Debby Wong-USA TODAY Sports

Two of the more surprising teams this season have been the Brooklyn Nets and Philadelphia 76ers. The Nets have a good team on paper, but their 11-4 start is something nobody could have seen coming.
The Sixers are 12-13, but have still performed remarkably well. The team traded star Andre Iguodala and acquired Andrew Bynum in the Dwight Howard trade, but Bynum's knees have kept him off the court all season long. Thus, Philadelphia is without the player it hoped would be its star this season.
The team's youngsters have stepped up despite that. Evan Turner and Jrue Holiday are slowly establishing themselves as a fine 1-2 punch, providing a balanced attack on offense and some rigid defense.
This will make their matchup with the Nets all the better. Both teams are full of young and talented players out to prove themselves, which should make for a tough defensive battle on the court. Holiday's matchup with Deron Williams will be fun to watch, as will Gerald "Crash" Wallace's attempts to slow down Turner.
This is a Sunday afternoon game, and while it may not be on national television, you should definitely try and see it if you can.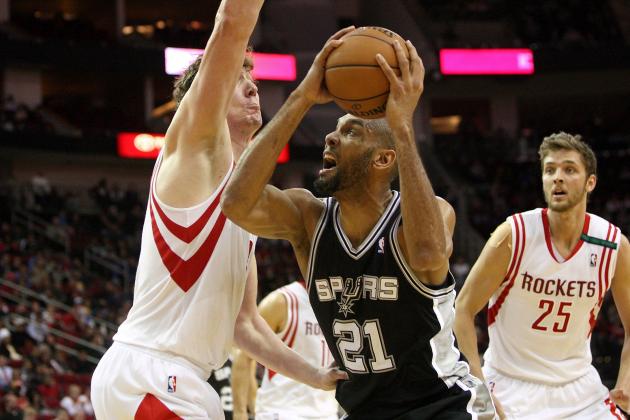 USA TODAY Sports

It's another battle for state pride when the Houston Rockets face the San Antonio Spurs for the third time this season, this time looking for their first win against the experienced, Tim Duncan-led squad. San Antonio won the first matchup in a December 7 blowout in San Antonio, and again in a close overtime win on December 10 in Houston.
The series will be back in San Antonio this time, and the Rockets will bring their feisty, fast-paced approach against a defensive squad in the veteran Spurs. It seems obvious who will win on paper, but don't count the Rockets out just yet.
Remember, Houston did manage to take San Antonio to overtime in their last matchup, and that was without star guard James Harden, who sat out with a sprained ankle. Assuming he is healthy for this game, it will be interesting to see how his fine scoring and playmaking skills match up against a fine pest in veteran and three-time champion Manu Ginobili, who still has plenty of bounce left in his step despite being 35 years old.
The fact is that this game will provide the perfect jolt of post-holiday cheer, and fans should definitely tune in if they are able.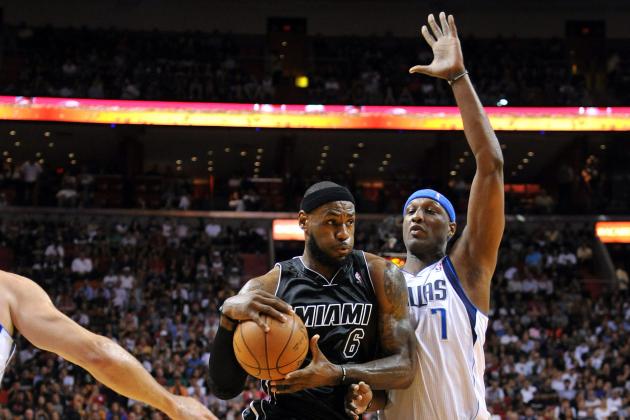 Steve Mitchell-USA TODAY Sports

No matter how many players come and go, fans still love watching rematches of NBA Finals past. That's why I'm definitely going to be tuning into TNT when the Miami Heat visit the Dallas Mavericks tomorrow night.
At first glance, Miami has a clear advantage. Not only does it have its deadly Big Three, but shooter Ray Allen has been added into the mix. Dallas, on the other hand, will be without star forward Dirk Nowitzki, who is still recovering from knee surgery.
Even though the Mavericks will be shorthanded, they are still a young team that can be fun to watch. O.J. Mayo has done a great job becoming the go-to guy on offense, and Chris Kaman has done a fine job as the man in the middle. Shawn Marion and his pesky defense must not be counted out either.
That being said, Miami has struggled this season against teams with better size than it. Dallas may not be a great team anymore, but Kaman should prove to be a tough opponent for the Heat's frontcourt.
This has the makings of a close game, depending on which chips fall into place. I don't know about you, but I don't plan on missing a single minute.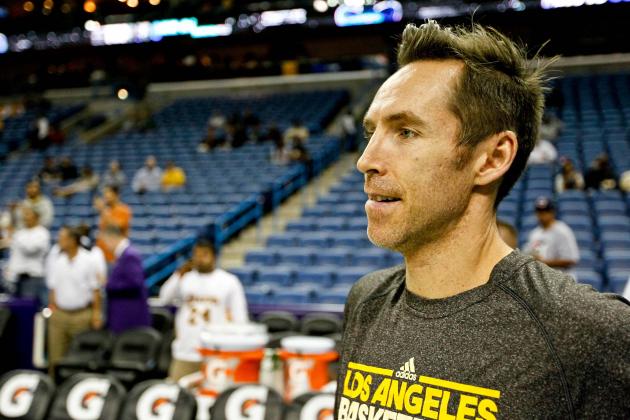 USA TODAY Sports

For all of you Lakers fans out there, this is a game you do not want to miss. According to Sam Amick of USA Today, this is the game that point guard Steve Nash is targeting for his return. The two-time MVP has been limited to just two games thus far, after suffering a small fracture in his leg against the Portland Trail Blazers on October 31.
Granted, the Lakers already defeated the Warriors without Nash once this season, on November 9, but that was right after the absolute wrong coach for the team in Mike Brown was fired. In reality, Golden State is a young and passionate team that plays a system very similar to Mike D'Antoni's run-and-gun offense.
Nash's experience and leadership are the key to the Lakers succeeding under D'Antoni, and they'll need it on the road against Golden State. This one won't be broadcast nationally, but should be a lot of fun to watch.
If you can, check it out!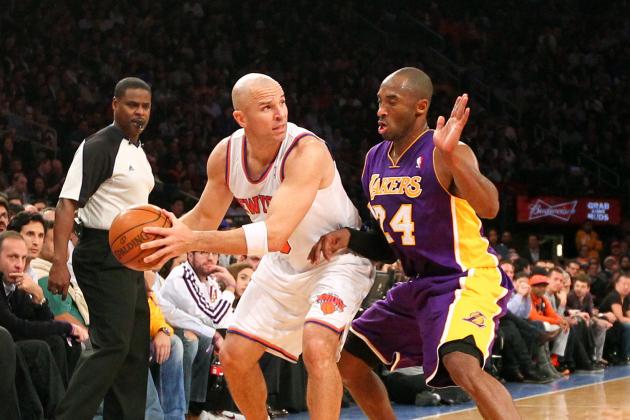 USA TODAY Sports

The Knicks and Lakers will take their rivalry west on Christmas Day in a game set to be broadcast nationally, on ABC. Both teams met at Madison Square Garden on December 13, with the balanced Knicks defeating the Lakers 116-107.
The circumstances will be different this time. Not only will the Lakers have home-court advantage, but they will also have Steve Nash back in the lineup. With him running Mike D'Antoni's fast-paced offense against the defensive Knicks, the clash of styles should be excellent to witness.
New York could also have Amar'e Stoudemire back at this point, as he was targeting this game as his return date from knee surgery.
Whether or not Stoudemire is back for this game or not shouldn't matter much, as New York has performed excellently without him in the lineup and has already once beaten the Lakers. Just the same, he and Nash are old teammates and friends. To see them on the court together, even on opposing teams, would be heartwarming during a holiday game.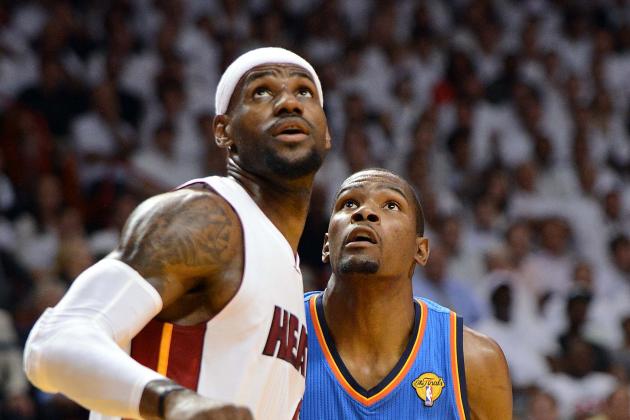 Steve Mitchell-USA TODAY Sports

These two teams last faced off in the 2012 NBA Finals, and Miami won in five games. Oklahoma City will make its first return to South Beach since then, and it will be out for revenge.
Kevin Durant and Russell Westbrook are playing some of the best basketball of their entire NBA careers, and the Thunder hold the NBA's best record even after trading star sixth man James Harden to Houston before the start of the season. Kevin Martin has done a great job in filling his role, and Oklahoma City looks primed to head back to the NBA Finals and avenge last year's loss.
Before that, however, it must make a pit stop in Miami to take on the Heat, once again on national television. Durant will surely be fully locked in as he and his teammates look to get their revenge on the team that robbed them of championship glory last season.
Of the five games being broadcast on Christmas Day, this is going to be the one nobody should miss. The adrenaline will be pumping, and the Thunder will likely play a bit angry as they look for vengeance.
No matter how you look at it, this has the makings of the game we all talk about at the end of the season.