Two weeks left in the NFL season and there are still five playoff spots up for grabs. That means there are plenty of important games on the docket for Week 16. Teams chasing berths have no margin for error and they know it, adding to the intrigue.
In reality, it shouldn't be a major surprise there are so many teams with hope of making the playoffs after a season where parity has often ruled supreme. Aside from a few elite teams, there has been very little difference between the playoff hopefuls.
With that in mind, let's analyze three teams that should be able to emerge with key victories this weekend.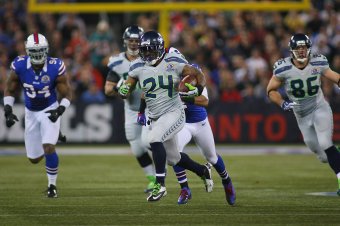 Rick Stewart/Getty Images
Seattle Seahawks
The Seahawks go up against the San Francisco 49ers and upstart quarterback Colin Kaepernick. The second-year rising star has taken the league by storm in recent weeks, but he's never faced anything like what he'll see at CenturyLink Field on Sunday night.
Seattle has the best home-field advantage in the league. The Seahawks are 6-0 at home, including wins over the New England Patriots, Green Bay Packers and Dallas Cowboys. They struggle on the road, but in front of the 12th man, they are a completely different—and better—team.
It also helps that the Seahawks have an impressive young QB of their own in Russell Wilson. He carved up the Buffalo Bills' defense last week en route to four touchdowns. Add in Marshawn Lynch, the second-ranked scoring defense and home field, and Seattle has enough to pull out the win.
Which of these playoff hopefuls is the most dangerous?
New York Giants
As the Giants prepare to face the Baltimore Ravens, the outlook is murky as they look to defend their title. They got crushed by the Atlanta Falcons last week and now sit behind both the Washington Redskins and Dallas Cowboys in the division.
Yet, it's impossible to count the Giants out because they always seem to play their best when the odds are against them. Not only does their level of play tend to rise, but they usually end up catching a few breaks along the way, as well.
Eli Manning and Co. are catching the Ravens at the right time. They have lost three straight games due to a combination of uncharacteristic poor defense and a Joe Flacco slump. As long as the Giants' vaunted pass rush gets pressure, they will come out on top.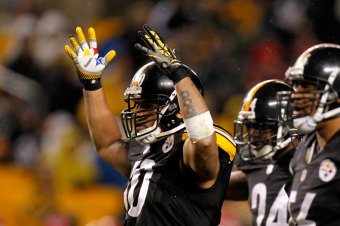 Gregory Shamus/Getty Images
Pittsburgh Steelers
The Steelers have already knocked off the Cincinnati Bengals once this season. A repeat performance on Sunday and they will control their own destiny heading into Week 17. On the flip side, a loss would bring an end to their playoff dreams.
In the NFL, it all comes down to matchups. The Steelers are a bad one for Cincinnati. They have won five straight games against the Bengals and their combination of an elite defense and solid passing game gives the Bengals big problems.
Even though Cincinnati did make the playoffs last season, Pittsburgh is better built for this type of must-win game. It has experience on its side, and that's crucial in big moments. Due to that, expect the Steelers to escape with a narrow victory.