BJ Penn Taking Time to Consider Retirement Following MacDonald Loss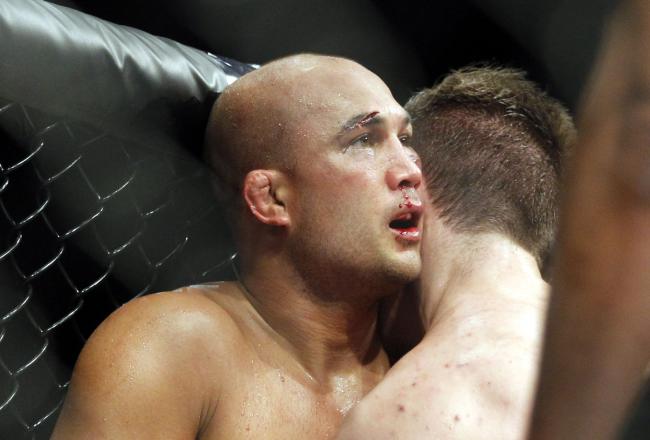 Joe Nicholson-USA TODAY Sports
BJ Penn still hasn't decided whether he'll hang up his gloves for good after his inglorious loss to welterweight Rory MacDonald.
The former two-division UFC champion was talking to AXS TV's Inside MMA when he answered a question, via email, about whether he intends to retire (H/T MMA Mania)
"I am taking some time to figure it out," he said.
His loss to rising star MacDonald at UFC on Fox 5 on Dec. 8 in Seattle was his second straight. After his previous loss to Nick Diaz in October of 2011, Penn dramatically announced his retirement inside the cage in his post-fight interview with Joe Rogan.
However, Penn came out of retirement when the opportunity to face MacDonald—who trains at the same TriStar gym as Georges St-Pierre in Montreal—was dangled in front of him.
GSP beat him twice in previous encounters, and Penn had said he'd love to get his revenge against TriStar with a win over MacDonald.
Instead, the young Canadian battered the former 155-pound and 170-pound champ for three rounds, leaving him dejected and defeated exiting the Octagon.
Immediately after Penn's loss, UFC president Dana White also called for the Hilo native to hang up his gloves (via MMA Mania):
"He didn't say it tonight but I think BJ is probably going to retire. I wouldn't mind seeing that. He came back with a fire lit under him. BJ is a warrior. Talk about a guy who doesn't give up, doesn't quit, and just keeps coming. I have so much respect for BJ. I always have, even through the good times and bad times. I'd like to see him retire. He's got plenty of money, he's got a great family that loves him, he's got babies, a beautiful wife ... He has nothing left to prove to anybody, and everybody loves him. You heard the arena here tonight. I'd like to see BJ retire."
At 34, he's far from over the hill. Other fighters, still at the top of their game, are older than him, such as Dan Henderson, Vitor Belfort, Fabricio Werdum, Lyoto Machida, Jon Fitch, Chael Sonnen and, of course, the middleweight champ Anderson Silva.
But in both of his recent fights at 170 pounds, Penn looked dwarfed and out-muscled. Before moving back up to welterweight, he had great success at lightweight, winning the belt and defending it multiple times.
However, even if it does go back to 155 pounds one last time, he'll find a division much more stacked than the one he walked away from in 2010. With men such as Benson Henderson, Nate Diaz, Anthony Pettis, soon-to-be Gilbert Melendez and perhaps Eddie Alvarez battling for recognition, there doesn't seem to be much room for Penn inside the UFC anymore.
This, and more, will likely play on his mind as he considers the next step in his career.
This article is
What is the duplicate article?
Why is this article offensive?
Where is this article plagiarized from?
Why is this article poorly edited?