Western Carolina Catamounts vs. Tennessee Volunteers Game Preview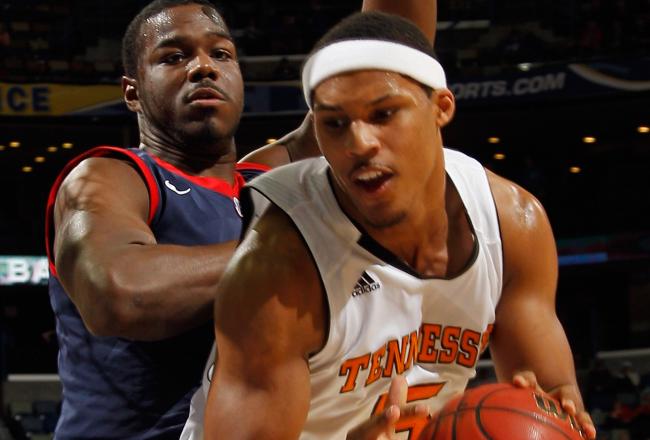 Western Carolina and Tennessee Meet For The First Time Since 2002
Chris Graythen/Getty Images
Western Carolina (4-7, 2-0 SoCon) at Tennessee (6-3, 0-0 SEC)
Dec. 21, 2012, 7 p.m.
Thompson-Boling Arena (21,678)
Preview

Western Carolina heads just up I-40 to face Tennessee in a non-conference battle on Friday night in the Catamounts' final game before the Christmas holiday.
The Catamounts and Volunteers will be meeting for just the eighth time, with Tennessee holding a commanding 6-1 all-time series advantage.
The Catamounts have faced an especially tough non-conference slate, playing the likes of Georgetown (81-68) and Illinois (72-64) in the early going, showing well in both of those games against ranked foes.
The Catamounts, who have already gotten off to a 2-0 start in Southern Conference play, last defeated the Volunteers back in 1993, with the likes of Frankie King and current assistant coach Anquell McCollum helping lead the charge for Western in the 63-51 win in Knoxville.
The Volunteers and Catamounts share several common opponents so far this season, including Wichita State, UNC Asheville and Georgetown. Western dropped all three games to common foes, while Tennessee went 2-1 against the common foes, with the only loss coming in a 37-31 setback to Georgetown.
Western dropped its last game on the hardwood this past weekend, dropping a 13-point decision to Georgetown the last time out. In that contest, the Catamounts got superlative performances from Tom Tankelewicz and Trey Sumler, who accounted for two of the three Western players in double figures in the contest, with 24 and 11 points, respectively.
Tankelewicz's 24-point performance represented a career-high performance, eclipsing the previous career-high performance of 19 points in the SoCon win over Appalachian State. Tankelewicz's 36 triples this season lead the league.
In total, Tankelewicz enters Friday's contest against the Volunteers averaging 11.6 PPG and 3.0 RPG, and enters Friday night's contest having reached double figures in seven of the Catamounts' 11 games this season.
Tankelewicz will be joined in the backcourt by two pretty solid players in their own right, as both Sumler (15.7 PPG, 4.5 RPG) and James Sinclair (7.7 PPG, 3.9 RPG) round out the starting trio in the backcourt for the Catamounts on Friday night.
Sumler has been the go-to-scorer for the Catamounts this season, as he comes into the contest ranking fourth in the Southern Conference in scoring this season, averaging 15.7 PPG.
Sumler can also be a dangerous perimeter shooter for the Catamounts, as he enters the contest against the Volunteers ranking second on the club in three-pointers made this season, with 21 triples on the campaign. Sumler is shooting 44.7 percent (21-of-47) from three-point range this season. Coming into Friday night's contest, Sumler has recorded nine double-figure scoring performances this season, with a season-high 25 points in a 92-81 loss to Western Kentucky.
Sinclair comes into Friday night's contest having made five starts in 11 games for Larry Hunter's Catamounts this season. He has four double-figure scoring performances for the Catamounts this season, including having scored in double digits in three out of the last four games for Western. He enjoyed his best performance of the season against Illinois, posting 13 points in the loss to the Illini.
The Catamount front court will consist of both King and Preston Ross (8.2 PPG, 4.2 RPG), who have both served the Catamounts well in the paint this season.
King has started the past 46 games in a Catamount uniform. He has been one of the hardest workers on the Catamounts roster the past couple of seasons, and he comes into Friday's contest having posted double figure scoring performances in the first 10 games of the season, including his lone double-double of the season coming in the season opener against UNC Asheville, with 13 points and 10 rebounds.
Ross has been a consistent performer for the Catamounts in first two-plus seasons in Cullowhee, and he, like King, is a hard worker on the interior for Larry Hunter's Catamounts. The undersized forward makes up for what he lacks in height with his size and strength on the interior. This season, Ross has four double-digit scoring performances on the season, with a season-high 19 points coming against Western Kentucky.
Coming off the bench, the Catamounts have gotten excellent production out of Brandon Boggs (9.5 PPG, 3.7 RPG), who has started six games this season and can play either the wing guard position or in the post, as well as freshman guard Mike Brown (3.2 PPG, 2.9 RPG), who has provided good depth in the backcourt coming off the bench for the Catamounts.
Boggs has started six games this season and is one of the team's best defenders. He comes into Friday night's contest having posted his best outing of the season in the loss to Illinois, finishing with 16 points and six boards in what was an eight-point loss.
As a team, Western Carolina is averaging 71.9 PPG, and comes into Friday night's contest ranking fourth in the Southern Conference in scoring offense. Meanwhile, Tennessee has one of the best scoring defenses in SEC Basketball, having not allowed an opponent to score more than 69 points all season.
The Volunteers are under the direction of second-year head coach Cuonzo Martin, who led the Volunteers to a 19-15 mark in his first season at the helm. The expectation for the Volunteers this season is the NCAA Tournament.
Tennessee also has some Southern Conference ties within in its coaching staff, with former Appalachian State head coach Houston Fancher now an assistant on Martin's staff. The Volunteers come into Friday night's contest having been led by junior guard Trae Golden (13.6 PPG, 3.7 RPG), who is one of three Tennessee starters averaging in double figures this season.
Golden is joined in the backcourt by both Skylar McBee (7.0 PPG, 1.0 RPG) and Jordan McRae (10.1 PPG, 3.0 RPG), who have both been able to add some scoring punch along with Golden this season. McRae joins Golden in double-digits scoring average, and Golden, who plays the point, leads the club with 5.0 assists per game.
The club has been led from three-point range this season by McRae, who has canned 17 triples on the campaign and is connecting on 34.3 percent (17-for-50) from long-range this season. Golden has registered double figures in the win over Wichita State, posting 25 points.
One of the most impressive freshmen in the SEC last season was post performer Jarnell Stokes (11.9 PPG, 7.7 RPG), as he garnered SEC All-Freshman honors for the 2011-12 season, and he is one of the best athletes on the Tennessee roster. Stokes has two double-double performances this season, including his best performance of the season, which was a 24-point, 12-rebound contest in the 83-69 win over UMass.
Stokes will be joined in the paint in the starting five for the Volunteers by sophomore Josh Richardson (6.3 PPG, 4.9 RPG), who plays more like a wing guard than an actual post performer.
Richardson is pretty much the Brandon Boggs of the team and is long and athletic, as well as being the team's top perimeter defender. With Jeronne Maymon out with injury, Richardson's role has become much more important for the Volunteers this season. Maymon proved to be one of the SEC's top rebounders a year ago.
The Volunteers bench will look for production from Kenny Hall (6.9 PPG, 5.8 RPG), who will be looking to return from a hamstring injury, which forced him to sit out the win over Presbyterian earlier this week. Junior guard D'Montre Edwards (3.6 PPG,2.5 RPG) and center Yemi Makanjuola (2.7 PPG, 3.1 RPG) have provided adequate support off the bench this season.
Tennessee's long, athletic guards might be tough for the Catamounts to handle, and rebounding the basketball has been something that the Volunteers have done pretty well in Martin's first two seasons in Knoxville, and the Volunteers come into Friday's matchup sporting a plus-6.0 rebounding margin against foes this season. The Catamounts, meanwhile, rank ninth in the SoCon in rebounding margin, with a minus-1.9 entering Friday's contest.
The Catamounts should keep it close for a while, but Tennessee will be able to pull away with its size underneath the basket and pull out a hard-fought win in Knoxville against Larry Hunter's scrappy bunch from Cullowhee.
Final Score Prediction: Tennessee 72, Western Carolina 63
This article is
What is the duplicate article?
Why is this article offensive?
Where is this article plagiarized from?
Why is this article poorly edited?