Pacquiao vs. Marquez: Predicting Who Fighters Will Face Before Another Rematch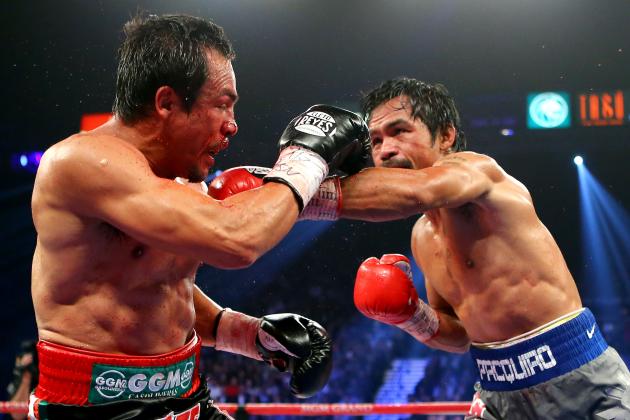 Al Bello/Getty Images
Juan Manuel Marquez and Manny Pacquiao engaged in yet another war.
Manny Pacquiao and Juan Manuel Marquez put on a good show in their fourth fight together, as they have in every fight of their classic series, but will these aging legends fight again or hang up their gloves?
Both men have made millions of dollars boxing. If they are to step in the ring again, each will likely face an interim opponent to sharpen their skills before a fifth and final showdown together.
Who that interim opponent will be is going to be a strategic selection. Here's my take on who those opponents will be and why.
Begin Slideshow

»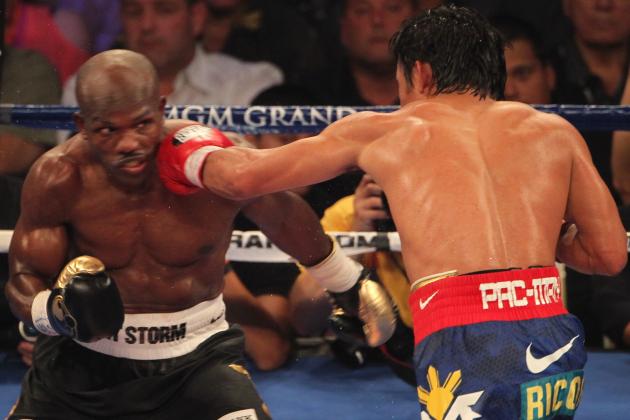 Jeff Bottari/Getty Images
Timothy Bradley and Manny Pacquiao engaged in their first controversial battle.
Manny Pacquiao lost a controversial decision to Timothy Bradley in their first meeting this past June. Bradley couldn't inflict damage on a more active Pacquiao while tripping over himself to avoid punches.
This is the perfect fight to bounce back with. Bradley hasn't got a knockout punch and Pacquiao fans still desire to see him get his revenge on the American boxer who took his welterweight title.
The Filipino warrior showed more aggression against Marquez than in their previous battle, although to his detriment, but that increased aggression may reward him with a win over Bradley, possibly by knockout.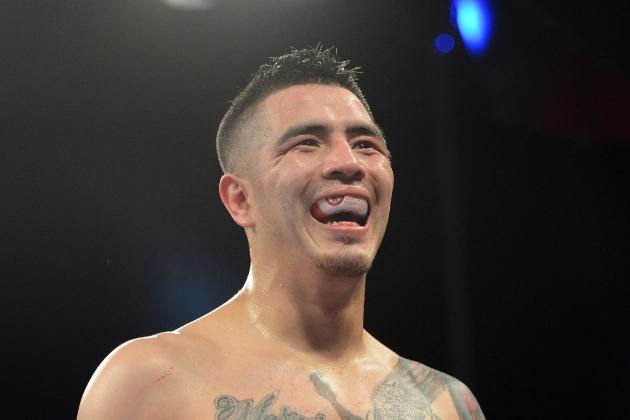 Harry How/Getty Images
Brandon Rios smiling in victory.
Juan Manuel Marquez has always been at his most exciting when he faces a young savage who likes to come forward.
From Michael Katsidis to Juan Diaz, Marquez beat them in thrilling Fight of the Year contenders. This year, along with Pacquiao-Marquez IV, Brandon Rios vs. Mike Alvarado proved to be a sensational match.
Rios defeated Alvarado by TKO in Round 7 after a brutal back and forth that spilled enough blood to satisfy anyone who was fortunate enough to see it.
Marquez, as a counterpuncher with all his abilities still intact, would likely win, but the titanium chin of Rios and his never-die heart would make it a great show that has Fight of the Year written all over it.
Marquez's status as Pacquiao's conqueror mixed with Marquez-Rios being by far the most high-profile all-Mexican fight in years, hosting the match at the Cowboys Stadium in Texas makes too much sense.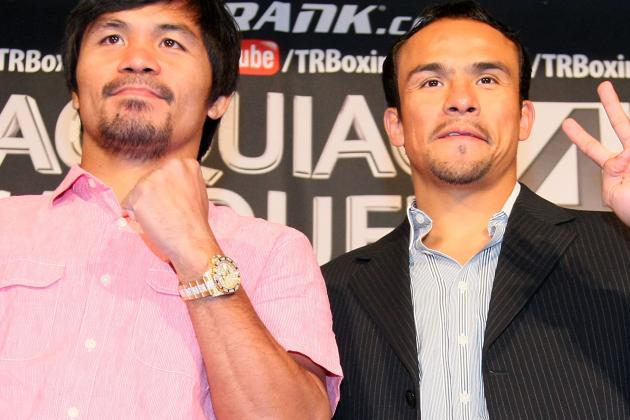 Victor Decolongon/Getty Images
Pacquiao and Marquez standing side by side to promote yet another grudge match.
Let's say Pacquiao gets revenge and Marquez wins a thrilling Fight of the Year shoe-in against Rios, what then? Pacquiao-Marquez V? Not so fast.
Marquez turns 40 next year and Pacquiao has been through enough. Both fighters have given this sport enough memories to talk about for a very long time.
While a fifth fight would be of interest, it's hard to not feel this is the proper ending. Let both men go out on wins versus someone else and then leave the sport with enough respect for their bodies not to fight again.
Marquez, even in victory, banged himself up pretty good. The type of knockout Pacquiao suffered has professionals such as Floyd Mayweather Sr. questioning what he has left.
If these two should fight again, it should be a final match. Sugar Ray Robinson fought Jake LaMotta six times during their famous rivalry, but the majority of those times were during their younger years.
Pacquiao and Marquez are no longer young men. They're aged kings of the squared circle who deserve to go out on their thrones rather than on their shields.