Diva Debate No. 6: Year-End Awards Edition (Dec. 19, 2012)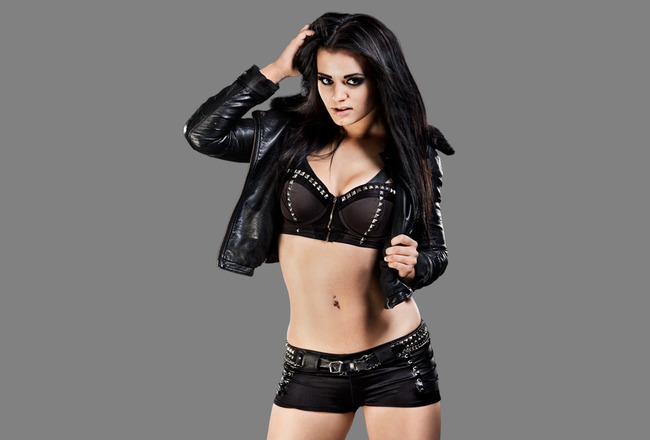 Photo Credit: WWE.com

Welcome to the sixth installment of Diva Debate!
For weeks, readers have cast their votes in a number of different categories for the very first Diva Debate year-end awards. Those votes have been cast, counted, and today, the winners will be revealed.
Who won the prestigious Diva and Knockout of the year awards? How about "Moment of the Year" and "Future Star?" And what match captured your attention en route to winning "Match of the Year?"
Join me as I answer all of these questions, provide expanded coverage of this week's Divas action and reveal the next opportunity for Diva Debate reader involvement.
So sit back, relax and click that "next" button in the lower right-hand corner of your screen because, like a pay-per-view that kicks off with a heavyweight title match, we start with the biggest award of the year: Diva of the Year.
Diva of the Year: AJ Lee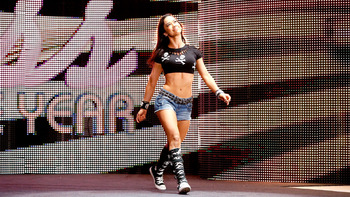 Photo Credit: WWE.com
Is it really that much of a surprise?
Not since the days of Trish Stratus, Lita and Stephanie McMahon has a woman enjoyed the featured performer status and abundance of television time as AJ has in 2012.
She has played the sympathetic girlfriend, the mentally unstable stalker-type and the authority figure to varied degrees of success, all the while becoming the most popular female in the sport.
Throughout the year, AJ interacted with the top names in the industry, including John Cena and CM Punk, resulting in her becoming one of the most prominent figures in the business.
AJ Lee transcended the role of Diva and became so much more. As 2013 rapidly approaches, AJ has embraced her inner heel, adopting the role of psychotic, unstable girlfriend of WWE's resident Show Off, Dolph Ziggler. Now, with a boyfriend on the verge of becoming World Heavyweight Champion and a "friend" like Big E. Langston repeatedly running over John Cena, it appears as though AJ's run at the top of Vince McMahon's billion-dollar empire is only just beginning.
Moment of the Year: Stephanie McMahon Returns at Raw 1000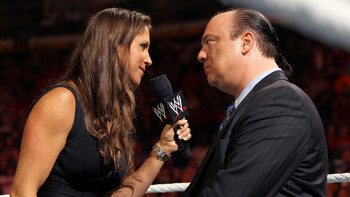 Photo Credit: WWE.com
Raw 1000 saw a number of memorable returns, including all of D-Generation X, the APA and Lita (to name a few), but none quite matched the intensity of Stephanie McMahon's confrontation with Paul Heyman.
Leading up to the monumental showdown between Triple H and Brock Lesnar at SummerSlam, Lesnar's associate, Paul Heyman, insulted "The Game" on a number of occasions, going so far as to bringing into question his role as a father to his children. That would not only incite rage in the 11-time champion, it also ignited a fury in his wife that would draw her back to television for the first time in years.
Stephanie would issue a threat to Heyman before pouncing on him and assaulting him with a flurry of open- and closed-fist strikes. It was one of the most memorable moments of the broadcast and a pivotal point in the Lesnar-HHH feud.
Unfortunately, it would be the only time we would see Stephanie on WWE television as a performer in 2012.
Fan Favorite of the Year: Natalya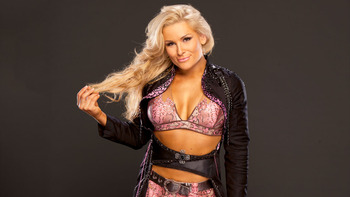 Photo Credit: WWE.com
To say that 2012 was, professionally, a disappointing year for Natalya would be an understatement. Often left to participate in multi-Diva tag matches or serving as fodder to women on the receiving end of pushes most believed she deserved, Natalya had a very unmemorable year.
The silver lining in that cloud, however, is that she has a very passionate fanbase that continued to support her even when it seemed as though no high-ranking official in WWE would. Her fans voiced her opinions that she deserved better, calling for an increased role and a chance to have real wrestling matches.
Natalya's bubbly personality and seemingly always-positive attitude also garnered the support of diehard wrestling enthusiasts, all the while continuing to be one of the most underutilized talents in recent WWE history.
With a Divas division in constant upheaval and the departures of so many occurring as of late, perhaps 2013 will be kinder to the third-generation Diva.
TNA Knockout of the Year: Brooke Tessmacher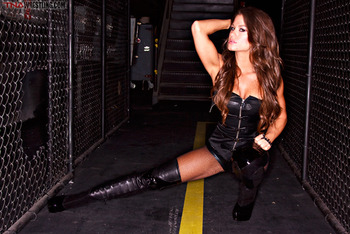 Photo Credit: TNA Wrestling/Lee South
In what was undoubtedly a disappointing year for the TNA Knockouts division, there was one woman who managed to not only have the best match of her career, but also provide a glimmer of hope for a fresher face on top of the company's women's roster.
In 2012, Brooke Tessmacher elevated her game to the point that she was no longer just a pretty face. She became a popular performer who had learned from those around her how to become a competent wrestler.
Her improvement was so great that she was rewarded in June, in front of her hometown fans, with a Knockouts Championship victory over Gail Kim at Slammiversary. It was a tremendous moment, and one that appeared to launch Tessmacher into the stratosphere. She was, clearly, the new face of the Knockouts roster and the woman who could run with the proverbial ball.
Unfortunately, her run did not last long, and by year's end, she was not even on television regularly, let alone leading the Knockouts into the roster.
Regardless of whether or not the creative team let her down, Brooke Tessmacher made the most of the push she was given, making a mark on fans with her performances in 2012 that led to her running away with the Diva Debate award for Knockout of the Year.
Future Star Award: Paige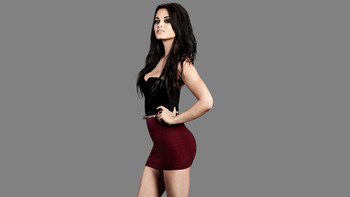 Photo Credit: WWE.com
The standout Diva of NXT, Paige has made a name for herself dating back to her days on the independent circuit as Britani Knight.
In her time with WWE developmental, Paige has impressed even the harshest of critics in matches with Audrey Marie, Summer Rae and even current Divas such as Alicia Fox.
With wrestling skills far superior to those of the other developmental Divas and a look that is different from your traditional woman in wrestling, Paige has the tools to make an immediate impact on whatever show she is eventually called up on.
For that reason, she is your 2012 Future Star Award winner.
Match of the Year: Beth Phoenix vs. Natalya (Smackdown, Sept. 28)
A match that was not even on the original ballot, but a match that readers selected as the best of 2012.
In her hometown of Buffalo, Beth Phoenix faced Natalya in a match that gave fans a hint of what two talented women in sports-entertainment could do when given the opportunity.
With just around five minutes to have their match, Natalya and Beth gave the fans the dream match they had been waiting for. Packing a lot of action into one short period of time, they proved why they were the two most talented female in-ring performers in the company.
Escaping the Sharpshooter, Beth would go on to defeat her real-life friend, scoring the win with a victory roll.
It would mark the last real match for Beth Phoenix in World Wrestling Entertainment.
Gone But Not Forgotten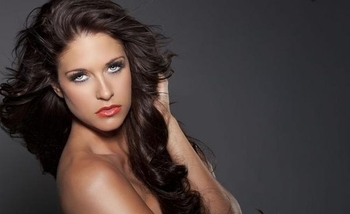 Photo Credit: Barbie Blank's Twitter/SNAPS Studio
In 2012, World Wrestling Entertainment parted ways with the Bella Twins, Kharma, Kelly Kelly and Beth Phoenix. All were tremendous losses for the company and left the Divas roster with a number of holes to attempt to fill.
Brie and Nikki Bella and Kelly Kelly were former Divas Champions whose in-ring abilities often played second fiddle to their tremendous beauty, but that did not stop any of the three from working hard to improve. By the time they departed from WWE, they had all come into their own as both in-ring performers and overall sports-entertainers.
Since departing, Kelly (real name: Barbie Blank) has released a swimsuit calendar, available at her official site, and has been keeping busy modeling and hosting events, such as this past weekend's Toys for Tots drive.
The Bellas (real names: Nicole and Brianna Garcia) have appeared on NFL Network, displaying their fantasy football smarts, all the while enjoying time off from the grueling traveling schedule of WWE. You can keep up with them at their official Twitter account.
Kharma's release came as somewhat of a surprise, as most believed she would return to the company after she emotionally dealt with the loss of her child sometime in late 2011, early 2012. Her appearance at the Royal Rumble proved that fans were ready to welcome her back with open arms. However, reports that she was not in shape and was becoming increasingly difficult to work with spelled her demise in the company.
Since leaving WWE, Kharma (known to most as Amazing Kong) has returned to the independent circuit.
Beth Phoenix's six-year WWE career came to an end when she turned down an offer to extend her contract, opting to take time off from the wear and tear of the road and move onto other things. On screen, her departure came when she was fired by Vickie Guerrero for losing to AJ Lee. It was a very disappointing, potentially disrespectful way to say goodbye to one of the most decorated, talented women in the history of Vince McMahon's company.
Since then, Beth has been enjoying life and connecting with fans via her official Twitter account.
The Week in Review: AJ Stuns Cena, Woos a Show-off and Debuts a Friend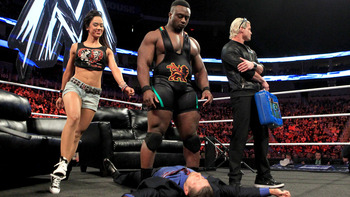 Photo Credit: WWE.com
At Sunday's TLC pay-per-view, AJ Lee cost John Cena the opportunity to win the Money in the Bank briefcase by shoving over the ladder he was standing on to the shock and awe of the WWE Universe.
On Monday's Raw, she refused to reveal her reasoning for such a move, but she did capture a Slammy award for the kiss she shared with the leader of the Cenation just weeks earlier. More importantly, she planted a long lip-lock on the man she helped to victory Sunday, Dolph Ziggler, much to the chagrin of acting Raw authority figure, Vickie Guerrero.
Enraged, Vickie set up a main event for Raw in which she would team with John Cena to meet Ziggler and AJ. In that match, AJ and Vickie would momentarily interact before the latter walked out, drawing Vickie with her. Moments later, Lee would return with NXT star Big E. Langston, who would leave John Cena laying as Raw went off the air.
SPOILERS follow if you have not seen this week's SmackDown
On Tuesday's live SmackDown broadcast, AJ's motivations became clearer when she, Ziggler and Langston appeared on Miz TV. Claiming that John Cena toyed with her emotions, showing little regard for her or the work she put into making him happy and protecting his image, she said she had found a real man in Dolph Ziggler, someone who would not treat her like trash.
From there, she introduced her "friend," Big E. Langston, who, as she revealed, did not take kindly to other Superstars or Divas who referred to her as "crazy." Langston, upon being given the signal from Dolph Ziggler, laid waste to the wise-cracking Miz.
Just prior to the Divas Championship match between Kaitlyn and Eve, AJ would approach her one-time best friend Kaitlyn and try to talk to her. The dissension between the two, and AJ's new attitude, only resulted in a further split. AJ attacked Kaitlyn, and a backstage brawl between the two broke out, a brawl that had to be broken up by referees and agents.
In the evening's main event, Langston attacked John Cena, preventing him from defeating Dolph Ziggler to win the match for him and Sheamus. With the WWE's golden boy unconscious in the center of the ring and the massive newcomer standing over his fallen body, AJ and Dolph engaged in a passionate kiss to close out the Super SmackDown special.
It was an impressive week for the Diva Debate "Diva of the Year" award winner who, in the span of three days, took a character fans felt such great sympathy for and turned it on its ear, becoming a psychotic, manipulative, love-crazed vixen aligned with the hottest young star in the business and a massive man capable of holding his own against any strong man in the business.
With the new year on the horizon, AJ looks to be professional wrestling's leading lady.
The Week in Review: Naomi Impresses at TLC, Eve vs. Kaitlyn Rages On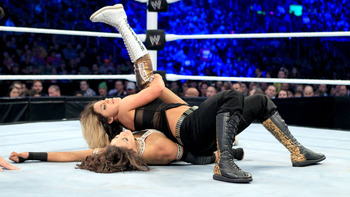 Photo Credit: WWE.com
At TLC, Eve Torres was faced with the challenge of an enigmatic challenger.
Naomi stunned the WWE Universe by winning the Santa's Little Helper battle royal and earning a shot at the Divas Championship. Having not wrestled on WWE television since the end of NXT Season 3, fans did not know exactly what to expect from the Funkadactyl.
Naomi proved to be one of the most athletic, if not the most athletic woman on the roster. She took the fight to Eve and showcased her flashy offense before a high-risk maneuver proved to be her downfall. Eve retained, but Naomi proved to the fans and, more importantly, to those in the backstage area that she can compete with the best of the Divas, perhaps going as far as to earn herself some more ring time in the coming weeks and months.
On Raw, the rivalry between Kaitlyn and Eve continued. The previous night, in the Santa's Little Helper battle royal, Eve cost her rival the opportunity to face her later on the pay-per-view broadcast. Looking for a measure of revenge, Kaitlyn met the Divas Champion in a non-title match early on Monday's show.
Kaitlyn defeated Eve in a very solid match, catching her with a fireman's carry into a 24 hours later on the live Super SmackDown special.
SPOILERS follow for those who have not seen this week's SmackDown
On SmackDown, Kaitlyn and Eve had, arguably, their best match to date. Kaitlyn unleashed her fury on the champion in what was her best individual performance of her young career. She showed great intensity, as someone who had been repeatedly screwed over by Eve (as well as assaulted by her former best friend backstage just moments before) would.
Eve was the cowardly heel who did everything in her power to avoid the wrath of the challenger and, to save a title she could feel slipping away, resorted to assaulting the referee to draw a disqualification. The sight of the champion scurrying out the ring and up the ramp, demanding her title, is reminiscent of the great heels of the past who knew they were in a losing situation and outsmarted their opponent in order to live another day with the title in their possession.
The feud between Kaitlyn and Eve has, thus far, been one of old-school booking and intelligent storytelling. With the blow-off to the rivalry inevitable and the potential for involvement by AJ Lee, there is plenty to be excited about in the Divas division as we head onto the Road to WrestleMania.
Thank You, Readers!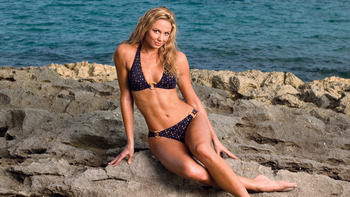 Photo Credit: WWE.com
The reader involvement with the Diva Debate Awards was incredible, and as a writer, I thoroughly enjoyed hearing from each and every person that commented or Tweeted their votes to me. Even if I did not personally respond to you, I counted every vote and legitimately enjoyed the fact that you took the time to get involved with this article.
I have said it before and I will say it again: Diva Debate is my baby. It was my creation because I did not feel there was a real source for women's wrestling coverage here on Bleacher Report. I put a great deal of work into it and the fact that so many people have been supportive, vocal and kind in their comments about the article means a great deal to me.
Since the Diva Debate Award voting proved to be a success, I have come up with another way for fans to become involved with Diva Debate.
Beginning with the January 2, 2013 edition of Diva Debate, a tournament will be held to determine the greatest Diva in WWE history. While the brackets are still being worked out, therefore preventing me from giving you an exact number, I can tell you there will be a very large number of Divas from WWE's long and illustrious history involved (including the very lovely Stacy Keibler, pictured above).
It will be a weeks-long tournament that readers will have the opportunity to vote on each and every week, right here on Bleacher Report. Voting will occur, just as it did for the awards, via the comment section below and via my Twitter account.
All of the specific details, including dates for each round of voting, will be revealed on January 2 with the first Diva Debate of the new year.
Coming Soon on Diva Debate!
There will be no new Diva Debate next week (December 26, 2012) due to the holidays. Diva Debate will return January 2, with the "Greatest WWE Diva Ever!" tournament.
In that article, I will cover the usual four topics, I will take a look at two weeks of WWE Diva and TNA Knockout action, and I will reveal the first-round matchups in the aforementioned tournament.
Until then, I want to wish each and every reader and Bleacher Report colleague a very Happy Holiday! Enjoy the lovely TNA Knockouts in a special holiday video released on Impact Wrestling's official website.
The title of this article features the word "debate," and now it is your turn to let your voice be heard in regards to any one (or all four) of the topics discussed in this week's Diva Debate article. Leave a message relevant to anything discussed inside.
Also, your feedback is incredibly important. If you have any suggestions or constructive criticisms of the article, feel free to let me know in the comment section. I look forward to hearing from you all, as together, we build what will hopefully become a long-running weekly article here on Bleacher Report.
Don't have a Bleacher Report account? You can send comments, questions or topic ideas to me directly at my Twitter account. Send your thoughts to @ErikBeaston.
Keep Reading