Top 5 Strikeforce Fighters Per Division Who Should Move to the UFC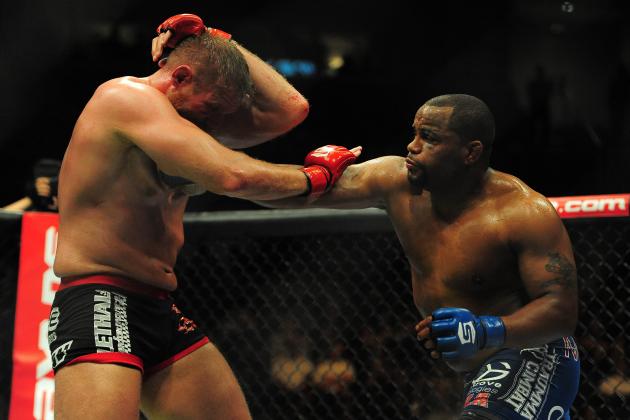 Kyle Terada-USA TODAY Sports

Strikeforce is going to end operations following their final card in January. With that, speculation is running wild as to which fighters will move over to the UFC.
There are five male divisions in Strikeforce. These divisions are lightweight, welterweight, middleweight, light heavyweight and heavyweight.
Here are the top-five fighters per division that should move over to the UFC.
Begin Slideshow

»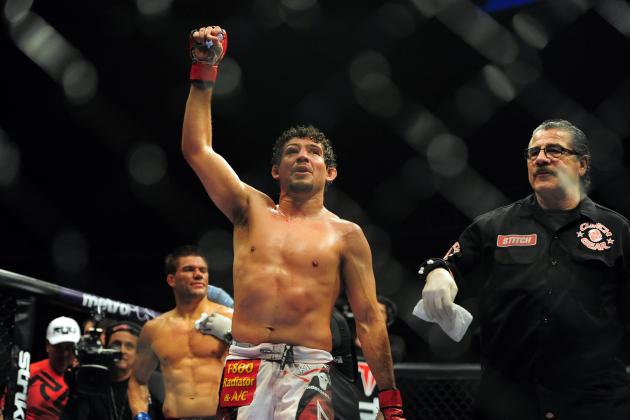 Kyle Terada-USA TODAY Sports

Fighters: Gilbert Melendez, Josh Thomson, Pat Healy, Jorge Masvidal and KJ Noons
There are definitely a handful of other fighters from the 155-pound division that should transfer over from Strikeforce. These men include Caros Fodor, Isaac Vallie-Flagg, Bobby Green and Ryan Couture, to name a few.
As for the five who should move over as soon as possible, you have to start with the world champion—Gilbert Melendez is ranked in the top five in most lightweight polls in the MMA world.
After him, you have past title challengers in Josh Thomson, Pat Healy, Jorge Masvidal and KJ Noons.
Thomson is a long-time veteran, as is Healy. Both men can hang with top guys and have styles that are difficult to deal with.
Masvidal is a guy who will step up on short notice in most cases. He just wants to fight and make money. If an injury threatens to scrap a fight, Masvidal will be there to fill in.
Noons is an exciting striker that brings good boxing with him to the cage. He would be a solid midcard fighter that would heat up the crowd before the main attractions.
Scott Olmos-USA TODAY Sports

Fighters: Nate Marquardt, Tyron Woodley, Tarec Saffiedine, Jordan Mein and Jason High
There are definitely some top welterweight prospects in Strikeforce that will be future stars in MMA.
Among these names are Tyron Woodley, a grinder with a relentless takedown game; Tarec Saffiedine, a striker with a developing all-around game; and Jordan Mein, a second-generation pro MMA fighter that has already impressed in his young career.
Champion Nate Marquardt, who was a top middleweight with the UFC before dropping to 170, will easily rank as a top-10 welterweight if and when he moves back to the company.
Finally, as someone who didn't get a fair shake with the UFC (he had one fight and was cut), Jason High would prove a great addition to the company.
Since leaving the promotion, he has had impressive wins over Mein, Hayato Sakurai and Quinn Mulhern—another guy that is UFC-ready.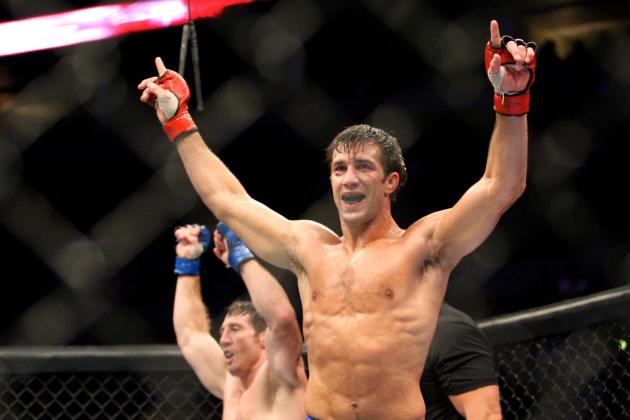 Scott Olmos-USA TODAY Sports

Fighters: Luke Rockhold, Tim Kennedy, Ronaldo Souza, Lorenz Larkin and Adlan Amagov
While I am only listing five guys who should move across immediately, it's important to note that guys like Roger Gracie and Robbie Lawler should make the move as well. Plus, Derek Brunson just moved over to the UFC to fight on late notice at UFC 155.
As for the five above, current champ Luke Rockhold is an obvious choice, as is former champion Ronaldo Souza. In fact, Souza's last win was over Brunson by vicious knockout.
Tim Kennedy is another top middleweight that is marketable in the United States because of his past military service.
As for Larkin and Amagov, both are great strikers that can put on exciting bouts. Larkin was the top contender before Rockhold pulled out of their fight due to injury.
Amagov is another Greg Jackson-trained fighter from Russia. As seen, the upcoming Russian talents migrating to U.S. promotions have been impressive to say the least.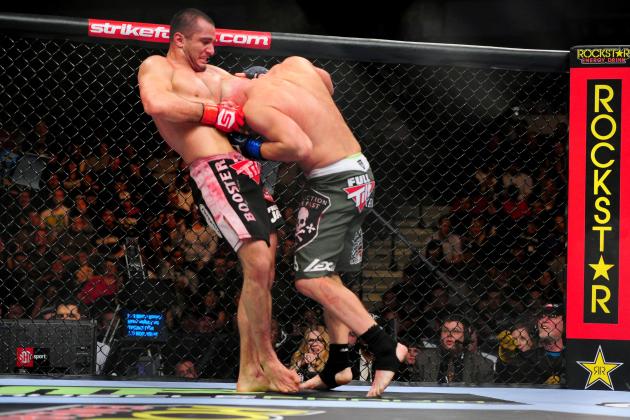 Mark J. Rebilas-USA TODAY Sports

Fighters: Gegard Mousasi, Rafael Cavalcante, Mike Kyle, Ovince St. Preux and Guto Inocente
The light heavyweight division is shallow right now, but there are definitely five guys that can make a difference in the division.
Gegard Mousasi is currently the best 205-pounder not in the UFC. He is a complete mixed martial artist that will instantaneously compete with the top UFC fighters.
Ovince St. Preux and Guto Inocente are top prospects at light heavyweight. Both have the potential to be future contenders in the division, based on their impressive performances in Strikeforce.
As for Mike Kyle and Rafael Cavalcante, both are vicious strikers that will bolster the division. Cavalcante, like Mousasi, is a former title holder, while Kyle is a guy that could weed out who cuts it and who doesn't in the UFC.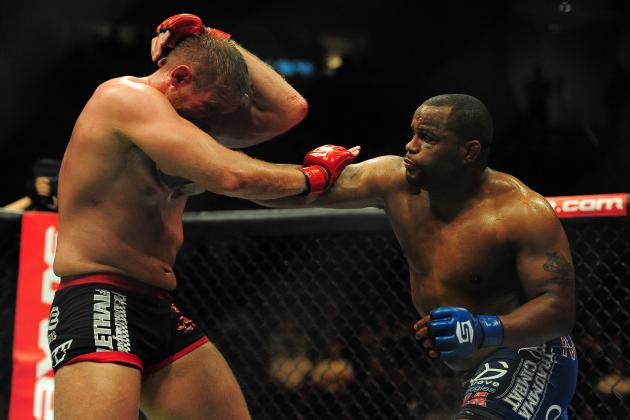 Kyle Terada-USA TODAY Sports

Fighters: Daniel Cormier, Josh Barnett, Nandor Guelmino and Dion Staring
There are only four heavyweights left in Strikeforce.
Daniel Cormier and Josh Barnett are the only sure things that should be in the UFC when the dust settles, but Nandor Guelmino and Dion Staring should be given a chance, too.
Win or lose, Guelmino and Staring should be judged on performance rather than the end result of their fights.
Staring is usually a light heavyweight, so he should be given a chance at 205 either way. He will likely be a large 205-pounder, as he can usually balloon up to 240 pounds when he fights at heavyweight.
Guelmino has the potential to be a mainstay in the UFC heavyweight division. He is thickly muscled, which makes up for being lighter than most heavyweights.