UCLA Basketball: Report Card Grades for the Long Beach State Game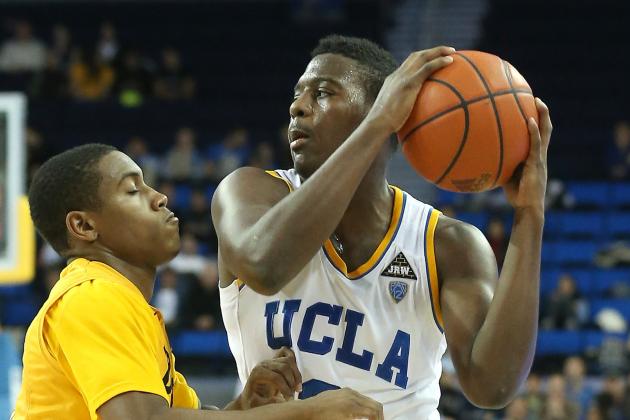 Stephen Dunn/Getty Images

The UCLA Bruins played the Long Beach State 49ers (The Beach) last night in Pauley Pavilion on their Westwood, California Campus.
It is the Bruins historical role to dominate the basketball competition in the state of California and they are expected to batter their in-state rivals. This has not happened every single time out over the last three seasons, and the fanatics are angry.
Last night the Bruins played well enough to easily rake The Beach, but it was not all great, specifically on the defensive end. These slides propose to grade out the Bruins units, key players and head coach.
Begin Slideshow

»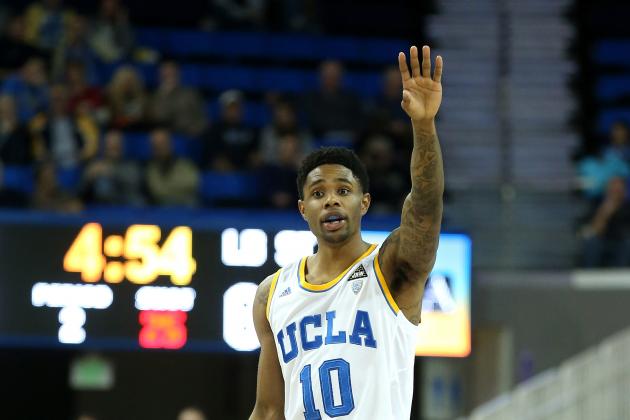 Stephen Dunn/Getty Images

There was quite a bit to enjoy on the offensive side against Long Beach State (4-7). The 49ers give up 73 points per game and allow opponents to shoot almost 42percent from the floor, but they have run a fairly polished gauntlet in the early season including games against North Carolina, Arizona and Ohio State.
Coming into the game, Long Beach State's RPI was better at 97 than UCLA's 104.
Scoring 89 points in 40 minutes of basketball is a good night out. North Carolina got 78 against The Beach; Arizona bucketed 94 and Ohio State equaled the LA Kids with 89.
The offense looked, in many sets and break outs, like it was coming into a kind of harmony with itself. There were extra passes snapped around for open looks, a tangible rhythm to an often open flow and the team shot 58.9 percent from the floor and 50 percent from the arc. They dropped in 15-of-18 free throws for 83.3 percent. That is a beautiful shooting line across the board.
The offense rarely plodded, which is enough to make you want to crack open a cold beer and smile. For one night, there was no agony over the offense. The few times it did slow down, the usual fear and loathing began to form like a cloud over your clear and starry night. Why does it plod like that? Everyone stands around, watching the point guard dribble. Why?
But the point position is another part that will be addressed in a later slide. The player there is beginning, almost like a cornered beast, to begin to fight back.
The Bruins hesitated only slightly against the zone and did not stagnate. They had wings in Muhammad and Adams, who were willing to shoot over it or attack into it. The Wear twins made their jump shots. The zone did not put UCLA into a funk and The Beach abandoned it as a failed tactic.
The Bruins had 21 assists on 33 baskets against only seven turnovers, good for three-to-one assist-to-turnover ratio. They scored 16 points off LBSU's turnovers, scored 30 in the paint and had 14 from what is essentially a two-man bench. It was an efficient night, a very fine thing to watch.
The offense can score on the run, they can score in sets and they look like a group of players willing and happy to pass to a teammate for an open shot. There is actual progress being made on this side of the ball; they are getting better. That is something to enjoy while it is happening.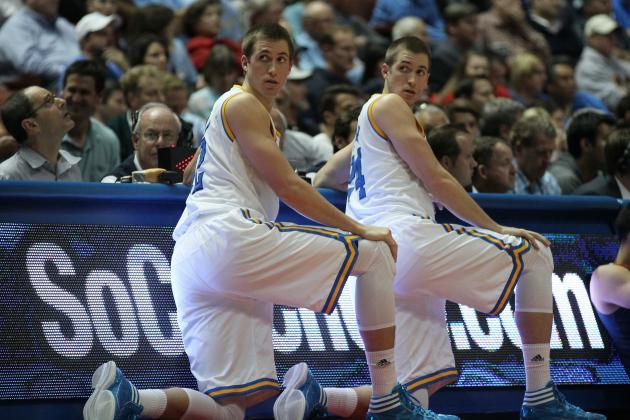 Stephen Dunn/Getty Images

The defense is a scary thing to watch right now, even though there is ample evidence that it is improving. The lack of depth is terrifying. What is going on with Tony Parker? He played five minutes at a time when the Bruins were in serious need of a powerful front-line athlete.
The improvements are small and coming at the metal forge, as opposed to whipped up by the cotton candy fan, but they are coming.
The problems are with the front line and right in front of the basket. That is like admitting you can stop the archers from over beyond the hill, but the knights on chargers are going to break down gates and storm the donjon keep.
That transfer from West Virginia that The Beach has, Dan Jennings, scored 27 points on 13-15 shooting. He nearly tore the rim off the backboard on a follow up dunk and slammed down several more—and seasoned those with and-one lay-ins all night.
If UCLA's offense hadn't been oil firing The Beach, Jeninngs, along with James Ennis, who had 20 points and six rebounds, might have carried the thing on their own with limited help.
But Ennis is a senior and he is going to get a long look in the NBA. With just a little improvement to his game, he will play professionally somewhere. It's hard to say about Jennings. Judging by the way he played tonight, he will be the next Darrel Dawkins with a little bit of Jerome Lane to him.
It is the front-line though. Kyle Anderson is going to get stuck in some difficult rotations because of his height at 6'9". His freshman physical strength, which isn't enough to keep him from being run over, will make him vulnerable.
The Wear twins are pretty good finesse players. If they want to be difference-makers on defense, they are going to have to change a fundamental aspect of their mentality going forward. I won't call them soft inside, but I won't say there are oak, maybe pine.
The man-to-man is getting meaner, but it is not being locked-down for full possessions. There are miscommunications and slow rotations—especially on high screen and rolls with hedges and switches. These lead to late lapses and thundering dunks from opponents. Long Beach State was hammering at the iron all night.
The team needs to get into that leg burning pleasure of the defensive grind. The lock-down, slide-step, block-path, force-pass, block-shot, grab-board outlet pass to finish at the other end is stuff that great teams relish.
There was the rare and beautiful forced shot clock violation late in the game. It was a fairly big spot as UCLA was going up 12, then 15 and then 17. That is so demoralizing for an opponent and it used to be a regular thing. There were promising signs but the inside, the heart, is far too exposed.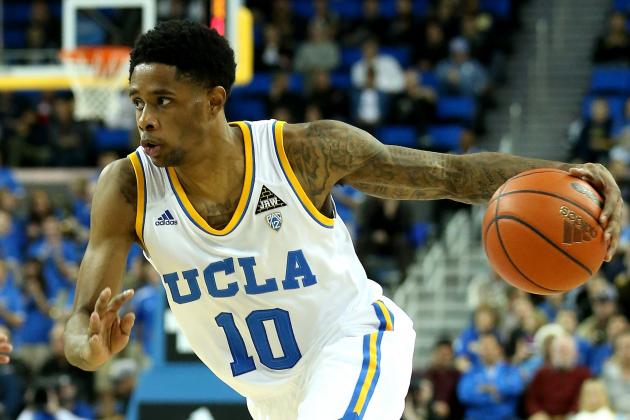 Stephen Dunn/Getty Images

Larry Drew II (Drew Two) is earning his respect. He is the cornered and wounded one who is coming out with fight. He is leading the conference in assists and assists-to-turnover ratio.
Against The Beach, he had nine assists to one turnover and got back two steals, essentially making that 9:-1.
Drew had 14 points on 6-7 shooting, including 2-of-2 from three. He made it to the line only one time on an and-one. That is disappointing from a starting point guard, but it may be a core foundation of his game: he is not a rim attack, slashing player. But he can get inside and distribute to great effectiveness.
Two did a nice job orchestrating pace, running early, dishing to a silky Adams on the wing—and then slowed the game late, bleeding clock but working for points.
The Beach was playing off of him all night, probably having read scouting reports that said 'make him shoot.' Drew Two got flinty-eyed about it and started throwing darts.
Drew pulls up from three: bang. Drew dishes to Muhammad who flies in for a dunk and gets fouled. Drew pulls up mid-range: bang. Ball goes to Drew in the corner late, shoots a three in rhythm: bang. If his confidence grows and he starts scoring it will be absolutely huge.
There must have been something to Coach Howland revealing publicly that he made a mistake not letting Two take his time making his college decision. Two said he needed a minute because he wanted the full recruiting experience, but Howland forced his hand and Two ended up in Chapel Hill for a disaster.
That has to be a burden off Drew's back. The coach apologizes publicly and the public gets to know that Two was a UCLA man from the beginning. He always wanted to come.
I am not calling Two "The Answer", but what if he has confidence and balls hard with his head up and proud all year? That would be fun no matter the outcome. Motivated seniors make an enormous difference through the year.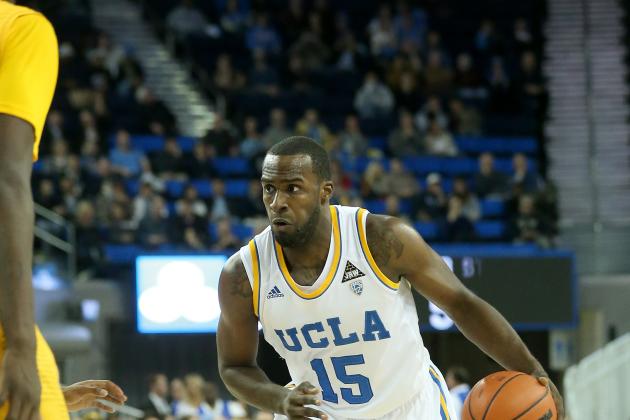 Stephen Dunn/Getty Images

Shabazz is getting scary. His energy level is back up after a sluggish, injury addled off-season. He is looking light and strong. He took off tonight on a contested fast break dunk that he missed because of defensive pressure, but it is the springiest I have ever seen him.
Watching him take flight was like a light coming down. That is the player who was ranked the second-best high school hooper in the United States.
Muhammad is all over the floor. He runs himself to exhaustion. He sits on the bench and his chest heaves, but then he is ready again quickly. If his conditioning is really that strong, he will be an absolute demon and will cover up some of the Bruins frightening lack of depth.
Muhammad has that awkward southpaw aspect to his game. He is like a boxer you can't read, who just keeps connecting with that big left hook. You're eating the hook and you don't know what to do but it is starting to damage you and the time to figure it out is quickly ticking away.
He is also that second nasty punch after a hard jab right to the face. Twice against Long Beach, Muhammad followed up his teammates' big baskets with killer moves of his own. Late, after Jordan Adams buried a three, the next time down, Muhammad matched him, to make the lead 15 with six minutes, 14 seconds left to play.
Muhammad put both of Long Beach's best players on the bench with four fouls in the second half on a bristling drive and then an offensive rebound. He has that killer instinct that is so much fun to watch in a basketball player.
Stephen Dunn/Getty Images

Jordan Adams is a flat-out baller. Tonight he reinforced my supposition that he is a chip-on-the-shoulder gamer, a steely competitor. Adams was sluggish against Prairie View A&M last time out, shooting 3-of-11 for nine points. That is not okay with Adams, I am certain of it.
He was splashing shots against The Beach. He took the first pass of the game from Two just outside the arc and dropped it so cleanly through the cylinder the net barely made a shimmer. Adams went 8-of-11 for 24 points. He had 12 in the first nine minutes of the game.
Adams finished with five rebounds, two assists, no turnovers, one block and one steal in 31 minutes.
Adams is leading by example. He has high energy; he is working hard on defense despite a few limitations in terms of lateral quickness and explosive leaping. But he makes up for those current limits with good anticipation and diving runs at loose balls.
Adams gets pumped up and flexes and wants to destroy the faceless opponents set in front of him. He scores in the open floor and runs hard on break-outs to fill scoring lanes. He finishes well in rush hour traffic.
Adams is an absolutely silky point scorer. The ball is soft out of his hands and every shot is right about where it needs to be. With offensive rebounders, he is exactly how you want the ball coming off the rim.
I do not know about the next level because I haven't thought about it. He is going to be a sterling college player.
After not scoring for the first 13 minutes or so of the second-half, Adams comes out of a timeout and buries another three with 6:30 left to play, to make the Bruins' lead 12.
JA has been the best surprise of this draft class and the most fun to watch debut himself on the big stage.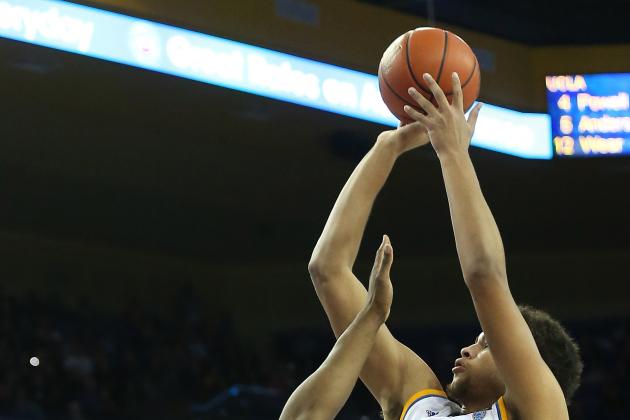 Stephen Dunn/Getty Images

Kyle Anderson was coming off a very nice, all-around game against Prairie View A&M where he scored 16, had 11 rebounds and seven assists against two turnovers in 24 minutes. He shot 1-of-2 from three, 5-of-8 overall, and 5-of-6 from the line.
The thing to evaluate was consistency. The question was whether or not he could do it two games in a row, with a step up in class—which Long Beach represented over Prairie View.
Anderson was solid and unassuming. He played hard, but his progression is going to be slower than maybe was anticipated, based on his high school player ranking. He was 2-of-5 shooting for eight points. He made all four of his free throws and did not turn the ball over at all. Anderson had five rebounds, one assist and one steal.
It was a good game, but the team will need more from him. With his height though, it may take time to get the strength he needs to bang with some of the guys he is going to be matched against. There was a switch where he got stuck on the low block with all 6'9" and 255 pounds of Dan Jennings and got bulldozed for a quick and-one.
Anderson also is a lower caliber of physical athlete than the rest. He is highly coordinated and a beautiful passer—a gifted passer even with excellent vision and court feel—but not an explosive or fast player at all to go with his length.
Anderson got an amazing feed cutting through the middle of the zone that would have been a rim finish for almost any other wing or forward, but he was lucky to get a blocking foul called and shoot free throws. It was hard to tell where his jump began and the floor ended.
At another moment, he shot a three pointer that looked to be headed toward an invisible rim about three feet away from the real rim. But then, he made a crazy off-kilter bank shot from a bad angle that made you blink rapidly for a few seconds. The contrast was hard to process.
Earlier in the game Anderson sauced a pass to David Wear on a little slip from a screen on the low block that was an elite read and delivery.
The physical limitations with Anderson have to be accepted for now, but there is a lot of game there to keep him contributing at both ends in the mean time.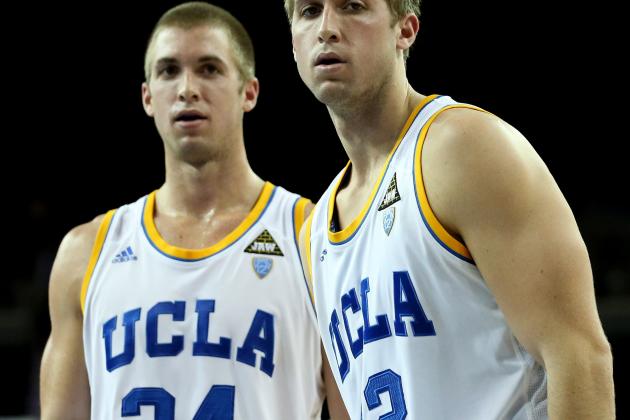 Stephen Dunn/Getty Images

The Wear twins are going to be up and down, depending on their competition. David and Travis are rarely going to have an opportunity to dictate the game to their opponents.
They are much better finesse players than tough players. If they become knock down jump shooters, they could be very important pieces. But those jump shots do not always sail through and the Wears have very disconcerting habit of shooting with their heels touching the three point line, which is just bad basketball.
Tonight they were a combined 9-of-14 for 19 points.
When the game opens up and the Wears run, like they did for the most part tonight, they are solid weapons.
Between them they had eight rebounds. They were pounded and bombed on the glass and surrendered gross points and rebounds to The Beach's front line. The twins cannot do that in Pac-12 play if UCLA is going to make a run at the conference crown.
There is also concern with them on defense. There is a Roman-like aggression missing from their games. Without a front line presence from the Wears, the team will be missing a vital component of its overall game.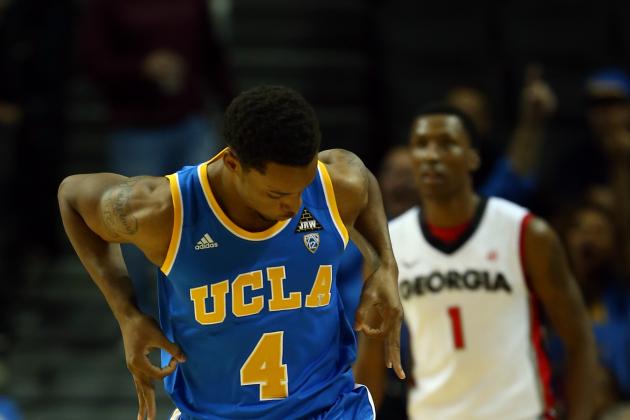 Elsa/Getty Images

Norman Powell came in for Jordan Adams with 14 minutes left in the first half. He could not get into rhythm, seemed to slink some and looked discontented.
The problem might be that he is sort of between positions. He is listed at 6'4", but he looks more like 6'3". He seems to have a scorer's mentality as opposed to a point guard's, but the wings are pretty well filled with scorers and Powell is not a sniper from the outside.
It is a shame because Powell is probably the second-best pure athlete on the team behind Muhammad. If he could run the point some and attack the rim, he might be more useful. I am not saying I know this, but it is an idea for him.
In the second half, Powell took a dish from Drew on a break out and daggered a three. He was cold off the bench, but shot it with complete confidence.
Powell played 16 minutes and didn't seem like part of it. Something is wrong there; what is it?
Powell got garbage minutes late and looked unhappy. But then he got a steal and did not force a fast break to pad his personal statistics with the game in hand. That was a team move and something to show the coaches. Powell clearly demonstrated he wanted to do the right thing, drain the clock, and he swallowed his pride to do it.
It would be nice if Powell could find a place in the rotation, because he can play.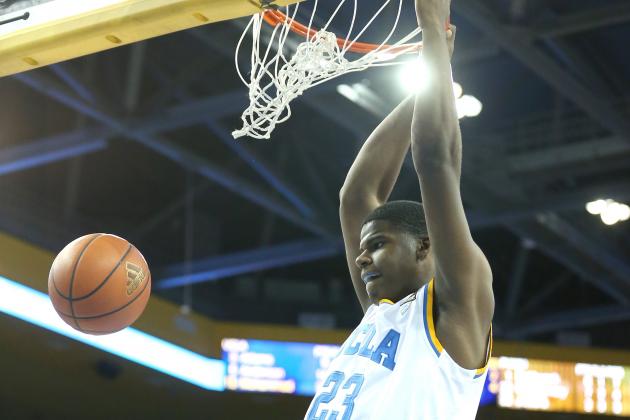 Stephen Dunn/Getty Images

What is going on with Tony Parker? Is he still hurt, or is it his performance in practice that is keeping him on the bench?
Parker played five minutes, went 0-of-1, scored zero points, grabbed two rebounds, blocked a shot and went back to the bench.
Parker could be a key player on this team because he is big, physical and looks like he can run. Every time he is on the floor he looks ready to run. There has, in all honesty, not been enough time to make a realistic evaluation of Parker.
But he appears to be a guy ready to bang on the front lines, with enough skill to score points, grab rebounds, throw outlets and finish around the rim.
This one right now is a mystery.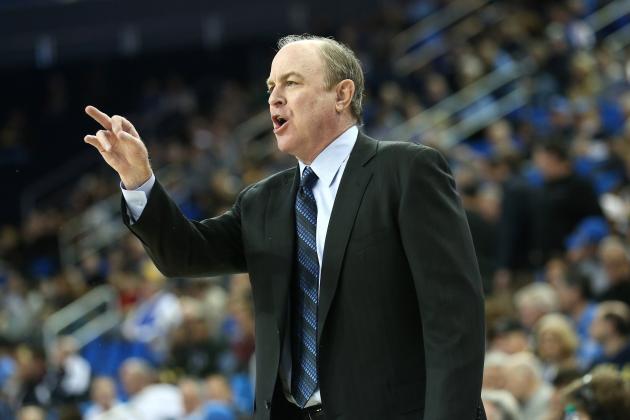 Stephen Dunn/Getty Images

This was an interesting pairing between Ben Howland and Dan Monson, head coach of Long Beach State. Monson was one of the bright new lights of college coaching after leading Gonzaga to an Elite Eight appearance in 1999.
But he never really got going at the University of Minnesota, which was scandal marred and had a spinning compass when he arrived. After seven seasons in Minneapolis, Monson went to Long Beach State, which was also about to be sanctioned.
The 49ers hadn't put much together since The Shark swam for better-chummed waters at UNLV and Lute Olson left after a single 24-2 season. But Monson has The Beach going. They've finished first in the Big West two years in a row and played into the second round of the NCAA Tournament last year.
They are well coached and have a few good basketball bodies with some role guys to assist them.
Howland's team basically outclassed The Beach everywhere except the front line and the game never got to the point where there was anything to be nervous about.
The Bruins are definitely improving. Ben Howland is a good, proven basketball coach and high-class recruits are playing with their hearts and with a lot of effort and pride—which was not happening when things began to break down in 2008.
It is clear Howland is using the zone—a defense he does not like for very good, principled reasons—to get his team to settle down when they struggle to stop the ball. But he is not abandoning man-to-man, and the players, especially the freshman, are buckling down and playing it better, getting a feel for it. That is because of what they are doing in practice.
There is a long way to go with that defense, but it is growing stouter.
It is not a popular position with a lot of UCLA people, but Howland knows exactly what he is doing in terms of teaching the game. This season is without doubt a fulcrum—a pivot point for the program and Howland. The tangible improvements and the humble, intense 40-minute effort from the entire team are promising signs.