Dong Hyun Kim Dismisses Bahadurzada's Name Recognition, Bahadurzada Fires Back
Use your ← → (arrow) keys to browse more stories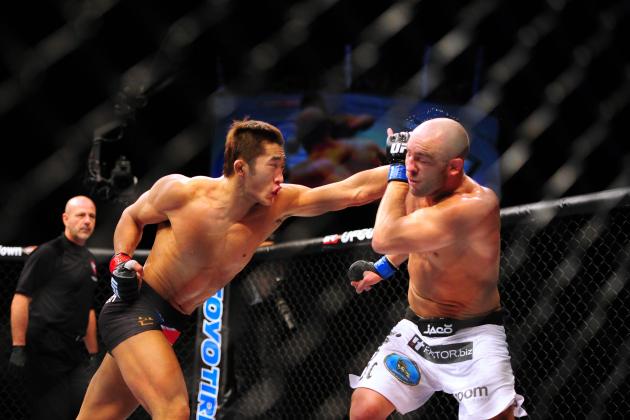 Mark J. Rebilas-USA TODAY Sports

You have to love the moxie of Dong Hyun Kim. After defeating Nate Diaz at UFC 125, he immediately took to the microphone and uttered the words, "My name is Stun Gun and I want GSP."
Yes, the call-out was one of those moments that drew a collective eye roll from those watching the card, but hey, go big or go home, right?
The UFC didn't seem to think that a win over a lightweight competing in the wrong division was enough to earn Kim a title shot so they threw him in the cage against Carlos Condit at UFC 132.
That fight didn't turn out so well for Kim.
A flying knee and a flurry of strikes on the ground ended his night at the 2:58 mark of Round 1.
Since then, we haven't heard a peep about Kim wanting anything to do with UFC welterweight kingpin GSP.
Since the knockout loss to Condit, Kim has gone 2-1 in the UFC, defeating Sean Pierson and Paulo Thiago by decision while losing to Demian Maia via TKO. Granted the Maia loss was somewhat freaky, as a muscle spasm was the root cause of the defeat, but a loss is a loss.
The UFC has matched Kim up with Siyar Bahadurzada for his next bout, which will take place on the UFC on Fuel 8 card from Japan, and Kim is none too happy about the match up, telling Fighters Only:
I'm a bit disappointed I couldn't find a tape of Siyar in a grueling, grappling-type fight. Because so many people think I will win easily I have to be extra careful not to underestimate him. I didn't expect to be offered Siyar Bahadurzada. I wanted a fight with a more experienced fighter with name value.
There's a reason that Kim can't find that tape on Bahadurzada and that reason is that he has knocked out his last five opponents (four in the first round), including his opponent in his UFC debut, Paulo Thiago. Yes, the same fighter that Kim defeated via unanimous decision. The difference being that Bahadurzada's fight against Thiago lasted all of 48 seconds and left Thiago laying face down on the mat for the first knockout loss of his 19-fight, professional career.
If Kim wants to watch tape on what Bahadurzada plans on doing, he should probably check that one out, it won't take long.
Bahadurzada has evidently gotten wind of Kim's comments and he seems to feel that maybe, just maybe it's not his lack of name recognition that has Kim balking at the fight, but fear:
DONG HYUN KIM IS SCARED, BLAMES VALUE OF MY NAME... I'LL COME TO TAKE YOUR SOUL HOMIE, YOU'LL NEVER BE THE SAME...

—

Siyar

The Great (@SiyarTheGreat)
Regardless of what either fighter thinks of the other's name recognition or talents, this is an important fight for both men. Both Bahadurzada and Kim reside outside the Top 10 in the welterweight rankings, but most likely not too far out of that elite group, a dominant win here and their next fight should be against a Top-10 opponent.
Kim is wrong about the name recognition of Bahadurzada, his name does carry some weight, thanks to the knockout of Thiago, but he is correct about one thing, he cannot underestimate Bahadurzada.