6 Key Premier League Battles to Watch This Weekend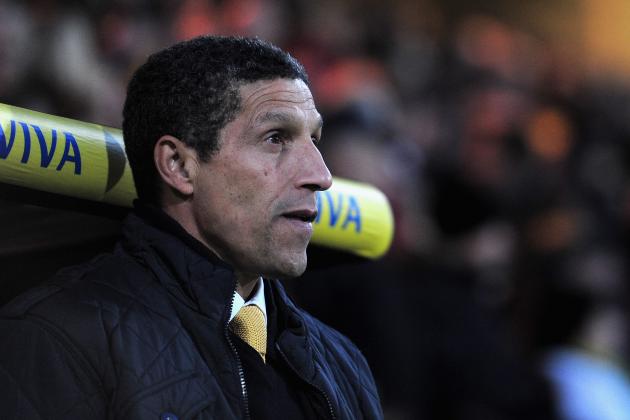 Jamie McDonald/Getty Images
Chris Hughton's Norwich are one of the form sides in the league
It's that time of the week again where I preview the six Premier League fixtures I'll be keeping an eye on this weekend.
Here were my predictions for last weekend's results:
Newcastle United 1-3 Manchester City
Manchester United 3-0 Sunderland
QPR 1-2 Fulham
Tottenham 2-1 Swansea
West Brom 1-1 West Ham
Reading 2-1 Arsenal
Out of those six games, I got the results right in four of them, but only got the correct score in one, which was the Manchester City game.
It started off so well!
Anyway, this weekend sees the final round of fixtures before the busy Christmas and New Year period.
Chris Hughton's Norwich side go in to the weekend as one of the in-form teams in the country.
They're on an unbeaten league run that stretches back to October 6, and they'll be a stern test for a West Brom team struggling for form at the minute.
Last weekend, Manchester City and Arsenal picked up great away wins at Newcastle and Reading respectively, so they'll be keen to keep on the winning track this weekend.
Chelsea return to Premier League action in the weekend's final game on Sunday at 4 pm GMT, and they'll be looking to follow up their 3-1 win at Sunderland with an impressive home performance.
It's going to be a busy festive period in the Premier League, and it starts with these next six games I'll be watching.
As always, feel free to leave your comments below, but remember, just because my opinion might be different than yours, it doesn't make it right or wrong.
Let's get to it!
Begin Slideshow

»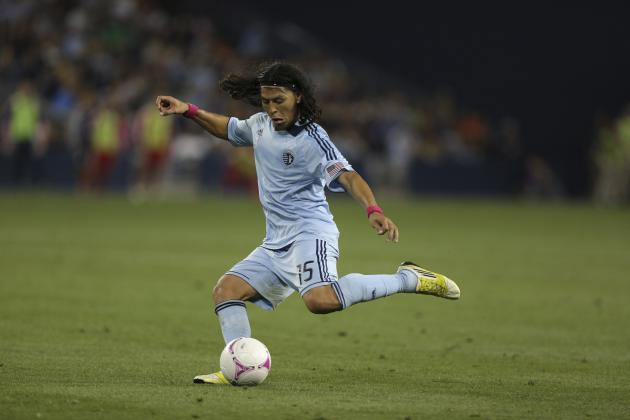 Ed Zurga/Getty Images
Sporting Kansas City's Roger Espinoza will sign for Wigan in January
Wigan received a pre-match boost ahead of this game when it was confirmed that they'll be able to sign Sporting Kansas City's Roger Espinoza in January after he was granted a work permit.
Speaking to the official Wigan website, manager Roberto Martinez said:
He has been developing into an exciting footballer over the last three seasons in the MLS and has enjoyed terrific experiences at international level, specifically his role with Honduras in the Olympic games... The games versus Spain and Brazil in that tournament showed the winning and strong mentality that he possesses which will be an important asset to our squad.
Martinez will look to bring in further reinforcements because, for all the good football Wigan play, they've not picked up enough points lately and have only two wins from their last eight games.
The manager was infuriated last week after a tackle from Norwich midfielder Bradley Johnson injured one of his star midfielders James McCarthy.
After the game, he told BBC Radio Manchester (via bbc.co.uk/football):
Clearly he was targeted. They got away with it. You don't want to see players injured in such a ruthless manner.
Martinez knew that for this match against Arsenal he'd need his best players available, and it looks as though McCarthy will miss out.
The youngster has been in fine form this season, and if he's out, it'll make Wigan's task even harder on Saturday.
Wigan aren't the only team to get a pre-match boost ahead of this fixture.
Arsenal announced via their official website on Wednesday that Jack Wilshere, Kieran Gibbs, Carl Jenkinson, Aaron Ramsey and Alex Oxlade-Chamberlain have all signed new long-term deals at the Emirates.
Arsene Wenger said:
We are delighted that these five young players have all signed new long-term contracts. The plan is to build a team around a strong basis of young players, in order to get them to develop their talent at the club.
You have to wonder about the logic at Arsenal sometimes.
Yes, it is important to keep talented players together, but surely that should also stretch to key players as well.
Arsenal have lost Robin van Persie in the last six months, and it looks like they'll be losing Theo Walcott fairly soon as well.
I commend Wenger's belief in youth and his transfer policy, but fans are hungry for success and trophies.
They'll only be patient for so long until something has to give.
Make no mistake, although Arsenal's 5-2 win at Reading on Monday will have boosted morale, it still doesn't make up for the fact that they've looked poor for the last couple of months.
They need to string a set of results together, and they'll be keen to keep things ticking over through the Christmas period.
In terms of this match, I see it being a tough match for Wigan.
Arsenal may well dominate possession, but it comes down to who will be more ruthless with the chances they create.
I think Wigan will make it difficult for the Gunners, but Wenger and his players will head back down south with all three points.
Prediction: Wigan 1-3 Arsenal
Clive Mason/Getty Images
Mario Balotelli's off-field antics continue to cause City problems
Roberto Mancini must feel like pulling his hair out over Mario Balotelli sometimes.
There's no doubt that the Italian striker is talented, but his off-field behaviour caused more problems for City this week as he threatened to take them to a tribunal over a club fine.
Although Balotelli has now dropped the case after what bbc.co.uk called "amicable talks" between the parties on Tuesday night, you have to wonder where his head is at times.
Balotelli can't argue with the fact that his disciplinary record since joining City has been shocking.
Mancini must wonder what he's got to do to be able to talk about football instead of this kind of sideshow.
After their derby day defeat to Manchester United a couple of weeks ago, City got back to winning ways at Newcastle last Saturday with a convincing 3-1 win.
On paper, City look odds on to win again this weekend as Reading come calling.
Their 5-2 defeat to Arsenal on Monday night, combined with other results last weekend, means that Reading head in to Saturday's game already six points adrift of safety and in deep trouble.
Speaking to the BBC after the game on Monday night, manager Brian McDermott was brutally honest, saying:
We've got to fight, no doubt about that—that's the only choice we have.
Being ready to fight is all well and good, but Reading have to tighten up defensively if they've got any chance of staying up now.
That's now nine goals they've shipped in their last two home games, and if that continues, they'll have no chance of avoiding relegation.
The sad thing is that on Saturday, I don't think their task will get any easier.
City have a plethora of attacking options available to them, and they'll want to give their fans something to cheer about in their first home game since they lost to Manchester United.
If City score early, I shudder to think what the score will be.
Either way, this will be a comfortable win for City, and it'll pile even more pressure on Reading heading in to the Christmas period.
Prediction: Manchester City 4-0 Reading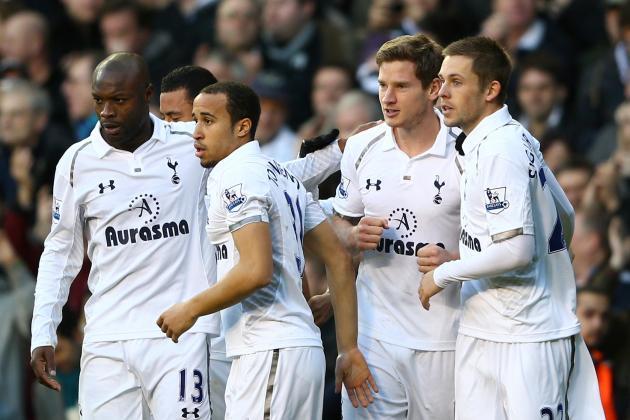 Paul Gilham/Getty Images
Jan Vertonghen celebrates his winner against Swansea on Sunday
Tottenham overcame a plucky Swansea side on Sunday, winning by the narrowest of margins.
In truth, Spurs dominated possession and created countless chances, but until a classy finish from their summer signing Jan Vertonghen broke the deadlock, they were never sure of earning all three points.
A single goal was enough to see off the Swans, but if there's one thing that will concern Andre Villas-Boas, it's that for all their possession, Spurs never seem to kill teams off.
It must be the most frustrating thing in the world to see your team dominate possession and create all these chances, but fail to put the ball in the back of the net.
It seems strange to talk about a team struggling for goals when Jermain Defoe has been on fire this season.
At some stage, he's going to go on a barren run and some other players need to step up to the plate, like Aaron Lennon, Clint Dempsey and especially Emmanuel Adebayor.
If Spurs think they had it tough last weekend, then they'll find it just as bad on Saturday when Stoke come calling.
I've got nothing but admiration for Tony Pulis and the job he's done at the Britannia Stadium.
It comes across like Pulis is just an honest, hard-working bloke who expects his players to put in the same amount of effort that he does.
Anything less just won't cut it.
Stoke come in to Saturday's game on the back of an outstanding run which has seen them go seven games undefeated.
They're positioned nicely in the table, just three points off a European place, but they've got a tough run of fixtures over Christmas.
They play Spurs on Saturday before playing Liverpool and Manchester City over the Christmas period.
Don't be fooled into thinking that Stoke will provide anything other than a strong test for Spurs.
They have some excellent players on their books and are more than capable of causing problems for the Londoners on Saturday.
In terms of the result, Spurs have been good at home and Stoke are always difficult to beat.
I think honours will be even when the full-time whistle blows at White Hart Lane.
Prediction: Tottenham 1-1 Stoke City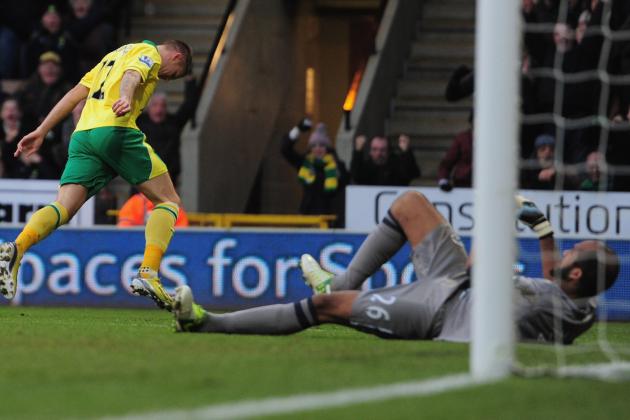 Jamie McDonald/Getty Images
Anthony Pilkington scoring the opener against Wigan last week
Last Sunday saw West Brom stop the rot somewhat when they picked up a point against West Ham.
Steve Clarke's side had lost three on the spin, so they must have been pleased to get back on track.
In all honesty, both sides kind of cancelled each other out a bit and chances were few and far between.
Even though they're now four games without a win, they're still comfortably in the top 10 and only two points behind Chelsea in third.
That just puts into perspective what a great job Clarke has done since taking over.
He couldn't have wished for a better start, and last weekend's result will have given him an indication of the character within his squad.
They're a hard-working bunch of lads with the ability to cause teams problems, so the fact that one of the form teams in the country are coming to visit on Saturday won't scare them.
I think everyone to a man had written off Norwich after they were comprehensively beaten by both Liverpool and Chelsea at the end of September/beginning of October.
They looked all over the place defensively and it seemed like they were destined to be involved in a fight against relegation.
Fast-forward 10 weeks later and they're unbeaten in the league, playing some decent football and their players are just hitting form at the right time.
Anthony Pilkington scored again last weekend and he's now showing the same kind of form he was in at Huddersfield before he signed on at Carrow Road.
He's always been capable of scoring goals, but now he's doing it at Premier League level and you can see that he's growing in confidence.
Norwich look like they'll head to West Brom without Grant Holt, who was injured against Wigan last week.
It's not clear whether he'll be fit or not for the weekend, or indeed Norwich's upcoming fixtures against Chelsea and Manchester City.
The next three games could be Norwich's toughest of the season, but the way they're playing right now, they'll be confident of getting a result at the Hawthorns.
You'd think that something's gotta give in this match, and I just think that the confidence Norwich have at the moment makes them more likely to pick up a result than the Baggies.
Prediction: West Brom 1-2 Norwich
Richard Heathcote/Getty Images
Michu has been one of the signings of the season so far
The first of Sunday's matches sees Swansea take on Manchester United at the Liberty Stadium.
It goes without saying that Michu has probably been the signing of the season so far.
The Spaniard has taken to life in the Premier League like a duck to water, and he's flourishing at Swansea.
The quality of his overall game is astonishing and I just can't believe that Swansea were able to get him for what was, in today's market, a knock-down fee of £2 million.
He was at the middle of a flashpoint during last weekend's match with Tottenham after a collision with Hugo Lloris.
There were fears that he'd been knocked unconscious, but fortunately, he was OK.
He'll be one of a number of threats that Manchester United will need to be wary of this Sunday.
United travel to Wales sitting proudly at the top of the Premier League table, safe in the knowledge that they'll be there until at least after Christmas.
Wayne Rooney seems to be hitting form at just the right time and his partnership with Robin van Persie continues to develop.
So far this season, it's been a case of "all or nothing" with United in the league.
Out of 17 league games, they've won 14 and lost just three.
In each of the games they've lost, it's only been by a single goal, so it's not as if they've been put to the sword by anyone.
Sunday will be a very tough task, and the fact that United only won 1-0 at Swansea last season means that Sir Alex Ferguson will know what awaits his players at the Liberty Stadium.
I can see Swansea being stubborn to break down, but United just have too much strength in depth to come away with anything less than a win.
Prediction: Swansea 0-2 Manchester United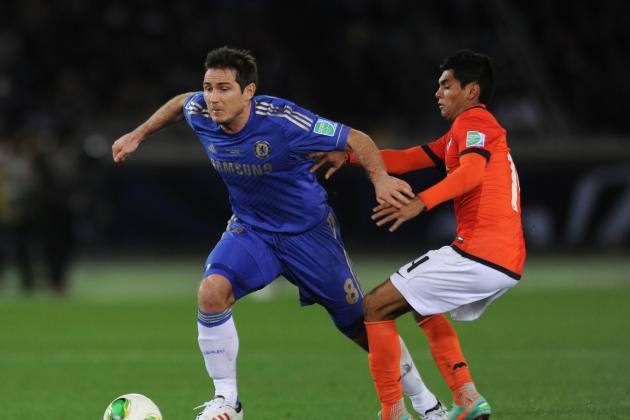 Kaz Photography/Getty Images
Frank Lampard's return from injury is crucial to Chelsea
The final fixture of the weekend sees a struggling Chelsea side take on Aston Villa at Stamford Bridge on Sunday at 4 pm GMT.
Chelsea have been boosted by the return of Frank Lampard, who has been out injured for several weeks.
Lampard's return to fitness couldn't have come at a better time for Chelsea.
Over recent weeks, they've been in desperate need of a leader on the pitch, and that's exactly what Lampard is.
He leads by example and drives others on, so it wouldn't be a complete surprise if Chelsea were to experience an up-turn in fortunes now that he's nearing full fitness.
Although they weren't in domestic action last week, Chelsea's woes continued as they lost the FIFA Club World Cup Final 1-0 against Corinthians.
They just look disjointed and completely devoid of any confidence.
It's my view that too many Chelsea players are resting on their reputations instead of going out there and proving why they're paid so much money for doing a job that some of us would love to do.
If they do that against Aston Villa on Sunday, then their shocking league run might well continue on into the festive period.
Villa have almost been resurgent lately and their 3-1 win at Anfield last Saturday just goes to show what a tough task Chelsea have ahead of them on Sunday.
Yes, Liverpool aren't the force that they used to be, but Anfield is still one hell of a tough place to go and the fact that Villa left with three points after scoring three goals shows they're not to be underestimated.
Christian Benteke continues to impress up front and the enforced absence of Darren Bent through injury will give him a chance to test himself against the likes of David Luiz and Gary Cahill.
The young Belgian is clearly talented.
He holds the ball up well, he's got strength, pace and power and he'll be a handful.
They might be a young side, but Villa won't be scared of Chelsea.
Especially given the form they're in.
When it comes to making a prediction, that's a tough one.
Villa have already beaten Liverpool in the league and Manchester City tin the League Cup this season, and they ran Manchester United close at Villa Park before eventually losing 3-2.
I think it'll be a hard day at the office though and the return of Frank Lampard should be enough to see Chelsea through.
Prediction: Chelsea 2-0 Aston Villa