We're hurtling towards the end of 2012 and it's normally at this time of year when annual awards are given out.
We've seen another fantastic calendar year in the Premier League that's been full of excitement and controversy.
The purpose of writing this was to name a player from the English Premier League who's entertained me the most, as a fan, in 2012.
Again, this is just my opinion. It doesn't make it right, it doesn't make it wrong, but it might be different than yours.
For me, Robin van Persie has been the most entertaining Premier League player of 2012.
Think about it.
Without the sheer volume of goals he scored last season, Arsenal would have been in deep trouble and in truth, his goals papered over a lot of the cracks at the Emirates.
He scored 30 league goals for the Gunners last season and was talismanic as they somehow managed to secure Champions League football again, despite a terrible start to the season.
Just look at the problems Arsenal have had since he left in August.
Without the outlet of Van Persie, in terms of his skill, touch, ability and goal threat, they've suffered badly.
Arsenal's loss has been Manchester United's gain though.
When it was speculated that Van Persie would leave the Emirates, I always thought that if he stayed in England, the team he signed for would win the title.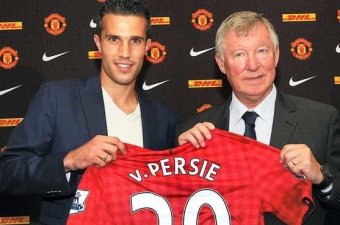 Sir Alex Ferguson shelled out £24 million to prise him away from Arsenal, and while the title race is far from over, Manchester United are in pole position to do that.
Van Persie has started off at Old Trafford where he left off at the Emirates, scoring 12 goals in 17 league games.
In 2012 alone, Van Persie has scored 25 league goals for Arsenal and Manchester United.
That's a phenomenal return, especially when you consider that the Premier League is widely regarded as the most competitive league in the world.
There's every chance he'll break the 30 mark by the time December's over too.
Football fans pay their season ticket money, or cash at the gate, to be entertained and to see goals.
Robin van Persie has done that over the last 12 months for two of the biggest clubs in the country and his contributions simply can't be overlooked.
I genuinely can't think of another player who's contributed as much to his club, or clubs, over the last 12 months than Robin van Persie, so for me, he has to be the most the most entertaining player of 2012.