Showcasing Biggest Strengths and Draft Needs of Kansas City Chiefs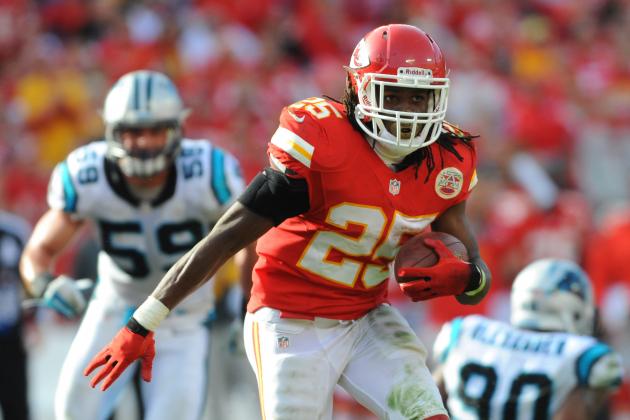 Denny Medley-USA TODAY Sports

Ineptitude on the field and tragedy off of it has marred the 2012 Kansas City Chiefs season, leaving the team's future very much up in the air heading into the offseason.
Beginning with when the clock strikes zero in their Week 17 game, the Chiefs will have a huge decision regarding head coach Romeo Crennel and general manager Scott Pioli.
Crennel has been at the helm for just one season in Kansas City, but the team is just 2-12 heading into Week 16 and has been noncompetitive for much of the season. Pioli, meanwhile, has just one winning season in four years with Kansas City and is the man ultimately responsible for the roster deficiencies.
Still, there has been no inkling any decision as just yet, so it's possible that both could be around in 2013. The individual players, on the other hand, are far easier to project. With that in mind, let's take a look at a complete breakdown of the Chiefs' roster, highlighting both the team's strengths and needs in April's draft.
Begin Slideshow

»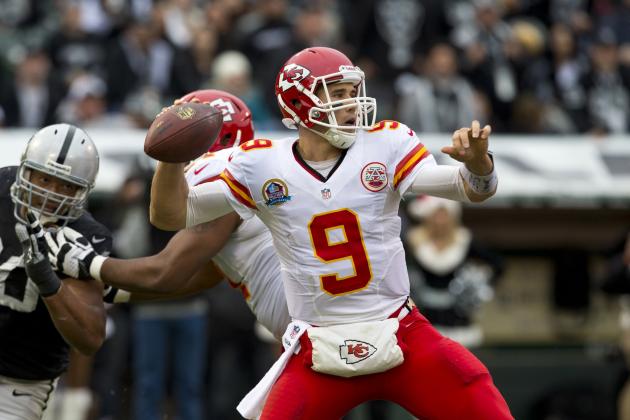 Jason O. Watson/Getty Images

You're going to have a hard time believing this, but quarterback is a massive need position for the Chiefs. Heading into Week 16, it's even arguable that Kansas City has the worst quarterback situation of any in the NFL.
In nine games this season, Matt Cassel has thrown for 1,796 yards and six touchdowns against 12 interceptions and nine fumbles. His replacement, Brady Quinn, has thrown for 930 yards and two touchdowns against six interceptions, fumbled once and has been seen as a marked improvement for the most part.
Using ESPN's Total QBR metric, Cassel ranks as the 33rd best quarterback in the league among qualifiers at 36.0 (out of 100). Quinn's QBR is 36.5, which would be 32nd if he had enough passes to qualify.
On the season, Chiefs quarterbacks have combined to throw just eight touchdown passes against 18 interceptions. There is no worse touchdown-to-interception ratio for any team—and yes, that includes the national whipping boy known as the Arizona Cardinals.
In other words, this is what you would call a glaring need. Luckily, if the season ended today, Kansas City would have the No. 1 pick and have its pick of the litter among quarterbacks. Unfortunately, this is possibly the worst quarterback draft class since the two-year stretch from 2007-08 where Matt Ryan was the only usable player at the position.
Is Geno Smith or Matt Barkley worthy of the top pick? Not at all. However, does history tell us the Chiefs will fall in love with one of them enough to make a quarterback selection No. 1? Yes, yes it does.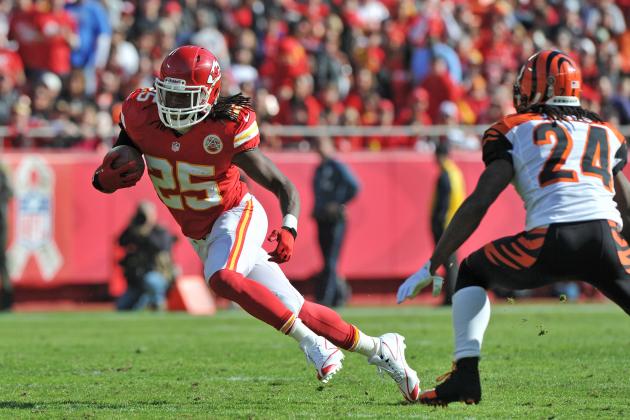 Peter Aiken/Getty Images

The Chiefs arguably have the worst quarterback situation in the league, but luckily, they have a franchise player at running back. Though wildly inconsistent at times, Jamaal Charles is possibly the most explosive running back in the league and strikes terror into defenses on a weekly basis.
Coming into Week 16, the 25-year-old back has 1,230 rushing yards and four touchdowns on just 249 carries and has also added 33 receptions for 218 yards as well. Charles' season is even more impressive considering he shredded his knee in Week 2 last season and came back as good as ever.
Had 2012 not seen the two greatest Comeback Player of the Year seasons ever by Adrian Peterson and Peyton Manning, Charles would have been the runaway winner of the award.
Nevertheless, the Chiefs have to feel good about where they are at running back. They will probably have to replace Peyton Hillis, but considering the negligible effect he's had all season, that shouldn't be too daunting of a task.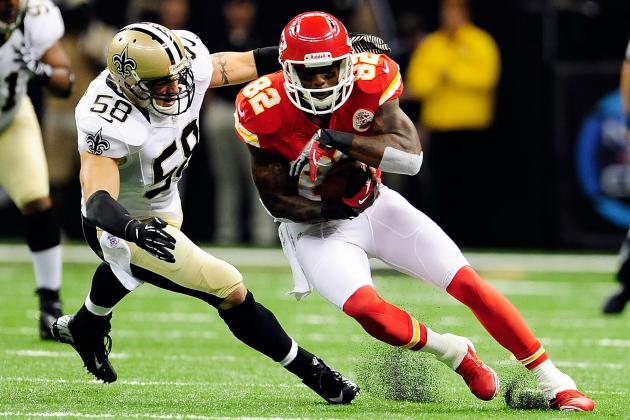 Stacy Revere/Getty Images

Kansas City's status at receiver pretty much depends on Dwayne Bowe. If the Chiefs can convince him to end his desperate quest to leave town, then they can easily become league average or even above that with the addition of a reliable WR2 in free agency.
However, if the team allows Bowe to skip town, it will be hemorrhaging receivers almost as badly as it is quarterbacks. Jonathan Baldwin, the team's WR2, can nicely be described as not worthy of a starting job; Steve Breaston has essentially been exiled from the team all season; and Dexter McCluster is a nice weapon, but one that's best used sparingly.
Those are the three most talented receivers on the Chiefs roster if Bowe leaves. Obviously the team can franchise the 28-year-old wideout if it wanted, but that will almost certainly depend on how negotiations go with Branden Albert.
Without Bowe, wide receiver becomes a top priority. There are no especially elite receivers in this year's class as well, but guys like Robert Woods may be available when the Chiefs make their second pick.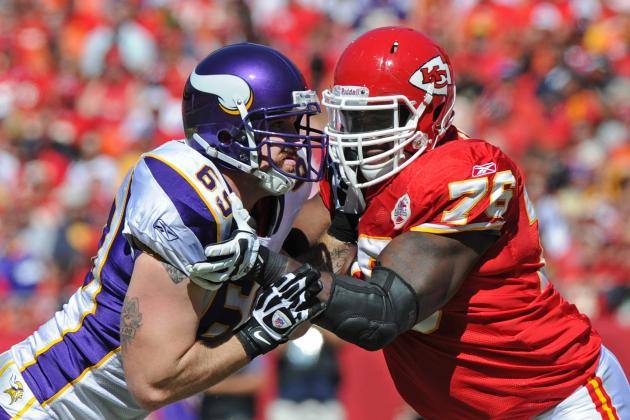 Peter Aiken/Getty Images

When teams' quarterback situations are a mess, one usually doesn't have to look much further than the offensive line to see why. In most situations, bad offensive line play causes a quarterback to get hit, said signal-caller starts lowering his eyes and check-downs and interceptions become the norm.
While checkdowns and interceptions are the norm in Kansas City, it's not the fault of either tackle. Assuming the Chiefs keep Albert via a new contract or by franchising him, they should have steadiness at both tackle spots with Eric Winston also locked down for the next couple years.
That's a good thing. Albert is just 28 years old and is one of a select few top draft picks that have worked out in the past decade for Kansas City. Winston is still one of the more underrated right tackles in the league, though he hasn't been Pro Bowl caliber this season.
As for the rest of the offensive line, it's not too shabby, either. Right guard Jon Asamoah and center Ryan Lilja are both solid NFL starters and should stay that way if they stick around for 2013.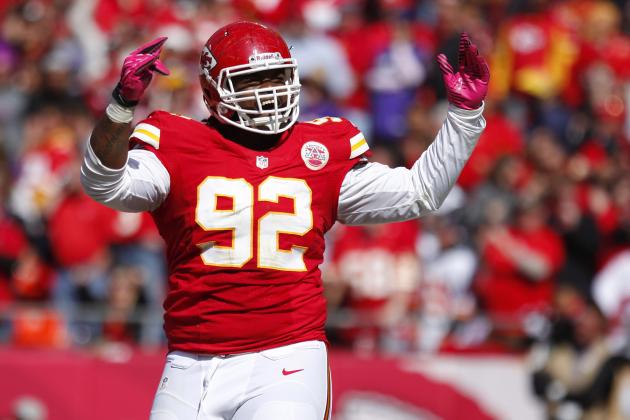 Kyle Rivas/Getty Images

The status of the defensive line depends heavily on whether the team's coaching staff returns for 2013. If Romeo Crennel sticks around for another season in Kansas City or the team replaces him with someone who runs a 3-4 defense, there is no need to make a defensive line addition.
Dontari Poe has certainly not lived up to his No. 11 pick billing, but it would be a little asinine to give up on a prototypical nose tackle after just one season. And with Tyson Jackson and Glenn Dorsey both fully capable NFL starters on the ends in a 3-4 system, the defensive line is one of the completest spots on the roster.
However, if a new coach comes in and tries a 4-3 defense, things just aren't going to work out with this current crop of players. Neither Jackson nor Dorsey is an elite pass-rusher off the edge and Poe's size could be a problem in 4-3 sets as well.
Logically speaking, it seems unlikely that any coach would make such an egregious error. Just know that we've seen crazier things after a regime change.
For now, though, we'll give Kansas City's defensive line a full stamp of approval.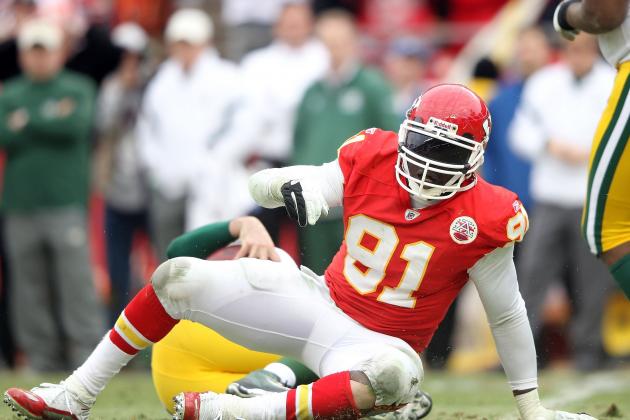 Jamie Squire/Getty Images

As a unit, the linebacking corps has not played up to its potential this season. Teams are running for an average 136.4 yards per game and have only made 24 sacks heading into Week 16, both of which are bottom five in the NFL.
Regardless, the undeniable talent at three of the four linebacker spots make it the biggest strength on the team.
Tamba Hali will turn 30 next season, but is still an elite pass-rusher coming off the edges and has a third of the team's sacks thus far. Derrick Johnson has been nothing short of brilliant since the Chiefs drafted him in 2005, and with over 100 tackles for the third straight season, there's little reason to send him packing yet. And Justin Houston has emerged as a possible future star, hitting double-digits sacks in just his second season in the league.
Kansas City could use a left inside linebacker to help Johnson against the run. But that can be found pretty cheap in free agency. If the Chiefs draft a linebacker before the fifth or sixth round, it will feel like a wasted pick.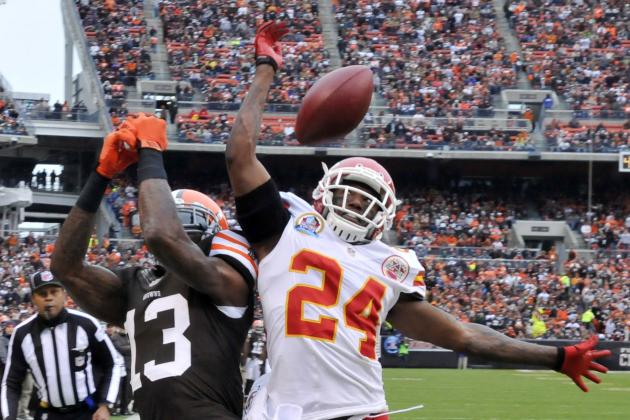 USA TODAY Sports

The Kansas City secondary is a story of a complete dichotomy between two sides of the field.
At one corner spot, Brandon Flowers is a fantastic young cornerback. Though he's undersized, the 26-year-old consistently does a great job of shutting down bigger receivers with top-notch athleticism and highly aggressive play. Granted, that comes back to bite him sometimes, but general managers would be hard-pressed to name five corners they would rather have going into the next few years.
On the other side, though, there's Javier Arenas. Like his counterpart, Arenas is undersized, but doesn't quite have Flowers' athletic ability and it shows. He gets beat by bigger receivers and also has trouble with elite speed guys as well. Arenas certainly isn't a slouch. Still, he's better served in a nickel role going forward.
Safety is much of the same story. Eric Berry is young and is already one of the more respected strong safeties around. Free safety, however, is basically a mess that desperately needs some cleaning in the offseason.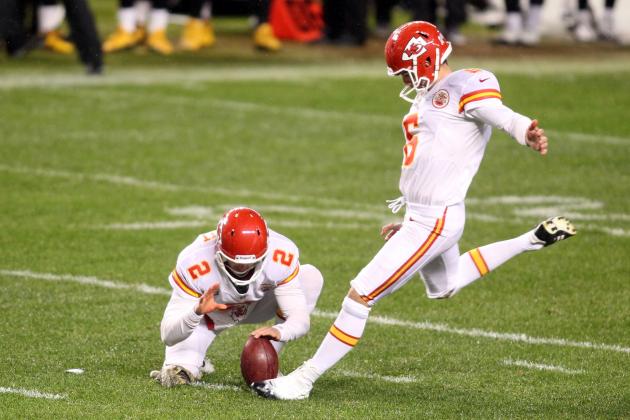 Charles LeClaire-USA TODAY Sports

They need to make sure Dustin Colquitt returns in 2013, but it's pretty hard to complain about the Chiefs' special teams as currently constituted.
Colquitt is one of the best punters in the NFL. His 46.9 yards per punt average ranks just 12th, but has wonderful control of where his kicks are going, as he leads the NFL with 41 punts inside the 20-yard line.
The accuracy doesn't stop with Colquitt, either. Ryan Succop has made 86.2 percent of his kicks this season and 82.5 percent in his four-year career. He doesn't boast a Greg Zuerlein-esque cannon on his right leg, but provides a little better than league-average steadiness at the position.
In the return game, Arenas isn't the type of game-breaking talent who can swing an entire contest. Still, he's solid enough that it's not worth wasting a draft pick unless Tyrann Mathieu is sitting there in the sixth or seventh round.