6 of the Premier League's Most Overrated Players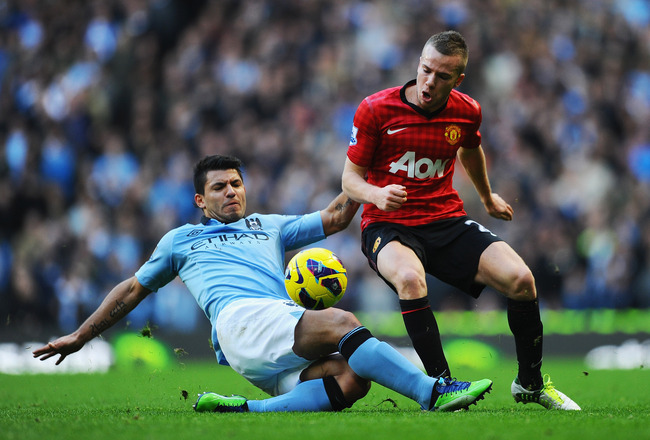 Laurence Griffiths/Getty Images
Paradoxically, as coverage of the Premier League has increased to almost saturation point, it's become even more difficult to form a reliable opinion of the players on show.
You see them more often but it's hard to think straight with the perpetual background howl of the all-consuming hype machine.
In this bewildering world of untrustworthy sources, Sky sensationalism, Opta stats, Youtube clips, the belligerence of fans forums and blandly enthusiastic pundits, the already impossible goal of objectivity seems further away than ever.
Although mine is just another voice destined for the ether, already oversubscribed with opinions quickly dismissed because they happen to contradict my own, here's what you should really think of six eagerly over-praised Premier League players.
By all means pass these well-rounded insights off as your own; it's for the greater good.
Ali Al-Habsi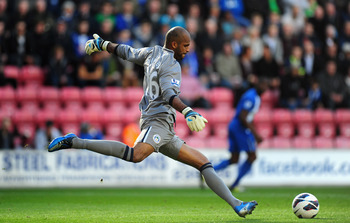 Stu Forster/Getty Images
Club: Wigan Athletic
Age: 30
Nationality: Omani
Essentially he is a goalkeeper built for highlights packages. He veers from the sublime to the ridiculous, laughable handling errors to spectacular saves, showcasing incredible agility.
That Al-Habsi routinely has to fling himself the length of the goal to palm the ball away is taken as a sign of his talent, but the best shot stoppers don't get themselves in such trouble to begin with. Through good positioning they make the exceptional look anything but.
The Oman international was permanent back-up at Bolton for four years with good reason. Jussi Jaaskelainen was, and arguably still would be given his stellar performances for West Ham, simply a better and more reliable option.
Al-Habsi continues to be revered as one of the Premier League's top keepers, yet no one other than Wigan was prepared to take the risk. You have to wonder why.
David Luiz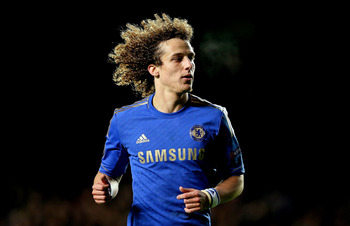 Scott Heavey/Getty Images
Club: Chelsea
Age: 25
Nationality: Brazilian
He's just not a centre-back. Underneath the endearing exterior of his shaggy hair and fun-loving forward runs, is a calamitous mistake waiting to happen.
Many Benfica fans were understandably surprised at Chelsea's willingness to part with £25 million for his questionable defensive services.
The absolute antithesis of club colleague John Terry in terms of playing style and popularity, Luiz loves introducing the prospect of impending peril to a normally risk-averse position.
The Brazilian is undeniably fun to watch, dribbling out from the back at will, but, in his current guise, is a liability at the highest level. That Luiz is a converted No.10 is plain for all to see, and the answer to accommodating his talent may well lie in a return to midfield duties.
He found more success screening the back four against Corinthians, initiating attacks from a place where getting caught in possession is less costly.
Tom Cleverley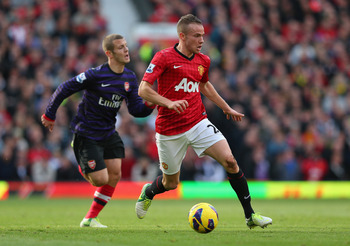 Alex Livesey/Getty Images
Club: Manchester United
Age: 23
Nationality: English
Along with the infinitely more talented Jack Wilshere, Cleverley is surprisingly seen as the future of England's midfield. After all he is no longer a fresh-faced whelp whose errors can be excused on grounds of youthful promise.
Now coming into the make-or-break phase of his career, that Cleverley is so important to the Manchester United midfield is more an indictment of its relative weakness than anything else.
Even now, in their twilight years, the creaking Ryan Giggs and Paul Scholes are regularly fielded in the centre, something unimaginable in less straitened times.
Cleverley is a capable player, who moves the ball quickly and incisively to United's game-changers up-front, albeit one whose influence is drastically overplayed.
A well-taken goal against Sunderland suggests he is working on his crippling lack of composure.
Joe Allen
Clive Brunskill/Getty Images
Club: Liverpool
Age: 22
Nationality: Welsh
Since Brendan Rodgers invented short passing circa 2010, his young protégé has been all the rage.
While I took to calling Barry Ferguson the Scottish Xavi when he was pulling the strings for Birmingham, making the most passes in the Premier League in his first season with the club, Joe Allen fans don't seem to get the joke.
They brand him the Welsh incarnation of Catalonia's finest playmaker in all seriousness.
Allen and Xavi are both ciphers for this very modern fascination with pass completion rates. Similarly slight and eager to get on the ball, they are, however, miles apart in terms of vision and technique.
While keeping possession is all well and good, the way it's increasingly fetishised at the expense of a willingness to make the penetrative pass is worrying. Ultimately, if football was composed of Allen clones I'm not sure it's a game I'd want to watch.
Thomas Vermaelen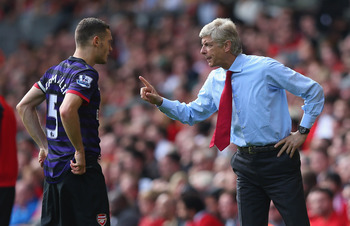 Alex Livesey/Getty Images
Club: Arsenal
Age: 27
Nationality: Belgian
Vermaelen still seems to be living off a reputation forged during an outstanding first season in English football.
Brutal in the tackle and competitive in the air for his limited height, he brought promise that Arsenal might finally be able to shake off their 'soft touch' tag.
A welcome source of goals at the other end also, there seemed to be nothing the £10 million signing from Ajax couldn't do.
In the years that have followed, as Fabregas, Nasri, Van Persie and other big names have departed, Vermaelen has floundered under the weight of increased responsibility as the senior dressing room figure.
He is currently Captain and, after a watertight start to the season, the Gunners defence is now leakier than ever. Alongside the lumbering Mertesacker he's been left horribly exposed at times.
For the avoidance of doubt: He's a good centre-back but not the great one that many perceive him to be.
Scott Parker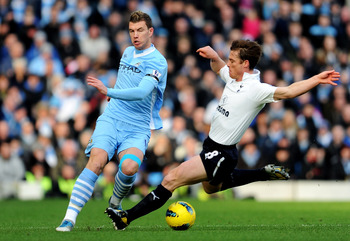 Michael Regan/Getty Images
Club: Tottenham Hotspur
Age: 32
Nationality: English
Harry Redknapp's decision to term a player "triffic" should never be taken at face value. Unfortunately, in the case of bullish midfield general Scott Parker it seems to have been.
It's the only excuse I can find for how mystifyingly well-regarded he is. The traditionalist's choice for crunching tackles and fist pumping commitment, Parker's reputation was revived during West Ham's abject slide towards relegation, culminating in a long-awaited recall to the England setup.
Not even a patch on Sandro, who performs the same holding role with more dynamism as well as composure, Redknapp regularly chose Parker to marshal his Spurs midfield.
Good as he is at stemming the opposition's flow, his greatest shortcoming is a preponderance for taking far too many touches when in possession.
Loath to receive the ball on the half turn he prefers to pivot endlessly away from trouble. This is far from helpful when Tottenham's style is predicated on the speed of their transition from defence to attack.
Keep Reading