Assessing Job Security for Top 3 Members of the Oakland Raiders' Coaching Staff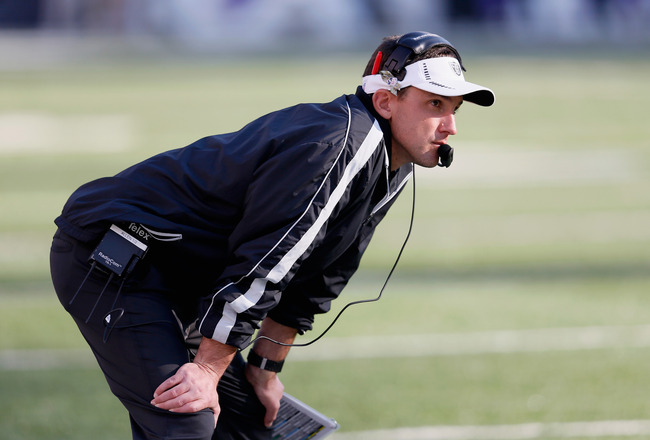 Dennis Allen is having a tough time as his first year as head coach of the Oakland Raiders.
Rob Carr/Getty Images
2012 was supposed to be a season full of hope for the Oakland Raiders, but instead it turned into a colossal failure.
After back-to-back eight-win seasons, the Raiders sit at four wins coming into Week 16 and are sure to lock up a top-five draft pick.
Both the offense and defense have underperformed greatly, and the proud Oakland franchise is having a difficult time adjusting to the new culture in town.
With the first year under the Reggie McKenzie-Dennis Allen era nearly in the books, let's see where each coach's job security stands.
Head Coach: Dennis Allen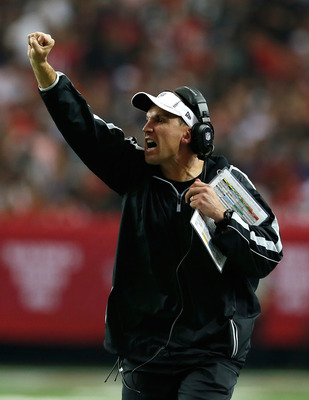 Kevin C. Cox/Getty Images
Hot Seat: Warm

First-year head coach Dennis Allen has had a rough go at it in Oakland.
He's taken on a job that requires more passion that one can humanly give, and he is starting to realize how beloved this team really is to its fan base.
Unfortunately, his Texas swag and his mildly calm demeanor have made it difficult to adapt to a culture that revolves around toughness, grit and the willingness to fight on.
He was the first defensive-minded head coach the Raiders have had since the great John Madden, yet Allen is already doing something Madden never did: record a losing season.
Even with a defensive background, Allen has let his defense rank near the bottom of the league against the pass and the rush. The offense has staggered and has been completely one-dimensional all season long, and Allen's decision to bring in offensive coordinator Greg Knapp has hindered the Raiders' once-powerful offense.
Despite Oakland's struggles this season, Allen seems to be safe for at least another year. General manager Reggie McKenzie commented on Allen's job security in early December when the Raiders were 3-8. Via sfgate.com:
"I'm still pleased with Dennis. It's like, I'm a rookie in this thing. Dennis is a rookie in this thing. So I'm sure he has some rookie mistakes but overall I'm happy with Dennis."
Offensive Coordinator: Greg Knapp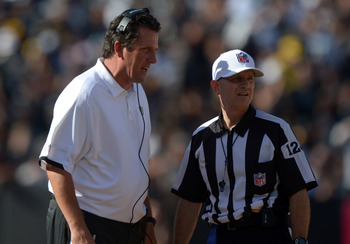 Kirby Lee-USA TODAY Sports
Hot Seat: Scalding
Despite how solid Oakland's offense was the last two seasons, the Raiders have struggle mightily under Greg Knapp's zone-blocking scheme.
Oakland has been extremely inconsistent offensively and has relied too heavily on the pass because the running game just can't seem to get it going.
Knapp has 17 years of coordinating experience under his belt, but none of his teams have finished higher than 14th in the league in points since 2004.
Darren McFadden has not looked like the same running back this season, and he has had a tough time adjusting to Knapp's zone-blocking scheme, only averaging 3.4 yards per carry.
Carson Palmer has struggled to string together any impressive drives lately, and it's hurt the Raiders on the scoreboard. Oakland hasn't scored 20 points in a game since Week 10, and the team couldn't even find the end zone against the Kansas City Chiefs.
Something needs to be done by season's end.
Defensive Coordinator: Jason Tarver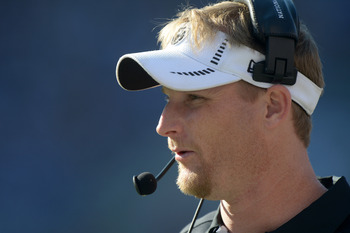 Kirby Lee-USA TODAY Sports
Hot Seat: Hot
Jason Tarver took on more than he bargained for when he came in as Oakland's defensive coordinator in the offseason.
The Raiders have failed miserably on the defensive side of the ball on all three levels. Interior linemen Tommy Kelly and Richard Seymour have combined for four sacks all season, and the non-existent pass rush has torched the Raiders all season long.
Rolando McClain has given the organization gray hairs with his poor performances on and off the field; and the secondary has looked more foolish than Charlie Brown after trying to kick a football.
Before their 15-0 shut out against the Kansas City Chiefs in Week 15, the Raiders had given up over 35 points per game in a six-week span.
Oakland comes into Week 16 ranked 27th against the pass and 21st against the rush. Both of those numbers are unacceptable and has helped lead to the unbalanced offensive attack.
Oakland falls behind so early that the team is forced to air the ball out the entire game. Although Tarver isn't the one missing blocks and tackles on the field, he's got to do a better job in teaching the fundamentals of defense to a team that has struggled all season.
Keep Reading

Oakland Raiders: Like this team?