6 Things We Learned from the Chicago Bulls' Win over the Boston Celtics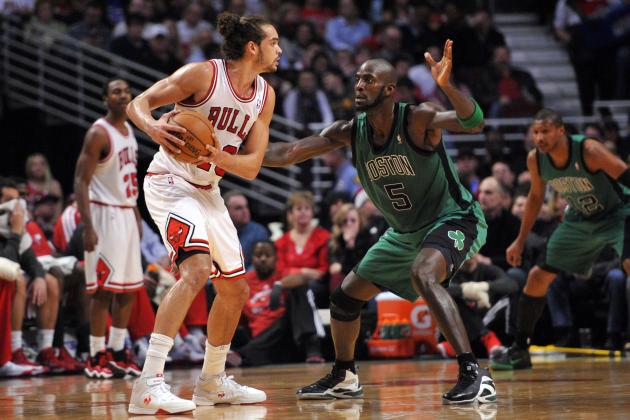 USA TODAY Sports

In a battle of two Eastern Conference mainstays, the Chicago Bulls pulled out a rather dominant 100-89 victory over the Boston Celtics on Tuesday night.
Joakim Noah led the way with his second-career triple-double, while Carlos Boozer tacked on his 12th double-double of the season. Rajon Rondo countered with 26 points and eight assists for the Celtics, with Paul Pierce adding 16 points of his own.
So what did we learn from the Bulls' win over the Celtics? With the Bulls moving to 14-10 and Boston falling to 12-12, what can this game tells us about their future?
Begin Slideshow

»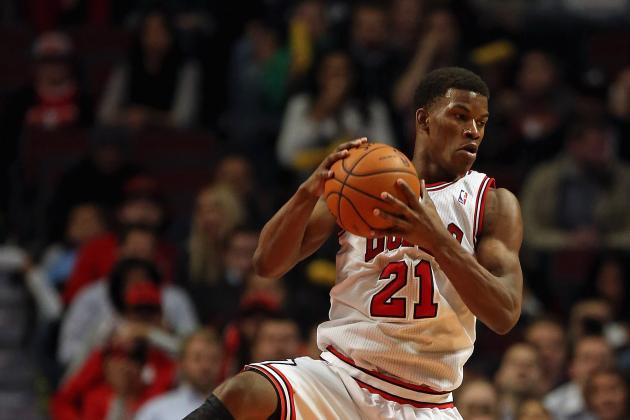 Jonathan Daniel/Getty Images

Entering the 2012-13 NBA regular season, one of the Chicago Bulls' greatest strengths was their second unit.
With sharpshooters, defensive specialist and aggressive rebounders running about, Chi-Town could make a case for having the top bench in the league.
Not anymore.
After ranking seventh in Defensive Rating in 2011-12, they now rank 19th in 2012-13. Chicago also ranks 27th in second unit points and 27th in second unit rebounds per game.
They ranked 10th in rebounding in 2011-12.
The cure to said woes may just be second-year player Jimmy Butler. The guard-forward hybrid brings infectious energy to an otherwise sluggish second unit and provides a boost in every statistical category.
In just 14 minutes, Butler finished with six points, two rebounds and one steal. Although the numbers may not blow you away, they are evidence for his aggression and effort on both ends.
If the numbers don't do it for you, try turning on a Bulls game. Butler is one of the hardest-working players in the league.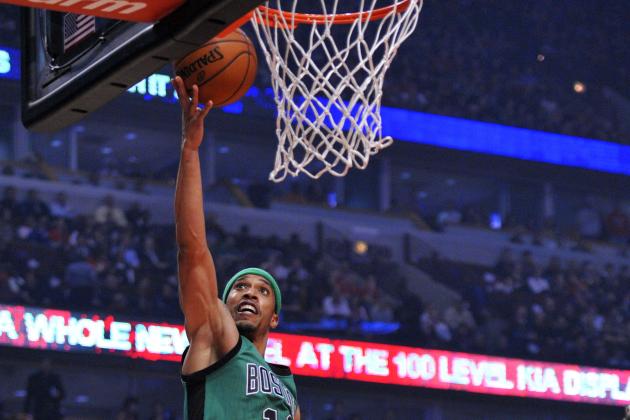 USA TODAY Sports
8 of Courtney Lee's 14 points came during garbage time.
On paper, the Boston Celtics have one of the deepest rosters in the NBA. Unfortunately, the young legs they acquired this offseason have done absolutely nothing to aid the veterans.
A primary reason Kevin Garnett and Paul Pierce have seen their contributions limited by the help they receive.
KG started out hot, hitting his first five shots. He'd proceed to miss his next five attempts and finish with 10 points and eight rebounds in 22 minutes.
Paul Pierce may have posted more impressive statistics, but he too struggled with the pace of this game.
Pierce finished with 16 points, four assists and two rebounds. He also turned the ball over three times and found himself as the de facto point guard when Rajon Rondo wasn't on the floor.
Young players such as Courtney Lee and Jeff Green continue to struggle and force the veterans to carry a far too heavy burden. If that doesn't change, Boston will continue to struggle.
Avery Bradley's return can't come soon enough.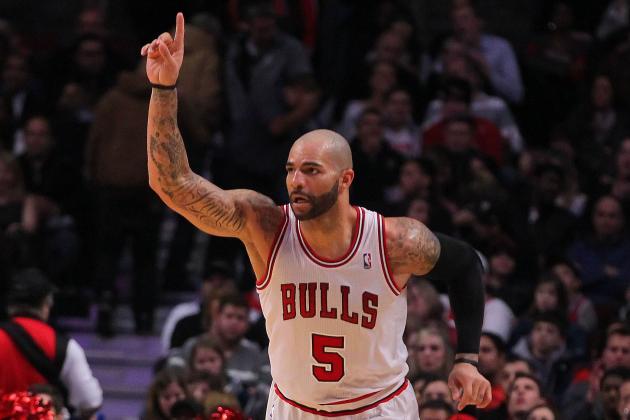 USA TODAY Sports

Carlos Boozer may not be the All-NBA performer that Chicago Bulls fans expected, but he has had a very solid season. In fact, Boozer might be the most consistent performer on the team outside of Joakim Noah.
Tonight was no different.
Boozer had yet another great performance, putting up 21 points and 12 rebounds on 10-of-17 shooting. Boozer also posted two assists, two blocks and a steal.
That's Boozer's 12th double-double in his past 17 games. Only eight players have more on the season.
So why not cut him some slack?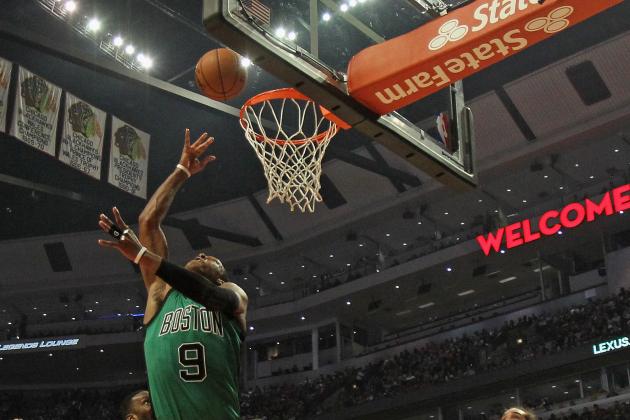 Jonathan Daniel/Getty Images

The Boston Celtics are the worst offensive rebounding team in the NBA. In turn, they create limited second chance scoring opportunities.
Furthermore, their young players continue to underwhelm and the veterans don't have the spring in their legs to run in transition.
Even still, Rajon Rondo leads league in assists and is developing into one of the better scorers at the point guard position.
Rondo finished the game with 26 points and eight assists in just 28 minutes of action. He made 9-of-18 field goal attempts, hit 2-of-3 from beyond the arc and converted 6-of-8 free throws.
After tonight, Rondo now shoots 54.7 percent on mid-range jump shots. I thought you said he couldn't shoot?
Rondo continues to run laps around other point guards in terms of controlling the pace of a game. Unfortunately, his teammates are not performing at the same level.
Rondo may just be the most valuable player in the league.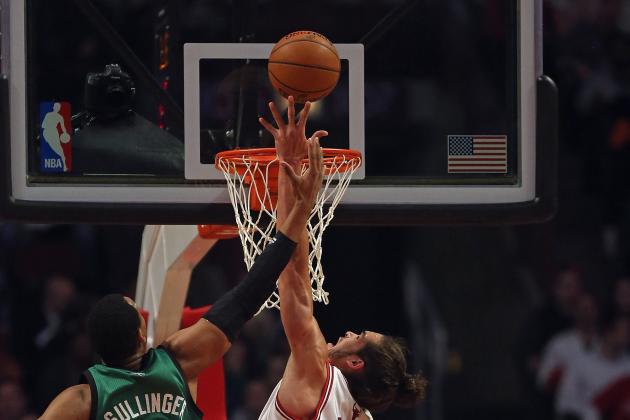 Jonathan Daniel/Getty Images

I said it at the beginning of the season and I'll say it again: Joakim Noah deserves to be an All-Star.
For the second time in his five-year career, Noah registered a triple-double. He finished with 11 points, 13 rebounds and 10 assists in 31 minutes of play.
As for those who claim this was a fluke performance, slow your roll. Noah is averaging 13.7 points, 10.5 rebounds and 4.3 assists on the season.
All-Star.
Noah will not garner the votes of the more popular frontcourt players. What Noah has proven, however, is that he is one of the best active centers in the Eastern Conference.
If not the top center.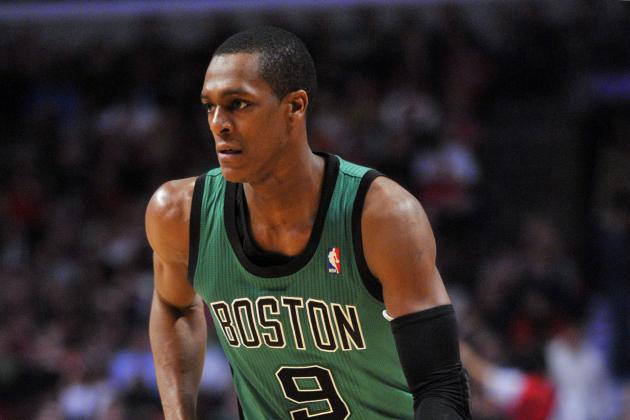 USA TODAY Sports

Rajon Rondo was sensational. The rest of the Boston Celtics, however, struggled mightily when Rondo was not on the floor.
The story of their season.
Entering this game, the Celtics were averaging 84.5 points scored per 48 minutes with Rondo on the bench. When Rondo is on the floor, they're averaging 95.5 per 48.
Just as we saw tonight.
For the game, the Celtics scored 67 points in the 28 minutes that Rondo was on the floor. They scored just 22 points during the 20 minutes which Rondo was on the bench.
Fourteen of those points came when the game was already decided in the waning minutes of the fourth quarter.
Boston is helpless without Rondo. A direct result of their not signing an adequate backup point guard.