Chicago Cubs: Projecting the 2013 Batting Order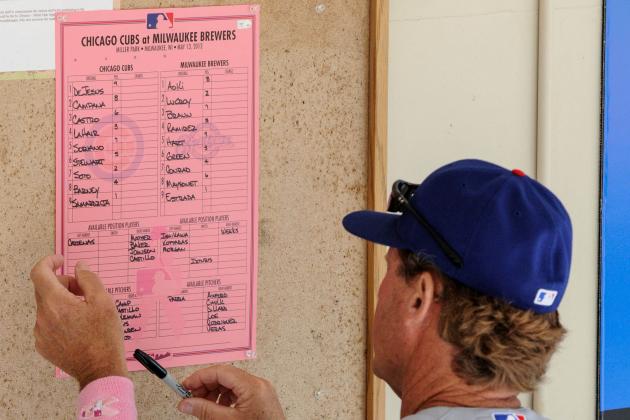 Benny Sieu-USA TODAY Sports

We are getting closer to the holiday season and that can only mean one thing—only 56 more days until pitchers and catchers report to spring training.
The Chicago Cubs have been meticulously adding pieces to the puzzle, and are looking to improve on their 101 loss season of 2012. The good thing about losing 101 games in a season is that you really have only one place to go—up.
We have seen the Cubs make moves to try and bolster the lineup, starting rotation and bullpen for 2013. There is still time in the offseason to try and improve these areas even more. But if the season were to start tomorrow, what would the lineup look like?
Let's take a moment to stand in Dale Sveum's shoes and piece together the 2013 Chicago Cubs lineup.
Begin Slideshow

»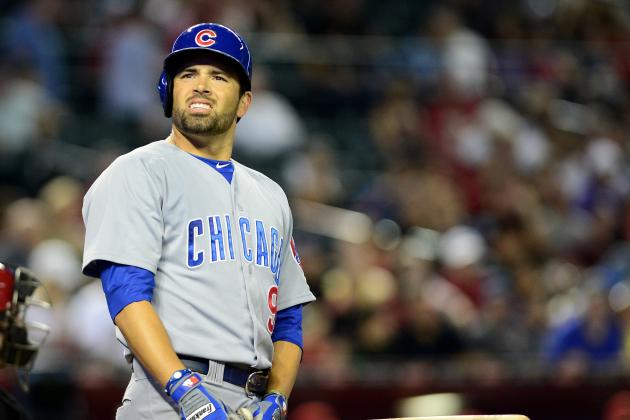 Jennifer Stewart-USA TODAY Sports

DeJesus isn't the prototypical leadoff hitter because he doesn't steal a lot of bases, but he is the best fit for the role as the Cubs are currently constituted.
He only has 58 stolen bases for his career, which is what some leadoff hitters can accumulate in a single season, but he does do a decent job of getting on base. His career OBP is .355, and in 2012 it was .350 which was ranked No. 23 in the MLB.
If you do a side-by-side statistical evaluation of DeJesus, with one of the most coveted free-agent center fielders on the market in Michael Bourn, you would find them to be neck-and-neck in almost every category for the 2012 season.
Bourn will get more stolen bases, but DeJesus struck out almost 70 fewer times than Bourn.
Maybe that's why the Cubs never made a serious push for Bourn this winter?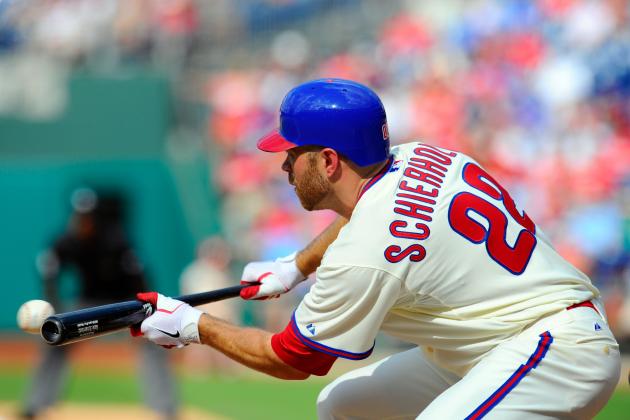 Dale Zanine-USA TODAY Sports

All eyes will be on Schierholtz this spring, as it looks as if he may finally get a chance to prove himself to be an everyday player.
The question is, will Schierholtz be able to step up and be an everyday player after spending his the majority of his career as a platoon player?
He does have the potential to be an everyday player, but it's more than likely that Schierholtz is just a temporary place holder in the lineup until Brett Jackson is ready to take over.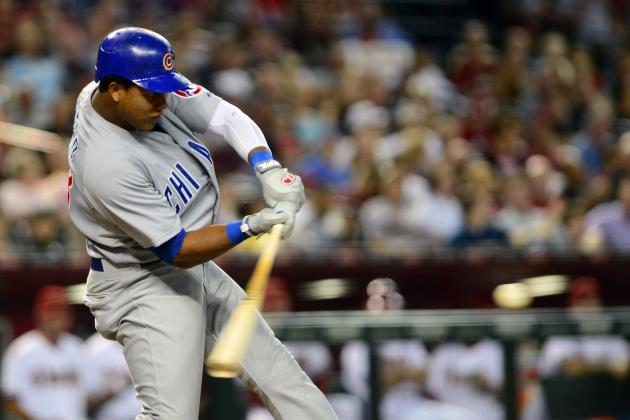 Jennifer Stewart-USA TODAY Sports

The crowned jewel of the Cubs will ultimately be hitting out of the three-hole in 2013.
Castro spent some time in the five-hole in 2012, but he isn't a prototypical No. 5 hitter. Castro's skill set is better suited to be used in the two or three hole.
Castro's numbers should improve this season with a dangerous four and five hitter behind him in the lineup. Not that his 2012 was bad, but when hitting out of the five-hole in 2012, he had little protection behind him, allowing pitchers to pitch around him.
That won't be the case in 2013, and it could be a breakout year for Castro.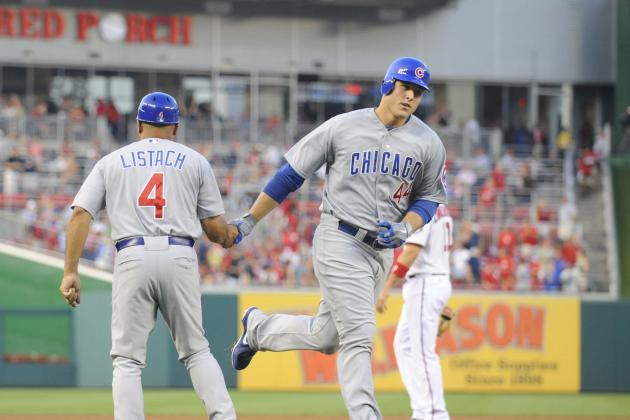 Brad Mills-USA TODAY Sports

Anthony Rizzo will be expected to build on his very promising 2012 campaign. At 23 years old, the Cubs are hoping they have found the next superstar.
And why shouldn't they think that?
The kid hit 15 home runs in just 87 games last year. If you project that over a full season, Rizzo would have been on pace to hit 28 home runs in 2012. Throw in his .285 batting average, and there is no other choice for the No. 4 hitter in the Cubs' lineup.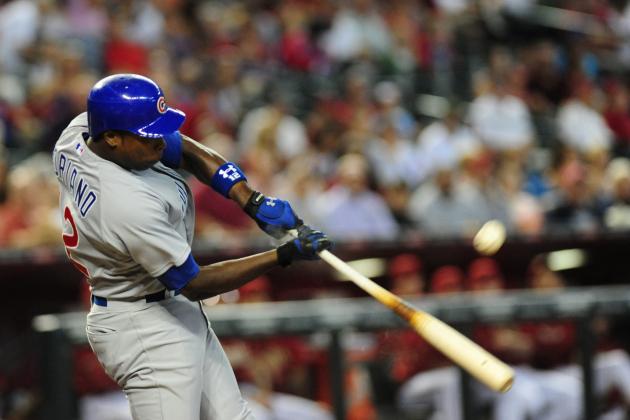 Jennifer Hilderbrand-USA TODAY Sports

How long Soriano remains with the team is yet to be seen. Soriano has been at the center of trade talks for the Cubs this entire offseason.
The team hasn't been able to move him yet, but that doesn't mean something won't pan out before the season starts.
If Soriano is with the team, he will inevitably be hitting out of the five-hole. He still has pop, and the ability to drive in runs, which is what the Cubbies need from their No. 5 hitter.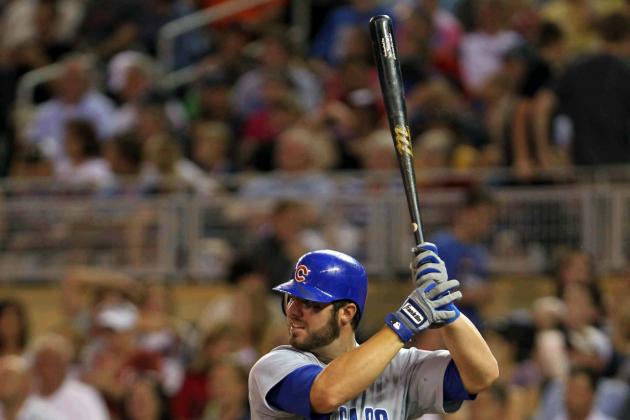 Brace Hemmelgarn-USA TODAY Sports

He's back.
How long he sticks around will be the question.
Ian Stewart has tons of potential, but has yet to live up to expectations. He was hampered with a wrist injury in previous years, but now that it's finally healed, this may be his last chance to prove he deserves to be in a major league lineup.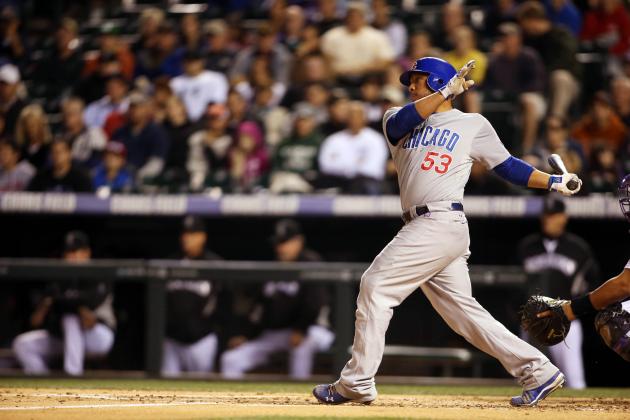 Chris Humphreys-USA TODAY Sports

Castillo played in 52 games during 2012, compiling a .265 batting average to go along with 5 home runs.
Those stats aren't necessarily going to make you jump and click your heels together as a fan, but there aren't many Buster Poseys out there these days either.
The Cubs also recently signed free agent catcher Dioner Navarro, so we can expect him to get some time behind the plate this year as well.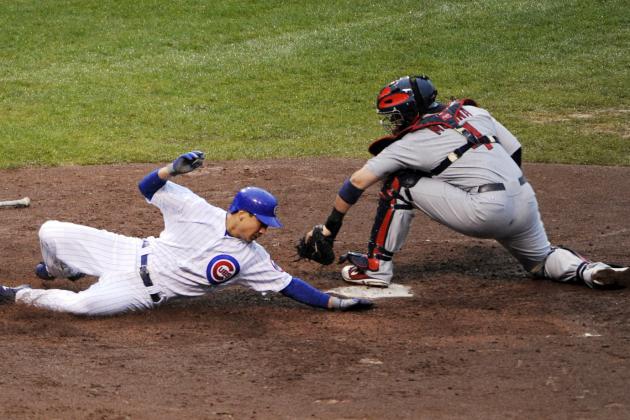 David Banks-USA TODAY Sports

Darwin Barney is definitely a defensive-minded second baseman, which would explain why he is slotted in the eight-hole of the projected Cubs lineup.
He's more likely to win a gold glove than a batting title in the future, but at the tail end of the lineup, his offensive skills are sufficient.