Boston Celtics vs. Chicago Bulls: Postgame Grades and Analysis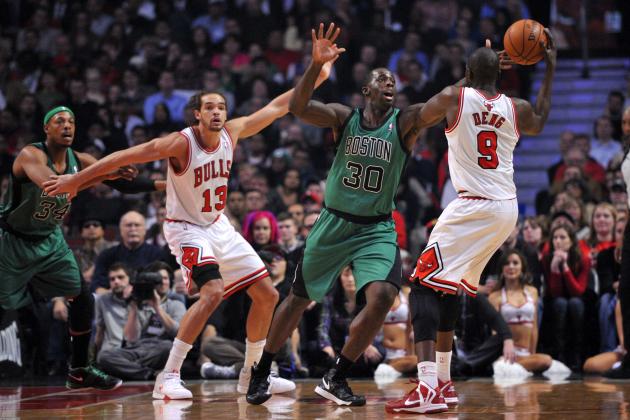 USA TODAY Sports

In their second matchup of the season, the Chicago Bulls evened things up with the Boston Celtics with a 100-89 victory at home.
The Bulls just appeared to want it more all night long, as they out-hustled, out-rebounded and out-shot the Celtics throughout.
Boston's defensive intensity was lacking from the get-go as they gave up 55 points in the first half and fell behind by 20 in the fourth quarter. Garbage-time points made the score appear a lot closer than it was.
The Bulls frontcourt was simply dominant from end to end. Joakim Noah posted his second career triple-double with 11 points, 13 rebounds and 10 assists. Carlos Boozer destroyed the Celtics interior with 21 points and 12 rebounds, and Luol Deng found himself at the line 12 times en route to 21 points.
Nate Robinson provided the extra spark off the bench for Chicago, helping them pull away in the final frame with five three-pointers.
Rajon Rondo was the lone bright spot for the Celtics, scoring a season-high 26 points. He was the only Celtics player who seemed locked in at every turn.
The loss drops the Celtics to .500 once again, and they have now fallen in three straight games. Chicago improves to 14-10 and remains in the thick of the Eastern Conference playoff picture.
Let's hit the classroom to see how everyone graded out in this dominating Bulls win.
Begin Slideshow

»
Rajon Rondo, BOS PG: A
In a game where it didn't appear a whole lot of the Boston Celtics played with great energy, Rajon Rondo put together quite a game.
He was aggressive from the start, scoring a season-high 26 points. His mid-range game was excellent, and he even hit a couple of threes.
This was a good sign as he showed zero signs of shying away from pace. After all the criticism of his recent bout with turnovers, Rondo could have gotten tentative offensively. Instead, he did everything he could to will his team towards victory.
Rondo finished 9-of-18 from the field and added eight assists to his 26 points.
Kirk Hinrich, CHI PG: D
In his second game back after missing a pair with a bad knee, Hinrich definitely looked to be a step slow.
Hinrich was beaten like a drum by Rajon Rondo on multiple occasions. Despite his 24 minutes, Hinrich was held scoreless by the Celtics. He got off only two shots in the game and was hounded defensively by Rondo and Courtney Lee all night.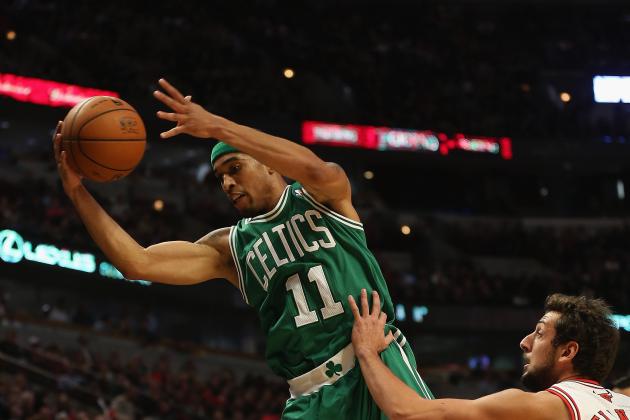 Jonathan Daniel/Getty Images

Courtney Lee, BOS SG: B
Courtney Lee's return to the starting lineup has not shaken things up with the Celtics. He is still struggling to be productive with his minutes but has to start worrying about losing time to Avery Bradley when he returns.
Lee did connect on 7 of 11 shots for 14 points against the Bulls. He showed some great aggression early on in the game with four points in the first four minutes. However, after that he disappeared until garbage time.
Lee's inconsistencies are definitely a concern for the Celtics. He needs to bring the same level of offensive intensity throughout the game that he displays in the first quarter.
Marco Belinelli, CHI SG: B
Marco Belinelli was solid from end to end against the Celtics.
The beauty of a player like Belinelli is his versatility. This was his ninth start of the season, but he has also played in 14 games off the bench.
Belinelli is thriving in his starts with the Bulls, averaging 16.6 points per game, entering this game. That compares to just five points a night off the bench.
Belinelli went 3-of-8 for 10 points. He made some smart offensive decisions with the ball and really took it to the heart of the Celtics defense for buckets a few times.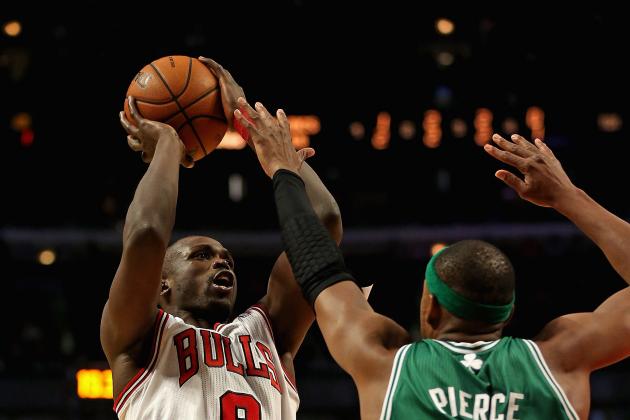 Jonathan Daniel/Getty Images

Luol Deng, CHI PF: A
Luol Deng has tortured the Boston Celtics over the years. His play against Paul Pierce is as good as anyone in the league that matches up with the Celtics' leader.
In their first matchup of 2012-13, Deng scored 26 points on 11-of-20 shooting and threw in 11 rebounds to boot. In the rematch, Deng was almost as good.
He went another route to attack the Boston defense this go-round. He went at the rim with a ferocity that the Celtics just couldn't handle. That left him at the free-throw line 12 times, and he hit 11 of them.
Deng finished just 5-of-9 from the field but scored 21 points.
Paul Pierce, BOS PF: B
A fantastic first half and solid overall game from Paul Pierce went largely for naught.
The Celtics captain scored 16 points on 6-of-10 shooting. He added four assists.
Unfortunately for Boston, Pierce did not bring much defensive intensity against the Bulls. Deng torched him at the other end numerous times throughout the game.
Pierce was slow in helping his teammates defensively and really put up little fight on a few possessions, being backed down like an invisible defender.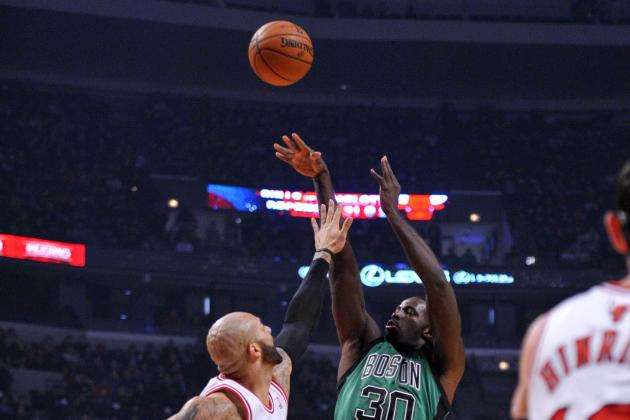 USA TODAY Sports

Carlos Boozer, CHI PF: A
Carlos Boozer has played very well against the Boston Celtics this season. In their first meeting, the power forward put up 15 points on 7-of-14 shooting. Tonight he was even better, going 10-of-17 for 21 points.
He also dominated the Celtics' smaller power forwards on the glass with ease. Boozer came with more energy all night. He came away with an easy double-double before the the fourth quarter started. Boozer grabbed 12 rebounds in just 31 minutes, thoroughly outplaying Brandon Bass in the game.
Boozer displayed a nice variety of post moves, hitting just one shot outside the paint.
Brandon Bass, BOS PF: C
Brandon Bass started off the game 0-of-5 and was simply invisible during the first quarter. He caught a bit of fire in the middle of the contest, scoring five points in the second quarter.
After that brief run, there wasn't much else going on for Bass. A developing theme of the Boston Celtics is his wildly mediocre play. Entering this game, Bass was scoring just 8.7 points per game and grabbing only 5.4 rebounds. Those numbers aren't good enough for a starting power forward on a supposed contender.
Bass finished with seven points and eight rebounds in 27 minutes.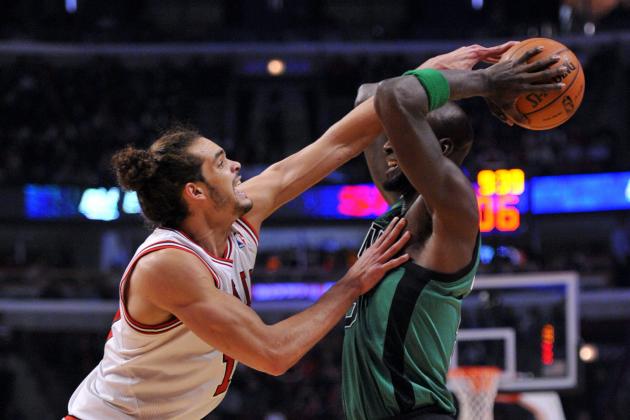 USA TODAY Sports

Joakim Noah, CHI C: A
The second triple-double of his NBA career helps Joakim Noah earn an "A" in Tuesday's game.
The Bulls center scored 11 points on 4-of-7 shooting, adding 13 rebounds and 10 assists to his stat sheet as well. Noah also blocked three shots and completely dominated the paint on both ends of the floor.
The Bulls scored 48 points in the paint against Boston, and Noah was a large part of that, wreaking havoc on the offensive glass and working the pick-and-roll to perfection.
Kevin Garnett, BOS C: C
Kevin Garnett got off to a nice start offensively against the Bulls. He hit his first four shots in the game.
From there, Garnett was 1-of-6 to finish 5-of-10 for just 10 points. He didn't get to the line at all, though he did add eight rebounds.
Garnett was beaten badly in the paint all night by the Chicago Bulls' frontcourt. He didn't get a whole lot of help, but that has become status quo this season. Garnett looked visibly slow on some switches and let a few wing players get behind him for easy backdoor cuts and layups.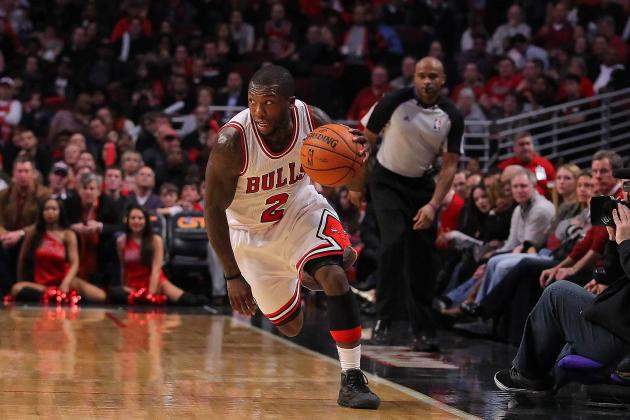 USA TODAY Sports

Nate Robinson, CHI PG: A
Eighteen points in just 22 minutes is the mark of an excellent sixth man.
Nate Robinson hit some monster threes and played a huge role in the Bulls' pulling away in the fourth quarter. He hit a couple of real daggers from way beyond the arc that ended any chance of a Boston comeback.
All in all, Robinson was 5-of-7 from deep and 6-of-12 overall. He added four assists to his book as well.
Jeff Green, BOS SF: F
In Chicago, Jeff Green turned into everyone's least favorite superhero, the invisible man. Boston's sixth man ended his streak of solid performances with a 1-of-6, three-points stinker.
Green's December had been going so well entering Tuesday night, so this game almost seemed like a surprise. However, Green did just revert to the way he played for much of November. He was so nonexistent on the court that Doc Rivers pulled him off it.
Green played just 20 minutes in the game, a result of his poor all-around play.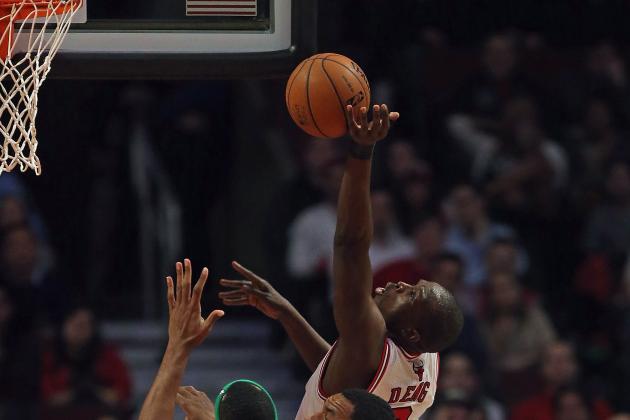 Jonathan Daniel/Getty Images

Chicago Bulls Bench: B
Even removing the outstanding game of Nate Robinson, the Bulls bench was superior to Boston's.
Taj Gibson and Jimmy Butler combined for 19 points on 9-of-15 shooting. Gibson had 13 of those points to go along with four assists and five rebounds. He also finished with a mark of plus-20, tied with Joakim Noah on the Bulls.
Chicago is very short on the bench right now due to injuries, but the players there gave a great effort Tuesday night.
Boston Celtics Bench: D
This was not a night to remember for anyone on the Boston Celtics roster, and that went for the bench as well.
Jared Sullinger had maybe his worst game as a professional, going 0-of-6 and finishing with a mark of minus-3. He had his shot blocked a bunch and was unable to get rebounds over Carlos Boozer and the Bulls frontcourt.
Leandro Barbosa did put in six points in 12 minutes but finished 1-of-6 from the field. Jason Terry got up only two shots in 26 minutes.