Predicting Where Alabama vs. Notre Dame Will Rank Among All BCS Title Games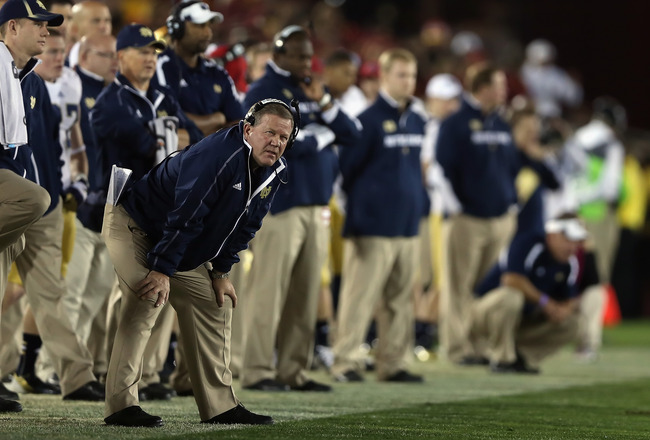 Jeff Gross/Getty Images
The hype for the Alabama-Notre Dame national championship is reaching all-time levels. The DVR players are flying off the rack for Christmas time, mostly because everybody can't wait to rewind and watch this historic matchup again and again.
Folks that usually don't watch college football religiously are even making sure to have the day cleared on January 7.
Only, we have heard all of this before.
Last year's rematch of LSU and Alabama was supposed to be great and ended up failing. Programs such as Ohio State and Oklahoma have been destroyed in past championship games. We have seen many recent blowouts in the BCS National Championship Game, so it's hard to actually believe a game will live up to the hype.
Where do you think this game will rank when it is all said and done?
Let's look at some of the top national championship showdowns and where this Alabama-Notre Dame matchup could place.
5. Florida vs. Oklahoma, 2009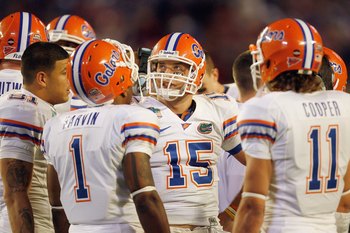 Eliot J. Schechter/Getty Images
Score: Florida won 24-14
Why This Game Was Great
The quarterback battle between Tim Tebow and Sam Bradford lived up to the hype. There was nearly 500 passing yards between the two schools. With 49 total first downs produced, the two teams went back and forth throughout the game until a Tebow jump-pass to David Nelson put the game away late in the fourth quarter.
The big plays from Percy Harvin, the Gators' blocked field goal in the third quarter and the momentum shifts throughout made this an underrated national championship.
Why It Isn't Higher
Both offenses came into the game as two of the best in the country and there was no scoring at all in the first quarter. There was also a combined four interceptions thrown, which gave the game somewhat of a sloppy feel at times. Also, with the history of Bob Stoops in big games, you were never quite sure if the Sooners had a real shot to come out on top.
4. Auburn vs. Oregon, 2011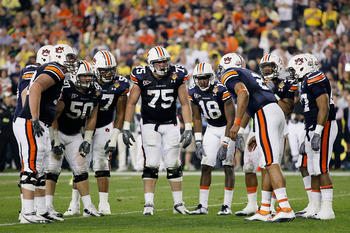 Kevin C. Cox/Getty Images
Score: Auburn won 22-19
Why This Game Was Great
The star power was off the charts—from Auburn quarterback Cam Newton to the Oregon Ducks offense, which averaged close to 50 points per game.
When Auburn appeared to have the game wrapped up, Oregon went 40 yards on eight plays, scoring a touchdown and getting the two-point conversion to tie the game up late in the fourth quarter.
This is also the game that featured one of the more memorable runs in national championship history, which eventually played a big role in the Tigers victory.
Why It Isn't Higher
In the same way that run helped make the game great, you can also blame the Ducks defense for not paying attention and playing until the whistle blows.
Imagine if Auburn didn't score and this baby went into overtime.
We didn't see many fireworks from the Ducks offense, which we all would have liked. LaMichael James wasn't his usual self and Oregon only had 75 rushing yards for the entire game.

3. Alabama vs. Notre Dame, 2013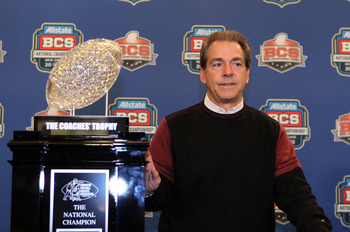 Andy Lyons/Getty Images
Why This Game Will Be Great
Since both are such terrific defensive teams, the odds of this game resulting in a blowout are small. This should be an old-school matchup of smashmouth defense and great running games.
With the contest likely being so tight, every play is going to matter.
Expect to see some of the physical style of play that your grandfather was used to watching back in the days.
The tradition between these two schools is also going to play a part. There aren't many programs in college football that are as accomplished as Notre Dame and Alabama. The ratings are going to go through the roof.
Let's just hope it lives up to the expectations.
Why It Isn't Higher
For one, the game hasn't been played yet. Putting it any higher than this would be foolish.
Notre Dame has built a reputation of playing down to its opponent throughout the year, resulting in many close games that shouldn't have been.
If the Irish don't get off the bus for this one, they will find themselves flying back to South Bend with a loss.
You also have the Nick Saban factor. He usually does a great job preparing for games that are as big as this one.
2. Ohio State vs. Miami, 2003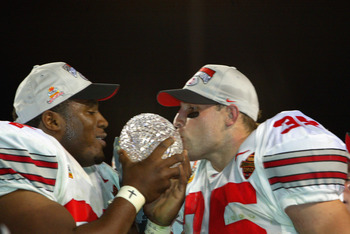 Elsa/Getty Images
Score: Ohio State won 31-24 in double overtime
Why This Game Was Great
The game went back and forth between two heavyweight programs. The largest lead of the game was only 10 points and the Hurricanes came storming back in the second half, when kicker Todd Sievers sent the game into overtime.
Big plays from guys like Maurice Clarett, Kellen Winslow II and Willis McGahee were enough to keep you on the edge of your seat.
This game had drama, controversy and, of course, overtime.
There isn't much else to ask for.
Why It Isn't Higher
Who knows what would have happened if Hurricanes running back Willis McGahee didn't blow out his knee early in the fourth quarter?
There was also a controversial pass interference call that was highly questionable in the second overtime.
1. Texas vs. USC, 2006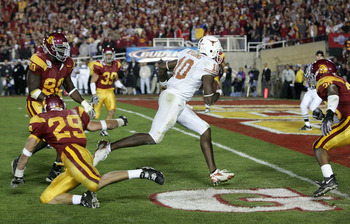 Harry How/Getty Images
Score: Texas won 41-38
Why This Game Was the Greatest
The Longhorns had all of the odds stacked against them in this matchup, as they went up against one of the most talented teams in BCS history.
With guys like LenDale White, Reggie Bush and Matt Leinart on the Trojans offense, many weren't even giving Texas a chance.
Late in the fourth quarter, it looked like USC was going to win this game fairly easily.
That's when quarterback Vince Young put his team on his back. With the Longhorns down 12 points, Young ended up scoring two touchdowns in the final five minutes, including an eight-yard touchdown run on fourth down with only 19 seconds left.
There were more than 1,000 total yards in this game, 60 first downs and numerous clutch performances from many players.
This game had star power, the underdog story and a last-second finish.
It would take a lot to top this game, which will live forever in college football history.
Keep Reading