Baseball Hall of Famers Who Would Flop in Today's Game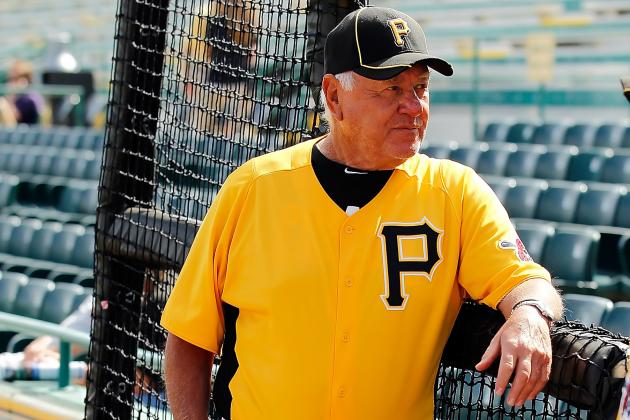 J. Meric/Getty Images
Pirates legend Bill Mazeroski would be out of his league in today's game.
The Baseball Hall of Fame is where the greatest baseballers of all time are honored. Any player enshrined in Cooperstown could step out onto a baseball diamond today and be right at home.
Well, maybe not all of them...
We're still waiting on state-of-the-art technology like instant replay and better head protection for pitchers, but there's no denying that the game of baseball and baseball players have changed a lot over the years. Fans from decades past probably wouldn't recognize today's game, and not every great player from the past would be able to adapt to the changes out on the field.
Here's a look at 10 Hall of Famers who would be totally out of their element if they were to play in a major league game today.
Note: Statistics courtesy of Baseball-Reference.com.
Begin Slideshow

»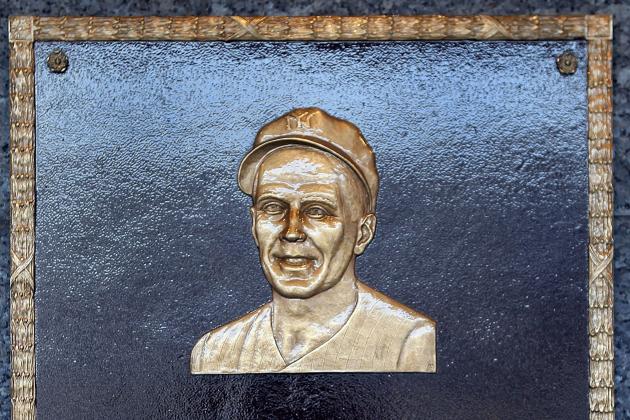 Jim McIsaac/Getty Images

If you consider both his playing career and his broadcasting career, then Phil Rizzuto is undoubtedly one of the most important people in the history of baseball and a deserving member of the Hall of Fame.
If you only consider Rizzuto's playing career, though, he was hardly a Cooperstown-worthy player.
Rizzuto had some solid years at the plate, hitting over .300 twice and generally keeping his average in the .270 range, but his final career slash line of .273/.351/.355 leaves a lot to be desired. He was little more than a singles hitter, and he had a modest ability to generate extra runs with his legs on the basepaths.
Rizzuto's best quality as a hitter was his ability to do the little things. For example, he led the league in sacrifices four straight years between 1949 and 1952, averaging 23 per season.
Players like Rizzuto who specialize in sacrifices are no longer needed in today's game. Teams are aware that outs are too precious to waste, so it's no surprise that there's been exactly one player in the last five years who managed to collect as many as 20 sacrifices in a single season.
That was Javier Vazquez, a pitcher, in 2009.
Take Rizzuto's capacity to do the little things away, and he's basically Brendan Ryan: a solid defensive shortstop and a nice guy to have, but not a star by any stretch of the imagination.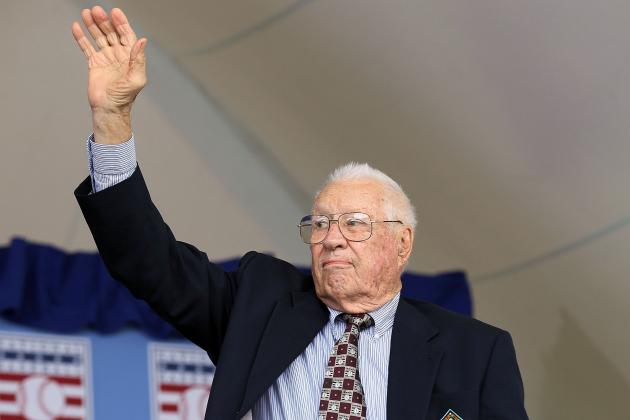 Jim McIsaac/Getty Images

Despite losing three of his prime years to military service, Bob Feller walked away from baseball with a career record of 266-162. He was known for his blistering fastball and nasty curveball that few could hit.
The problem with Feller, though, is that he didn't always know where his pitches were going.
Feller's claim to infamy is that he holds the second-highest BB/9 among Hall of Fame pitchers behind Nolan Ryan. Ryan retired with a career BB/9 of 4.7, and Feller retired with a career BB/9 of 4.1.
You won't find Ryan on this list because he could at least strike hitters out with the best of them. Feller, by comparison, was a decidedly mediocre strikeout artist by today's standards. He managed just a 6.1 K/9 for his career, and the highest K/9 he ever posted in a full season was 8.4.
If there's a modern-day equivalent of Feller, it's Carlos Zambrano. He owns a career 4.1 BB/9 and a 7.5 K/9, numbers that actually give him a slightly better career K/BB ratio than Feller.
We oftentimes forget that Zambrano has nasty stuff because he's rarely able to control it. Throwing strikes is not his specialty, and hitters tend to have little trouble putting the bat on the ball in the rare occurrences when Zambrano does find the strike zone.
Feller would likely face similar problems if he were pitching today. His fastball and curveball would still be very impressive, but he'd need more in order to establish himself as an above-average major league pitcher. The best of the best have great control, and they tend to have more than just two plus pitches.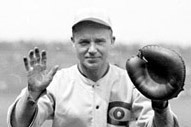 Photo via Baseball-Reference.com
During his 18-year major league career, Ray Schalk was known primarily for his defense behind the plate. Most notably, he led the league in caught-stealing percentage four times.
It's just too bad that Schalk couldn't hit if his life depended on it.
Schalk's career OPS of .656 is good for second-lowest among all Hall of Fame hitters. He was decent enough at getting on base, but he retired with a razor-thin slugging percentage of .316. In over 6,000 plate appearances, he hit just 11 home runs.
Even Jason Kendall, who had the power of a Cuisinart, managed to hit that many home runs in a single season. On two different occasions, to boot.
Shalk did have some speed, stealing a total of 177 bases in his 18 seasons. But for all we know, he was an inefficient base stealer. He was caught stealing 69 times, and that's with a noticeable gap in the records.
Catchers with good defensive skills behind the plate are always going to be welcome in Major League Baseball, but only if they hit for a little pop and/or feature some quality baserunning skills. Schalk had neither.
He was essentially an early version of Kendall or Brad Ausmus, except worse. Today's game would at best limit Schalk to a backup role, and at worst eat him up and spit him out.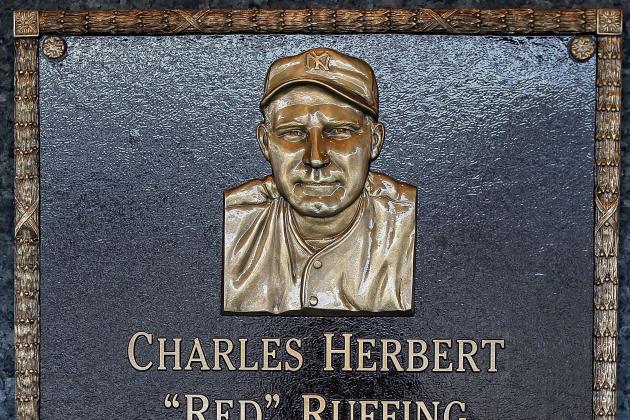 Jim McIsaac/Getty Images

Red Ruffing won 273 games during his career, 15th-most among right-handed pitchers. He won 20 games four years in a row between 1936 and 1939.
He also holds the distinction of having the highest career ERA of any pitcher in the Hall of Fame at 3.80.
An ERA such as that isn't that bad in and of itself. For that matter, an ERA of 3.80 over a full season in today's game will get you as many as 15 wins if you have a good offense.
It gets a little harder to defend Ruffing when you look at his other career numbers. He retired with a career WHIP of 1.34 and a K/BB ratio of just 1.29, and his career FIP (see FanGraphs) of 3.93 suggests that he was actually a little lucky to achieve a career ERA of 3.80.
Ruffing's shortcomings as a pitcher were largely similar to Bob Feller's shortcomings. He could get hitters out, but he barely struck out more hitters than he walked. When you do that, you put a lot of pressure on both yourself and your defense.
A good comparison for Ruffing in today's game would be Barry Zito. He got by well enough in 2012, but he did so with a 3.4 BB/9 and a 5.6 K/9. He thus relied a lot on luck and smoke and mirrors to get through his starts.
Ruffing would have to do the same if he was pitching today. And even if he were to succeed, he certainly wouldn't be celebrated.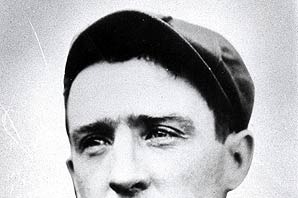 Photo via NewCity.com
Every baseball fan worth his or her salt knows the phrase "Tinker to Evers to Chance." There will never be a more catchy double play partnership.
Joe Tinker, Johnny Evers and Frank Chance are all in the Hall of Fame, but Tinker stands out as being a curious addition. Neither he nor Evers was very good at the plate, but Tinker was particularly bad.
Tinker compiled a meager slash line of .262/.308/.353 in his career. He never posted an OBP higher than .352 in a full season, and his .308 career OBP is good for second-worst among Hall of Fame hitters.
Tinker did have some speed to burn on the basepaths, as he stole at least 20 bases 11 times and retired with a grand total of 336 steals for his career. However, we have no way of knowing how efficient he was, as the records don't show how many times he was caught stealing.
One thing we know with considerably more certainty is that Tinker specialized in sacrifices even more than Rizzuto did. Because he was even less of a hitter than Rizzuto was, Tinker would thus be even more out of place in today's game.
It's not as if he could turn double plays better than any shortstop currently playing today, mind you. Tinker did partake in 674 double plays in his career, but that number looks pretty pedestrian compared to the 1,354 double plays that Derek Jeter has turned in his career.
If Tinker were to suit up today, he'd probably be lucky to be a late-inning defensive replacement.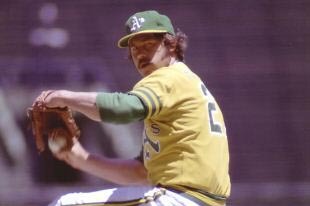 Photo via The Tribune News
Catfish Hunter won 224 games in his 15-year career, and he enjoyed one of the all-time great stretches between 1971 and 1975.
In those five seasons, Hunter compiled a 111-49 record and a 2.65 ERA, winning one Cy Young and finishing in the top four of the voting three other times.
One thing Hunter always had a problem with, however, was home runs.
Hunter led the league in homers allowed twice, and he has the dishonor of having the highest career HR/9 among all hurlers in the Hall of Fame. He also holds the second-worst ERA+ of all Hall of Fame pitchers.
Like Feller and Ruffing, Hunter would be likely to struggle in today's game because his strikeout rate never got much higher than his walk rate. The highest K/BB he ever posted in a single season was 3.11, and he retired with a career K/BB of 2.11.
His tendency to give up the long ball would make him even more worse off. Combine that with his limited capacity to up his strikeouts and limit his walks, and you basically get Luke Hochevar. He and Hunter have pretty much the same career HR/9, and their career K/BB ratios are also highly similar.
Seeing as how Hochevar has a career ERA of 5.39 and is lucky to still have a job pitching in the majors, these things are not compliments.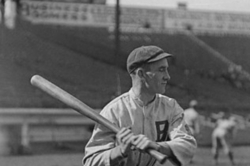 Photo via FindaGrave.com
Rabbit Maranville was one of the best fielding shortstops in the league in his playing days, and the numbers support the notion that he was. He accumulated a defensive WAR of 30.8 in his 23-year career.
The trade-off, as you may have already guessed, is that Maranville was a truly awful hitter.
Maranville never hit over .300, and he hit the ball with very little authority when he did make contact. He retired with a career slash line of .258/.318/.340, and his career OPS+ of 82 ties him with Luis Aparicio for the lowest among Hall of Fame hitters.
At least Aparicio was a weapon on the basepaths, leading the league in steals nine straight years to open his career. Maranville stole 291 bases in his career, but he was also caught 112 times. If the records were complete, they'd likely reveal him to be an even more inefficient base stealer than it already appears.
Maranville's glove would play just fine in today's game, but his lack of power and recklessness on the basepaths would likely bar him from ever seeing playing time. If he were to stick in the majors leagues, his role would probably be as a late-inning defensive replacement and pinch-bunter in the National League.
He would be a lot like Ryan Theriot, whose .691 career OPS and career OPS+ of 83 look awfully reminiscent of Maranville's career numbers.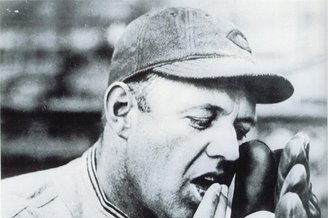 Photo via SABR.org
Between 1916 and 1934, Burleigh Grimes won 270 games and pitched close to 4,200 innings. He retired with a decent career ERA of 3.53.
Grimes also retired with a not-so-decent career WHIP of 1.37, highest among all pitchers in the Hall of Fame.
Grimes had seven seasons in which he gave up more than 10 hits for every nine innings pitched, and he walked more batters than he struck out a whopping six times. He averaged a 1.17 K/BB ratio, a number that would get a pitcher sent to the minors today, possibly never to return.
In his 19 seasons, Grimes posted an ERA over 4.00 only five times. Most other years, he was able to live comfortably in the 3.00s. He posted ERAs under 3.00 in the two years he led the league in wins, 1921 and 1928.
Grimes likely wouldn't be so lucky if he were to suit up and take the mound today. His tendency to pile up baserunners without an excess of strikeouts would lead to too many runs too early, not to mention a high pitch count.
This is assuming, of course, that Grimes would even be able to get a chance in the majors without the spitball. As B/R reader/writer Joe Halverson was kind enough to remind me, it was Grimes' signature pitch, and nobody in baseball has used it legally since him.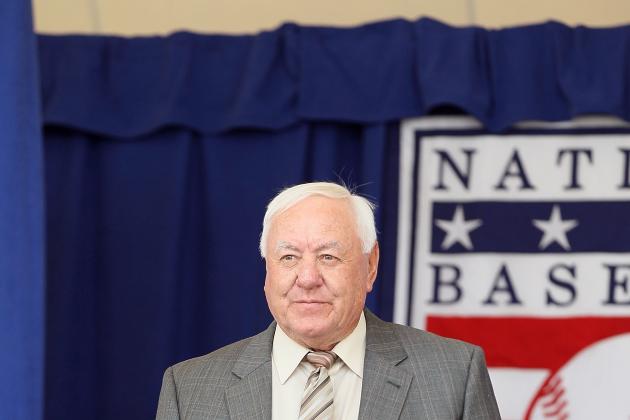 Jim McIsaac/Getty Images

Bill Mazeroski has one great claim to fame. His walk-off home run in Game 7 of the 1960 World Series against the New York Yankees may be the greatest home run ever hit in Major League Baseball history.
Beyond that, Mazeroski doesn't have much on his resume to warrant being in the Hall of Fame. He was a wizard on defense at second base, but he may be the very worst hitter in Cooperstown.
Mazeroski finished his career with a decent enough .260 lifetime batting average, but his career on-base percentage of .299 is the lowest among all Hall of Fame hitters. His OBP was routinely under .300, even in years in which his batting average was relatively high.
Unlike with the other middle infielders on this list, props can't even be given to Mazeroski for doing the little things. He never totaled more than 11 sacrifices in a single season. He was actually far better at grounding into double plays, as he grounded into 118 of them in his prime between 1962 and 1968.
With a strong glove but a very, very weak bat, Mazeroski was essentially an early version of Darwin Barney. He's easily one of the game's greatest defensive second basemen, but his OBP over the last two seasons is a mere .306. Were it not for his glove, he wouldn't be an everyday major league player.
If Barney can make it as an everyday player in the majors in this day and age, so could Mazeroski. But instead of making All-Star games on an annual basis, he'd be getting scolded for not taking his walks and generally being useless at the plate.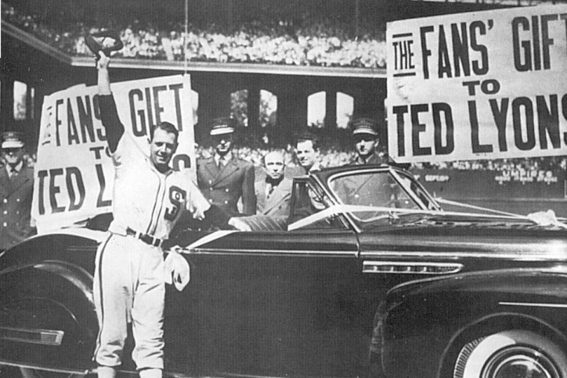 Photo via FlyingSock.com
Ted Lyons led the league in wins twice, and he was one of the game's best control artists by the time he got to the end of his career. He led the league in BB/9 three years in a row from 1939 to 1941.
Even despite that, Lyons still managed to retire with a K/BB ratio of 0.96. He's the only pitcher in the Hall of Fame with a K/BB under 1.0.
Lyons' control was never the problem. His problem was an utter inability to strike hitters out, as he never struck out more than 100 batters in a single season and struck out more than three batters per every nine innings only three times.
We know that Lyons' act wouldn't fly in the majors today because, well, it's pretty much impossible to succeed without having at least a shred of an ability to strike hitters out. Since 2000, no pitcher in baseball has managed to log at least 200 appearances while maintaining a K/BB under 1.0.
For that matter, the only starting pitcher since 1990 to log at least 100 appearances while maintaining a K/BB of 1.0 or lower is none other than Jimmy Anderson.
As I'm sure very few will recall, Anderson didn't do so well in the major leagues. In six years, he went 25-47 and compiled a 5.42 ERA.
Lyons would probably fare no better if he were playing today.
If you want to talk baseball, hit me up on Twitter.