Barcelona's Top 10 Goals Not Scored by Lionel Messi So Far This Season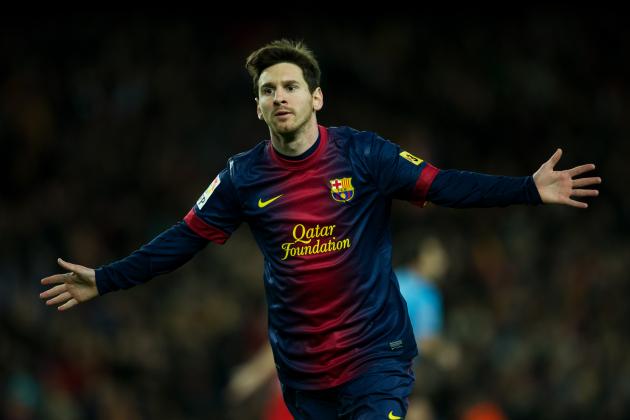 Jasper Juinen/Getty Images

Most people think Lionel Messi's goal record—unofficial or otherwise—will earn him yet another Ballon d'Or, beating out Andres Iniesta and Cristiano Ronaldo for the award.
His influence and unrivaled form at Barcelona this season has also played a major role in earning him votes since he has clearly been the best player in football to this point.
As great as he is and as many goals as he scores, he is not the only Blaugrana player capable of putting the ball in the net.
This list looks at the top 10 goals scored by Barcelona players other than Lionel Messi this season.
After seeing these goals, I hope you will list a few others you thought were notable or worthy of recognition here.
Begin Slideshow

»
Turn away, Chelsea fans. This one may remind of one of Iniesta's more famous goals.
Don Andres is not really known for his goal-scoring ability, but that is because he is the space creator and starter of goals, not because he can't score them.
He reminded us in the Copa del Rey that he is still capable of some real beauties when he thinks he is in the best position to score.
Poor Alaves. They were always going to struggle against the great Barcelona offense, but when David Villa is sending free kicks like this one in, they can only hold their heads high.
Villa's reaction says it all. He knew as soon as he released that the ball was going in. Perfectly taken shot.
About three months before the Brazilian's incredible goal against Atletico Madrid, Adriano scored a similarly stellar goal against Los Che.
In this one, he scored with his other foot from the other side of the pitch. There may not be a better utility man in football this season.
No wonder Barcelona just gave the kid an extension.
On this goal, Cristian Tello's first fake didn't free the space he hoped it would. The second fake—and the ensuing run—did that and more, just before he sent a bullet at goal.
Who says Barcelona can't win without Messi? Skip to 0:50 on the video above to see David Villa score the winner against Sevilla.
To be fair, Messi played a huge role in this match, but La Blaugrana simply wouldn't have overcome the 2-0 deficit without Villa's extra-time goal.
Messi may have played a big role in Barcelona's epic comeback against Sevilla, but their win against Granada was a result of their great midfield hero.
Xavi took one touch to control the ball and then sent a weak-footed effort past Toño who had looked unbeatable for almost 90 minutes prior.
Honestly, could any keeper really have been expected to stop this one?
Don Andres scored this beauty in what turned out to be a blowout, but we all know he can score the clutch goals when needed.
Skip ahead to 0:26 in the video above to see part of what makes Cristian Tello so valuable to Barcelona.
The 21-year-old is one of the few Blaugrana forwards who are willing to test the keeper from distance, and as he showed against Dudu Aouate, he is very capable of making his shots count.
I'm sure just seeing the pitch was enough to please David Villa and Cules after missing more than eight months due to a broken leg.
Coming on as a late sub against La Real to score a gorgeous weak-footed goal was just icing on the cake.
Oh my goodness. Adriano followed up one of the season's best goals—scored by Falcao—with an absolute stunner that was an instant goal of the year candidate.
The rocket came out of nowhere and seemed to shock Atleti for a bit, putting them against the ropes for the rest of the match.
What are some of your top Barcelona goals this season? Please feel free to leave your comments below.