In most sports, on most planets, winners are revered.
There are exceptions.
Sometimes the planets align and you benefit from some ethereal component that can't be quantified, captured or reproduced. In those cases, alas, you are dismissed with profanities like "lucky" or something equally insulting.
Usually though, you are revered, especially by the media.
If you are a proven winner—say, you cluster multiple championships in a short period of time—"mostly" takes a sharp turn towards "universally."
Women weep with joy at your very mention. Paeans are written to immortalize your accomplishments. Every move you make gets bathed in a spotlight from above, replayed in super-slow motion and set to music. There is no longer any hope of beating you, so the competition studies you to try to become a better version of you.
I mention this because the San Francisco Giants are, once again, the defending World Series champions.
For the second time in the last three years, the team captured baseball's most prized accolade, and it did so following a tried-and-true blueprint.
The Giants rode dominant starting pitching, a suffocating bullpen, exceptional defense and timely hitting from a host of players to grab the 2012 Fall Classic in much the same way they snagged the 2010 version.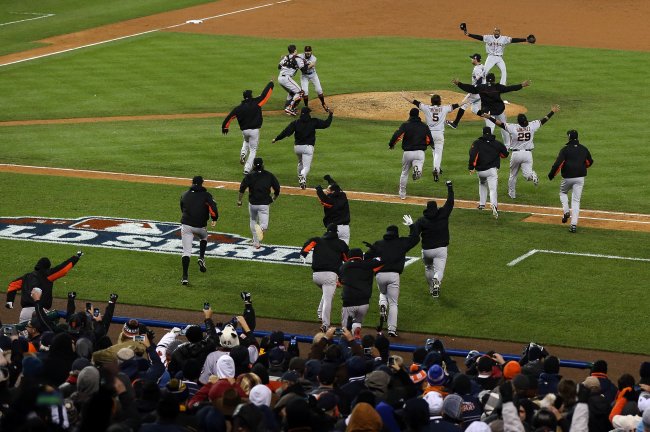 Jonathan Daniel/Getty Images
When the club failed to win a world championship in 2011, its best player was obliterated before the All-Star break and played only 45 games.
That player (Buster Posey) is still with the team, is healthy again and will only be 26 at the start of the 2013 season.
The rest of the nucleus is also present, accounted for and in (or entering) its prime.
Matt Cain is 28 and is as consistently brilliant an ace as you will find this side of $150 million. Tim Lincecum is a few months older and not nearly as consistent, but the Freak has the higher upside and we've all seen it. Madison Bumgarner won't turn 24 until August of next season, but he's already established himself as one of the finest southpaws in the game not named Clayton Kershaw or David Price.
Ryan Vogelsong is comparably ancient at 35, but his 684.1 innings pitched at the major league level are less than half of those logged by Cain. So let's call Vogey a young 35.
The story is much the same on the position-player side of things.
Pablo Sandoval is Posey's wingman on offense. His weight is a serious concern, but it's the only one given his age (27 next August) and obvious talent (ask Justin Verlander).
Hunter Pence had a disappointing '12 campaign and he hits 30 soon after Opening Day, but that's still too young to make a decline in performance a fait accompli. The Brothers Brandon (Belt and Crawford) will only be 25 and 26 in '13, respectively, and made significant improvements mid-stride last year. An entire offseason to build on the experience can only help.
You get the picture.
The Gents are returning essentially the same team that won the 2012 World Series and many of the main cogs from the 2010 title-winner. All are at an age and possess a level of ability that strongly suggest improvement is more likely than the alternative.
Considering what we know about how winners are treated, particularly repetitive winners, los Gigantes are a no-brainer for inclusion on the short list of MLB favorites heading into '13, right?
Maybe they're not the favorite given the talent brewing in Washington and being bought in Los Angeles (which apparently includes Anaheim), but two titles in three years plus a returning roster made of stars in their prime certainly make them mandatory entrants in any such conversation.
Except that's not what we're seeing from ESPN.
I'm not sure how you justify putting 10 teams ahead of the defending champs barring a fire sale like we saw after Florida won its title in 1997.
I am sure it's not the first time ESPN has laughed the Giants off as a cute story that lacked the substance necessary to endure.
Take, for instance, back in 2010 when its hatchet man du jour was writing how the Giants were lucky to advance through the postseason. And how the Giants had no chance against the Texas Rangers in the World Series (he doubled down on that particular opinion). And how "breaks" explained Giants' wins while good ol'-fashioned baseball explained their losses.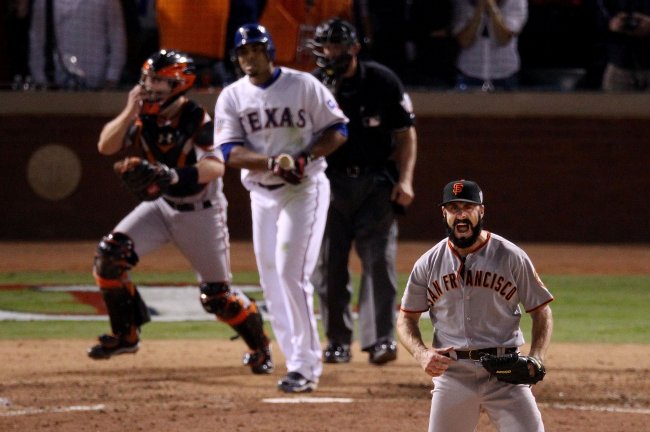 Christian Petersen/Getty Images
Better yet, witness the same joker dismissing the World Series victory that he swore couldn't happen a few months later after having it jammed down his pie hole.
For the record, the 2011 Giants finished in second place, and were highly competitive and accomplished both after losing Posey for the year. It's fair to say a completely healthy squad would've made the preseason prediction even more embarrassing.
The horse just died, so let's handle the rest via rapid fire. Take a look at the following.
1. These 2010 World Series predictions in which Cliff Lee was apparently the only player the Rangers needed to overwhelm San Francisco.
2. These 2012 World Series predictions in which Justin Verlander was apparently the only player the Detroit Tigers needed to overwhelm San Francisco.
3. This unprovoked shot across the Giants' bow prior to the 2012 playoffs. It's not like they were a World Series favorite or even a dark-horse contender before the postseason started. It would've been like writing Rick Perry had no shot in the 2012 presidential election a week before Election Day (with notable differences being the Giants actually went on to win and Rick Perry has trouble counting to three).
4. This well-written 2012 World Series preview by a dude who picked the Tigers to win in five games.
5. These power rankings that have the Giants on top at No. 1. Credit where credit is due, but one against...well, a lot ain't a fair fight.
One against many generally doesn't end well for the one...unless you're Keanu Reeves.
Does this mean that ESPN has some sort of vendetta against the defending champs? Perhaps it's holding Barry Bonds' legacy against the franchise that gave him a platform and supports him to this day? Maybe the much ballyhooed East Coast bias is for real?
Nah, I'm not a conspiracy guy, and none of that is likely.
But there is a reason.
Because you can pick apart every team if that's your intent (with the exception of the Washington Nationals, yikes):
1. The New York Yankees are old and broken, relying to some degree on Derek Jeter, Mariano Rivera and Alex Rodriguez to rebound from severe injuries. A-Rod is the youngest of the trio at 37.
2. The Oakland Athletics had a sensational year, and I wouldn't bet against that young pitching supplemented by Yoenis Cespedes and friends. But the backbone of the team has a far sparser track record than the Giants'.
3. The Los Angeles Dodgers have been reconstituted from parts that other teams were desperate to unload. Not only must the new faces remove substantial tarnish from once-glossy reputations, but they must also do so under tremendous pressure/scrutiny.
4. The St. Louis Cardinals are banking on Carlos Beltran, always a risky proposition. Let's also remember that San Francisco eliminated the STL from the 2012 National League Championship Series, and the Redbirds haven't gotten noticeably better during the winter.
5. The Rangers lost their best player (Josh Hamilton) and a big bat (Mike Napoli) and seem to be repelling free agents like the organization has a bad case of B.O.
Jerry wouldn't have signed in Arlington either.
It's not that the Gents are clearly superior to each of these teams. It's that placing your faith in any club on that list (and the ones omitted) requires some benefit of the doubt, so why would unproven also-rans get said benefit when the defending champs do not?
You will never convince me that, if the Giants' story had unfolded in, say, New York or Boston or Philly, ESPN would be ho-humming two titles in three years like this.
No freakin' way.
Granted, all of this is probably good news for the Sucka Free and its fans.
Grandiose expectations seldom help a team perform and the "us against the world" mentality seems to be an infectious, effective rallying cry in the clubhouse. So being dismissed and/or overlooked by the biggest sports-media player probably works to the Giants' advantage.
But ESPN is an organization with so much reach and influence that only slight exaggeration is necessary to use it as a synonym for "national sports media."
Furthermore, the San Francisco Giants are not the only team/program/franchise that seems to be swimming against the so-called sports leader's tide.
Given those two realities and the amount of money involved in the business of professional sports—money that tends to track exposure—the issue of bias moves from amusing irritant to legitimate concern.