3 Signs the Chicago Bulls Are Destined to Make the Eastern Conference Finals
Jonathan Daniel/Getty Images
Still suffering with the loss of their star player Derrick Rose, the Chicago Bulls are a team that not many know where to place in the playoff picture. Some may say they're a bottom-four seed and a first-round exit, while others say it may vary depending on the return of Rose. Then there are the super-optimistic fans that think they can still win it all.
With or without Rose, the Bulls are poised to make a good playoff run and could even go as far as the conference finals. Sure, with their MVP, they are championship contenders, but whether or not he returns for the playoff stretch remains to be seen.
Still, they have a great coach, a strong defense and a set of players who are willing and determined to do whatever it takes to win games. The Bulls are 14-10 this season, hold the fourth spot in the Eastern Conference and are leading the Central Division. So far, they're on the right path to making it deep into the playoffs.
I will list the three signs that point to the Bulls making an appearance in the Eastern Conference Finals.
Joakim Noah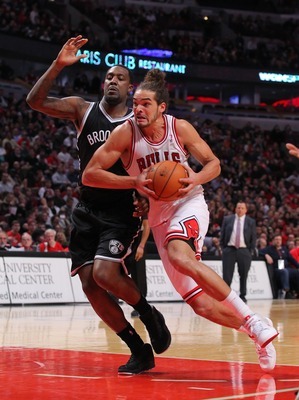 USA TODAY Sports
It doesn't get much better for the Bulls this season than Joakim Noah. If there's one guy they've been able to count on, it's him.
He's having a career year, averaging highs in points (13.5), assists (4.5), trips to the line (4.1) and free-throw percentage (80.8%). His rebounding has also remained top-notch, averaging over 10 boards per game.
Noah's passing has also gotten much better over the last few years, and it's all thanks to Thibs' offense; Noah's two-man games with Carlos Boozer and Luol Deng have shown how great a high-low passer he is. With the ability of all three players to finish at the basket, it's perhaps their best offensive weapon.
He's also been the most efficient starter on offense, shooting 48 percent from the floor this season.
It's not just stats, however. While he may be having his best statistical season, his leadership and will to win is unmatched by anybody on the team. If anybody is going to make this team win, it's Joakim Noah.
Defense and Rebounding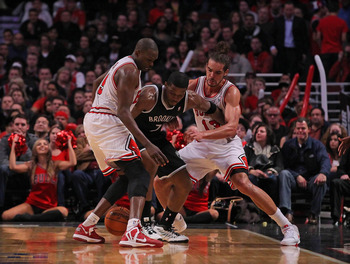 USA TODAY Sports
Prior to the arrival of Tom Thibodeau in Chicago, the Bulls were a middle-of-the-pack defensive team. They were still top-10 in rebounding, leading the league in 2009.
When Thibs became head coach in 2010, he brought a whole new philosophy and nature to the team. In 2010, the Bulls ranked second in points allowed with 91.3 points allowed per game and grabbed 44.1 rebounds per game.
In 2011, Chicago ranked first in points allowed with an incredible 88.2 points allowed per game. They ranked first in rebounding with 46.6 rebounds per game.
"Defense wins championships" has become one of the biggest cliches in sports, but it still rings true to this day. The last five NBA champions have all held their opponents to no more than 45 percent shooting in the series and have all won the rebounding battle (with the exception of Dallas in the 2011 Finals).
The Bulls currently rank second in points allowed with 90.4 and are seventh in rebounding with 43.5 rebounds per game. While their rebounding may not be as high as the past two seasons, they hold the third-best rebounding difference in the league, out-rebounding opponents by an average of 4.27 rebounds.
If the Bulls can keep hustling defensively and on the glass, they're on their way to making a great playoff run.
#TheReturn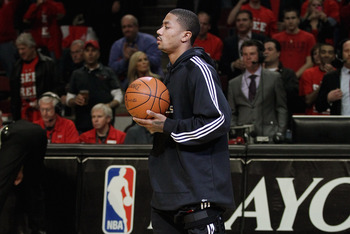 Jonathan Daniel/Getty Images
What a great chapter it would be for Adidas' ad campaign if the Bulls made the conference finals; it would be an even better story if they won them.
Hollywood story aside, there's no question that Derrick Rose makes the Bulls an instant threat to win it all. The Bulls have had a league-best record the last two seasons, the latter of which Rose missed 27 games. In 2010, they made the conference finals but lost to the Miami Heat in five games.
Rose brings instant offense to the team. He gives the team 20-plus points, seven or eight assists and the ability to get to the line. He can also draw in multiple defenders with his ability to penetrate, allowing shooters to get open looks. Another huge factor is that he gives the team a great option for last-minute baskets.
As a leader, he makes the team want to win for him. He brings a sense of togetherness to the team, something that shows with their on-court chemistry. This is a unique trait for a superstar-caliber player, and the Bulls don't take that for granted.
If Rose is able to join the team for the playoff stretch, the Bulls could become a favorite to come out of the Eastern Conference. As he continues to progress in his rehab, Bulls fans everywhere are optimistic about the fact that he could, in fact, lift the team to championship status.
Keep Reading

Chicago Bulls: Like this team?